1992/93 SEASON REVIEW
Pre-season for City started with a three team friendly tournament in Dublin, in the first match against an League of Ireland XI, the blues won 3-0, however it was bad news for Andy Dibble who broke his leg in the game.
The second game of the tournament saw Celtic beat City 3-1. Michael Hughes time at City ended as he moved to Strasbourg in France for £435,000.
Peter Reid's team then went on a five match tour of Italy where they lost 2-1 against Brescia, drew 2-2 against Cremonese and lost 1-0 at Vicenza.
The same day City draw 2-2 in Verona Rick Holden joins the Blues in a deal with Oldham which sees Steve Redmond and Neil Pointon move the other way to Boundary Park.
The last pre-season game sees a 0-0 draw against Torino.
The Blues kicked off the newly formed Premier League later than most teams as they appeared on Sky's first Premier League Monday Night Football show. Rick Holden made his league debut in a 1-1 draw with QPR at Maine Road.
City travelled to Middlesbrough two days later and lost 2-0 with Niall Quinn sent off and Paul Lake aggravating his knee injury from last season which would see him miss the rest of this campaign as well.  A 1-0 defeat at Blackburn saw City with just one point from the first three games and so the board splashed out £2.5M on defender Terry Phelan and his signing boosted the team to a 3-1 home win against Norwich.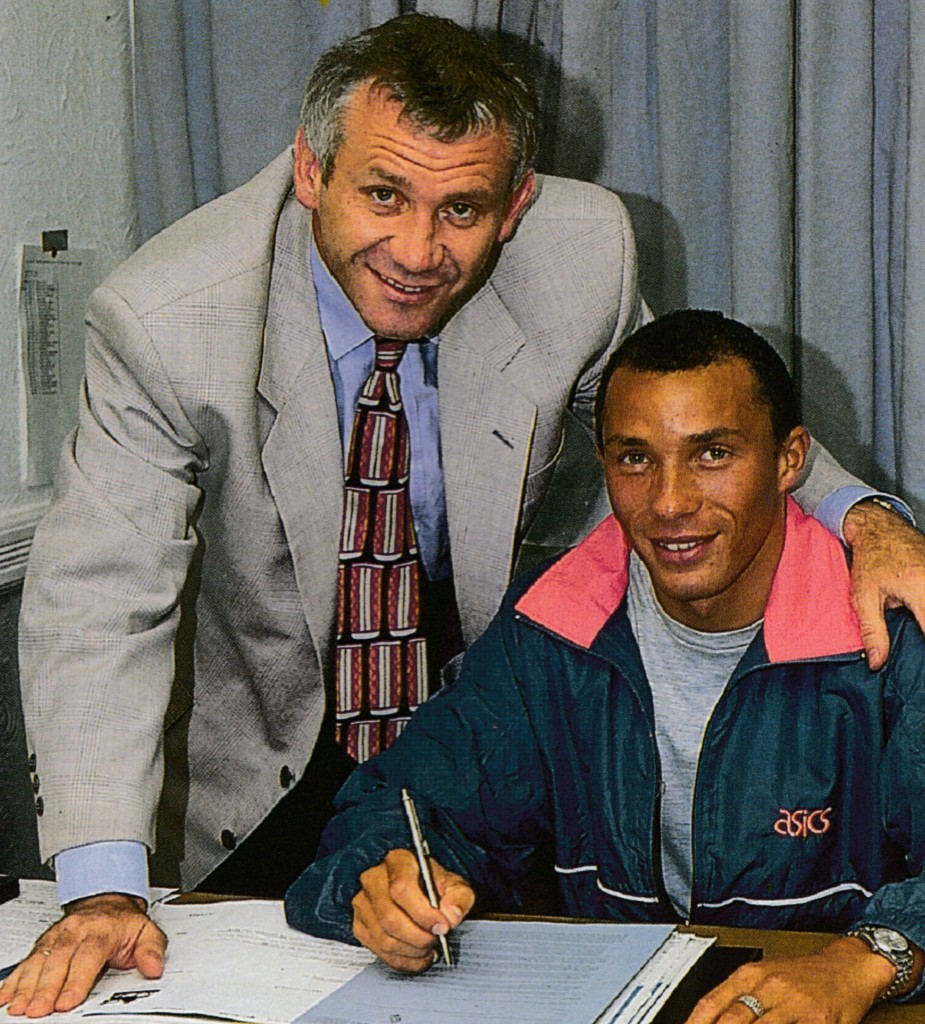 City scored another three goals in their next game at Maine Road, however visitors Oldham also scored three goals.
City then travelled to Wimbledon where they gained their first away win, a crowd of less than 5,000 saw David White get the only goal of the game, and City kept up the good form on their travels as they comprehensively beat Sheffield Wednesday 3-0.
The Blues were then brought down to earth as Middlesbrough completed an early season double over City winning 1-0 at Maine Road. Further misery was inflicted on the Kippax faithful as Chelsea beat the Blues 1-0 in the next game, and then Reid's men drew a blank again as they hosted Bristol Rovers in the 2nd Round of The Coca Cola Cup and drew 0-0. Back to the League and things weren't getting any better as City lost 1-0 again, this time at Arsenal. The Blues then managed to find the net for the first time in five games but could only manage a 2-2 draw at home to Notts Forest. Back to the Coca Cola Cup and City scraped through to the third round beating Bristol Rovers 2-1 after extra time in the second leg at Twerton Park. The Blues then managed two clean sheets in the league drawing 0-0 at Crystal Palace and then beating Southampton 1-0 at a rain soaked Maine Road. City were then dumped out of the Coca Cola Cup by Tottenham 1-0 at Maine Road, however they didn't let it affect their League form as they won their next three Premier League games, 3-1 at Everton, 4-0 at home to Leeds and a hard fought 3-2 victory at Coventry. They also played a testimonial at Bolton for Frank Worthington and Bobby Savage, The Blues lost 4-2. City also sold Mark Brennan to Oldham for£200,000
Paul Lake made a last ditch attempt to save his career with a trip to LA to see the number one expert on cruciate ligament 'repairs'. Dr Domenick Sisto, Lake recounts in his autobiography "Chairman Swales wasn't exactly cock-a-hoop about the trip, loathe to foot the bill, and reluctant to admit any culpability for my predicament… I believe Swales saw my injury as both an irritant and an embarrasmant. He gave the distinct impression that I was the failure, and that my ongoing knee problem was somehow my fault and nobody elses". On the eve of the trip to LA Lake stoked the fires further in an interview published in The Sunday People, he claimed the club were treating him like a piece of meat left to hang in an abattoir.
Back to the field of play and it would be Tottenham again who would spoil the party beating City 1-0 at Maine Road and the The Blues travelled across the City to Old Trafford where they were beaten 2-1 by United, it would be three defeats on the trot as City then lost 3-1 at Ipswich. Over the festive period the Blues drew 1-1 at home to Aston Villa, then beat Sheffield United 2-0 on Boxing Day again at Maine Road before making it five games unbeaten with a 1-1 draw at Liverpool followed by a splendid 4-2 victory at Chelsea, sandwiched in between was a 1-1 draw in the FA Cup 3rd Round against Reading at Maine Road. Following the tie against Reading City's defence was looking a little thin on the ground as both Ian Brightwell and Andy Hill both went under the knife for surgery, and so Peter Reid looked to bolster his back four by bringing back Ray Ranson for a second spell at Maine Road after leaving eight years earlier, Ranson joined on a loan deal from Newcastle. In the replay of the 3rd Round FA Cup tie City made it six games unbeaten as they romped home 4-0 at Reading. Unfortunately Arsenal spoilt the run and beat City 1-0 at Maine Road. However at Loftus Road City won again beating QPR 2-1 in the 4th round of the FA Cup.
The Blues then announced the signing of Norwegian international midfielder Kare Ingebrigsten, for £600,000 and then made it three wins on the trot beating Oldham 1-0 at Boundary Park and at Maine Road disposing of Blackburn 3-2. At Loftus Road City drew 1-1 with QPR to register just one defeat in the last 11 games. In the FA Cup City pushed aside Mel Machin's Barnsley winning 2-0 in the 5th round. However a visit to Carrow Road ended in defeat for Peter Reid's side, Norwich winning 2-1 At Maine Road City fell to their second defeat on the trot losing 2-1 against Sheffield Wednesday, however at the City Ground the Blues got back on track beating Nottingham Forest 2-0. The chance of a semi-final in the FA Cup was snatched away by Spurs who beat City 4-2 at Maine Road in the 6th round, a game that will be remembered more for an infamous pitch invasion by over 200 City 'fans', from the newly opened Platt Lane stand. The Times reported 'The disturbance on Sunday, which led to 36 arrests inside the ground as mounted police and dog handlers controlled more than 200 City supporters, was shown live on BBC television and also in France, Cyprus, South Africa, Thailand and Hong Kong. It so upset Peter Reid, the City manager, that he briefly considered resigning, but yesterday he said he was going to stay. "I shall fight these hooligans all the way," he said.' Back in the league at a sombre Maine Road City won a mid-table battle against Coventry 1-0, and then travelled across the Pennines and lost 1-0 at Leeds. The Blues put up a good display in the Manchester Derby at Maine Road, drawing 1-1 against Man United. City then travelled to White Hart Lane and were well beaten 3-1 by Tottenham. The inconsistency that is Manchester City continued with a 3-1 win over Ipswich at Maine Road and a 1-1 draw at Sheffield United. The Blues also played a friendly in Ireland after the Ipswich game, drawing 1-1 with Portadown. Another 1-1 draw followed as City held Liverpool at Maine Road, but then the Blues lost 3-1 at Aston Villa and with four games left to play the best City could hope for was a mid-table finish. In the first of those four games they drew 1-1 at home to Wimbledon before flying off for a two game tour of Japan where they beat Mitsubishi Urawa 2-0 and Hitachi Omiya 1-0. Back on English soil and City  won 1-0 at Southampton, drew 0-0 at home to Crystal Palace and in the last game of the season an unhappy Maine Road crowd saw City thumped 5-2 by Everton. City ended the first FA Premier League in ninth place on 57 points.
The Blues then travelled the short distance to Altrincham for John King's testimonial, winning 2-1, before flying to South Africa for a short post season two match tour, beating Lightbody's Santos 1-0 and drawing 1-1 with Chatsworth Rangers.