In June, with the squad either on International duty or on their summer break, City announced the formality that Erling Haaland had now officially signed a five year contract, possibly the most exciting signing for the Blues in Premier League History.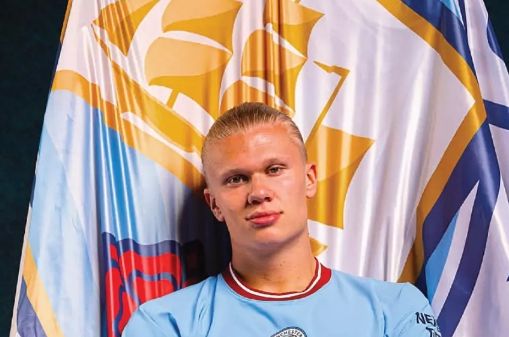 It was also announced that Argentinian wonder kid Julian Alvarez would be in Pep's first team squad for the start of the season following his move and subsequent loan back to River Plate in January.
The Blues' Academy was certainly proving it's worth as certain youngsters left the club for decent fees; Pedro Porro, who had been on loan at Sporting Lisbon, joined them on a permanent deal netting City £7M, and goalkeeper Gavin Bazunu joined Southampton on a permanent deal after a good spell at Portsmouth. in a deal that could reportedly rise to £15m. Two youngsters leaving on free transfers, however, were Jayden Braaf, who joined Borussia Dortmund, and Ryotaro Meshino, who'd been on loan at several clubs since his arrival at The Etihad in 2019, and now moved for a free to Gamba Osako.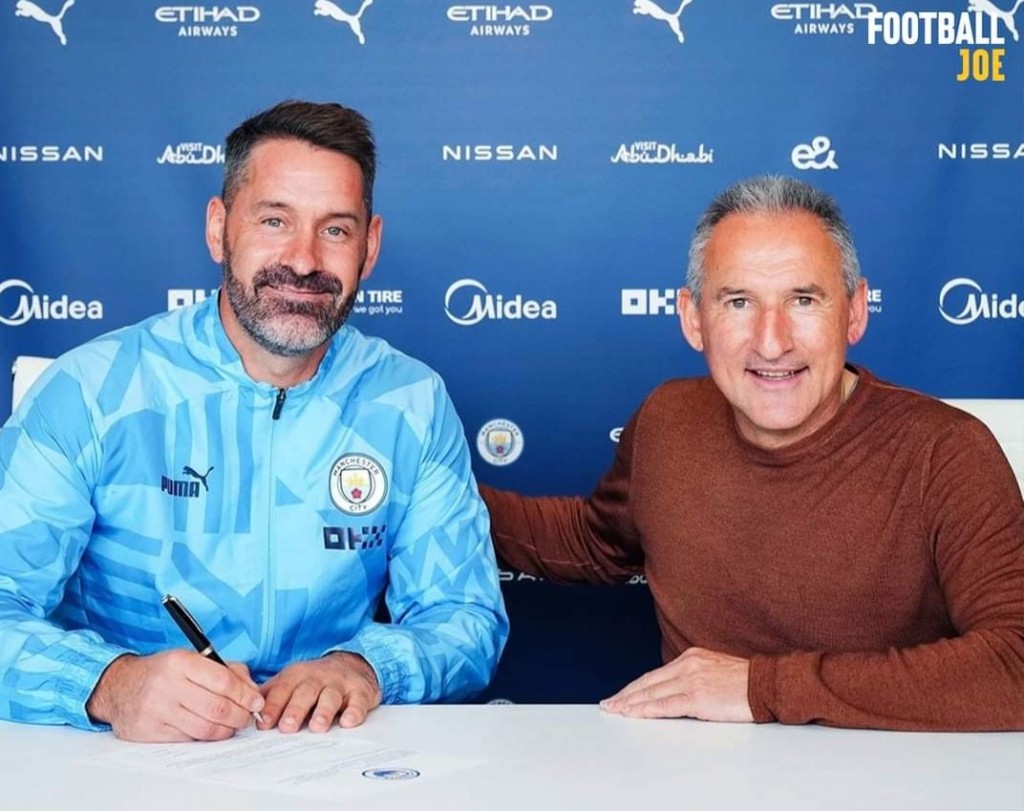 Scott Carson resumed as third choice keeper as he re-signed for a further 12 months. Further Academy players were on the move, Ko Itakura moved to Borussia Monchengladbach for £4.5M and City legend, and new Burnley manager, Vincent Kompany used his City connections, signing out of contract CJ Egan-Riley on a free, and joining him in the Clarets defence would be Taylor Harwood-Bellis, who signed on a season long loan.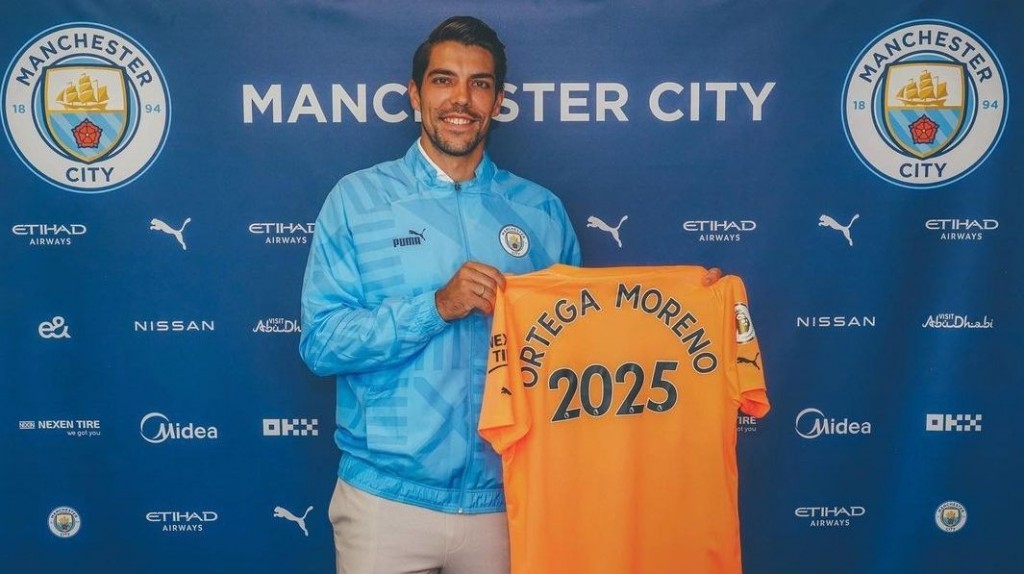 Zack Steffen's future looked in question as 29 year old keeper Stefan Ortega Moreno joined on a free transfer from Arminia Bielefeld.
On 4th July two major transfers were announced, one out and one in. After five years at The Etihad, Gabriel Jesus moved to The Emirates, Arsenal paying £45M for the Brazilian striker.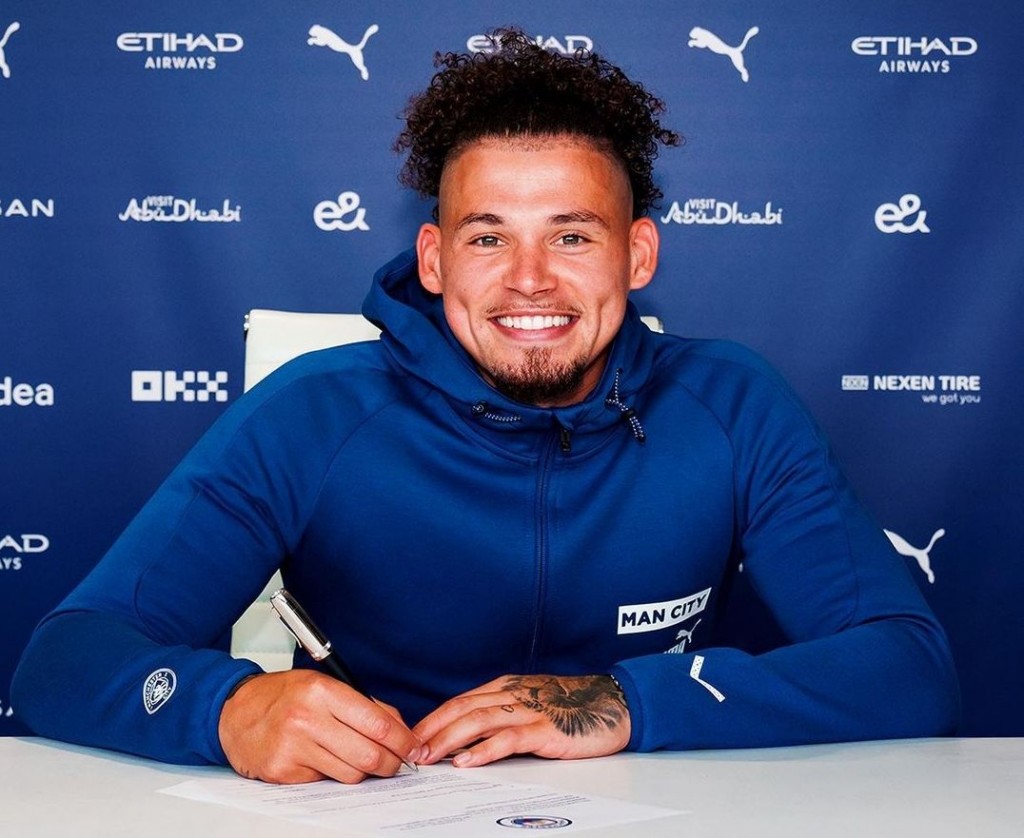 England midfielder Kalvin Phillips was then announced as City's next major signing, The Blues paying Leeds an intial fee of £42M which could rise to £45M with add-ons.
On the same day another City youngster left the club, Darko Gyabi moved to Leeds for £5.2M.
Further season long loans were announced: Diego Rosa to Vizela, Keeper James Trafford on a further loan at Bolton, and Tommy Doyle, who moved for the season to Championship side Sheffield United.
Southampton increased their pre-season spending on City Academy players to nearly £30M, with the purchase of Romeo Lavia for £10.5M plus £3.5M in add-ons.
After an amazing seven years at City, and with just a year left on his contract, Raheem Sterling decided he wanted a move away from The Etihad, and Chelsea paid a fee of £47.5M plus add-ons, thought to be £10M, to take the England International to Stamford Bridge.
The squad then set off for their two match USA tour, however Phil Foden, John Stones and Ilkay Gundogan didn't make the trip to the States due to them not meeting the Yanks strict Covid-19 entrance rules. Aymeric Laporte was also left behind to have further treatment on an injury.
As was thought, Zak Steffen, looking for more game time, moved on a season long loan to Middlesbrough
City were in excellent form in their first pre-season friendly as they beat Mexico's Club America 2-1 in Texas.
They then said farewell to another serial Premier League winner, as Oleksandr Zinchenko moved to join Jesus at Arsenal for an initial fee of £30M which could rise by another £2M.
Another keeper on the move was Aro Muric, who moved to Vincent Kompany's Burnley for £2.5M plus add-ons.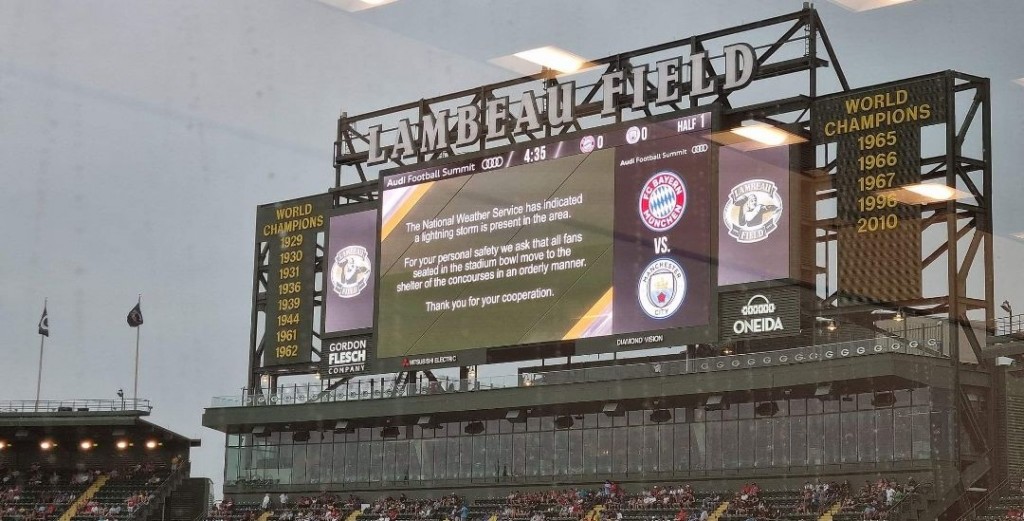 The squad moved on to Green Bay, and in a very truncated game, where the players left the field in the first half for over 45 minutes due to an electrical storm over Lambeau Field, City managed to put in an electric performance beating Bayern Munich 1-0 with Erling Haaland scoring the only goal in his first outing for The Blues.
The season's traditional curtain raiser, the Community Shield, was held at The King Power Stadium, and despite a decent display, City's lack of pre-season games, and lack of quality finishing in front of goal, saw them lose to Liverpool 3-1.
Another young promising City star moved on loan, James McAtee joined Sheffield United for the season.
And so to the opening game of the Premier League season, and City, and in particular Erling Haaland, couldn't have asked for a better start in what looked on paper to be a tough game at West Ham, however The Blues put in an amazing display to win 2-0, with Erling scoring both goals on his debut.
A week later, City sat top of an early league table, as they comfortably beat Bournemouth 4-0 at The Etihad.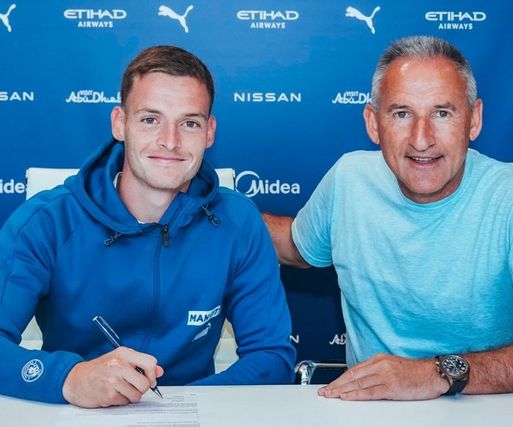 Brazilian 'wonderkid' Kaykay then joined Portuguese side Pacos de Ferreira on a season-long loan. At the same time it was announced that 21-year-old Spanish left back Sergio Gomez had become City's fourth signing of the summer, joining from Anderlecht for an initial fee of £11M.
With nearly two weeks left in the transfer window Liam Delap was another youngster sent on a season long loan, to Stoke City. Pep announced he was now not expecting any further transfer business in this window.
In a classic game at St James' Park, City dropped their first points of the season, coming back from two goals down to draw 3-3 with Newcastle.
The Blues then flew to Spain for a charity friendly in aid of raising funds for amyotrophic lateral sclerosis, and in front of a capacity crowd at the Camp Nou they drew 3-3 with Barcelona.
Next up in the Premier League were bogey side Crystal Palace, and with The Eagles two goals up at half-time at the Etihad, it looked like they were going to make things tough once again, however Erling Haaland struck a second half hat-trick, and the game ended 4-2 for Pep's men.
Haaland continued his stunning first season in the Premier League with another hat-trick in a 6-0 home victory against newly promoted Nottingham Forest, the Norwegian striker setting a Premier League record, scoring nine goals in the first five games of the season.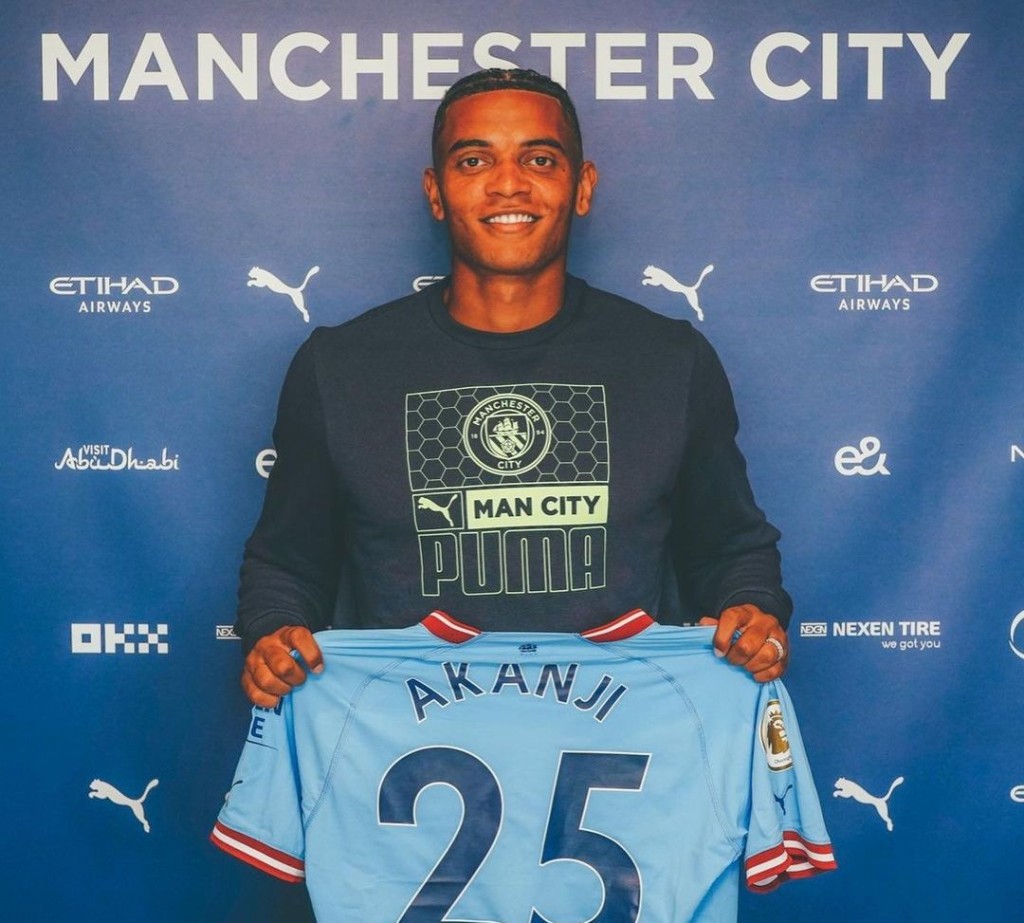 With the transfer window coming to a close, 27 year old Swiss centre half Manuel Akanji joined from Borussia Dortmund for a fee of £15M plus add-ons. And more Academy players moved away, Luke Mbete joined Huddersfield on a season long loan, Claudio Gomes moved to Palermo on a permanent deal, and Southampton continued their raid on City youngsters, paying £10M for Sam Edozie, and £6.3M for Juan Larios.
City then dropped a further two points with a 1-1 draw at Aston Villa, but it was a great start in the first Champions League group game as they cantered to a 4-0 victory against Sevilla in Spain.
On the 8th September 2022, the death of Queen Elizabeth II was announced and the country went into a period of mourning, City's home game against Tottenham, as well as all football fixtures the following weekend, were postponed, which meant a second Champions League game on the trot as The Blues beat Borussia Dortmund 2-1.
The last game before the International break, saw a minute's silence and "God Save The King" sang at all Premier League games, including Molyneux, where City beat Wolves 3-0.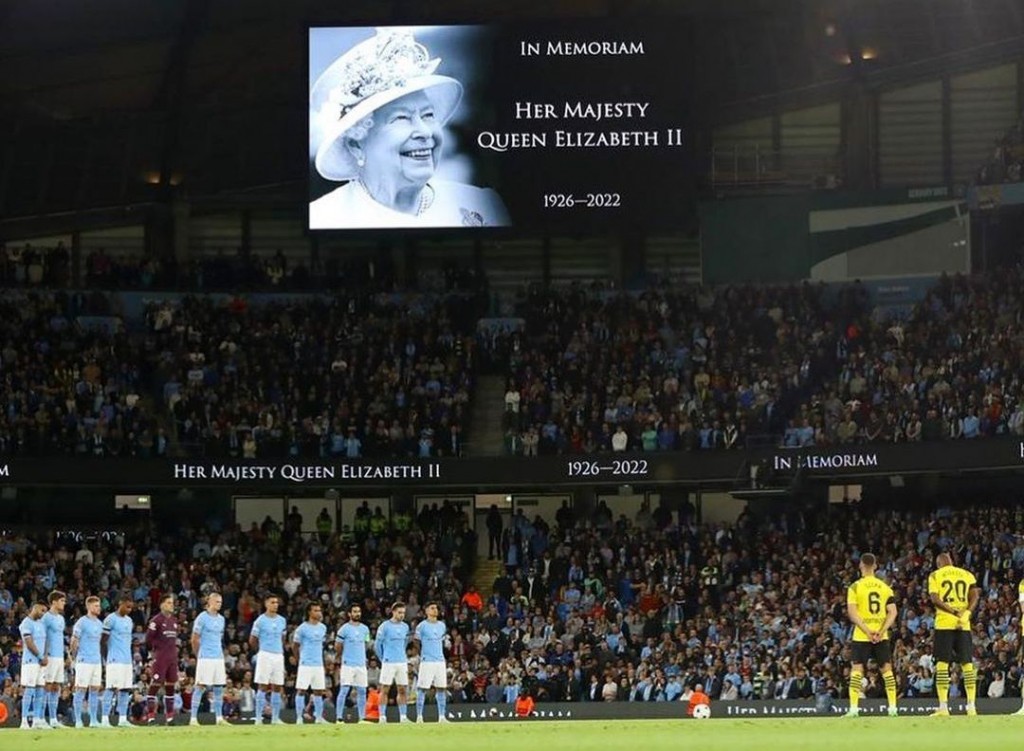 After the international break City faced Manchester United at the Etihad, and Erling Haaland kept up his amazing scoring spree. In what was another 'Demolition Derby' The big Norwegian set a Premier League record, scoring a third consecutive home hat-trick, as The Blues beat The Reds 6-3, with Phil Foden also contributing a hat-trick.
The goals carried on flowing at home as Copenhagen were beaten 5-0 in the Champions League, and Southampton 4-0 in the Premier League.
In the return Champions League group game in Denmark, Pep's depleted team could only draw 0-0 with Copenhagen, however, it guaranteed them a place in the knockout stage with still two games to play in Group G.
City's first League defeat of the seaon occurred at Anfield as they lost 1-0 to Liverpool in a bad tempered affair.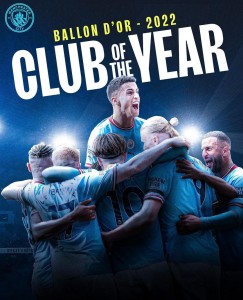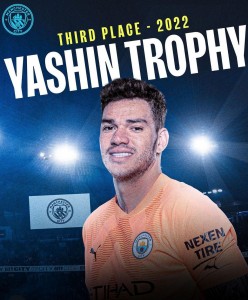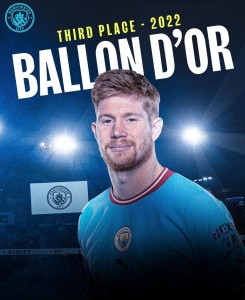 In the prestigeous Ballon d'Or awards Pep's hard work was rewarded as The Blues were voted Club of the Year, in addition Kevin De Bruyne finished third in the Player of the Year award and Ederson was also voted third in the Yashin Trophy.
Erling Haaland then made it 17 goals in just 11 games as his two goals helped City to a 3-1 victory over Brighton at The Etihad.
A 0-0 draw at Borussia Dortmund meant The Blues would win their Champions League group with a game to spare.
With Haaland missing through an ankle injury, City put up a resolute performance at Leicester to win a tight game 1-0.
The last Champions League group game was a dead rubber, however still an entertaining match, which ended in a 3-1 victory over Sevilla at The Ethiad.
City kept the pressure on Arsenal at the top of the Premier League, beating Fulham 2-1, and then they kept up their assault on all four trophies beating Chelsea 2-0 in the 3rd round of the Carabao Cup, however in the fourth game in a row at The Etihad they suffered their second defeat of the season, losing 2-1 to Brentford. The Blues were still sat in second place in the League but now five points behind leaders Arsenal, as the season went into a six week break, with City having 16 players flying off with their respective international squads to take part in the unprecedented wiinter World Cup in Qatar.
The day before the World Cup Final City played a friendly at The Academy Stadium. It was good match practise for those players who hadn't been in Qatar, or had returned early.  The Blues beat Girona 2-0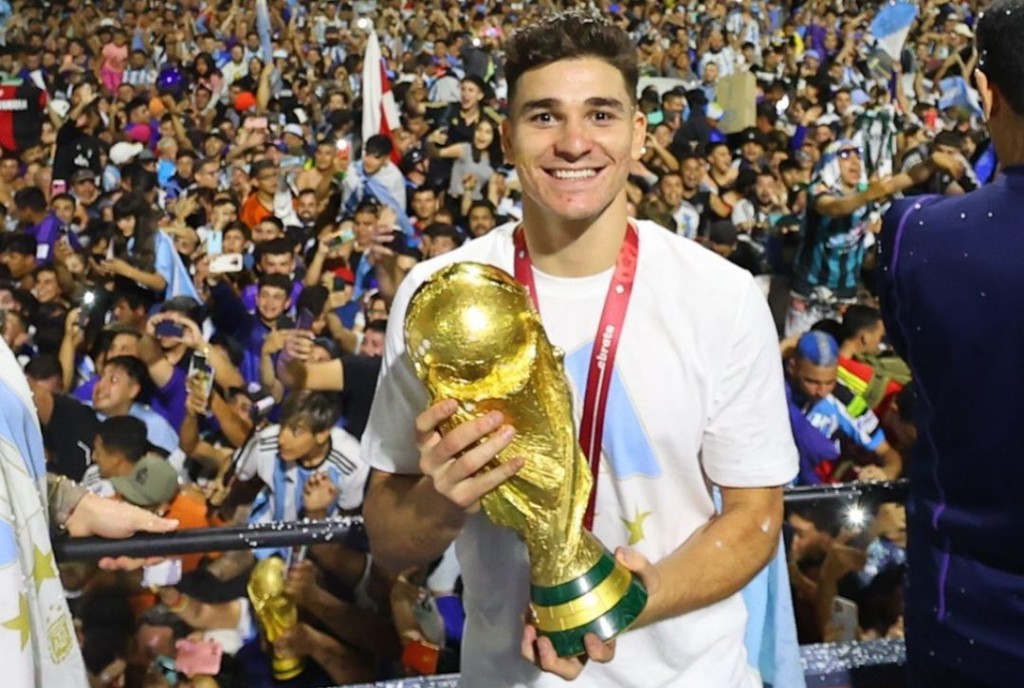 The following day Argentine wonder kid, Julian Alvarez, celebrated his country's World Cup win, as he became the first City player to win in a World Cup Final.
With most of the players back from Qatar it was a return to domestic duties, and an impressive 3-2 victory over Liverpool in the Carabao Cup 4th Round.
At last the Premier League was back, and The Blues put the pre- World Cup home defeat against Brentford out of their minds as they totally dominated at Elland Road to beat Leeds 3-1, with Erling Haaland sensationally scoring his 19th and 20th League goals of the season with only 15 games played.
City's home League form still showed some concern, as Everton drew 1-1 at The Etihad, yet a much trickier looking trip to Stamford Bridge ended in a good 1-0 victory over Chelsea to keep The Blues in second place, still five points behind leaders Arsenal.
Next up Chelsea again, in 3rd Round of the FA Cup at The Etihad, and, although Pep rested some of his 'big guns', City won in style, winning 4-0.
Unfortunately Pep rested even more players for the Carabao Cup Quarter Final at Southampton and the inexperience, coupled with possibly the worst display from a City team since Pep took over, ended in a 2-0 defeat.
Back in the League and it was a further defeat, after leading Manchester United at Old Trafford, a ridiculously incorrect offside VAR decision let United back in the game and the match ended 2-1, a rare win for the red half of the City. It left the Blues still in scond spot but now eight points behind The Gunners after 18 matches.
The Blues confirmed two loan deals, Liam Delap returned from Stoke and was loaned out to Preston until the end of the season, in addition Josh Wilson-Esbrand joined Coventry for the rest of the season.
Tottenham have been City's bogey side over the last few seasons, and when they took a 2-0 half-time lead at The Etihad, it seemed another defeat was on the cards. However a superb second half display ended in a 4-2 victory for the Blues.
Erling Haaland then scored his fourth hat-trick of the season making it 25 Premier League goals for the season in a 3-0 victory over Wolves at the Etihad.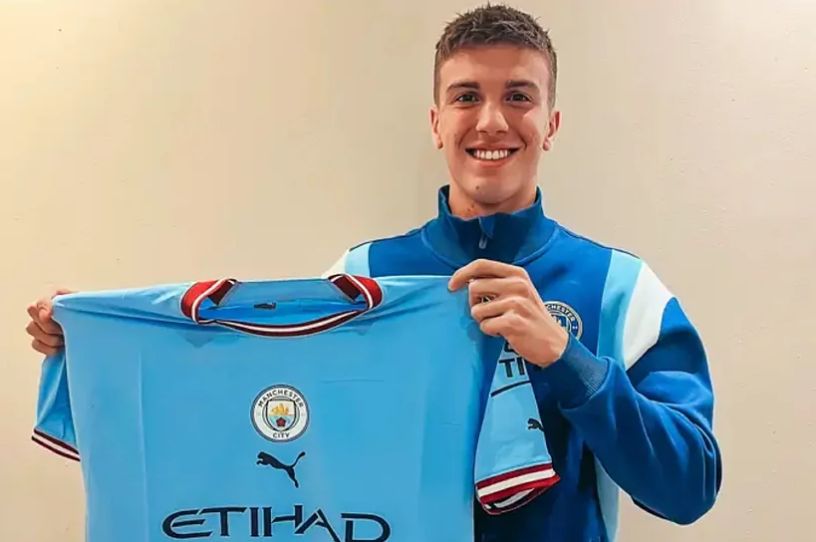 The Blues then welcomed another Argentinian young midfield player to the Etihad, paying Velez Sarsfield £8m for the services of 20 year old Máximo Perrone.
In the 4th round of the FA Cup City faced League leaders Arsenal and triumphed 1-0.
There was a massive surprise on transfer deadline day, as out of favour Joao Cancelo moved on loan to Bayern Munich, with an option to buy for £61m at the end of the season.
Luke Mbete, who had been recalled from his loan with Huddersfield, moved to Bolton until the end of the season.
The following week was the worst of the season so far. Pep's men lost 1-0 in the League at Tottenham, and then after four years of investigation by the Premier League, City were charged with over 100 counts of breaking Premier League rules over a period from 2009 to 2017, serious consequences could arise if The club were found guilty. The Blues issued a statement: Manchester City FC is surprised by the issuing of these alleged breaches of the Premier League Rules, particularly given the extensive engagement and vast amount of detailed materials that the EPL has been provided with. The Club welcomes the review of this matter by an independent Commission, to impartially consider the comprehensive body of irrefutable evidence that exists in support of its position. As such we look forward to this matter being put to rest once and for all.
Prior to the next game Pep gave his own thoughts on the charges: "…we are already being condemned. What has happened this week after Monday is the same as what happened with UEFA. With UEFA we were condemned. We had already accusations, now we have just charges… You have to understand that between 19 teams of the Premier League is accusing us without the latest opportunity to defend and the words of my chairman, my CEO, my people explain everything during these three or four years, you know exactly on what side I am… Just in case we are not innocent we will accept what the judge in the Premier League decides, but what happens if in the same situation that UEFA happened we are innocent, what happens to restore or pay back our damage?
Because the damage is now for one decade, eight, nine, 10. One week later, UEFA make a statement against us, nine teams – Burnley, Wolves, Leicester, Newcastle, Spurs, Arsenal, United, Liverpool, Chelsea, write a letter wanting us out of the Champions League, that they wanted that position.
Like Julius Caesar, they are not in this world, they are not enemies or friends, just interests. They wanted to put it out to take that position that we won on the pitch, take it in our position.
Now it is not different in that moment, absolutely zero.
The same articles, the same accusations, the same everything. We have to be out of the Champions League, now we have to go to League Two or maybe the Conference. We are not a team with a long history or titles, we have been in the lower divisions, and we will be back there. It's not a problem just in case. We'll get Paul Dickov and Mike Summerbee and we will do a good process and will be back, I'm pretty sure. But they should wait because at the end, the Premier League decide we're going to defend ourselves as we did in the UEFA situation."
The players' response was excellent, as they produced two 3-1 victories in the League, beating Aston Villa 3-1 at the Etihad and then beating the League leaders Arsenal at the Emirates.
Despite a great performance at The City Ground, The Blues could only draw 1-1 with Nottingham Forest.
City then travelled to Germany in the Champions League for the first leg of the last 16 tie against RB Leipzig, and again were unlucky to just come away with a 1-1 draw.
Two further away trips saw Pep's team easily despatch Bournemouth 4-1 in the League, and then Bristol City, 3-0 in the 5th Round of the FA Cup.
Arsenal were still sitting at the summit of the Premier League with a third of the season to go, it seemed City would need to win all their remaining games to have chance of winning their third title on the trot. They kept the pressure on the Gunners as they beat Newcastle 2-0 at The Etihad and then won 1-0 at Crystal Palace, where Erling Haaland scored his 28th League goal of the season.
In the next two cup games it was lucky 13 for City as they score 13 goals with Erling Haaland amazingly scoring eight of them, taking his tally to 42 goals in all competitions, the scoring started in the 2nd leg of the Champions League game against RB Leipzig, as the Blues qualified for the quarter finals with a 7-0 victory.
Vincent Kompany then made an emotional return to The Etihad as manager of Burnley in the 6th round of the FA Cup, and despite being given a standing ovation by the fans, the players showed no mercy, winning 6-0.
Going into the internationl break City were through the quarter finals of the Champions League, the semi-finals of the FA Cup, however they had a lot to do to retain their Premier League crown, being 8 points behind leaders Arsenal, Pep's team having 11 games left and The Gunners 10.
Ering Haaland picked up a slight strain over the International break and Phil Foden had to have his appendix removed, and so they both missed the visit of Liverpool. However in a performance that Pep described as "Perfect" City swept the Scousers aside with a manificent 4-1 victory. Haaland was back for a trip to Southampton, and scored twice, in another great 4-1 win.
In the 1st leg of Champions League Quarter Final City were at home to Bayern Munich, and blew the Germans away with a tremendous 3-0 victory. Back in the League and a easy victory, 3-1 at home to Leicester kept the pressure on leaders Arsenal.
The big games were coming thick and fast now, and in the Champions League Quarter Final 2nd leg at Bayern Munich, a very professional 1-1 draw meant that City were through to the semi-final and another meeting with Real Madrid. Next up the FA Cup semi-final at Wembley, and in a one-sided match Championship side Sheffield United were easily disposed of in a 3-0 victory.

At The Etihad, in an amazing atmosphere, City beat League leaders Arsenal 4-1 to put the Premier League title in their own hands, now just two points behind The Gunners with two games in hand.
the victories kept coming as they beat Fulham 2-1 at Craven Cottage and then at home to West Ham, Erling Haaland sensationally broke the Premier League record for goals in a season as he scored his 35th League goal. Phil Foden's goal which completed a 3-0 victory was City's 1,000th under Pep's management.
The Blues made it ten League wins on the trot with a tricky 2-1 win over Leeds at The Etihad. City were now in the driving seat, one point ahead of Arsenal with four ganes left to play. The North Londoners only having three matches left.
Before the Premier League could be decided City had a Champions League Semi-Final to play, and the hope that they could avenge their defeat at the same stage last season, as they faced European Champions Real Madrid again. The first leg was in Spain and in a very professional performance they drew 1-1.
The third Premier League title on the trot then got even nearer, as City beat Everton 3-0 at Goodison Park, and at the same time Arsenal lost 3-0 at home to Brighton, The Blues now just needed one victory from their remaining three matches to guarantee it.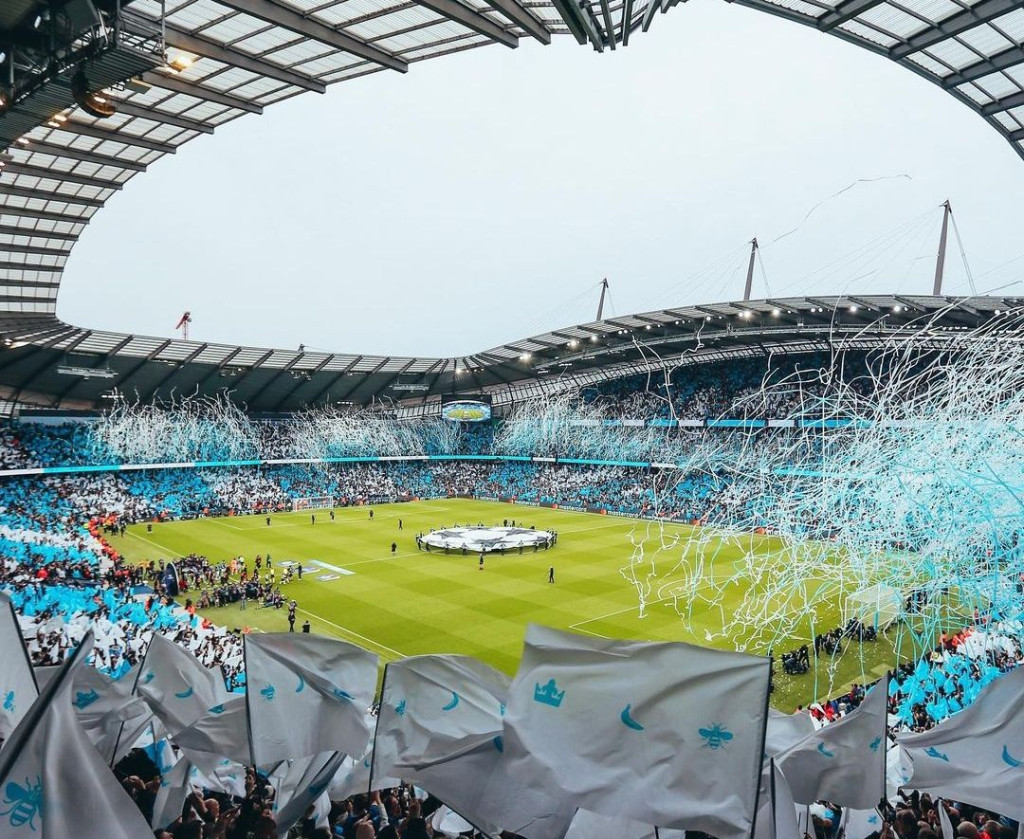 Then came possibly the greatest night at the Etihad in the 20th years since the Blues moved from Maine Road. In the 2nd leg of the Champions League Semi-Final City tore Madrid apart with a magnificent 4-0 victory, two goal hero, Bernado Silva exclaiming "It's a beautiful night for us."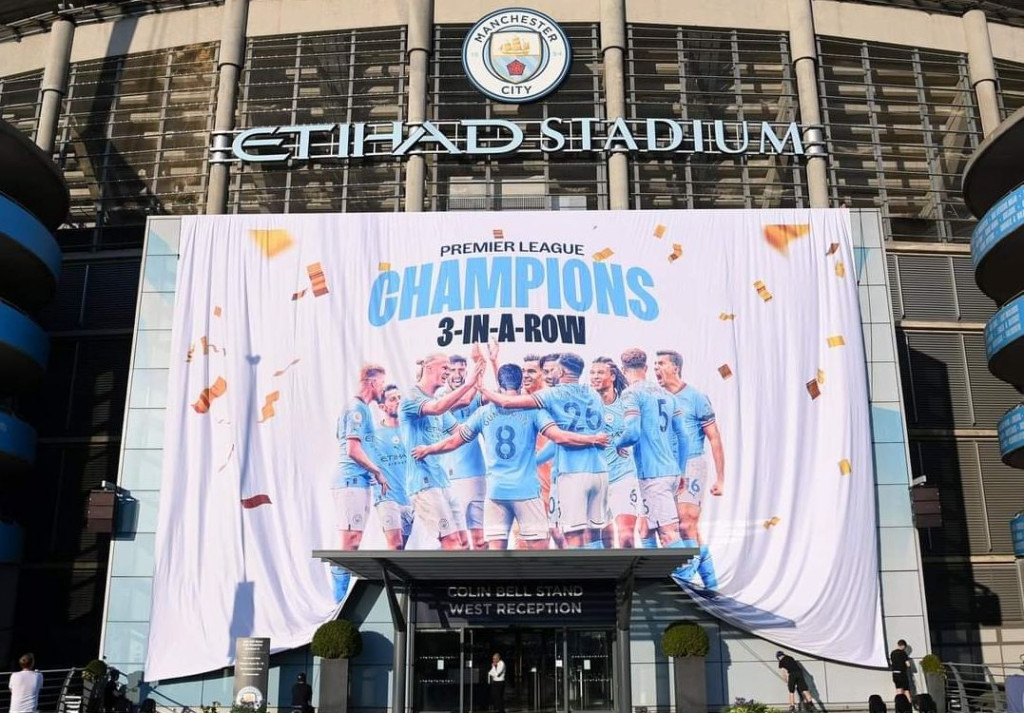 Then back in the Premier League, the day before the Blues were due to play Chelsea, Arsenal lost their match at Forest, and so without kicking a ball again City were Champions for the fifth time in the last six seasons, which meant the team received a guard of honour the next day as the fans enjoyed the title celebration party, as an under strength side beat Chelsea 1-0, and the trophy was then lifted by captain, Ilkay Gundogan, who said after the match "It has been a season I will never forget."
With two League games left before the two big Cup finals, Pep gave fringe players time on the pitch so he could rest his 'big guns', and they drew 1-1 at Brighton and in the last game of the season lost 1-0 at Brentford.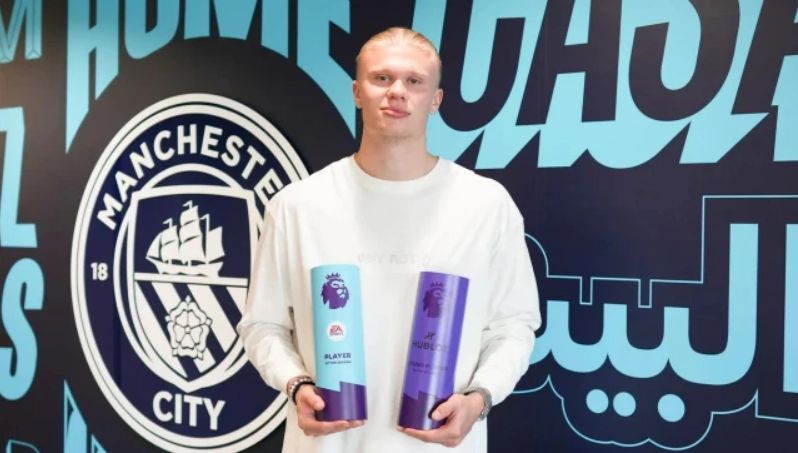 That same weekend Erling Haaland, after already picking up the Football Writers' Association Footballer of the Year award just a few weeks earlier, was named both Premier League Player of the Season as well as Young Player of the Season. He was also awarded the Golden Boot Trophy for his amazing record breaking Premier League tally of 36 goals.
And so with one trophy won, there was just two to go to achieve the holy grail of becoming the only club to win the classic treble and the domestic treble.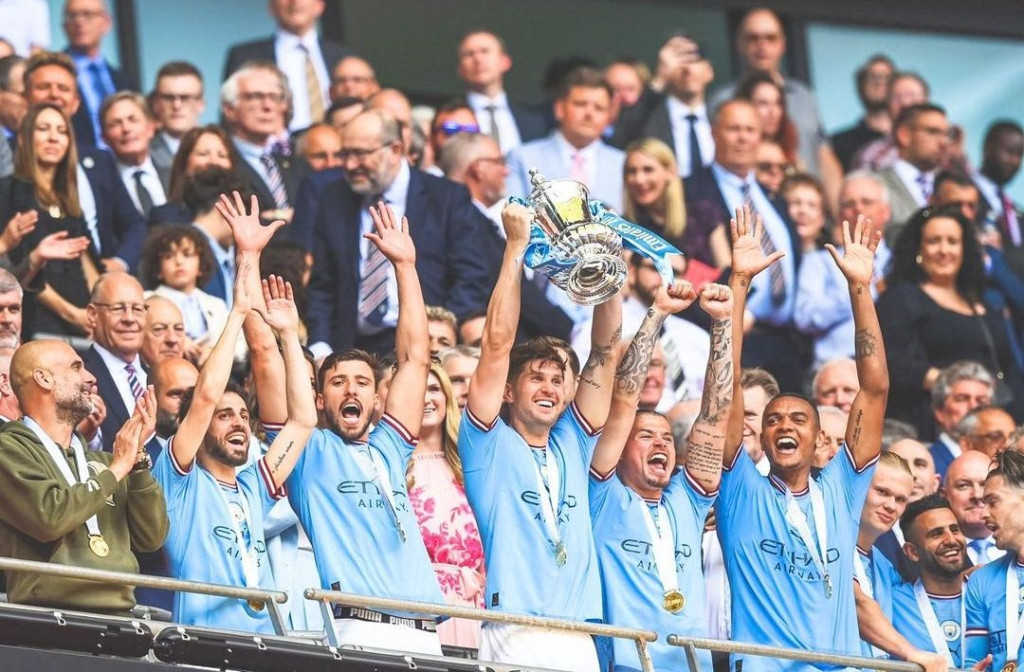 As fate would have it, it was Manchester United they would meet in the FA Cup final, and their fans and players were determined to beat City to prevent us trumping the United '99 treble winners. On the pitch however, it was City who took control and won the first ever all Manchester FA Cup final 2-1 with Captain Ilkay Gundogan the hero again, scoring both City goals. The League and Cup Double was complete, could City win their first ever Champions League to complete the greatest of seasons.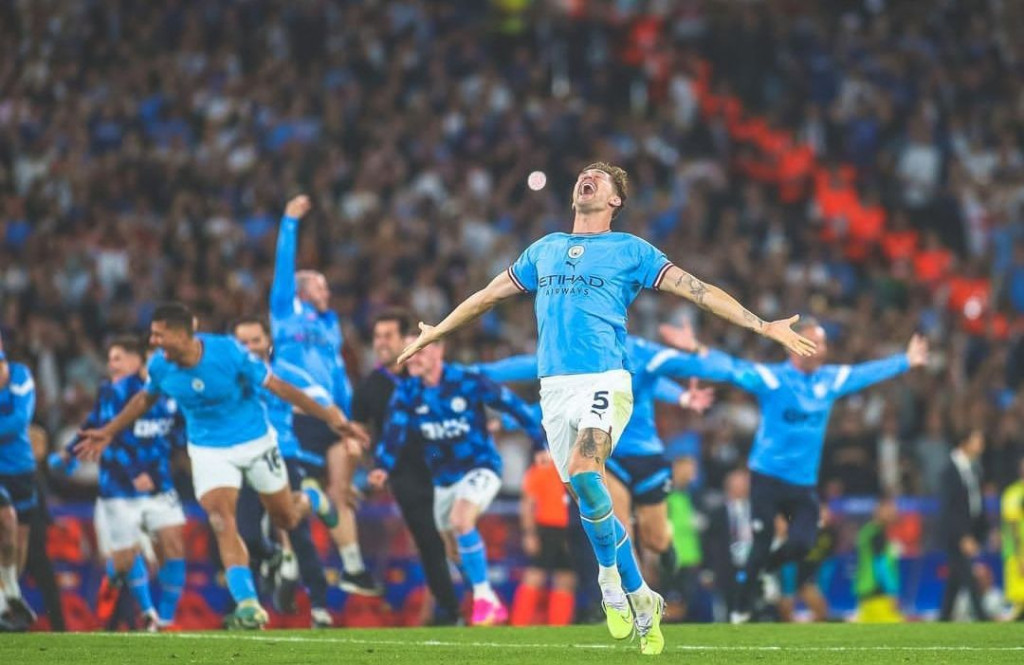 The Champions League Final was held in Istanbul, and was always going to be a close game as Pep's side faced Italian giants Inter Milan, their first ever competitive meeting. It wasn't a classic final but that didn't matter, the only thing that did matter was Rodri's goal that meant that City won 1-0 and were European Champions for the first time, and the treble was complete.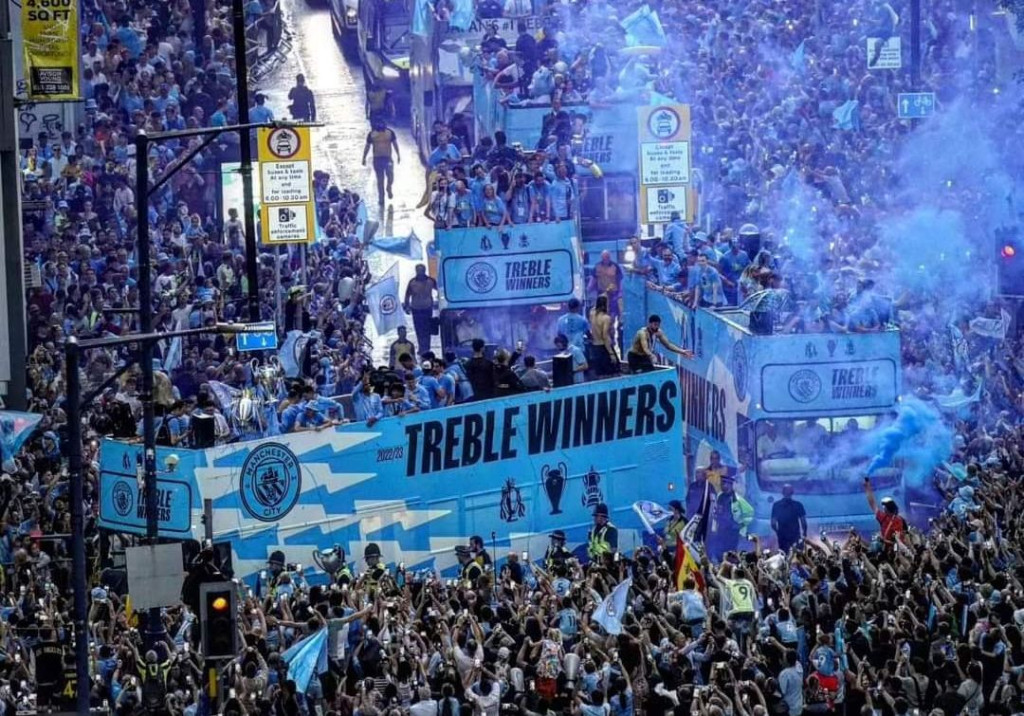 Two days later, despite thunder storms and torrential rain, it seemed the whole of Manchester was on the streets of the City centre to cheer the players on their open top bus treble trophy winning parade.