1974/75 SEASON REVIEW
The Blues started the season with a new Assistant Manager as Ian MacFarlane renewed a partnership with Tony Book they had shared when they played together as Full Backs for non-league Bath City
The Blues opened their season warm-up games with a 6-2 win at Bangor City . City's pre-season tournament was The Texaco Cup, and after failing to win away, a 1-1 draw at Blackpool and a 4-2 defeat at Sheffield United, The Blues finished the tournament by beating Oldham 2-1 at Maine Road. City ended up 3rd of 4 in their group and of course did not qualify.
The week before City's season opener the Blues splashed out £200,000 on Scottish International Asa Hartford in an effort to be up their competing for the League Championship with the top clubs, but the next day Francis Lee was surprisingly sold to Derby for £110,000, Lee was clearly unhappy with the move as he believed he still had a future at Maine Road, however he was respectful with his departing comments; "I've had some great years here, the best of my career. But when they want you to go, you go. Of course I'm a bit sad. But I'm looking forward to a fresh challenge at Derby. I want to do well for them." Rodney Marsh was more ignominious, he commented in his biography 'Priceless'; "Before the season kicked off Book made the first of many cock ups by selling Francis Lee to Derby for £110,000. In doing so, Book didn't just shoot himself in the foot, he almost blew City's legs off.
… The really comical thing about the transfer was that Book signed Barney Daniels from non-league Telford as Franny's replacement. I just shook my head when I heard because that was when I knew Manchester City were about to turn a silk purse into a sow's ear."
In addition to Francis Lee leaving, the board balanced the books on the Asa Hartford deal by selling Frank Carrodus to Aston Villa for £95,000.

It was an emphatic start to the season as City won both their home games, 4-0 against west ham and 1-0 against Tottenham , however the Blues couldn't keep their form up away from home as they were well beaten by Arsenal 4-0, however, City stayed in North London and completed a double over Tottenham , beating them 2-1.
After the defeat at Highbury, 34 year old Denis Law, now unable to get back into the first team, announced his retirement. City mutually agreeing to end his contract.

Back to Maine Road and City kept up their 100% home record beating Leeds United 2-1 before earning a good away point at Coventry with a 2-2 draw. They played Scunthorpe next in the 2nd Round of the League Cup and showed their superiority with a 6-0 home win, which saw a hat-trick from the impressive Colin Bell.
It was to be four wins out of four in the league at Maine Road, as City beat title contenders Liverpool 2-0. However they failed to score in their next two away games, losing 3-0 at Middlesbrough where Willie Donachie was sent off for retaliation, and then a goalless draw at Carlisle. And so eight games in and City were in an excellent position in the League Just 3 points off the summit sitting in third place behind Liverpool and leaders Ipswich. City leap-frogged Liverpool a week later as they beat QPR at Maine Road and moved into 2nd place in the league, just two points behind Ipswich.
City then failed to win their next three games. They dropped their first point at Maine Road, drawing 1-1 with Chelsea and then, although their would be no league derby against Manchester United , City still visited Old Trafford in the League Cup 3rd round and were beaten by United 1-0. Continuing their travels in the North West City were then beaten 2-1 at Burnley . The Blue's home form however didn't desert them and they were back to winning ways with a 2-1 win against Arsenal followed by a 1-0 victory over Luton.
City's away form has always been their achilles heel, and again they failed to win in their next two away games, drawing 1-1 at Ipswich and losing 2-0 at Championship rivals Everton. Leaving them in 4th place, but just one point behind leaders Liverpool with sixteen games played.
Stoke were the next visitors at Maine Road and were beaten 1-0 with the only goal from Rodney Marsh. City then travelled to Spain and played a prestigious friendly against Barcelona and narrowly lost 3-2.
In the league disaster struck again away from home with a 4-0 defeat at Birmingham and a 2-1 defeat at Newcastle, sandwiched in between was a 4-1 home win against Leicester . The Blues Maine Road form was keeping them in the mix and after almost half the season played they were in fifth place just one point off shock leaders Stoke.
Tony Book was then honoured with a testimonial, as a City side were beaten 6-4 by an All Star XI.
Back in the League and another home win followed, a 3-2 victory over Sheffield United, .Two days later the Blues got some shooting practice in as they beat Ashton United 8-1 in a friendly at Hurst Cross. However this was followed by a goalless bore at West Ham . City then failed to score for the first time at Maine Road in a goalless draw with Wolves.
The Christmas period was now in full swing, but sadly there were no football presents for the Blues as they were beaten 4-1 at Liverpool on Boxing Day and then two days later they suffered their first Maine Road defeat of the season, as they were beaten 2-1 by Derby. Joe Royle made his first two appearances for the Blues in these games after Tony Book splashed out another £200,000 to bring the England International to City from Everton in an effort to kick start 1975.
And so entering 1975 the Blues lay in 8th place in the league, however they were still within contention of the league title as there were only two points covering the top eight teams.
They failed to win in their sixth League game on the trot as they drew 1-1 at Sheffield United . City played one other game prior to the Sheffield United league game, they were knocked out of the F.A. Cup 2-0 at home to Newcastle  
The next two games totally summed up City's inconsistent season as they trounced Newcastle 5-1 at Maine Road, revenge for their cup exit, but then traveled to Stoke and were put to the sword, and lost 4-0. Interestingly Joe Corrigan played in the 5-1 win over Newcastle but was dropped for the Stoke game in favour of Keith MacRae who then let in four goals. Joe Corrigan made it clear to the media that he was unhappy with the way he was being treated: "I've had enough of the hurtful Maine Road Crowd and I want to get away. I'd have given my life for this club but after taking it on the chin for so long I reckon I've got my priorities right at last. I get abuse from a lot of the supporters. And one director stated openly some time ago that I would never play in the first team again… they've never helped me with my problems. Some of the things that have happened here make me wonder who's picking the team… What a relief it will be to get away from it all."
City retaliated by disciplining the giant goalkeeper and officially transfer listing him. Tony Book commenting that "I am not looking for a lot of money. Any sensible offer will be given consideration."

As The Blues had a free week due to their absence from the Cup, they traveled to Tel Aviv where they beat an Israel International XI 2-0 in a friendly, then three days later they traveled to Bristol where they drew 2-2 with Bristol City in a Friday evening Friendly.
With just a third of the season left City beat fellow title contenders, Everton at Maine Road 2-1 leaving them in sixth place just three points behind leaders Stoke.  With another empty match week due to the early cup exit Tony Book was anxious to keep the players match fit, and so a further two away friendlies were arranged a 3-2 defeat against A Moroccan National XI in Casablanca, followed by 3-3 draw at Portsmouth. The break seemed to have worked as City then beat Birmingham at Maine Road 3-1. However City's Championship aspirations then took a major slide. They gained a point at Leeds in a 2-2 draw but then lost 1-0 at Leicester , 2-0 at QPR where out of favour Joe Corrigan returned as Keith MacRae was injured at Leicester, and then lost 2-1 at home to Carlisle . With just nine games left City were now well off the pace being 7 points behind leaders Everton.
The good home form City had shown earlier in the season then returned as they beat Coventry 1-0 and Middlesbrough 2-1, however it was the away form which was still cause for concern with two further defeats on their travels, 1-0 at Wolves and 2-1 at Derby, a third away game on the trot saw City win 1-0 at Chelsea their first win away from Maine Road for eight months, and only the second of the season.
The season petered out with a 2-0 home win against Burnley then the last game at Maine Road saw a 1-1 draw against Ipswich and the season came to a close at Luton with another 1-1 draw. There was one further game at Maine Road, as City took on Don Revie's International All Stars in a testimonial for the great Ken Barnes.
City were not left  trophyless  however, in the last month of the season Miss Manchester City, 22 year old school teacher from Middleton, Susan Cuff, won the UK Soccer Queen Final in April 1975 in Ipswich.
 The team itself finished 8th on 46 points and Alan Oakes was voted City's Player of the year.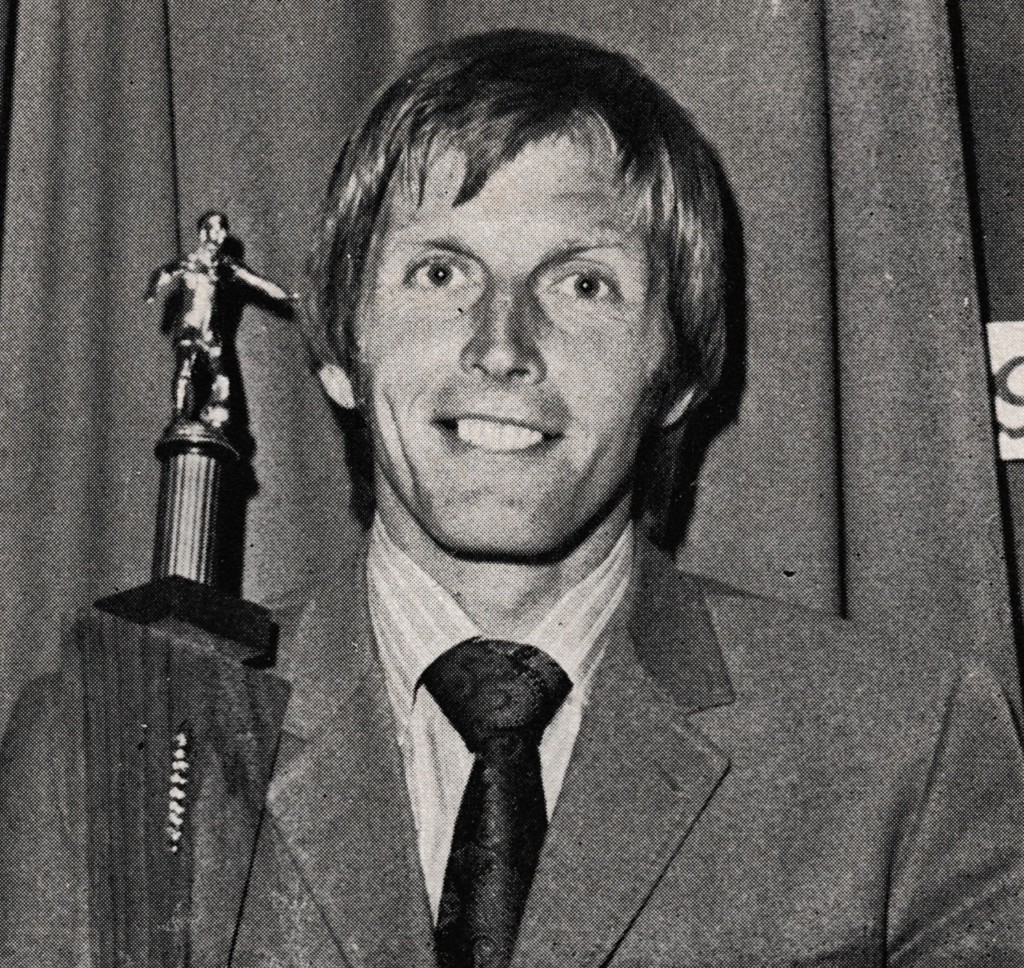 The Club visited Africa for an end of season tour beating Shooting Stars 1-0 and the Nigerian Forces 2-1
The final league table is shown below