Before Pep's 'Fourmidables' even returned for pre season training City were active in the transfer market, first by bringing Angelino back to the club by taking up the option of the buy-back clause in his contract and paying PSV Eindhoven just £5.3M for his signature.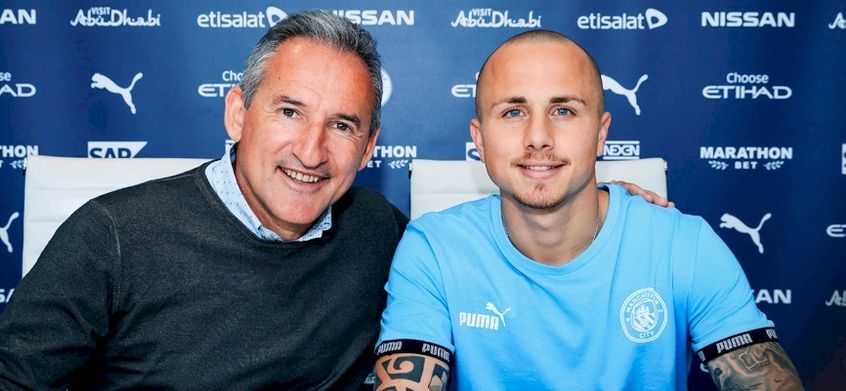 Going on season long loans were Arijanet Muric to Nottingham Forest, Ante Palaversa to KV Oostende and Patrick Roberts to Norwich. Also Pablo Mari moved permanently to Flamengo for £1M and Thierry Ambrose transferred to FC Metz for around £2M
The Blues then broke their transfer record as they paid £63M to Atletico Madrid for Spanish International midfielder Rodrigo Hernández Cascante… or Rodri for short.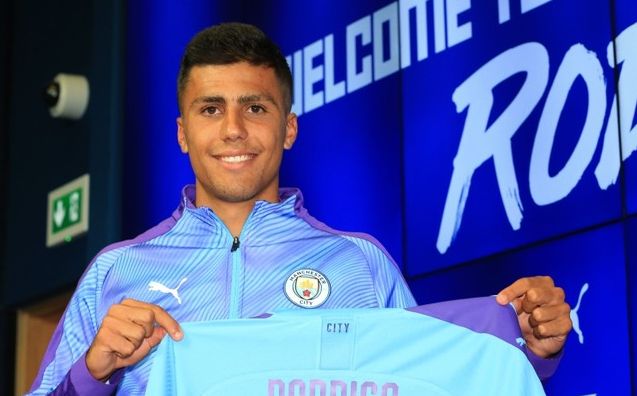 Keeper Zack Steffen then went on a season long loan to Fortuna Dusseldorf, however leaving City permanently was Fabian Delph who moved to Everton for around £9M. Another youngster gaining experience on loan was Philppe Sandler who would spend the season with Vincent Kompany's Anderlecht.
A squad of 27 players flew off to China for the Premier League Asia Trophy, minus Foden, Aguero, Jesus, Fernandinho, Otamendi, Mahrez and Ederson, who were all returning to training later due to their international summer tournament commitments.
City booked their place in the Asia Cup final with a 4-1 victory over West Ham with impressive displays from the younger members of the squad.
Another City youngster leaving the club was Taylor Richards, joining Brighton for £2.5M
A more experienced side squandered endless chances in the Asia Cup Final against Wolves and despite dominating the game City drew 0-0 and lost on penalties.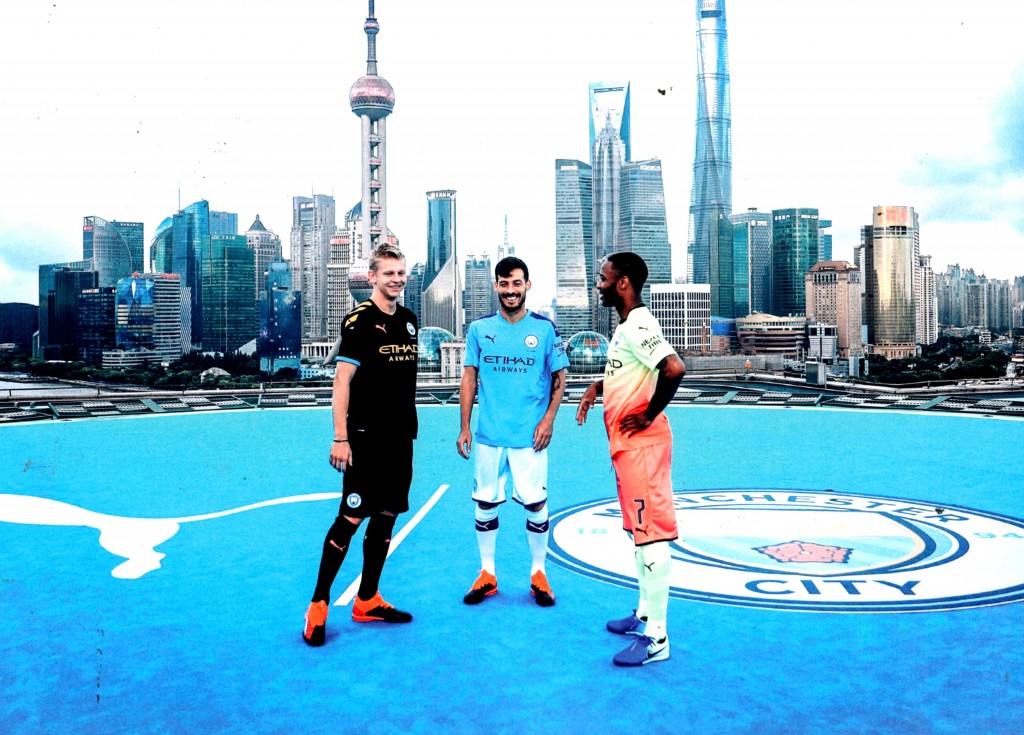 The tour then moved on to Hong Kong and a comfortable 6-1 victory over Kitchee.
The final game of the tour was in Japan and City beat Yokohama F Marinos 3-1.
Two more City youngsters moved on one year loans, Tosin Adarabioyo to Blackburn and Lukas Nmecha to Wolfsburg. Douglas Luiz moved permanently to newly promoted Aston Villa for £15M.
In the traditional season opener, the Community Shield, Liverpool put out a very strong team against a still depleted City starting eleven, still missing Aguero, Jesus, Fernandinho, Laporte, Ederson, Mahrez and Mendy, despite looking a little leggy in the second half Pep's side put up a great performance, drawing 1-1 then winning the penalty shoot out 5-4 to lift the fifth consecutive English trophy.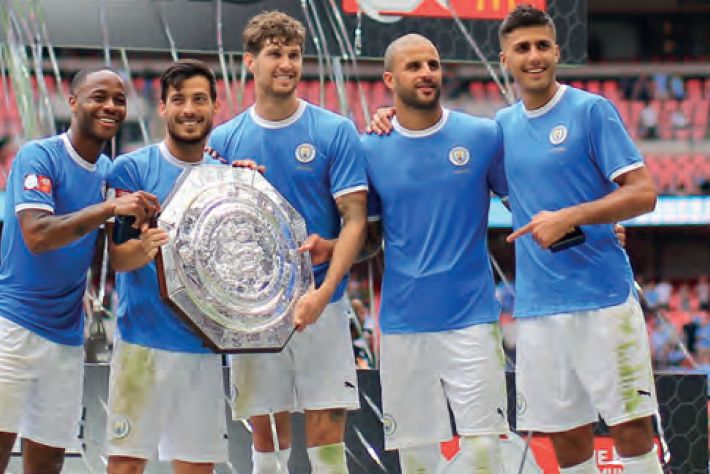 The only downside from the Community Shield was an early injury to Leroy Sane which was later conirmed as an ACL and it looked like he could be out of Pep's plans for at least the first half of the season.
City did strengthen the squad however, with the signing of Portuguese right back Joao Cancelo from Juventus. The fee was around £60M, City paid around £28M and Danilo valued at around £32M moved the other way to join Juventus.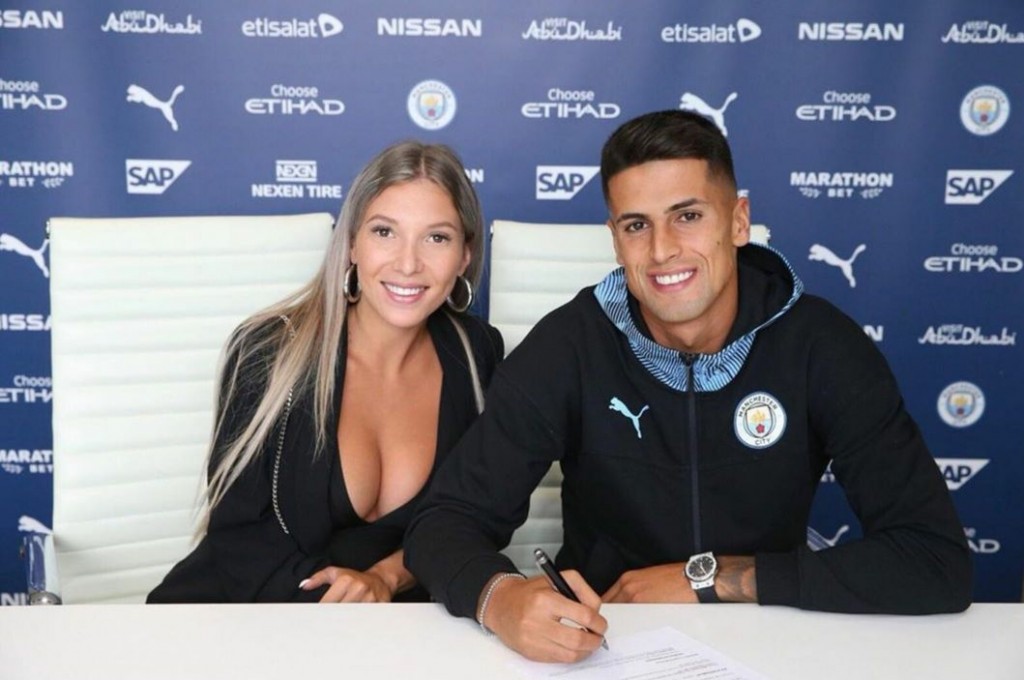 The Blues also brought in cover for Ederson and Bravo by signing 33 year old Scott Carson on a one year loan from Derby County.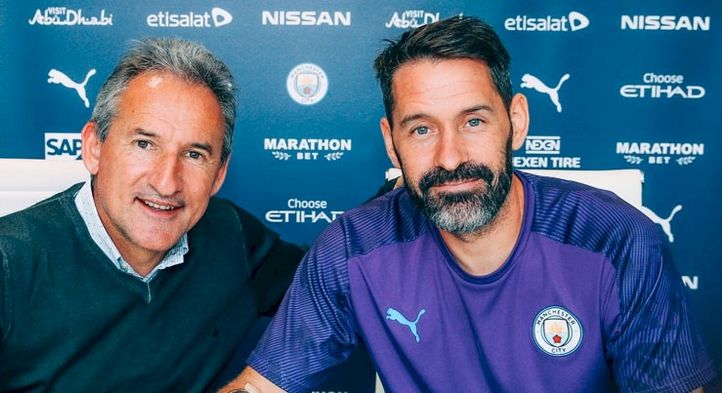 The only other move confirmed before the English transfer window closed was the purchase of Pedro Porro from Girona for around £11M and he was immediately loaned out for a year to Valladolid.
The new season saw VAR introduced in all Premier League games for the first time and their were several controversial VAR decisions in City's opening Premier League game at The London Stadium, however The Blues overcame a disallowed goal with a magnificent performance to beat West Ham 5-0 including a hat-trick for Raheem Stirling.
Unfortunately a week later despite another fantastic display by Pep's team against Tottenham at The Etihad they could only draw 2-2. VAR incorrectly robbing City of a last minute winner and failing to see a clear and obvious penalty when Rodri was 'rugby tackled' in the Spurs box. Pep later commenting "maybe VAR had gone out for a coffee when the incident occurred".
David Silva produced a man of the match performance in his 400th appearance for City as they beat Bournemouth 3-1 on the South coast. The Blues then went on to make it 14 goals in the opening four games as they beat Brighton 4-0 at The Etihad to go into the first International break, with the bad news that Aymeric Laporte would be sidelined for around six months after his knee was injured in a clash during the game with The Seagulls.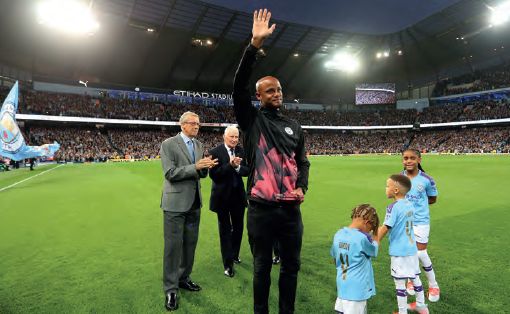 During the break over 51,000 City fans paid tribute to Vincent Kompany in his testimonal match, as Manchester City Legends drew 2-2 with a Premier League All Stars XI with all profits from the game going to the charity Tackle4MCR.
It would not be a happy return from International duty as City's defensive frailties were exploited at Carrow Road, Norwich beating Pep's side 3-2. After five games, although still in second place, The Blues were already five points adrift of leaders Liverpool. There was more bad news to follow as John Stones suffered a muscle injury in training and a six week absence was predicted, leaving Otamendi as City's only senior centre back in the squad. Enter Fernandinho who slotted in beside Otamendi for City's first Champions league game of the season.
City travelled to the Ukraine and put in a great performance to beat serial opponents Shakhtar Donetsk 3-0. Then three days later, in the match to celebrate 125 years of Manchester City, the Citizens ripped apart Watford 8-0 at the Etihad scoring the first five goals in the first 18 minutes.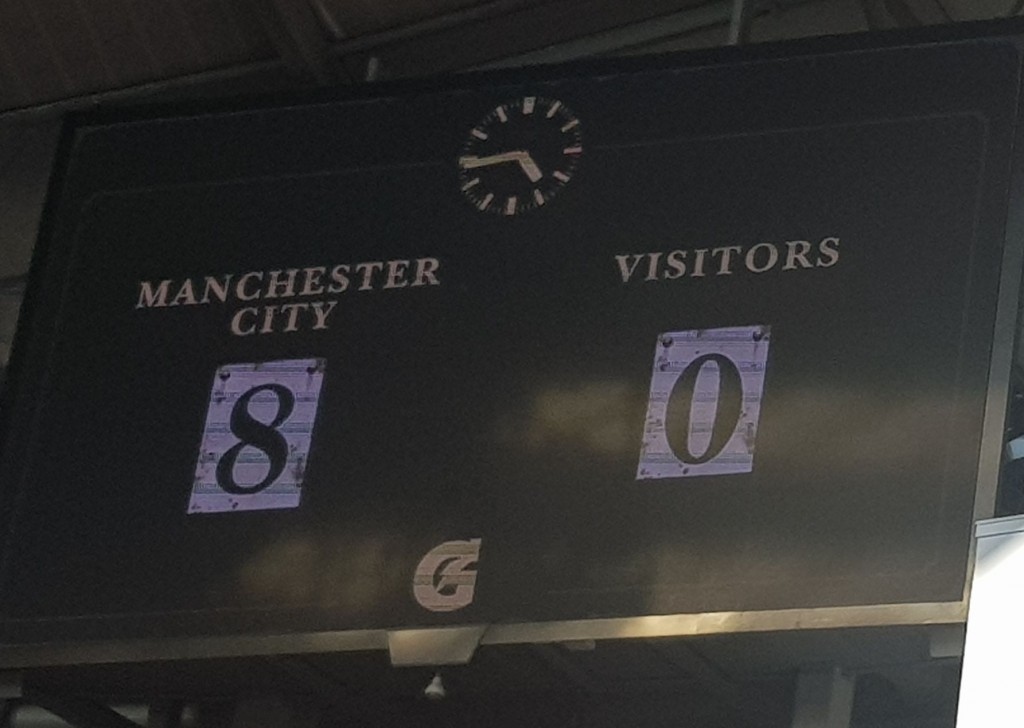 A youthful City team swept aside Preston 3-0 at Deepdale in what could have been a tricky Carabao Cup 3rd Round tie. Then a stronger team won 3-1 at Everton before a second Champions League victory, 2-0 against Dinamo Zagreb at The Etihad.
A tired looking City then surprisingly lost 2-0 at home to Wolves, and moving in to the second International break of the season Pep's side were already eight points behind leaders Liverpool, who had a perfect record of eight wins from eight games.
Following the international break City were still struggling with a major injury crisis in their back line, and Pep played both Rodri and Fernandinho as Centre Halves for the trip to Crystal Palace, City put up a great performance, winning 2-0. However, things went from bad to worse in the treatment room, prior to the home game against Atalanta in The Champions League Zinchenko suffered a knee injury in training with a possible two month absence ahead of him. And then Rodri pulled up with a hamstring injury in the game against Atalanta, which City won comfortably 5-1.
Despite all the defensive injuries The Blues kept a clean sheet in their next game, beating Aston Villa 3-0, and in doing so cut Liverpool's lead at the top of the table to six points.
Three days later, a much changed City team beat Southampton 3-1 to reach the Quarter Finals of The Carabao Cup with City debutant, Tommy Doyle, Grandson of Mike Doyle, putting in a great display in midfield.
The Saints were unlucky to play City again at The Etihad, this time in the league, and they put up a much better performance, however The Blues beat Southampton 2-1.
In the Champions League, City's trip to Italy to play Atalanta should have been an easy victory, however Ederson had to be replaced at half time by Claudio Bravo as he had suffered a muscle injury, and unfortunately Bravo's performance did not inspire confidence, and his rash challenge way out of his area saw him sent off with nine minutes left to play. Kyle Walker pulled on the keeper's jersey and managed to keep Atalanta from scoring again as the match finished 1-1.
In the last game before another International break City visited Anfield in a match that the media were saying that if Pep's side lost then, even though there was only a third of the season gone, it was The Scousers' title. Aided by a controversial VAR decision and another questionable performance by Bravo, Liverpool did win 3-1, and despite City dominating most of the game, they were now nine points behind Klopp's side.
The International break enabled Ederson to recover from his injury and his return heralded a great 2-1 victory over Chelsea at The Etihad, however the injury curse hit the Blues again and Sergio suffered a groin injury that could see him sit out for the next six weeks.
A subdued performance in the Champions League in Manchester saw City qualify for the knock out stages with one game to spare, drawing 1-1 with Shakhtar Donetsk.
Off the field The Sheikh sold another 10% of the club to Silver Lake, an American private equity firm for £389M, valuing City at £3.74 Billion, the most valuable football club in the world, Sheikh Mansour still holding 77% of shares in the club.
In addition it was announced that Mansour's City Football Group had acquired a majority stake in their eighth football club, agreeing a deal to take a 65% stake in Mumbai City FC in the Indian Super League.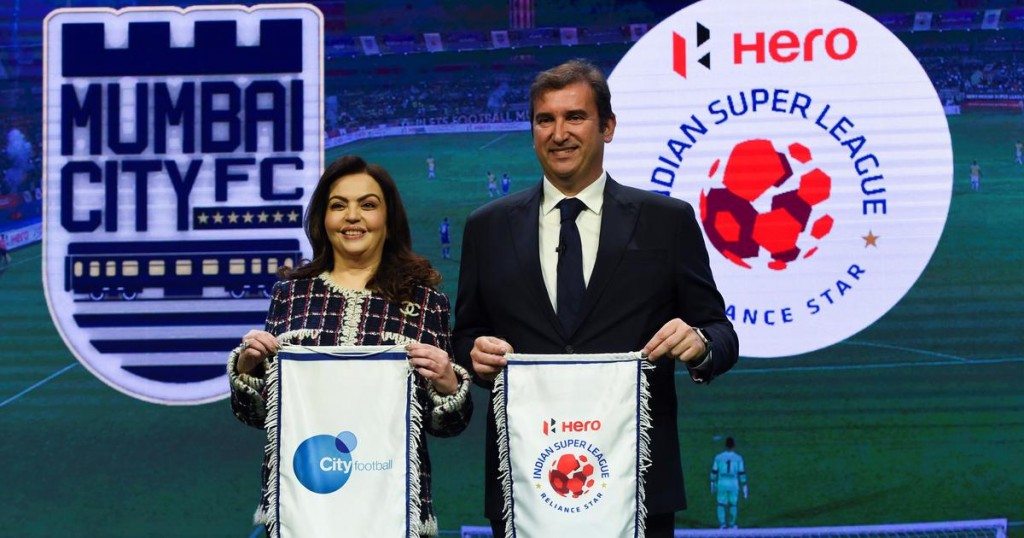 Unfortunately back on the field City limped to a 2-2 draw at Newcastle, leaving them now in 3rd place and 11 points behind leaders Liverpool.
Despite a 4-1 victory at Burnley, another lacklustre performance at the Etihad saw United grab the Manchester Derby bragging rights as they beat City 2-1 to lengthen the gap at the top to, a maybe, insurmountable, 14 points from top of the table Liverpool.
With The Blues already qualifying in first place in the Champions League, Pep picked a virtually second eleven for the trip to Dinamo Zagreb, and they put up a great performance with a 4-1 victory.
Back in the league and City visited the Emirates and destroyed Arsenal, winning 3-0. The youngsters then put up a great display in The Carabao Cup Quarter Final, winning 3-1 at Oxford, before a magnificent performance in the League, beating second place Leicester 3-1 and cutting the gap on Liverpool to 11 points, the Scousers however now having a game in hand.
The first game after Christmas, didn't bring much cheer as City were beaten in the league again, 3-2 at Wolves, however with the games coming thick and fast, they then beat Sheffield United 2-0 two days later, and then Everton 2-1 on New Years Day.
With the defence of the League looking doubtful, The Blues started their defence of the FA Cup with a good 4-1 victory over Port Vale in the 3rd Round.
City's 'love affair' with the League Cup then continued as they took the short trip to Old Trafford and beat United 3-1 in the first leg of the Carabao Cup semi-final.
Back in the league and City trounced relegation threatened Aston Villa 6-1 at Villa Park, a game which was significant in the Premier League record books, as Sergio Aguero broke Alan Shearer's hat-trick record, scoring his 12th treble and in doing so he became the highest overseas goalscorer in Premier League history.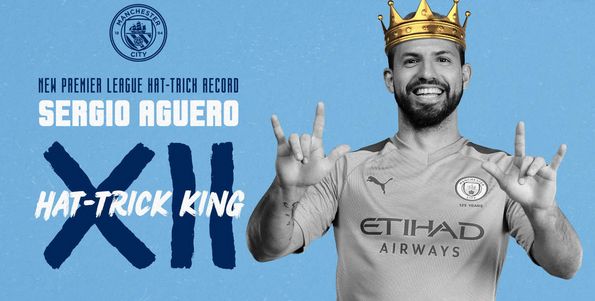 Crystal Palace again spoiled the party as they held The Blues to a 2-2 draw at The Etihad. However Sergio was again in the news as he reached 250 goals for City.
The Blues then travelled to Sheffield United and the long awaited return of Aymeric Laporte spurred City on to a clean sheet and a 1-0 victory.
The cups were now the main target this season with Liverpool all but tying up the league, and City easily progressed to the 5th round of the FA Cup with a 4-0 victory over Fulham at The Etihad.
City then progressed to their third League Cup Final in a row, despite losing 1-0 at The Etihad to Manchester United.
Before the transfer window closed Angelino moved to Red Bull Leipzig on loan until the end of the season.
Back in the league and despite dominating at Tottenham City failed to convert any chances, including a penalty, and lost 2-0. A week later and the chance to get back on track in the league was defied by the elements as storm conditions caused City's home match against West Ham to be postponed. The Blues had two weeks off as they moved in to the Premier League's first ever winter break.
The break however brought the biggest headline to hit the newspaper back, and indeed front pages for decades. UEFA who had reopened investigations in 2018 over alledged breaches of FFP rules following hacked information they had received, announced that City would be banned from all UEFA Competitions for two years starting 2020/21 season and a fine of £25M would be applied. An attack on the club by the hierarchy, who had never wanted City in with the established cartel was obvious, and the club issued a vehement statement to say they would be fighting this decision to the very end and would initially be issuing an appeal through the Court of Arbitration for Sport.
City's two week Winter break was cut short as their postponed game against West Ham was quickly rearranged, and The Blues' comfortably beat The Hammers 2-0, then took another three points winning 1-0 at Leicester, however the League was now out of reach with Liverpool still 22 points ahead at the summit and so Pep was now looking to pull off a unique Cup treble and it started with a fantastic display in Spain as City beat Real Madrid 2-1 in the 1st leg of the round of 16 in The Champions League.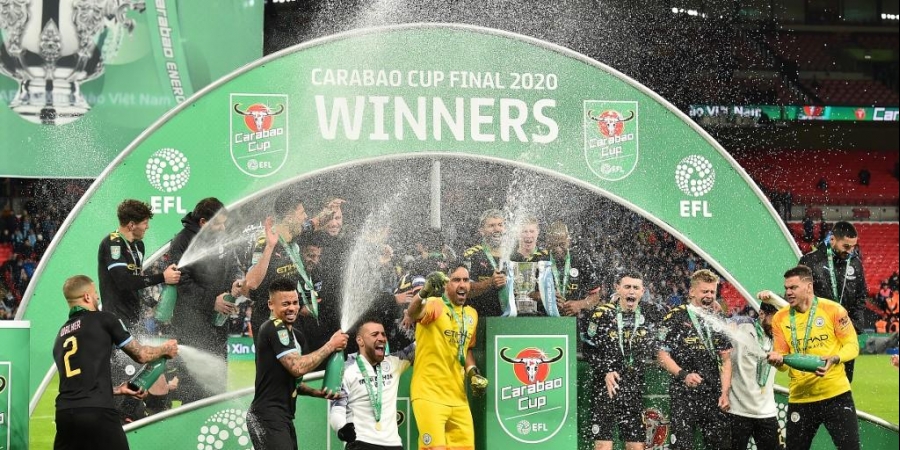 Just four days later the first of the three Cups was in the bag as The Blues beat Aston Villa 2-1 at Wembley to lift The Carabao Cup.
The club then announced they had signed the highly-rated 17 year old Brazilian defender Yan Couto from Coritiba for an initial fee of £5M, he would officially join The Blues in July.
In the third cup game on the trot City progressed to the sixth Round of The FA Cup beating Sheffield Wednesday 1-0 at Hillsborough.
Unfortunately City couldn't take their cup form to Old Trafford in the league and United completed the double over The Blues winning 2-0.
City's next game was due to be the rearranged fixture at home to Arsenal, however before then the country, and indeed the world, was thrown into an unprecedented state, not seen possibly since World War II, as The Coronavirus (Covid-19) hit the UK. And with deaths from the virus increasing to hundreds per day the whole country, and most of the world went into lockdown.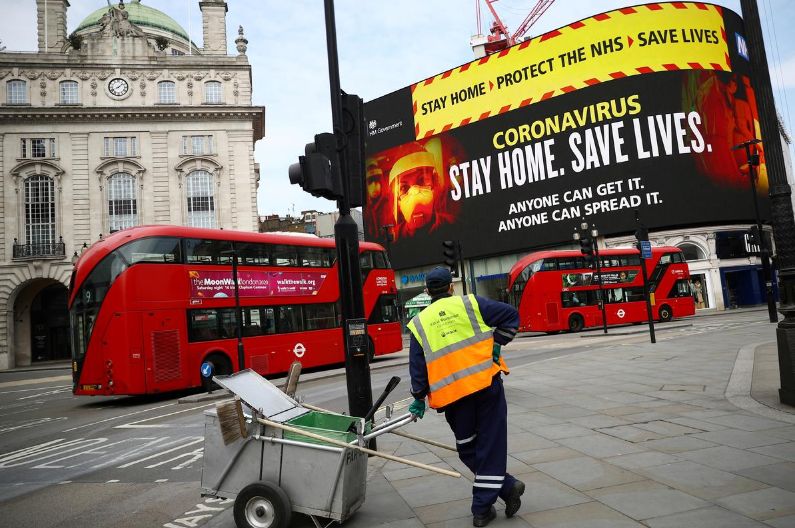 in England all pubs, clubs, non-essential shops, Public buildings and schools had to close and gatherings in public of more than two people, not from the same household, were banned and 'social distancing of 2 metres throughout the country became the norm.
With regards to how this affected City; The Arsenal game was postponed, and on 13th March the Premier League season was suspended, amid a growing list of worldwide sporting cancellations and postponements.
All players were in lockdown, attempting to stay fit at their own homes with the hope that the season would restart at some stage.
Moving into April, Covid-19 UK deaths were now at over 800 per day and there were doubts that the Premier League would not be able to return in time to complete the season, especially when at the end of April both Holland and France announced that The Eredivisie and Ligue 1 2019/20 seasons were to be cancelled. indeed in Holland there were no promotions, relegations or champions crowned, Liverpool fans must have been hoping this was not going to happen in England, as they looked to have already guaranteed their first Premier League title, being 25 points clear of City.
Lockdown seemed to have worked in most countries with death rates falling in many countries throughout the world, and it was announced that the German Bundesliga would now restart on 16th May, however all games would be played behind closed doors under strict hygiene rules.

In the UK with lockdown rules being relaxed slightly, as the Pandemic was claiming substantially less lives, The Premier League voted to return to non contact training at clubs, as part of 'Project Restart' with the hope that the season could start again in June and be concluded before the end of July.
On 28th May it was finally announced that the season would resume on 17th June, with City's game against Arsenal being one of the two games played that day. All remaning 92 Premier League games would be played behind closed doors with no fans allowed in, or near the stadiums, and all games would be televised. Players would be tested for the virus at least two times per week and all stadiums including, goal posts, corner flags, even footballs would have to be sanitised to a high standard, nothing was being left to chance.
And so on 17th June football returned to England, but with no spectators, would it still be the same? At The Etihad giant flags covered the empty seats and large screens were set up to show fan images during the game. The players' shirts were also different, they had NHS logo's on them to represent all the work and sacrifice NHS workers had gone through during the pandemic.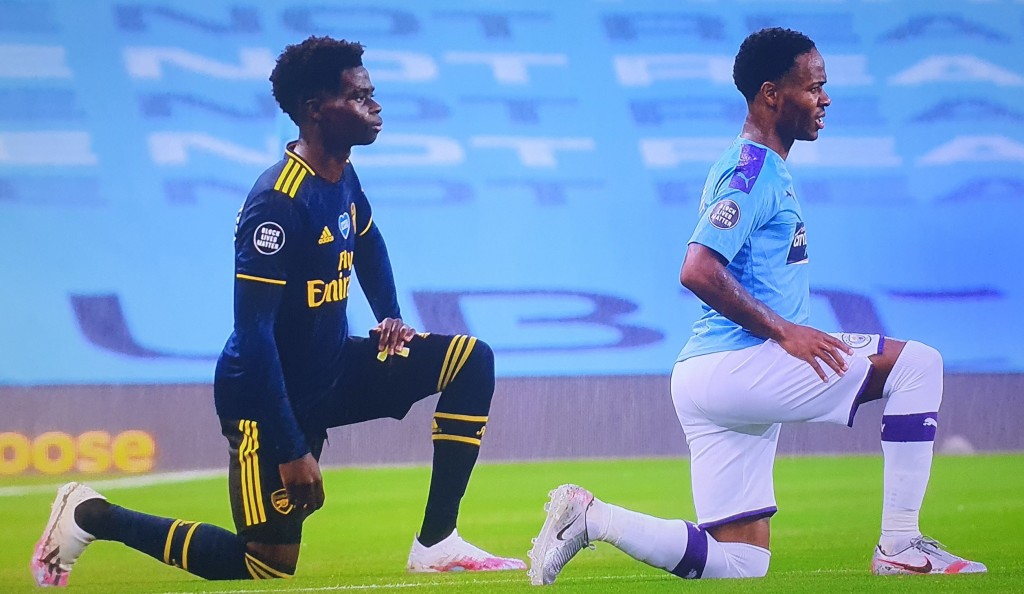 Also the country was seeing anti-racist protests and riots following the unlawful death of George Floyd, killed by police during an arrest in Minneapolis, and in support of the Black Lives Matter movement all players had their names removed from the back of their shirts and replaced with Black Lives Matter, in addition just before kick off all the players and officials took a knee to show their support further.
In such strange surroundings City put in a great performance, beating Arsenal 3-0. All clubs now had 9 games each left to play. Liverpool were top of the table 22 points ahead of second placed City. Was it possible that the Scousers could throw away, what looked like an unassailable lead?
Despite City then beating Burnley 5-0 at The Etihad, a game in which Sergio Aguero limped off and would now miss the rest of the league season, Liverpool also won, and that meant Pep's men had to beat Chelsea at Stamford Bridge, or the Premier League title would be Liverpool's. City defensive mistakes (the season had been strewn with them) handed a 2-1 victory to Chelsea, and so too, the league title to The Scousers.
Pep's eyes were now on an unprecedented possible Cup treble as City travelled to Newcastle in the 6th round of the FA Cup and won 2-0. The new League Champions then visited the Etihad with the motivation to keep winning and break City's 100 points record, however the Blues put up a stunning display with a 4-0 victory over Klopp's Liverpool.
Want-away winger Leroy Sane then got his wish to return back to Germany as he signed for Bayern Munich for an initial fee of £44.7M which would rise to 54.8M with add ons.
Then despite a much changed side and 26 attempts on goal at Southampton, yet another defensive error, this time by Zinchenko, gave a 1-0 victory to The Saints.
The Blues then put together two great performances, beating Newcastle 5-0 at The Etihad and then 5-0 again at Brighton to seal a second place spot with three games to play.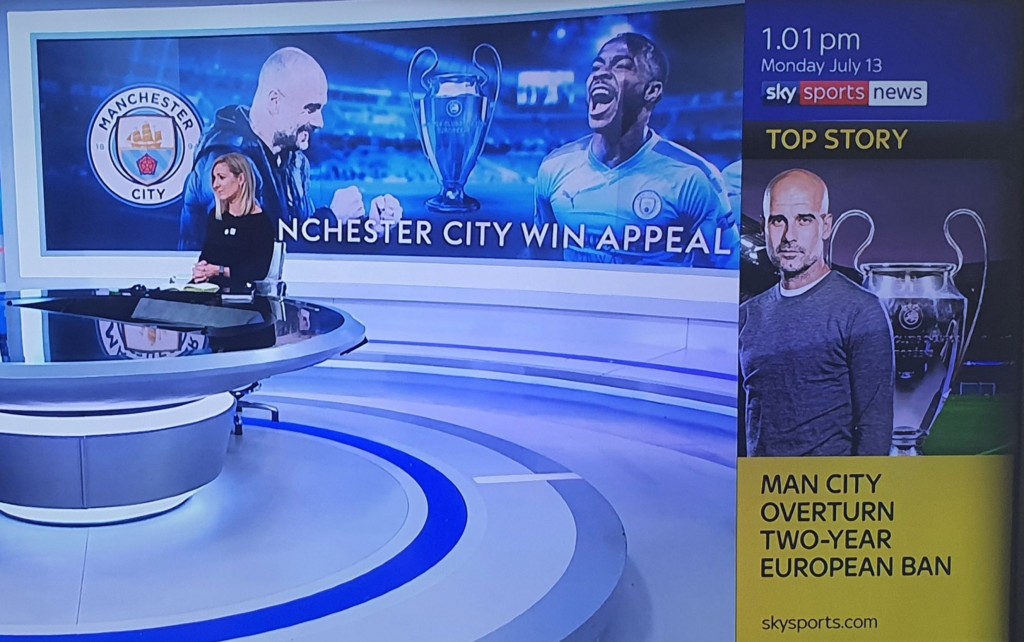 The threat of a two year ban from The Champions League had been looming over City's heads for the last five months as they awaited their appeal to the Court of Arbitration for Sport (CAS). And on 13th July the club and fans were jubilant as CAS totally exonerated City from all the charges made by UEFA, and so the ban and the £29.9M fine was overturned. All City would have to pay was a fine of £9M for failing to cooperate with UEFA authorities, which is understandable after so many leaks by UEFA had taken place.
City celebrated with a 2-1 win against Bournemouth in the league, however in the FA Cup semi-final at an empty Wembley Stadium The Blues lost their first domestic cup tie in two years as they were beaten 2-0 by Arsenal.
Back in the league, and in the penultimate game of the season, normal service was resumed as Pep's side won 4-0 at Watford , and then at The Etihad, unfortunately with still no fans present, it was a final Premier League, farewell appearance by David Silva, as City tore, already relegated, Norwich apart with a 5-0 victory. It would mean the Blues finished second in The Premier League, top scorers with 102 goals and Ederson won the Golden Glove award, as well as Kevin De Bruyne equalling Thierry Henry's season assist record.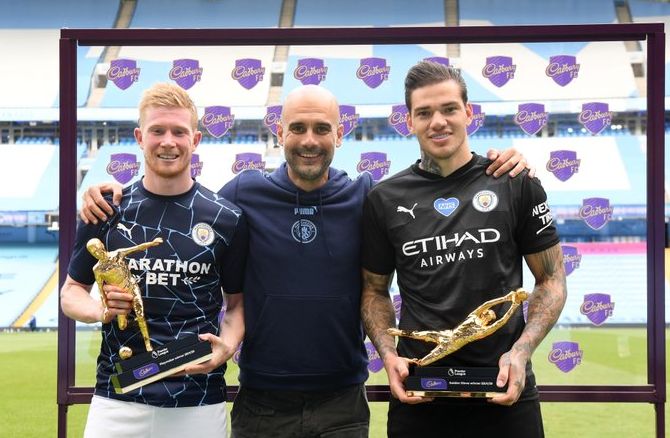 Despite the diminutive Spanish magician leaving City this season he was still available to play in The final stages of The Champions League, which would re-convene on 7th August 2020.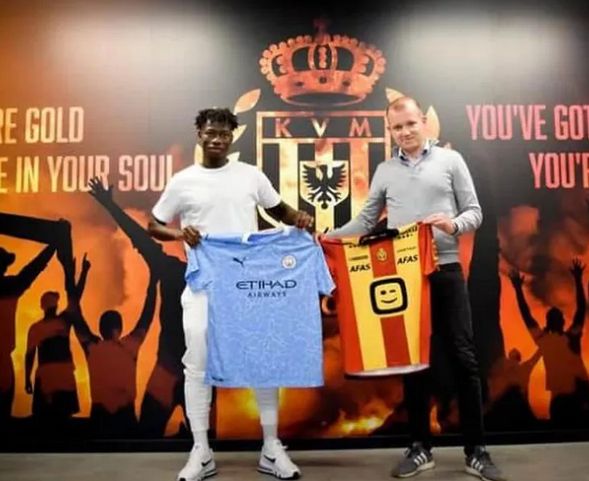 The transfer window officially opened on 27th July 2020 and City, with an eye to the future, bought 19 year old right back, Issa Kabore from Belgian side Mechelen for a fee of around £4M, with the agreement that he would be loaned back to Mechelen for the 2020/21 season.
Without the services of exiting Sane and David Silva for the 2020/21 season City brought in two major signings within two days. First in was Spanish wonder kid Ferran Torres.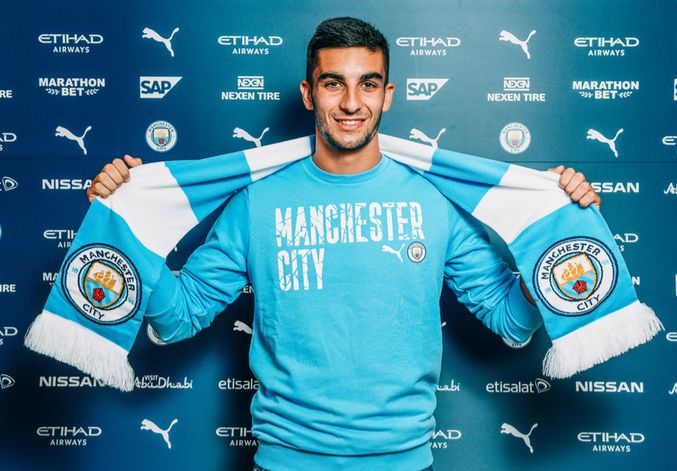 City paying an initial fee of around £22M to Valencia for the winger, with the chance of a further £10M based on performances. Next in was Nathan Ake from Bournemouth for a fee of £41M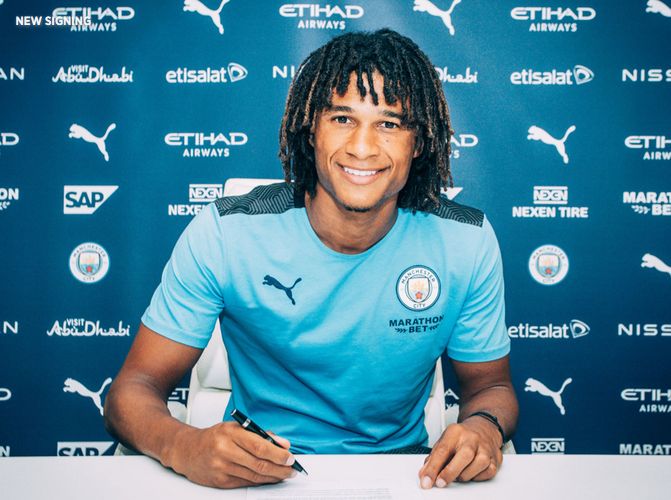 And so to The Champions League, and the second leg of the round of 16 at an empty Etihad, and City saw off Real Madrid, beating them 2-1 to seal a place in the quarter Final with a 4-2 aggregate victory.
Due to the ongoing Covid-19 pandemic the final rounds of The Champions League would be held in a mini tournament format in Portugal, with just one match rather than a two legged tie to decide each round.
Disappointingly, despite being favourites, City's season came to an end as they were beaten 3-1 by Olympique Lyonnaise in the Quarter Final.
Kevin de Bruyne deservedly won the Premier League Player of the Year and PFA Player of the Year, and it was announced that a statue would be erected to celebrate the departing El Mago, David Silva.