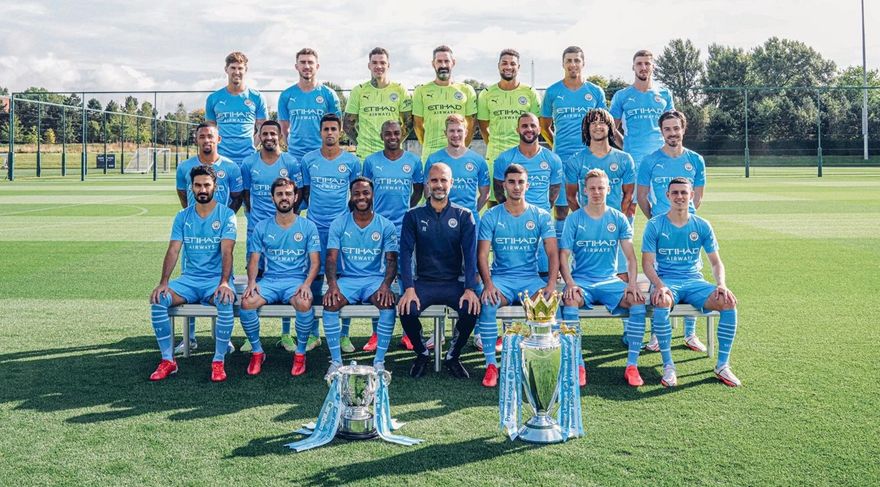 With most of the squad away with their countries for EURO 2020 and the Copa America, come the 1st of July City's coffers were boosted by almost £50M with deals going through for players who had been out on loan for most of last season.
Angelino joined RB Leipzig on a permanent deal after his appearances for them activated their £16.3m buy option in his loan deal. Then Lukas Nmecha joined Wolfsburg on a permanent transfer for a fee of around £11m plus add-ons
Leeds United exercised their option to buy Jack Harrison for an initial £11M after spending three years on loan at the Yorkshire club. And then The Blues coined in a further £11M through a sell on clause as Jadon Sancho moved to Man United from Dortmund.
Due to the uncertainty of Covid-19 and the limited time before the start of the season, there would be no money spinning world pre-season tour, instead friendlies with league sides were arranged, to be played behind closed doors at the Academy Stadium.
First up were Preston, and a young side with a sprinkling of senior players beat the Lilywhites 2-0. Then a similar young squad saw off Barnsley 4-0, and then Blackpool 4-1.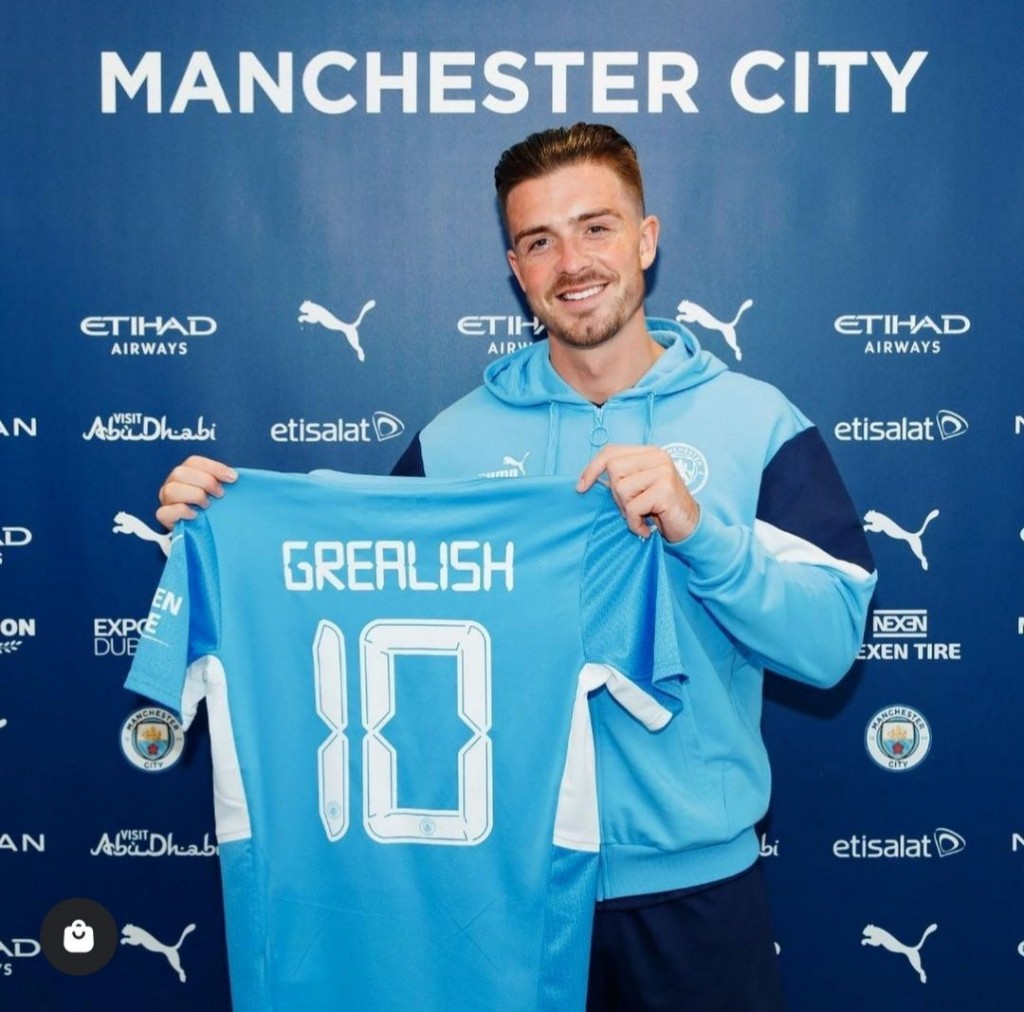 City then made a major statement in their attempt to defend their Premier League crown, As they met Aston Villa's Jack Grealish's £100M release clause to bring the England star to the Etihad, Jack stating "City are the best team in the country with a manager considered to be the best in the world, it's a dream come true to be part of this club".
Still without the services of most of the EURO2020 stars, City had to field a very much understrength side to face, basically a full strength Leicester side in the Community Shield, despite a good second half display by Pep's side, former Blues striker Iheanacho scored a last minute penalty that saw City lose 1-0.
It wasn't the best start to the Premier League either, with so many of the senior squad missing from the starting lineup, City visited Tottenham and despite a decent performance, lost 1-0.
For the first time in nearly 18 months The Etihad welcomed a capacity crowd, as Covid-19 restrictions had been all but removed, and a much stronger City side, still without Kevin De Bruyne, John Stones and Phil Foden, tore a newly promoted Norwich side apart, winning 5-0.
In the week that followed City made a sensational, but unwelcome statement that Benjamin Mendy had been suspended after being charged and remanded in custody on four counts of rape and a sexual assault.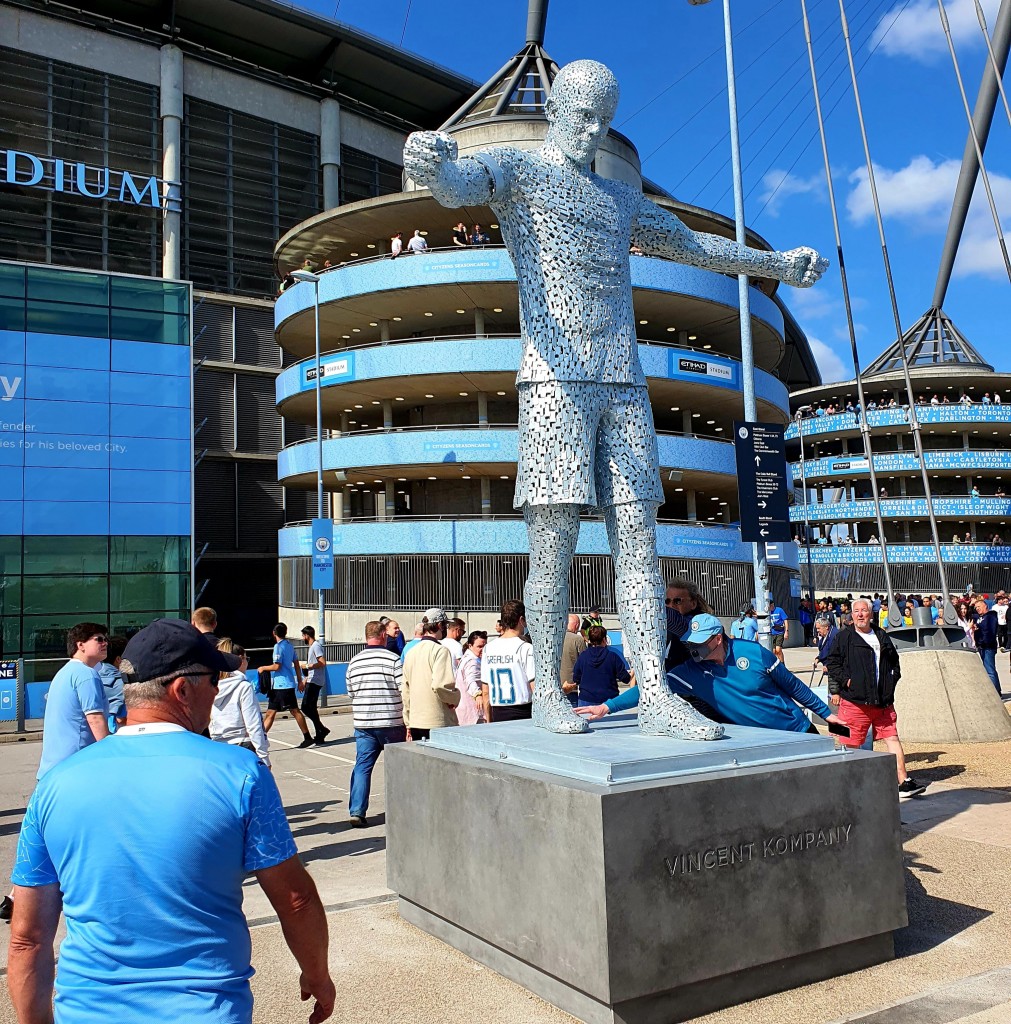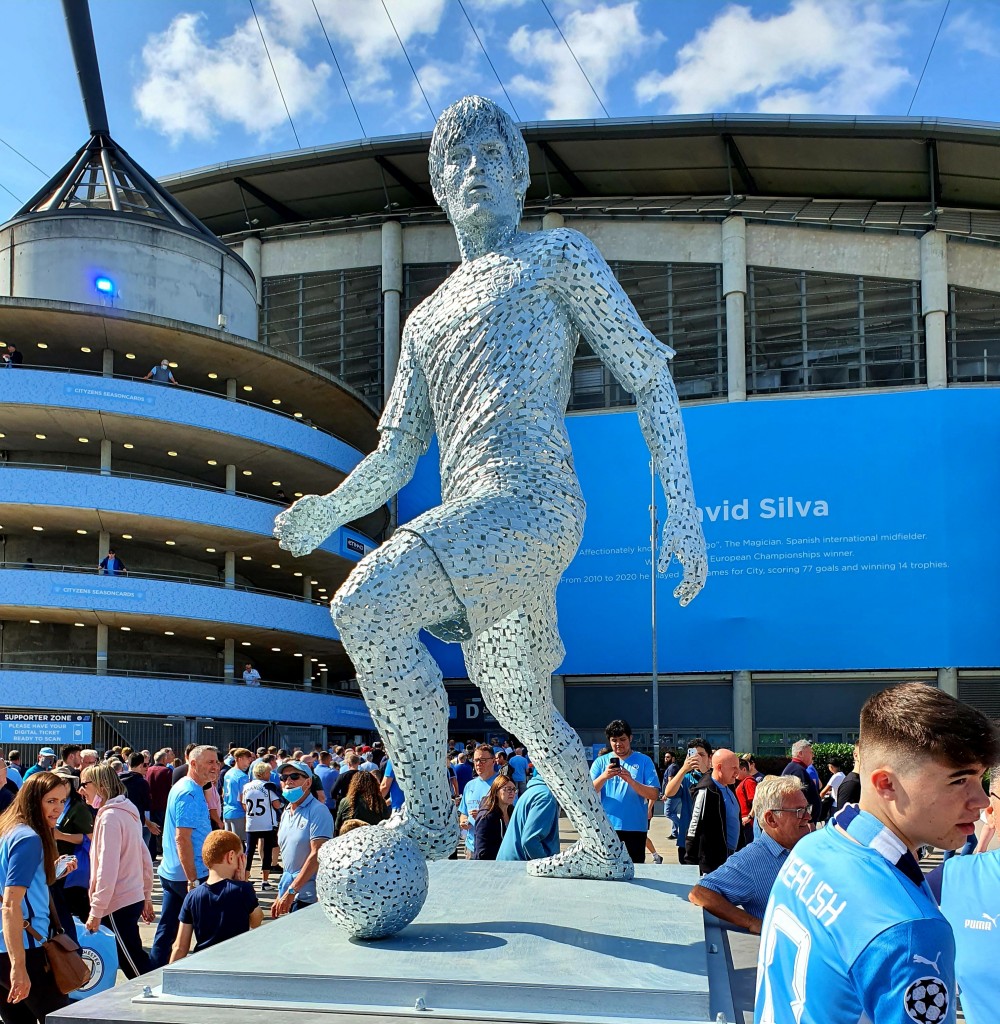 On the day of the next game, against Arsenal, two amazing statues were unveiled at The Etihad to honour City legends Vincent Kompany and David Silva, and on the pitch City's current would-be legends did them proud with another scintillating 5-0 victory, the third consecutive home match won by that score.
Following the international break Pep, unusually, named an unchanged side again for a tough trip to Leicester City, the Citizens dominated the game and won 1-0 to make it three victory's in a row.
The start of the Champions League group stage began with a very entertaining 6-3 victory over RB Leipzig at The Etihad, however at home in the league three days later, a tired looking City side dropped points in a 0-0 draw against Southampton. Pep commenting: "Always when the game is not good I feel bad for [the fans]. They come to see a show, to see a game and when it doesn't happen I feel a bit guilty because we didn't play good. We were not good in our build-up. We lost simple balls in our process because we were not clever and a little bit sloppy."
City continued their 'love affair' with the League Cup, beating Wycombe 6-1 in the third round, Pep gave the entire Academy outfield defence, Conrad Egan-Riley, Luke Mbete, Finley Burns, Josh Wilson-Esbrand, their senior debuts, along with Romeo Lavia, and then James McAtee became the night's sixth debutant when he came on as substitute in the second half.
The Blues then faced three tough away games, the first probably the toughest, away at Chelsea. City dominated the game with a brilliant performance and came away 1-0 winners. The victory was Pep's 221st win during his time at City and broke the record for the most victories by a City boss.
City then put up a great performance in Paris, but paid for their missed chances as Paris Saint Germain came out 2-0 winners.
In a classic game at Anfield the Blues were unlucky to just come away with a point, drawing 2-2 with Liverpool. City's momentum however was stalled, due to another international break.
For the first game back after the break Pep was without Ferren Torres who suffered a broken bone in his foot whilst playing for Spain, also Jesus and Ederson were not back from South America in time to be considered, In addition, rested from the starting line-up for the match at home to Burnley were Walker, Dias and Grealish, however, despite a rather lacklustre display, City won 2-0.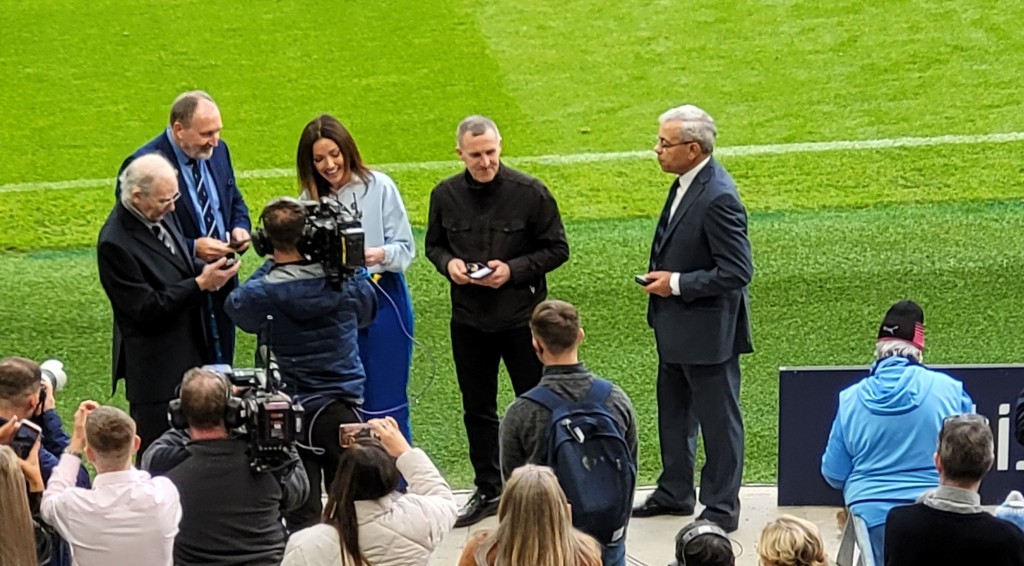 in 1968 only the main players in the City squad received Division One Championship medals, however this season the Football League approved City's request for four more medals for players who missed out in '68. And so during half-time in the Burnley game Bobby Kennedy, Stan Horne, and the sons of Paul Hince and Harry Dowd were presented with their medals by Mike Summerbee.
In the third match of the Champions League group stage City travelled to Belgium and in, what Pep described as The best European City performance during is tenure, the Blues beat Club Bruges 5-1.
City continued their great form in the Premier League with a fine 4-1 victory at Brighton, however City were knocked out of the Carabao Cup for the first time in the last 1,827 days as they were beaten on penalties following a 0-0 draw after 90 minutes at West Ham.
Unfortunately The Blues failed to score again, this time at home in the Premier League, Laporte was also sent off in a 2-0 defeat to Crystal Palace.
The Blues put a bad week behind them with a good 4-1 victory at home to Club Bruges in the Champions League, and then in the Derby at Old Trafford, Manchester United were totally demoralised as City dominated them with an amazing display which ended in a 2-0 win for Pep's marvels.
Moving into another International break City were well placed, second in the league just three points behind Chelsea.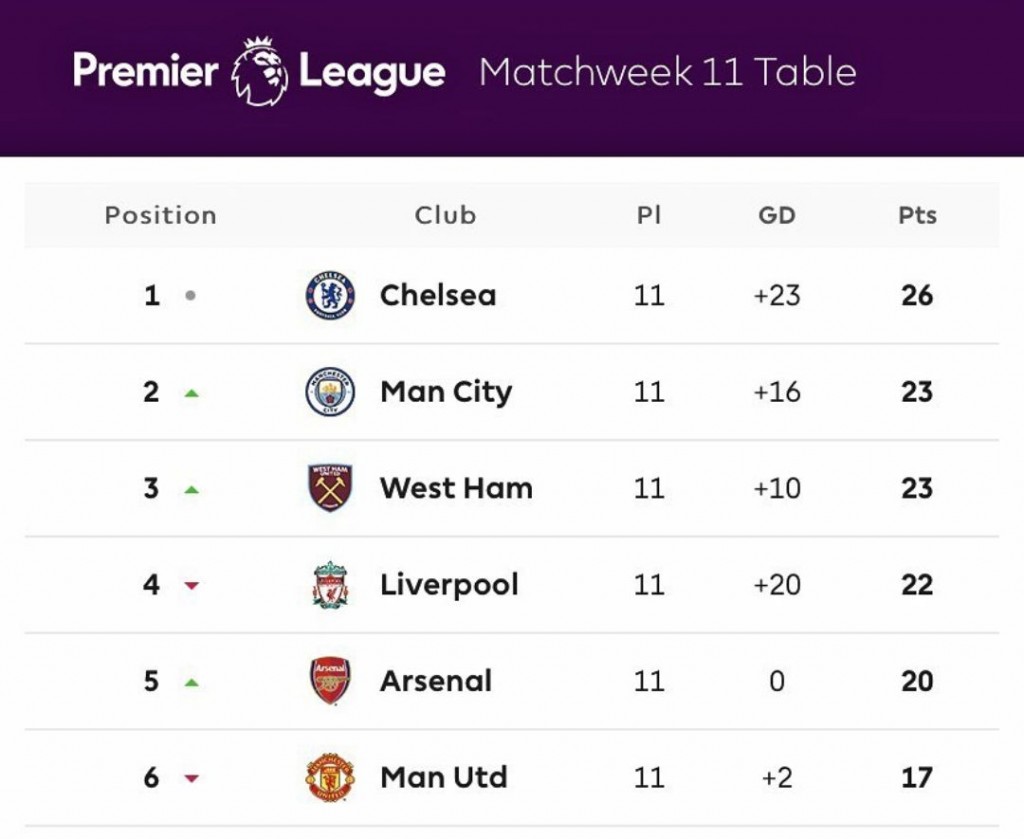 After the International break it was back to a busy programme of matches. The first three games all at the Etihad. In the League it was a comfortable 3-0 victory over Everton, and then another great European night as a boisterous capacity crowd cheered on City to come back from 1-0 down to beat star studded PSG 2-1 in possibly City's greatest European performance, especially when they could not call on the services of Kevin de Bruyne, Phil Foden, Jack Grealish and Ferren Torres, who were all unfit.
With the same dilapidated squad City then went on to beat high flying West Ham 2-1 and were now just one point behind leaders Chelsea.
The winning run in the League continued with a 2-1 victory at Aston Villa and then a 3-1 win at Watford saw City hit the summit of the Premier League, one point ahead of Liverpool and two ahead of Chelsea.
The Blues were already guaranteed first place in their Champions League group and so the last game against RB Leipzig was a 'dead rubber' for Pep's men and there was no surprise that they lost 2-1.
Raheem Sterling then joined the Premier League 100 goal club, scoring the penalty to beat Wolves 1-0 at the Etihad.
City were playing some amazingly entertaining football and next produced an attacking masterclass to destroy Leeds 7-0, and then with a 4-0 victory at Newcastle they set set new record for the most top-flight wins by a team in a calendar year of 34 games.
The festive period saw that record pushed to an incredible 36 wins, with a Boxing Day 6-3 home victory against Leicester and then a 1-0 win at Brentford.
A deal had been on the table for Ferren Torres to move to Barcelona at the youngster's own request, and when the transfer window opened at the start of January the move was finalised, City making a hefty profit in a deal worth up to £55M including addons.
2022 started the way 2021 ended with another victory for the Blues, a difficult 2-1 win at Arsenal. This was followed by a comfortable 4-1 victory at Swindon in the 3rd Round of the FA Cup.
The Blues then virtually extinguished Chelsea's Premier League aspirations, beating them 1-0, with their twelfth League win on the trot. It would be, however, twelfth place Southampton who ended that sequence with a 1-1 draw at St Mary's.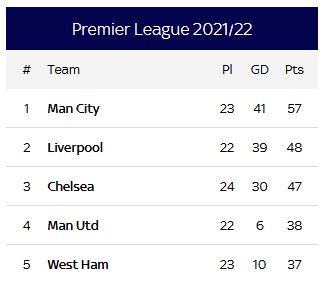 A winter break gave chance for the squad to recharge their batteries, and as the transfer window was about to close City pulled off a major coup in the 'capture'  of Argentinian wonder kid Julian Alvarez for around £14M. The 22 year old would remain on loan at River Plate until the end of the season.
Fresh from the winter break City beat high-flying Championship leaders Fulham at Craven Cottage in the 4th round of the FA Cup. This was followed by two good Premier League victories, 2-0 at home to Brentford and 4-0 at Norwich.
The Champions League had reached the knockout stage, and in the first leg of the round of 16 City put up a stunning display winning 5-0 at Sporting Lisbon.
Then, what City fans were hoping would be just a blip in the campaign to defend the Premier League title, saw Tottenham visit the Etihad and take all three points, winning 3-2.
It was an emotional day at Goodison Park, where the players and fans showed their support for Ukrainians, Oleksandr Zinchenko and Vitalii Mykolenko, who were both on the bench following the news that Russia had invaded Ukraine and the future of their country was at risk. The game itself ended Everton 0 City 1.
In further support for Zinchenko he was named captain for the Blues' FA Cup 5th Round tie at Peterborough, which City won comfortably, 2-0.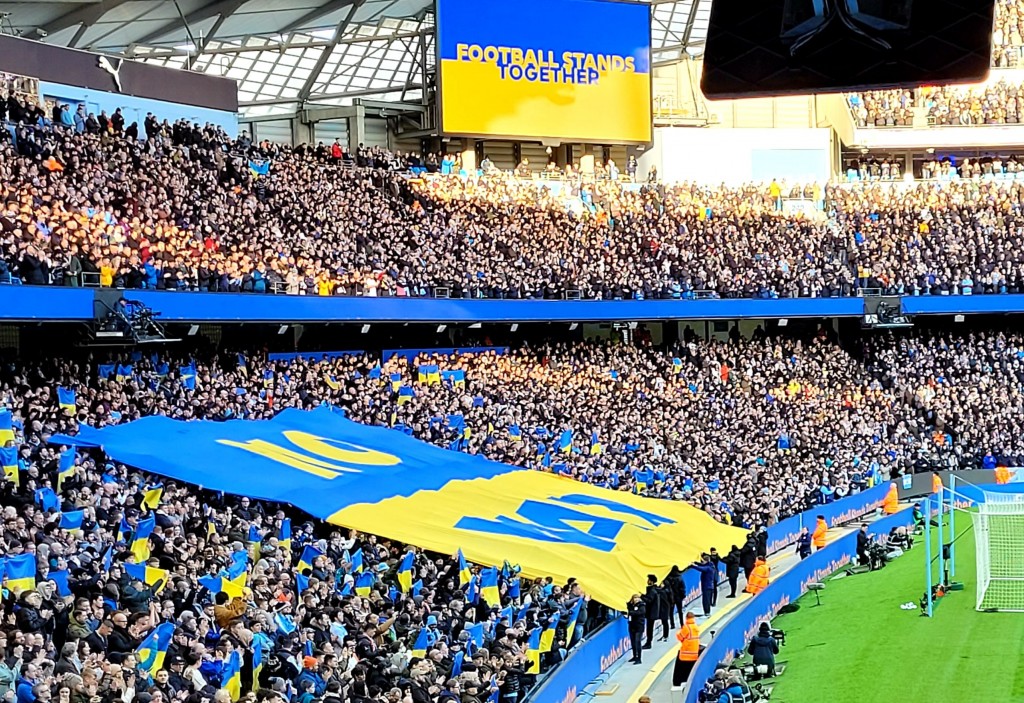 And so to the derby and the visit of United, who were fighting to finish in the final Champions League place. City put in a magnificent, dominant display, winning 4-1.
The second leg of The Champions League 16th final match at The Etihad against Sporting Lisbon was rather a 'dead rubber' after the Portuguese were beaten 5-0 on their own soil, and so it was no surprise the second leg ended 0-0 in a rather dour game.
Unfortunately another 0-0 draw followed, however this was definitely not a dead rubber, rather a Premier League away game at Crystal Palace, which meant City's lead at the top was down to just one point over Liverpool.
The Blues then put in a great performance in a tricky FA Cup Quarter Final at Saint Mary's, beating Southampton 4-1,
April was certainly going to be a season defining month for City with at least nine important matches, and it started well as they won 2-0 at Burnley in the League, and then in the first leg of the Champions League Quarter Final at The Etihad beat an ultra defensive Atletico Madrid 1-0.
Then, despite there being still eight games to play in the Premier League, and The Blues being just one point ahead of Liverpool, the media built up City's Etihad meeting with Klopp's team as a title decider. It turned out to be a classic 2-2 draw, and leaving all to play for with seven games each to play.
Three days later City faced Atletico in Madrid for the 2nd leg of The Champions League Quarter Final, and they had to put in a magnificent stoic display in a goal-less game to overcome a brutal and ugly Madrid team, who, on the pitch were lucky just to have one player sent off, and then in the tunnel at the end of the game, when Spanish police had to intervene as intimidation from the Madrid players and staff turned into a brawl. The main point was that City were through to the semi-finals of the Champions League, however the bad news was that both Kevin De Bruyne and Kyle Walker left the field injured with a Wembley FA Cup semi-final just three days away.
Due to so many players in the squad being less than 100% fit, and some very important Premier League and Champions League games on the horizon, Pep had to pick a much under strength team to face Liverpool in the FA Cup semi-final at Wembley, and inevitably the Scousers won 3-2, and so City were out of both domestic Cup competitions.
With seven games left to play in the Premier League and just a one point buffer over Liverpool, Pep was adamant that the Blues would need to win all seven matches if they were to celebrate winning their fourth Premier League trophy in the last five years, and in the space of four days at The Etihad the team went closer to that target as they beat Brighton 3-0 and Watford 5-1.
Next up was the Champions League, and the watching world were enthralled by one of the greatest European semi-finals in the trophies history, albeit just the first leg, City beat Real Madrid in a thrilling 4-3 victory. Pep was also thrilled: "I am so proud, I'm so incredibly happy of the way we performed in front of the world against a team that have an experience with that. We did everything to win and with courage, with the ball, without the ball."
Four days later City scored four again, beating Leeds 4-0 at Elland Road as they continued their fight to defend their Premier League title.
The Blue's quest to reach the Champions League final for the second season in a row incredibly ended with a heartbreaking 3-1 defeat in extra time at Real Madrid. City were two goals up on aggregate and looked set to cruise into the final however two goals from the Spaniards in the 90th and 91st minutes saw Pep's side forced into an extra time defeat.
In the League though City now had four 'Cup Finals' to win to secure the Premier League title, and they regrouped brilliantly to win the first of those games, 5-0 at home to Newcastle. At the same time Liverpool could only draw with Spurs, and so with three games left to play the Blues were three points clear of the Scousers with a slightly superior goal difference.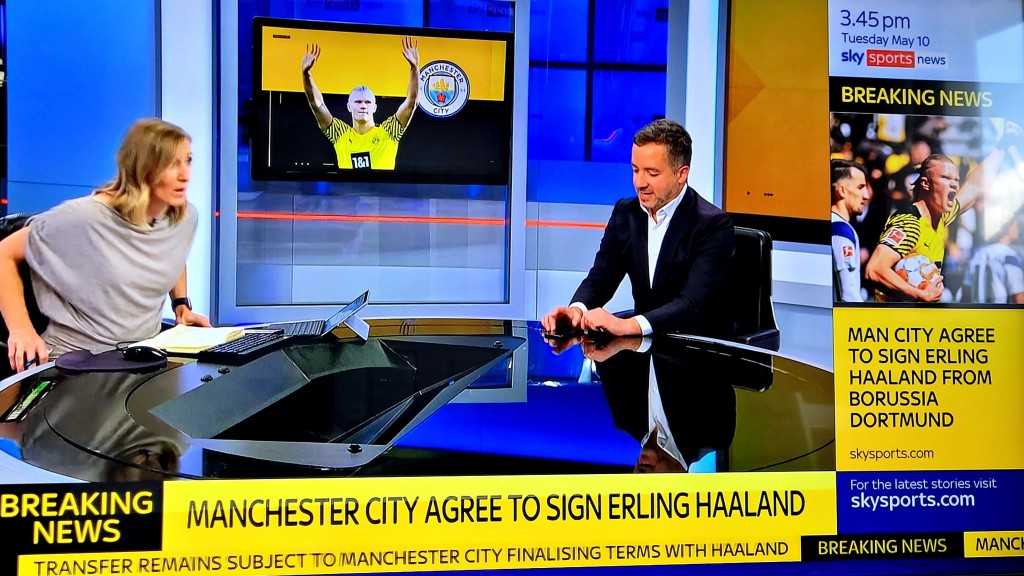 The club then made an amazing statement: Manchester City can confirm we have reached an agreement in principle with Borussia Dortmund for the transfer of striker Erling Haaland to the Club on 1st July 2022. The Young Norwegian striker was looked on as the best forward in the world, and City had completed a major coup by beating all of Europe's top clubs to persuade him to come to the Etihad, having paid his release clause fee of just £51.1M.
However, Haaland was a signing for next season and this season it was Kevin de Bruyne who would step up as City's goalscorer,  netting four goals in a magnificent display, as the Blues won 5-1 at Wolves.
And so with just two games to play City just need four points to make sure of the title. However the bad news was that it looked like City were down to just three fit defenders, with Dias, Stones, Laporte, Walker and Fernandinho all out due to injuries.
Thanks to City's medical staff, both Laporte and Fernandinho passed late fitness tests for the trip to West Ham. However, The Blues could only manage a draw, coming back from 2-0 down to 2-2 and Mahrez missing a late penalty. With Liverpool winning their penultimate game it would go down to the last day of the season to determine who would be Champions, City having it in their hands being one point ahead, and so a victory would guarantee the Premier League coming to the Etihad for the fourth time in the last five years, sounded too easy!
So to the final day and City were at home to Steven Gerrard's Aston Villa, and what a final day it proved to be; if it wasn't for 2012's greatest moment in Premier League history then this match would have been there at number one.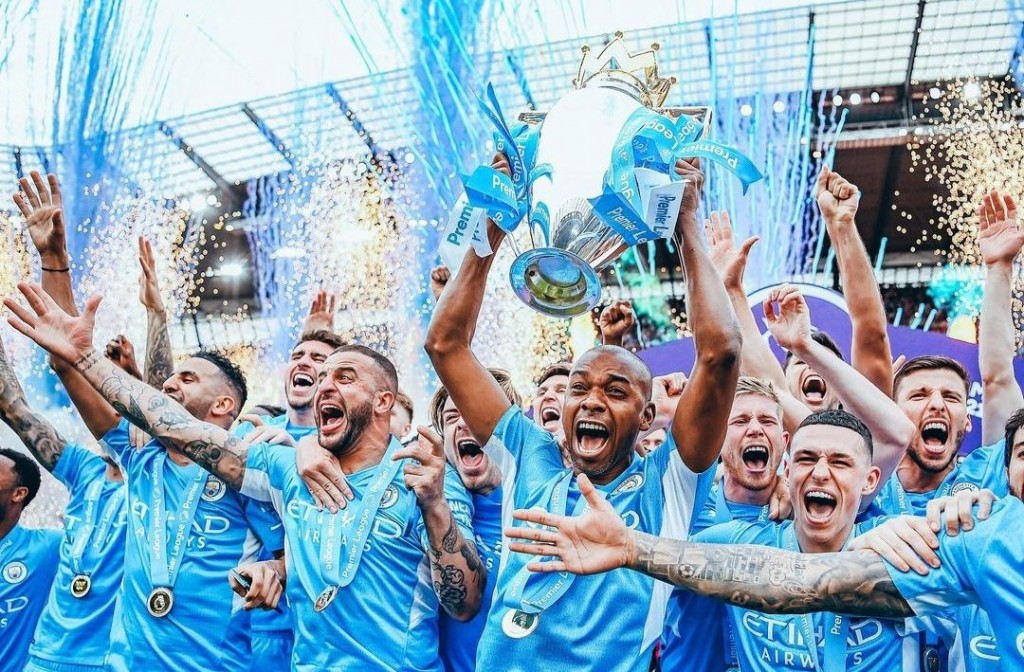 Unbelievably City were 2-0 down with only 15 minutes left, after what happened in Madrid, was 'typical City' now a thing again? The City fans were upset and downhearted, however, in another incredible fightback, within six minutes they were chanting "Campeones, Campeones" two goals by substitue Ilkay Gundogan, and one from Rodri in a five and a half minute spell saw City 3-2 up by the 81st minute. Liverpool were beating Wolves and so all Pep's side needed to do was hold on to full time, which they did, and were English Champions once again.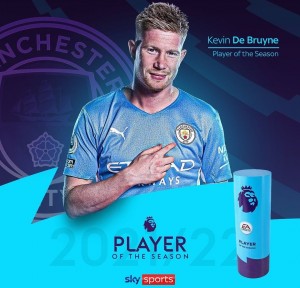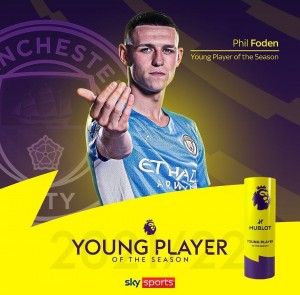 Kevin De Bruyne was again announced as The Premier League Player of the Season, and Phil Foden as the Premier League Young Player of the Season. Kevin De Bruyne was also voted City's Player of the Year, and Ederson shared the Golden Glove with Alisson.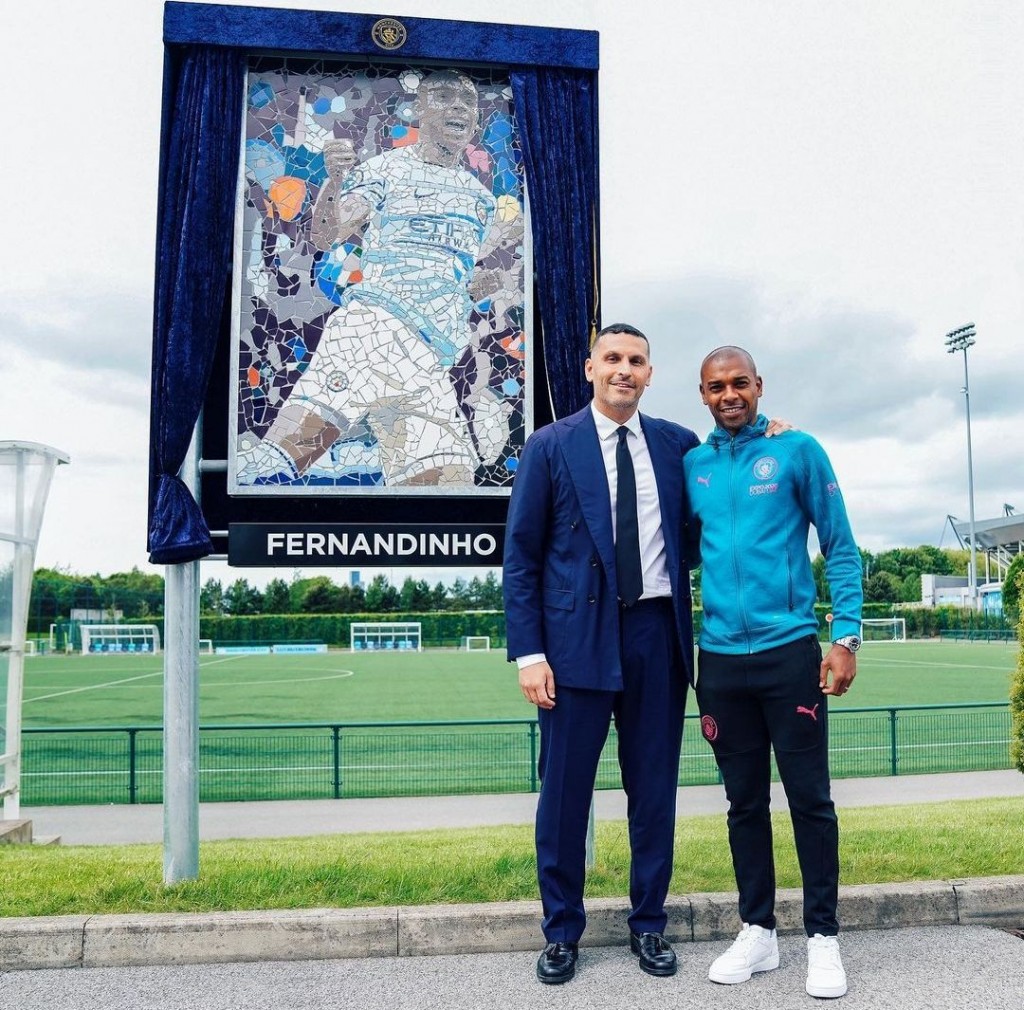 37 year old Fernandinho had announced he was leaving City at the end of the season, and he was given an emotional farewell at the end of the Villa game and also a mosaic was unveiled at the Academy; a pitch named after him.