1979/80 SEASON REVIEW
In the summer of 1979 Malcolm Allison was named as first team manager, stepping up from coach, with Tony Book in a type of General Manager role responsible for organisation work, and within a few weeks Malcolm brought in Bobby Shinton on a Bosman from Wrexham. Shinton was described by Peter Swales as "…possibly another Mike Summerbee!"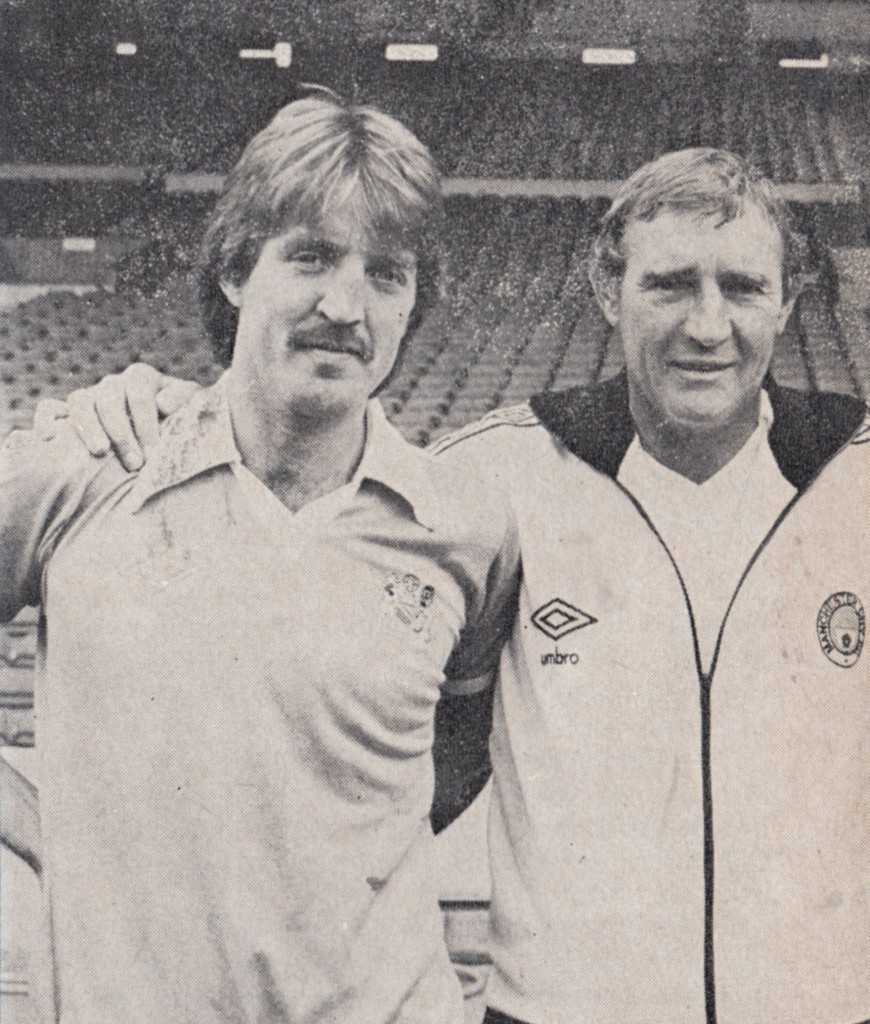 Also joining Big Mal's 'revolution at City were Michael Robinson joining from Preston for £600,000.
Steve MacKenzie an apprentice at Crystal Palace, became Britains most expensive teenage signing when City paid the Eagles £250,000 for his services. And finally Yugoslav, Dragoslav Stepanovic moved to Maine Road from German Side Wormatia Worms for £140,000.
There was also a controversial large clear-out of some very experienced players, First Gary Owen moved away to West Brom for £550,000, then Dave Watson was sold to Werder Bremen for £150,000, Asa Hartford moved to Brian Clough's Nottingham Forest for £500,000, and popular winger Peter Barnes moved to West Bromwich Albion for a fee of £750,000. Years later Barnes stated "Some of Mal's decisions didn't make sense. He sold established international players. He thought Nicky Reid was going to be the new Bobby Moore, he wanted to build the side around him. He said that to my dad. Ken was incredulous. He just said 'You What…?' ".
As part of the pre-season warm up City took part in two tournaments. They began in Scotland in the Skol Festival Trophy, losing 3-1 against Coventry City, then drawing 1-1 against host club Hibernian, and they completed their part in the tournament with a 1-1 draw against Hearts.
The Blues then travelled to Belgium for a four-club tournament, and in the first game they won 1-0 against Beerschot, from the host nation. But it was host club Bruges who beat City 3-2 in their other match. There was clearly still some unrest with the senior City players left at the club, Mick Channon angrily exclaiming "I'm disgusted and fed up with not being in the team for the two games here".
The first game of the season went ahead without Channon who, after criticising Malcolm Allison's approach to tactics for playing Barry Silkman as a sweeper in pre-season, was dropped! Channon recalls in his autobiography "He [Allison] was always wanting to put square pegs in round holes and I thought he had finally disappeared up his own arse when, on the pre-season tout, he came up with another new playing toy to satisfy his strange curiosity. The toy concerned was a lad called Barry Silkman, who, on his arrival at City, had come as a virtually unknown winger via Hereford, Crystal Palace and Plymouth. Big Mal's brainwave was to play Barry as a continental-style sweeper and I soon let him know that this was the most ridiculous experiment I had ever experienced in my life, whereupon he blew his top and promptly hoicked me around as being available for transfer." the game ended in a 0-0 draw at Maine Road against Crystal Palace, followed by a disappointing 3-0 defeat at Middlesbrough.  On the same day as the game at 'Boro in a press conference at Maine Road Colin Bell announced he had lost his battle with fitness and was officially retiring from football.
City's first win came at home to Brighton, the Citizens beating the Seagulls 3-2. The 1st Leg of the League Cup 2nd Round saw City draw 1-1 against Sheffield Wednesday at Hillsborough. Back in the League and it was a 2-1 defeat to Tottenham at White Hart Lane, where Mick Channon was recalled, however his relationship with Big Mal had clearly broken down, with Allison commenting after the game that Channon must have got a good suntan because he'd been sunbathing all afternoon!  Since the start of the season City had been openly chasing the services of Wolves midfielder Steve Daley and on the day of the 2nd leg of the League Cup Big Mal finally got his man for a record £1,450,000.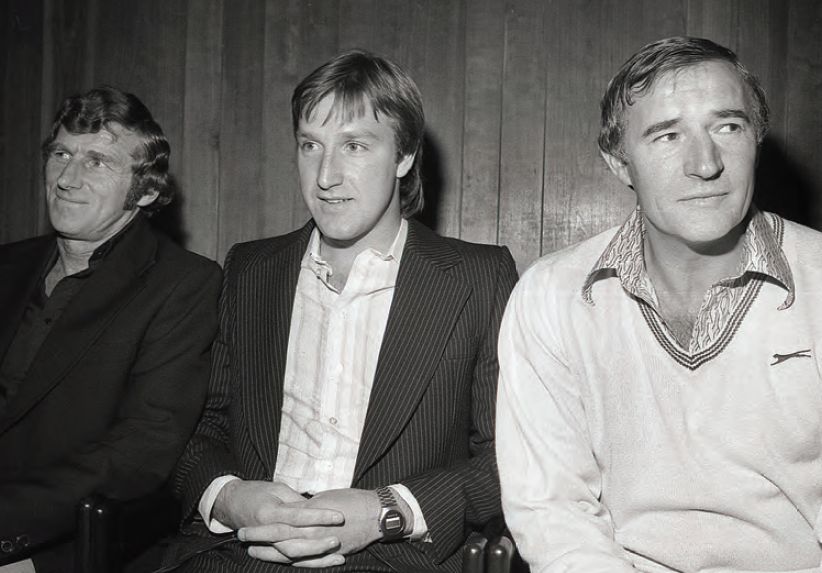 The story goes that Malcolm Allison offered £400,000 and couldn't believe it when his chairman Peter Swales did the deal for a million more (Swales always denied it). The League Cup tie that followed saw City knock out Sheffield Wednesday 2-1 at Maine Road.
The following day a rather less headline making signing was made by City as they paid £80,000 to Stockport for the services of Stuart Lee.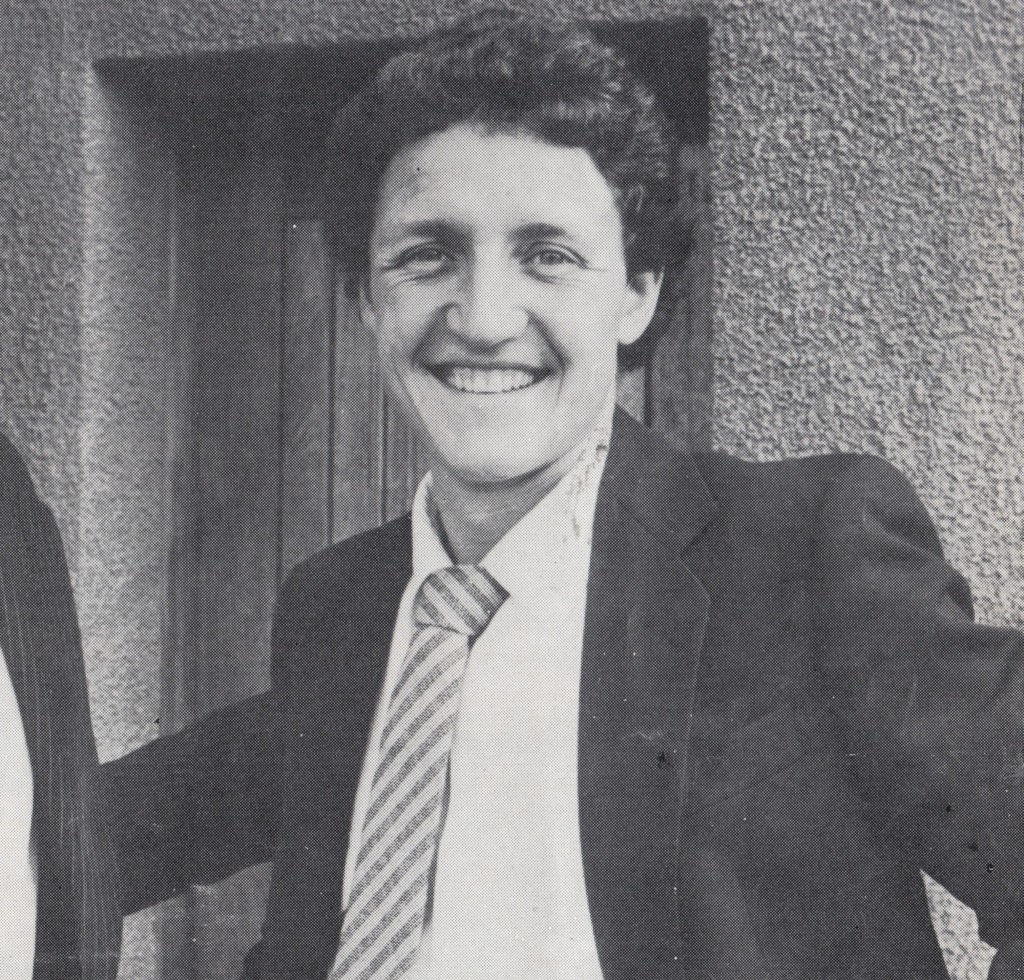 Two days later City recouped some of the Daley money by selling Mick Channon to Southampton for £200,000.
Back in the League and it was a further defeat, the Blues losing 1-0 at home to Southampton, before Maine Road said goodbye to possibly the best player ever to pull on the a City shirt. It was Colin Bell's testimonial and a combined Manchester team beat combined Merseyside team 2-1
Another City stalwart left the club the next day, as Kenny Clements joined Oldham Athletic for £250,000.
City were now struggling in the League and suffered their 4th defeat in 6 games as they lost 4-0 at West Brom to drop to bottom of the League. It was therefore a welcome relief to beat Coventry 3-0 at Maine Road and then Leeds 2-1 at Elland Road to climb back up the table.
sandwiched in between the two league wins Sunderland visited Maine Road in the 3rd Round of the League Cup and earned a replay with a 1-1 draw. In the replay at Roker Park, City were knocked out by Sunderland losing 1-0. In the League City moved into the top half of the table putting together a six game unbeaten run, they drew 0-0 at Arsenal then courtesy of two winners from Kaziu Deyna they beat both Middlesbrough and Nottingham Forest 1-0 at Maine Road and then drew 2-2 against Norwich at Carrow Road.
Liverpool's visit to Maine Road put an end to the unbeaten run as City were well beaten 4-0. The Blues then lost 2-0 at Crystal Palace.
Another City great enjoyed a testimonial at Maine Road, with City beating Werder Bremen 4-0 to give Joe Corrigan a financial boost in his testimonial year.
City's fans then earned the Manchester Bragging rights as The Blues beat Manchester United 2-0 at Maine Road, then a short trip to Bolton saw City win again, 1-0. Sandwiched in between those games City played Newcastle at St James' Park for Iam McFauls testimonial, and lost 4-1.
A 2-0 defeat at Bristol City saw a dip in form. A strong side was sent to Chorley for a friendly to celebrate the opening of their new floodlights, the non-league side winning 2-0.
Further defeats followed. Wolves visited Maine Road and won 3-2 then City were humiliated at Ipswich losing 4-0, and dropping to fifth from bottom in the League as we reached the season half-way mark.
Allison's team then rallied with a 3-0 win at home to Derby and a 2-1 win at Everton, sandwiched in between City visited the Bernabeu in Spain to play a prestigeous friendly against Real Madrid, the Spanish champions winning 5-2.
The festive period, and beyond was not the best for City as they drew 1-1 with Stoke at Maine Road on Boxing Day, and then in the last game of the decade they lost 4-1 at Brighton.
City's first game in the 80's was a humiliating 1-0 defeat at Halifax in the FA Cup 3rd Round, leaving City fans just the prospect of a relegation battle to 'savour'.
After the match at The Shay, City's travelling fans chanted "Alison out, Swales out", the players were also lambasted for what Peter Swales described as "the worst day in my football life." At one stage Steve Daley had to be restrained by his team-mates and ushered onto the waiting team coach when he reacted to the abuse. The City board gave Allison and Book the dreaded vote of confidence, they pledged to make £1m available for them to spend on transfers, with Swales announcing "All I can do is give Malcolm and Tony my backing. I still believe they can do the job."
Barry Silkman, who had voiced his disappointmet at his lack of first team action, went on loan to Maccabi Tel Aviv in Israel until the end of the season.
Tottenham were the next visitor's to Maine Road, a game which ended in a 1-1 draw, then The Blues lost again 4-1 at Southampton. Malcolm Allison was unhappy with his strikeforce in particular Mike Robinson was singled out by the City boss; "Robinson has had a very bad season and this week I felt it necessary to have a serious talk with him about his form… he has looked a shadow of himself." Therefore Peter Swales and the board were persuaded to find £175,000 to bring Dennis Tueart back to the club from New York Cosmos.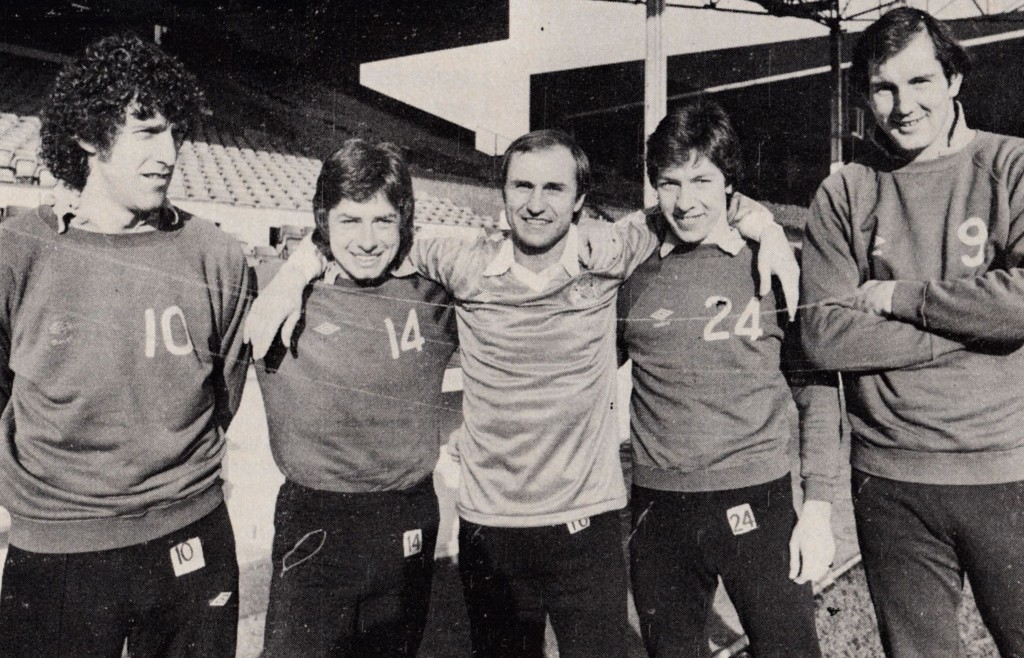 It would be a few weeks before Tueart would make his debut and City continued there recent bad form with a 3-1 home defeat to West Brom.
Michael Robinson was then heavily fined by the club for comments he made in the media as a backlash to him being made, as he thought, a scapegoat for the team's poor results. Robinson said that he was being forced to play when he wasn't fit and his game had suffered because of this, and therefore had no intention of playing again until he was fully fit "At one point it seemed City would have picked me even if I had been on crutches and once I had so many vitamin injections I finished up with an arm like a junkie" he commented.
Robinson did play in the next game a 0-0 draw at Coventry which left City in 16th place in the league with a third of the season left.
City's search for a first win in 1980 continued with a 1-1 draw at home to Leeds. City then spent an initial £20,000 on virtual unknown, Paul Sugrue, the diminutive striker signing from non-league Nuneaton Borough. Malcolm Allison proclaimed "He is probably one of the most promising players to come out of non-league for a long time".
The Blues bad form continued with a disastrous 4-0 defeat at Nottingham Forest, followed by two draws, 2-2 at Aston Villa and 0-0 at home to Norwich. The Blues then played a Friday night friendly at Notts County, winning 2-0. Bobby Shinton's time at Maine Road was then cut short, having made just five appearances for the Blues, he was sold to Newcastle for £200,000.
After a 2-0 defeat at Liverpool City splashed the cash again to try and avoid relegation. They paid £1M for Norwich's young striker Kevin Reeves, "He is the nearest thing in today's soccer to Kevin Keegan!" Malcolm Allison commented.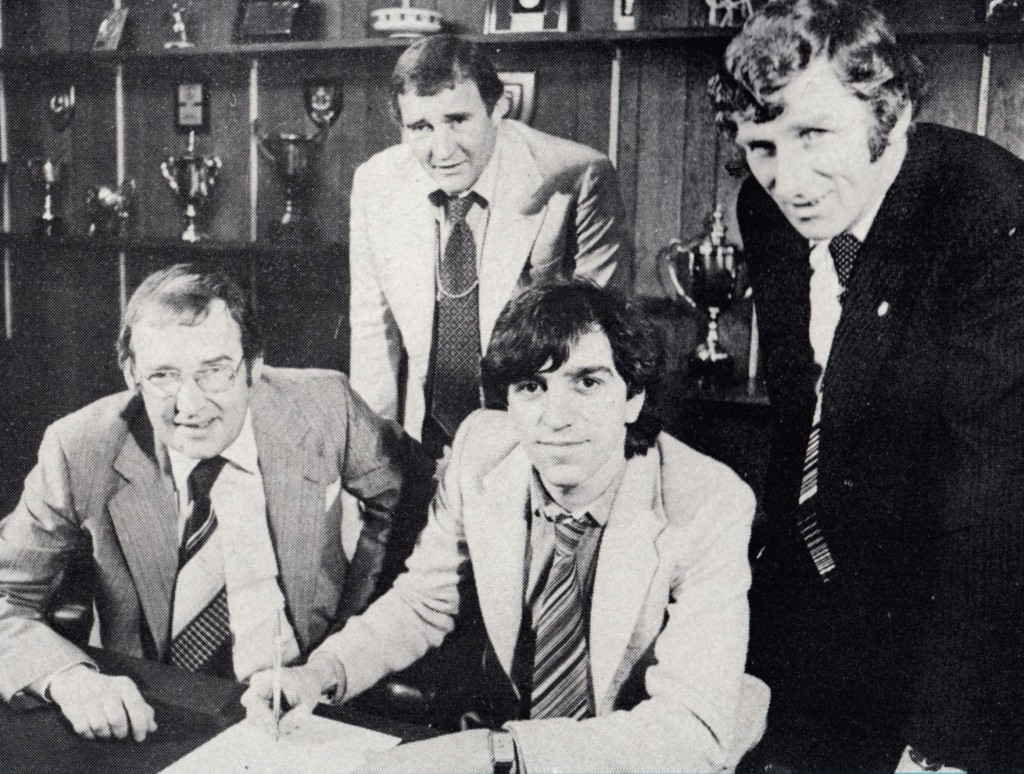 Colin Viljoen's short time at City ended as he was sold for £60,000 to Chelsea.
Kevin Reeves arrival didn't exactly have an immediate impact, he made his debut in a 3-0 home defeat to Arsenal and then City failed to score for the fourth match in a row as they lost 1-0 against Manchester United at Old Trafford, it was the 14th match on the trot without a win for the Blues and they had plunged to 19th place in the league, four points ahead of the bottom three with just eight games to play.
Further players left Maine Road, as Willie Donachie and Stuart Lee moved to Portland Timbers in America in a deal that brought in £300,000 to the City coffers.
The next game was at home to bottom club Bolton and it would be yet another game without a win as they drew 2-2, home advantage failed again to bring a win as they drew again 1-1 to Everton.
A further two draws followed, 0-0 at Stoke and 1-1 at home to Aston Villa to make it 18 games without a win, then City visited Molyneux, and eventually managed that elusive victory beating Wolves 2-1 and lifting them to sixth from bottom of the league, and with just three games left it looked like City would survive in Division 1.
City went on to win again 3-1 at home to Bristol City.
In the penultimate game of the season The Blues lost 3-1 against Derby at the Baseball Ground, and then at Maine Road the final game of the season saw City make it three wins out of four games as they beat Ipswich 2-1. City finished in 17th place on 37 points in a season Peter Swales described as "The most traumatic season of my career in the game… Never will I allow, as long as I am Chairman, such wholesale changes. I could never be a party to such a massive gamble at any time in the future".
City went on an end of season tour to America, drawing 1-1 against Memphis, then losing 3-2 to the New York Cosmos and 5-0 to the Vancouver Whitecaps. In  the final game the Blues beat AS Roma 3-2.