1978/79 SEASON
The Summer of 1978 saw the signing of the Futcher Brothers in June, Paul joined City for a club record fee of £350k and Ron followed for £80k, both players leaving Luton Town. Paul was to be Mike Doyle's replacement who had joined Stoke City for £50k.
City's pre-season consisted of six games in just twelve days. First port of call, was Sweden where the Blues drew 1-1 in Stockholm against Djurgaarden. Then a short hop to Oslo in Norway where City beat Fredrikstadt 5-0, staying in Oslo the Blues thenwent goal crazy beating Hamar 7-0.
Moving on to Holland, SC Heracles were beaten 3-2, then the Blues drew 2-2 against Lierse SV in Belgium, before Tony Book's weary team were beaten 5-1 by AZ Alkmaar back in Holland.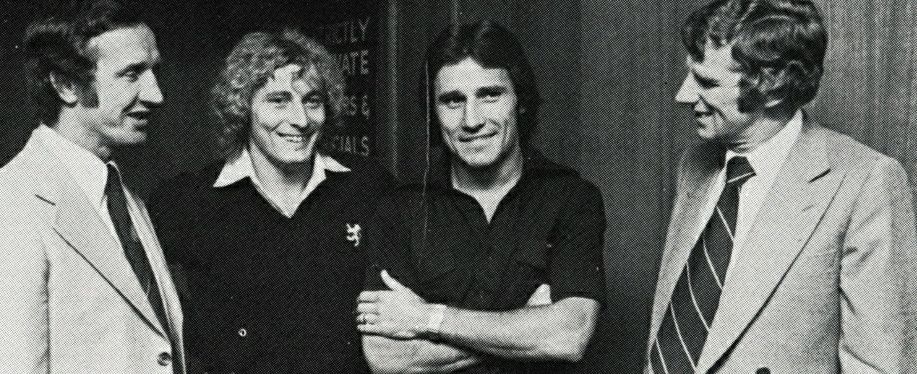 Colin Viljoen was a surprise £100,000 signing from Ipswich just prior to the first league game at Derby , where City drew 1-1, before a further 1-1 draw at home to Arsenal. The poor start to the season continued with a woeful 4-1 defeat at home to Liverpool and then a 1-1 draw at Norwich , and so without a win in the League City achieved their first win 4 days earlier in the League Cup, beating Grimsby 2-0 at Maine Road.
Tony Book was unhappy with City's early form, bemoaning injuries to Watson, Barnes, Viljoen and Kidd for impacting on the team's start to the season, he was also unhappy with a section of the Maine Road crowd who seemed to have singled out Mike Channon as a scapegoat, booing the striker after missing several chances.
City's first League win came at Maine Road as Leeds were beaten 3-0. The Blues European campaign kicked off in Holland with a 1-1, 1st Round, 1st leg draw against Twente Enschede. Back in the league and an excellent performance at Stamford Bridge saw City beat Chelsea 4-1 with a hat-trick from Ron Futcher, which was followed by a home win, 2-0 against Tottenham.
The return leg of the UEFA Cup tie against Twente Enschede was a classic with City eventually winning 3-2, (4-3) on aggregate.
The Manchester Derby at Old Trafford ended 1-0 to Manchester United ,
City drew 1-1 at Blackpool in the League Cup, before a good 2-1 victory at Birmingham left The Blues in a healthy seventh place in the League after nine games.
City then despatched Blackpool in the League Cup Replay at Maine Road winning 3-0. They continued their good home form with a 2-0 win over Coventry in the League, and then a 4-0 demolition of Standard Liege in the first leg of the UEFA Cup second Round.
A short trip to Bolton in the League saw the Blues draw 2-2, and so a quarter of the way through the league programme City had moved up to fifth place in the League, seven points behind leaders Liverpool.
Another 2-2 draw followed, this time at home to West Brom . Then City travelled to Standard Liege to play the second leg of the UEFA Cup second Round tie, and, although they lost 2-0, it was still enough for them to get through 4-2 0n aggregate.
A third draw on the trot in the League followed, 1-1 at Aston Villa. Since the start of the season Peter Swales had been trying to tie up a deal to bring polish legend Kazimierz Deyna to the club, and after months of negotiations the signing was announced on 7th November 1978. It was a strange signing in that Deyna and his Legia Warsaw teammates were in the Polish army at the time and the transfer 'fee' consisted mainly of goods, such as typewriters and medical equipment.

The League Cup 4th round brought a good 3-1 win at Norwich but back in the League City's form was slipping as they lost 2-1 at home to Derby and then 1-0 against Liverpool at Anfield. The Blues had now gone five League games without a win and had slipped to tenth in the table. City's 3rd Round prestigeous opponents in the UEFA Cup were AC Milan , and they came away from the San Siro Stadium with a famous 2-2 draw to take into the second leg.
City's League form was now worrying however, and they suffered a 2-1 home defeat against Ipswich, a game in which Tony Book also lost the services of Kenny Clements who broke his leg in a challenge with Kevin Beattie.
A memorable European victory followed as City beat AC Milan 3-0 in the 2nd Leg of the UEFA Cup to go through 5-2 on aggregate.
The Blues domestic form was totally opposite to their European adventures and three further 2-1 defeats followed, at home to Southampton then again, against Southampton , but this one was in the League Cup 5th Round at the Dell, and back in the League against QPR at Loftus Road. With the busy Christmas period on the horizon City hadn't won a League game in the last eight attempts and had slipt well down the table to 15th.
The bad run continued as City drew 0-0 at home to Nottingham Forest and then lost 1-0 on boxing Day at Everton followed by a 1-1 draw at Bristol City in the last game of 1978.
City's New Year's day home meeting against Middlesbrough  was postponed due to bad weather. Peter Swales was becoming concerned about City's form and results, it was felt that Tony Book and Chief coach Bill Taylor were too much alike, both being introverts and so Swales put the call out for the return of 'the prodigal son', Malcolm Allison, who was brought in to work 'along side' Tony Book, although Malcolm would actually have total control of coaching and tactics.
Gary Owen remembers; "we came into training and Malcolm came in with Tony and told us he was coming in to look at the overall picture. When Bill Taylor came in, I could see it was a shock to him too, Malcolm was clearly in charge".


For Allison it was a dream return "I feel I have spent the last five years in Dartmoor and now I have come home again" he exclaimed. Bill Taylor resigned his post as Coach four days after Malcolm was brought in.
City,s first game of 1979 was at Elland Road and Allison's prescence failed to get City's first League win in twelve games, however The Blues put up a spirited display against Leeds and came away with a point. City drew lower League opposition in the third Round of the FA Cup and Rotherham did well to earn a replay drawing 0-0 at Maine Road. However City triumphed in the replay beating Rotherham 4-2.
The problems in the League continued and City lost 3-2 at home to Chelsea before a humiliating departure from the FA Cup as Shrewsbury Town disposed of The Blues 2-0 in the 4th Round at Gay Meadow.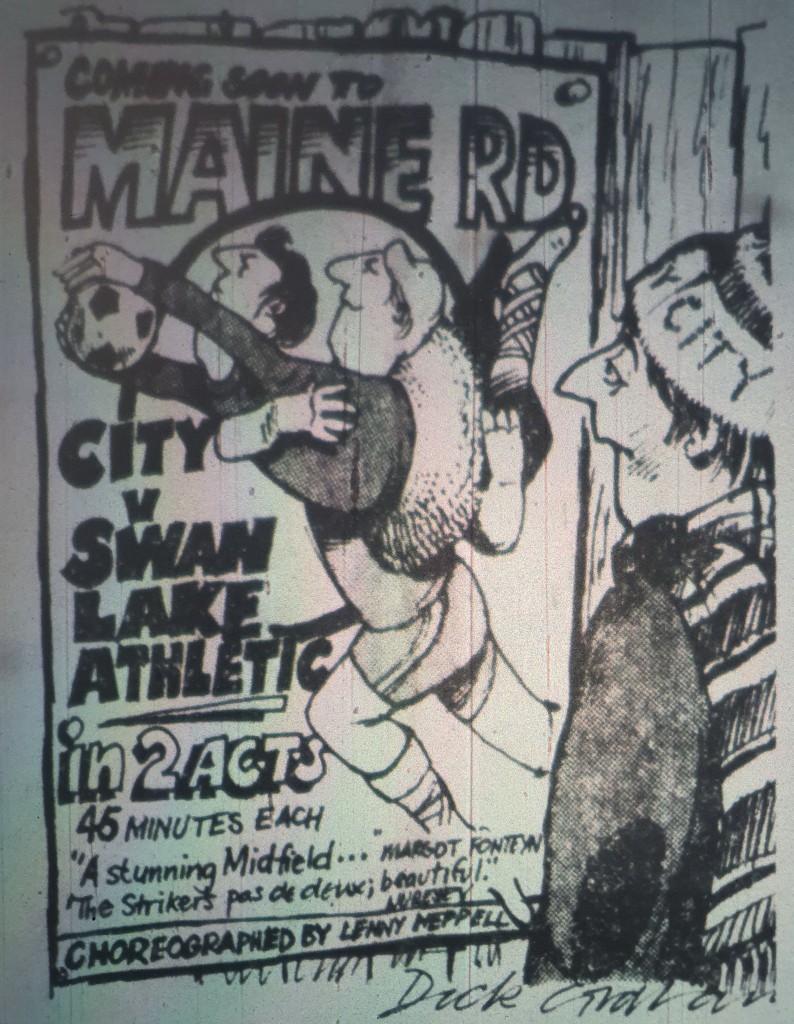 Malcolm Allison was starting to shake things up, with some of his decisions ridiculed by the players and media. He was concerned the players had become sluggish and slow, and brought in a 60 year old champion ballroom dancer, Lenny Heppell, to work with the players on their posture and movement. Peter Barnes remembered: "He'd shout left or right depending on which way he wanted us to go and we had to rush left or right and then back. He started to tell us how to run. He had us moving around like ballerinas." Allison was adamant Heppell would help the team on the pitch: "I'm not trying to turn them into a bunch of Nureyevs." he claimed. As well as this, he sold youngster Ged Keegan to Oldham and Mike Channon was placed on the transfer list, and then it was lucky 14 for City as they won for the first time in the League since October 14th, as they beat Tottenham 3-0 at White Hart Lane.
Manchester United kept the Manchester bragging rights as they beat City 3-0 in the Derby at Maine Road, however, City then gained their second 3-0 away victory on the trot winning at Coventry 3-0.
Norwich City were the next visitors to Maine Road and gained a 2-2 draw, A good 2-1 home victory followed against Bolton leaving City still in a lowly 15th position in the league with just over a quarter of the season to go.
Another prestigeous European tie beckoned as City drew 1-1 at Maine Road against Borussia Moenchengladbach in the 1st leg of the UEFA Cup 4th Round, however it proved to be a round too far for the Citizens as they lost 3-1 in the return in Moenchengladbach and so were knocked out 4-2 on aggregate.
Four away games followed in the league and City failed to win any. 1-1 draws at Arsenal and Wolves .
Another youngster then left the club, with 19 year old Russell Couglin moving to Cambridge for a fee of £35,000.

Then a 2-1 defeat at Ipswich , where Barry Silkman a £60k purchase from Plymouth, scored on his debut, and a 4-0 drubbing at West Brom . Prior to the Ipswich game Brian Kidd continued the player exodus from the club as he joined Everton for £150k.
At Maine Road City managed to win as they beat Wolves 3-1 leaving them in 16th position in the League  with just nine games to go. Early season buy Ron Futcher left City next in a £120k move to Minnesota Kicks in America.
The Blues could only manage a 0-0 draw at home to Everton and then another away defeat followed 2-0 at Middlesbrough . With City now sitting just above the relegation zone, the City fans were relieved when QPR were beaten 3-1 at Maine Road and mathematically The Blues were safe with six games to go in a disappointing season. After the next game a 1-0 home win against Middlesbrough Asa Hartford and Peter Barnes, who had become unhappy with Allison's tactics and future plans, were put on the transfer list at their own request. Tony Book said: "Hartford has been an outstanding buy, but you can't have people in the side when they don't want to play. We will let them go anywhere."
City's form on the road was still causing concern as they lost 1-0 against Southampton at the Dell.
At Maine Road they beat Birmingham 3-1 and Bristol City 2-0, before a disappointing 3-1 defeat at Nottingham Forest and a 3-2 home defeat to Aston Villa in the last game of the season to leave The Blues finishing in an unacceptable 15th position in Division One. And so a season to forget came to an end. Tony Book commented "We lost our way at home. Too many sides came to Maine Road and picked up points cheaply"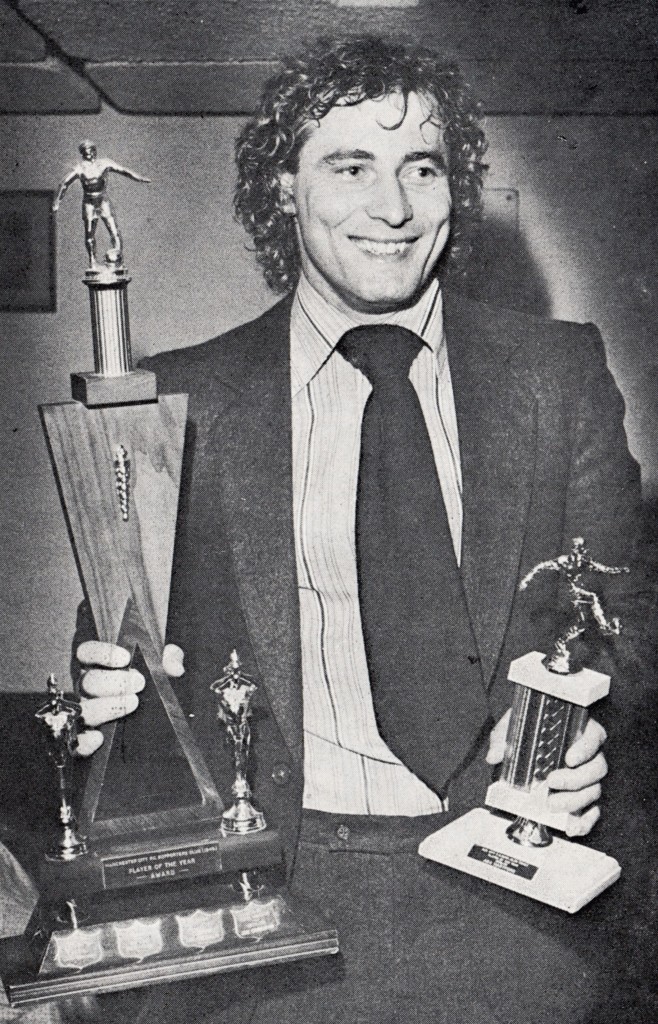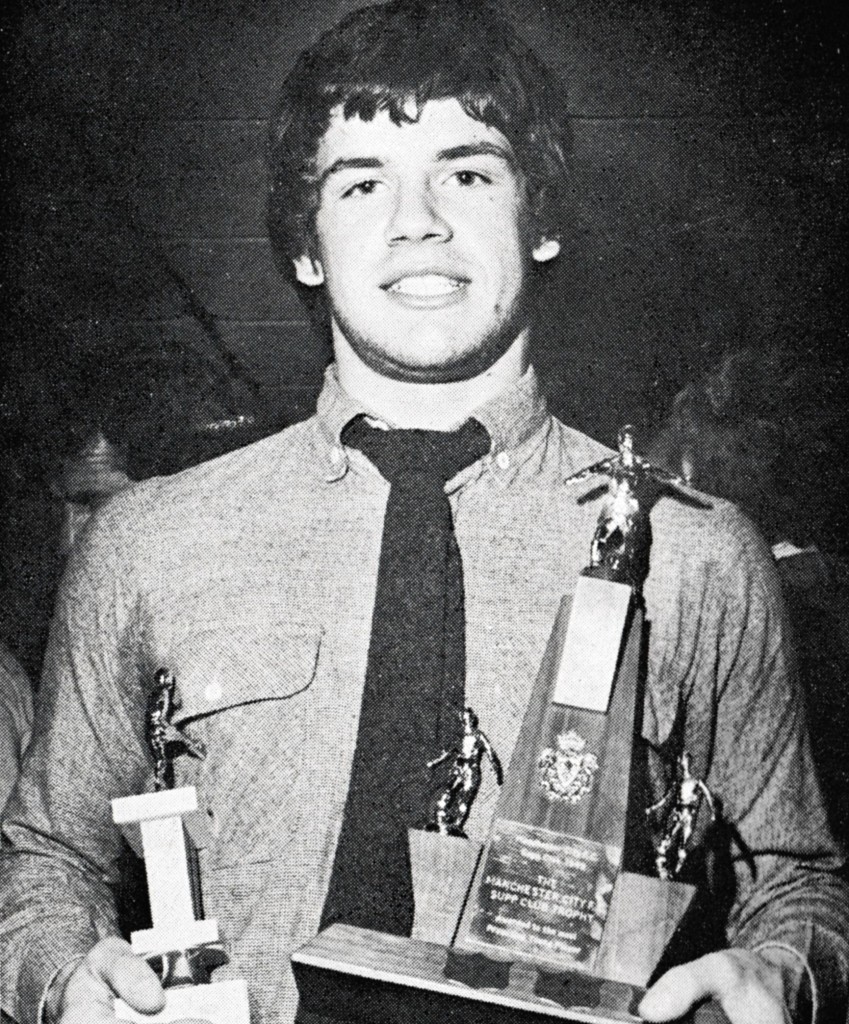 Although still on the transfer list Asa Hartford was voted City's player of the year and Nicky Reid picked up the young player of the year award.
The team went on an end of season tour to Italy where they drew 2-2 against Roma , beat Avellino 2-0 and then lost 2-1 against Napoli.