1980/81 SEASON REVIEW
The Summer of 1980 saw moves away from Maine Road for Michael Robinson, who joined Brighton for £400,000. Malcolm Allison stating "Mike had to go because it would have taken me far too long to work on him and attain what I wanted. I don't have that kind of time any longer". Paul Futcher, who moved to Oldham for £150,000, and Barry Silkman was signed by Brentford for a fee of around £5,000.
Transfers in to the club were sparse to say the least, just David Wiffill arrived from non-league Bath for a fee of £25,000.
The pre-season friendlies began with a trip to Bath and a 3-2 win, then City beat Nuneaton Borough 3-1, before travelling to Portugal where they drew 0-0 with Oporto, beat Braga 3-1 and Sporting Lisbon 2-1.
The squad then moved on to Holland where they beat Breda 3-2. The final game was played at Maine Road where City played Legia Warsaw as part of Kazui Deyna's transfer to the club the previous season, the match ended in a 5-1 defeat for City.
The pressure was on Tony Book and Malcolm Allison from the off, as City got off to a terrible start in the league losing 2-0 at Southampton on the opening day of the season and it got worse with a disastrous 4-0 home defeat against Sunderland and then a 2-2 draw against Aston Villa also at Maine Road.
In the 1st leg of the 2nd Round of the League Cup City drew 1-1 at Stoke a good result as Tommy Booth had to act as emergency keeper for the whole of the second half when Joe Corrigan left the field through injury.
Back in the league and it was four games without a win as City drew 2-2 at Middlesbrough, however in the 2nd leg of the 2nd round League Cup tie at Maine Road, The Blues progressed with a 3-0 win over Stoke.
Back in the league City couldn't buy a win drawing 1-1 at home to Arsenal, losing 3-2 at Nottingham Forest and 2-1 at home to Stoke . There was some respite in the League Cup as City won 2-1 at Luton in the 3rd round, however in the league the Blues drew 2-2 against Manchester United at Old Trafford and were still looking for their first win of the season and stood third from bottom of Division 1 with just 4 points from 8 games, the pressure was certainly on Book and Allison with the press speculating that if a win did not come from the next two games then Peter Swales would be relieving them of their posts.  The win never came! Liverpool took all the points at Maine Road winning 3-0 and then following a 1-0 defeat at Leeds a press conference was called the next day. Peter Swales announced "I have spoken to Malcolm and Tony and talked about the club's position. I asked them if they would resign from their respective jobs. They agreed, and I have asked Tony to hang on to look after the team for the West Brom game along with chief scout Ken Barnes"
Under 'caretaker' Tony Book City lost again, 3-1 at West Brom before Peter Swales announced The Blues new manager would be John Bond who also would be bringing his assistant, former City player John Benson, with him.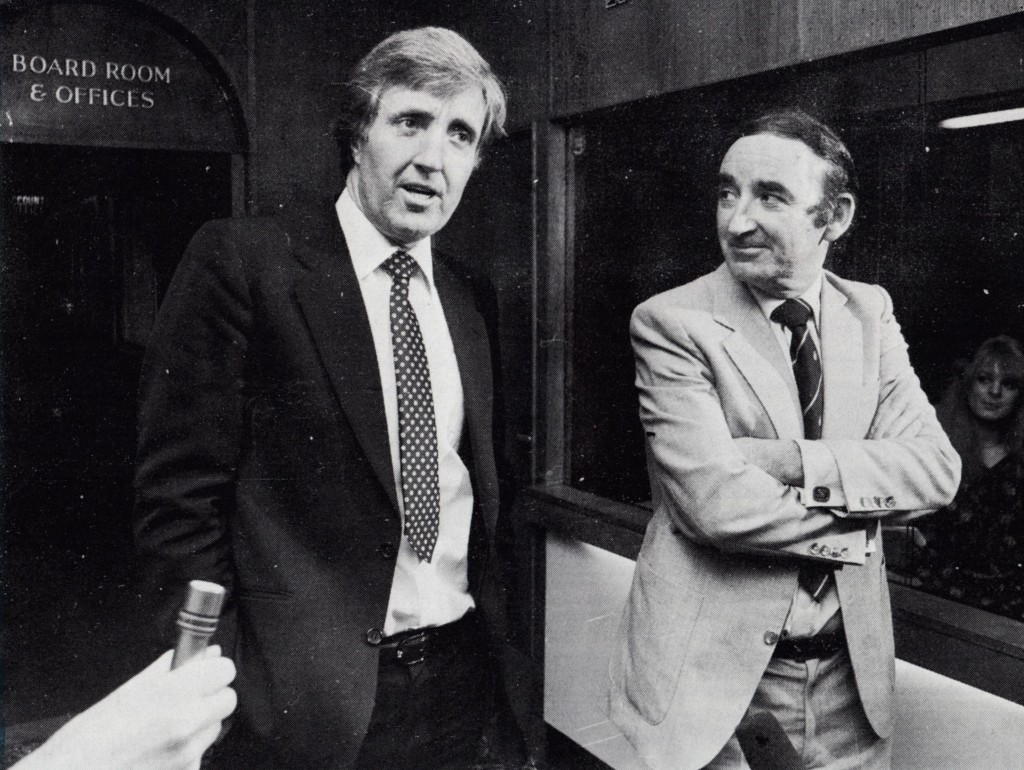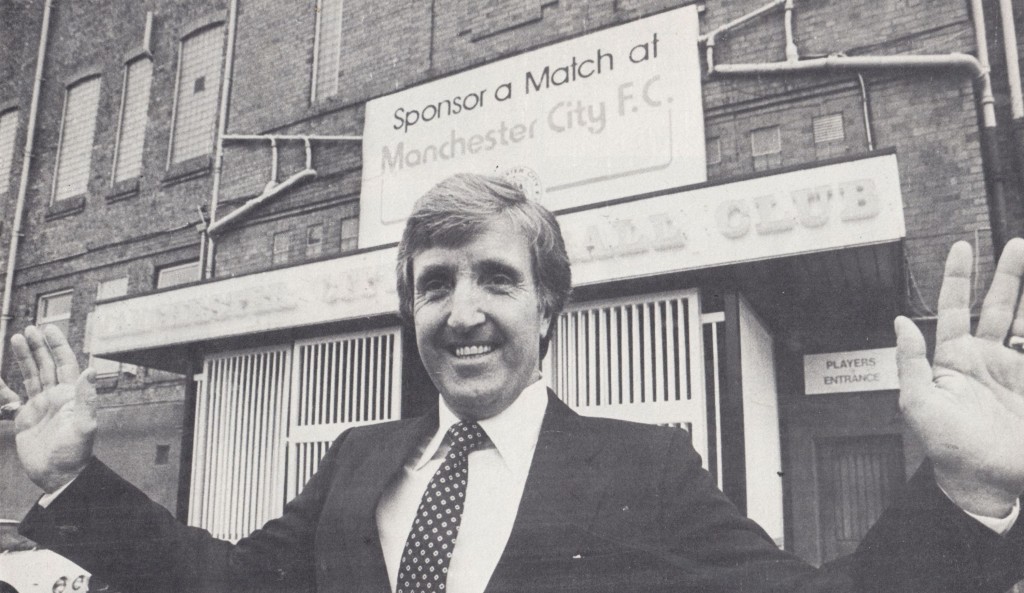 Bond still had seven and a half years left on his contract at Norwich and the Canaries demanded huge compensation from City, wrangling between the clubs lasted more or less all season.
John Bond's first game in charge saw City drop to the foot of the table losing 1-0 at home to Birmingham. . Bond commenting "Some individuals disappointed me because I thought they were capable of far more, but if we all get togetherand pull in the same direction then we've got a chance"
It was time to look at new recruits, and John Bond immediately brought in two new signings, Bobby McDonald for £270,000 and Tommy Hutchison for £47,000, both players joining from Coventry.
The new signings weren't able to play at home against Tottenham, however at the 13th time of asking City won their first league game of the season 3-1, and then continued the winning ways beating Brighton away 2-1. In the League Cup 4th Round the Blues comprehensively disposed of Notts County at Maine Road winning 5-1.
John Bond took another plunge into the transfer market, City paying Bristol City £175,000 for the servicies of tenacious midfielder Gerry Gow.
City's winning ways continued with a 1-0 home win against Norwich before the City shareholders learned that, in the main due to the legacy of Malcolm Allison's spending, the books showed that there had been a loss of over £1.6M in the last year, clearly the big spending days at Maine Road were a million miles away.
City then drew 1-1 at Leicester and then lost 2-0 at Sunderland, however a 3-0 win at home to Southampton saw the Blues move up to fifth from bottom of the league and looking like survival would be possible.
Young striker Roger Palmer found himself out of favour and was the sold to Oldham for £70,000,
City were on a good run in the league beating as they beat Coventry 3-0 at Maine Road, and then won 3-2 at Crystal Palace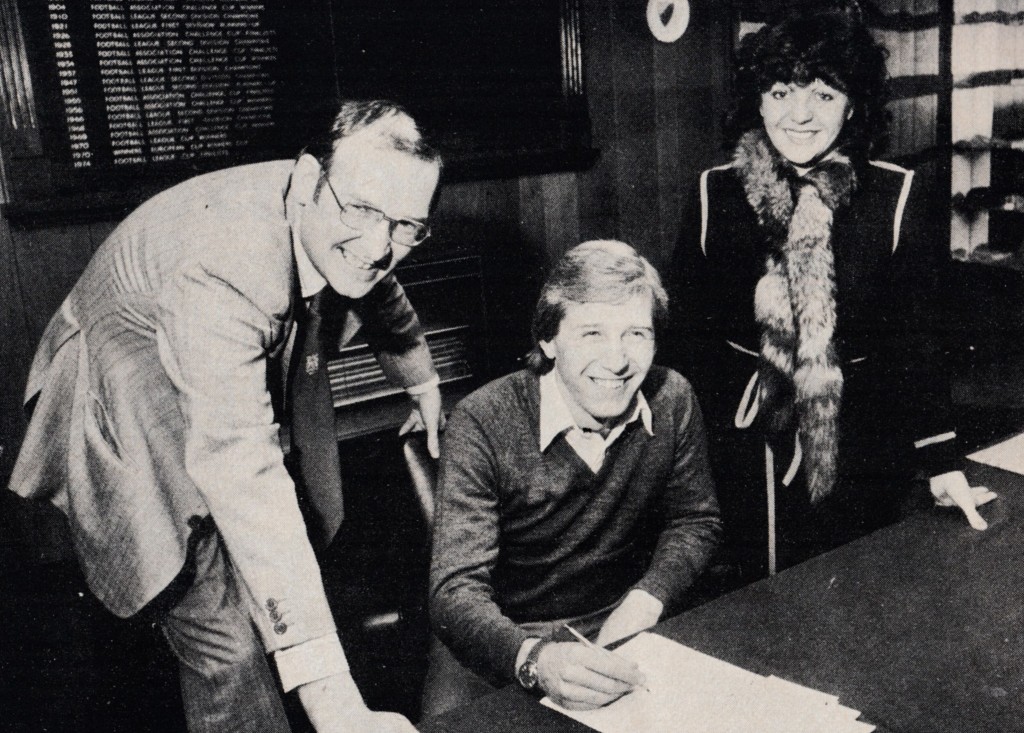 City's rise up the table gave Peter Swales the confidence to allow John Bond to pay out £225,000 to Southampton for the services of striker Phil Boyer and he made his debut at Maine Road in the 5th Round of the League Cup, City beating West Brom 2-1
However in the league City could only draw at home to Ipswich and then lost 2-1 at Tottenham to leave them still fifth from bottom in the table.
The festive period proved to be very happy for City fans as the Blues beat Leeds 1-0 at Maine Road, then on Boxing Day they beat Everton 2-0 at Goodison Park and in the last game of 1980 they beat Wolves at home 4-0.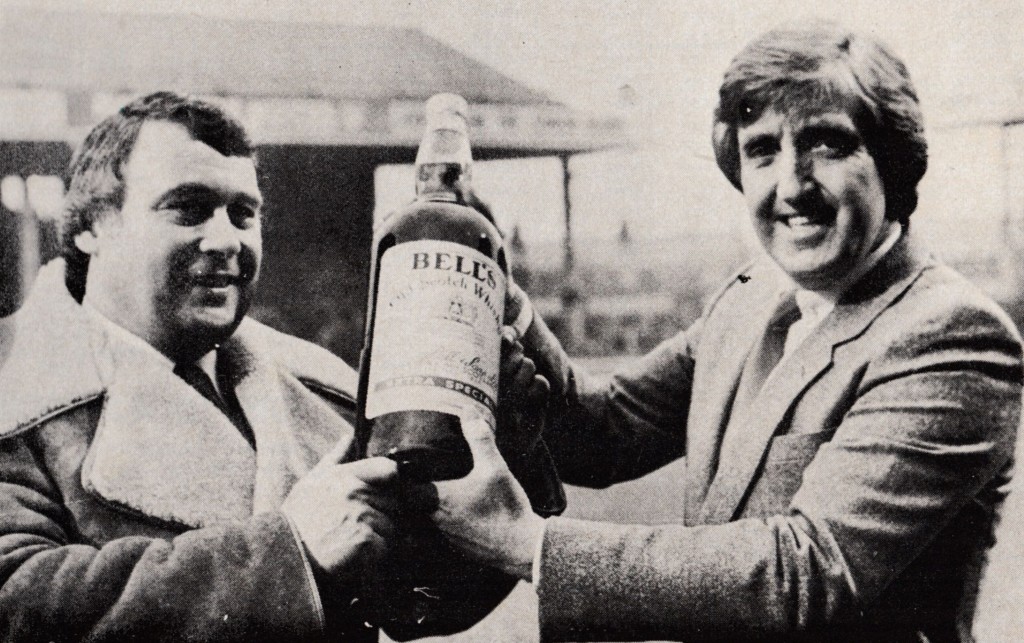 John Bond picked up The Bell's Manager of the Month award for December after also winning it in November.Malcolm Allison returned to Maine Road as manager of Crystal Palace and was given an amazing reception by the Kippax in a 3rd Round FA Cup tie, however it was a victory for City's new regime as Malcolm's Eagles were beaten 4-0.
In the League The Blues then drew 1-1 at Coventry before the 1st leg of the League Cup semi-final where City were narrowly beaten 1-0 by Liverpool at Maine Road.
In the league City won 3-2 at home to Middlesbrough, and then after disposing of Malcolm Allison's Crystal Palace in the 3rd Round of the FA Cup, fate brought John Bond's previous employers, Norwich to Maine Road in the 4th Round and The Citizens slaughtered the Canaries 6-0.
back to the league and a 1-0 defeat at Aston Villa, saw City still very safely placed in 11th position in Division 1.
Kaziu Deyna left the club to join San Diego Sockers in the North American Soccer League before City drew 1-1 at home to Nottingham Forest.
The Cup games were now coming thick and fast, however City's dream of a Wembley visit in the League Cup was dashed by Liverpool at Anfield, the Scousers drawing 1-1 and winning 2-1 on aggregate.
In the FA Cup however The Blues powered on as they won 1-0 at Peterborough to qualify for the 6th Round. And in the league the Manchester Derby bragging rights were also City's as they beat Manchester United 1-0 at Maine Road.
Steve Daley moved on to Seattle Sounders for just £300,000 a nett loss for City of over a Million pounds. His stay at City had lasted just 20 months and was described as "the biggest waste of money in football history" by the Observer in September 2001.
John Bond's team then lost 2-0 at Arsenal before earning a replay in the FA Cup 6th Round, drawing 2-2 against Everton at Goodison Park.
With the lack of first team opportunity Keith MacRae moved on to Ameriaca to join Portland Timbers.
In the replay of the FA Cup 6th Round City beat Everton 3-1 at Maine Road and earned another Semi-Final place.
The Blues form in the league was indifferent as they beat West Brom 2-1 at Maine Road but then lost 2-1 at Stoke and 2-0 at Birmingham to slip down to 13th in the league, but looking safe from relegation. It was clear that the semi-final was on the players mind as they made it five games without a win in the league, drawing 1-1 at home to Brighton, 3-3 at home to Leicester and losing 2-0 at Norwich. The FA Cup Semi-Final was held at Villa Park against Ipswich and after a tense, goal-less 90 minutes, Paul Power scored a magnificent free-kick in extra time to take City to Wembley to meet Tottenham in the FA Cup Final.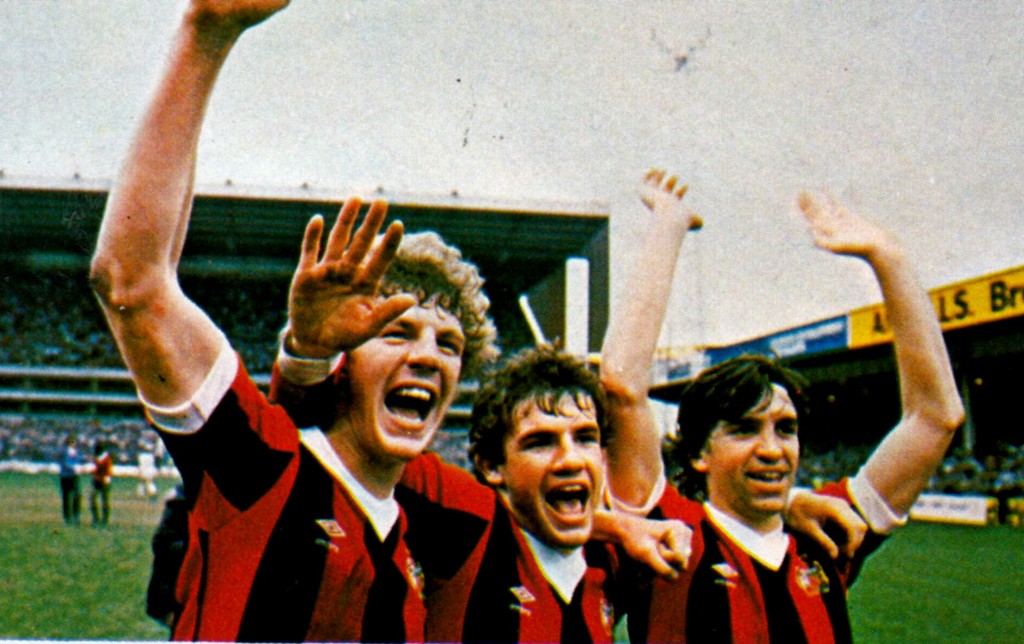 Back in the league the players were playing for their FA Cup places and they beat Wolves 3-1 at Molyneaux and Everton by the same score at Maine Road.
They then lost 1-0 at Ipswich and drew 1-1 against Crystal Palace in the penultimate game of the season. and so to Wembley and the 'Centenery FA Cup Final, Tommy Hutchison was both hero and villain as he scored City's goal but also deflected a Spurs Free-Kick past Joe Corrigan to make it City 1 Tottenham 1 and a replay was needed.
The replay was held on the Thursday night and in one of the best finals seen at Wembley City lost 3-2 to Tottenham. The last league game of the season saw City lose 1-0 to Liverpool at Anfield.
Before the players finished for the summer break a match was hed between the current side and the 1969 Cup wiining team for Tommy Booth's testimonial.
In a season where City's survival in the first division looked originally in jeopardy, the fans were more than happy to see The Blues finish in 12th place as well as reach the FA Cup Final and the semi-final of the League Cup.
Paul Power fittingly won The City Player of The Year Award with Steve Kinsey awarded The Young Player Of The Year.