1986/87 SEASON REVIEW
There were some surprising ins and outs during the summer at Maine Road. Former club captain, Paul Power, moved to Everton for £65,000 and popular striker Mark Lillis was sold to Derby County with Trevor Christie and £100,000 coming back in the opposite direction.
David Phillips was also involved in a player exchange deal as he moved to Coventry, and keeper Perry Suckling coming to Maine Road with City also receiving £50,000.
City's pre-season started with a tour of Switzerland. Winning 1-0 against La Chaux-de-Fonds, drawing 1-1 against Aarau, a good 5-0 win followed against Solothurn and then a 1-0 defeat against Sion with the tour ending in a 1-1 draw with Lausanne.
The Blues then travelled to Spain and played in The Costa Del Sol Tournament in Marbella drawing 0-0 with Real Betis and beating Malaga 3-0. McNeil's men then lost 3-0 in a friendly at Valencia.
Finally City played in the auspicious Colombina Tournament played in Huelva, Andalucia. The Blues beat Barcelona on penalties and then lost the final on penalties to Huelva.
City kicked off the season at home with a 3-1 win against the 'Crazy gang' of Wimbledon, and then earned a creditable point in a 0-0 draw against Liverpool at Anfield, before a 1-0 defeat at Tottenham .
Billy McNeill then splashed out £130,000 on Robert Hopkins, who joined from Birmingham, and he played in a 2-2 draw at home to Norwich, and then a 1-0 defeat to Coventry, again at Maine Road.
It was not the start to the season the City fans were expecting and the team failed to win again drawing 0-0 at Oxford and 0-0 at home to QPR.
The Blues failed to score for the fourth time on the trot as they drew 0-0 at Southend in the Littlewoods Cup Second Round first leg, but worse news was to come as Billy McNeill resigned as boss to join Aston Villa, McNeill had become frustrated at City due to Peter Swales keeping a tight hold of the purse strings even though the Scot had been promised money to spend. In his autobiography David White recounts how the players found out about his departure; 'we were travelling to Southend United's Roots Hall on 23rd September 1986 and, as per usual, [Billy] boarded the coach at the Manchester depot near Platt Lane. However, when it made it's final pick up at Bucklow Hill in Cheshire, McNeill promptly got up from his front seat, walked up the aisle, firmly shook our hands and said his goodbyes. He then climbed off the bus, got into a waiting car, and drove off.
Goodbye? I remember thinking. What the fuck's going on? It soon became clear that he'd accepted an offer to take the top job at Aston Villa.'
Assistant Manager Jimmy Frizzell took over as Caretaker for the next game at Luton but City failed to score again and lost 1-0 to leave The Blues just fifth from bottom of Division one after eight games.
Frizzell was given the permanent Management role before the next home game, but the misery for the City fans continued as Leicester won 2-1.
Better news in the Littlewoods Cup as they scraped past Southend 2-1 in the 2nd Round 2nd Leg. But back in the League it was yet another defeat, 3-1 at Newcastle.
Jimmy Frizzell then made a few changes at Maine Road, Trevor Christie was sold to Walsall for an undisclosed fee. Robert Hopkins moved to West Brom in an acrimonious deal which brought Imre Varadi in the opposite direction to Maine Road. Hopkins unhappy about the move commented that he hoped City would be relegated. Finally John Gidman moved to City on a 'free' from Manchester United.
Imre Varadi made an immediate impact scoring after 6 minutes of his debut at Chelsea, however it wasn't enough to avoid another defeat, Chelsea winning 2-1. City were now rock bottom of Division 1 having taken just 7 points from 11 games.
The visit of Manchester United to Maine Road brought a good battling performance from City as they drew 1-1.
The Blues were then knocked out of the Littlewoods Cup, losing 3-1 at Arsenal in the 3rd Round.
Steve Kinsey then joined the exodus from Maine Road as he moved to Minnesota Strikers to play in the USA Major Indoor Soccer League.
Back to the League and City couldn't buy a win as they drew 1-1 at Southampton where Tony Grealish, who had moved from West Brom that week made his debut for City. The Blues had now gone 12 League games without a win and were still bottom of the League.
In the Full Members Cup City were hoping for another trip to Wembley like last year as they beat Wimbledon 3-1 in the 2nd Round at Maine Road.
The return of Billy McNeill to Maine Road as Aston Villa's manager ended perfectly for the City fans as the Citizens as they beat the Villains 3-1 to move off the foot of the table.
It was back to back wins for City as they then beat Charlton 2-1 at Maine Road.
Even though the team were in the middle of a relegation fight, the squad minus Mick McCarthy, who was mysteriously denied a Visa, then travelled to Saudi Arabia where they squeezed in two games midweek before having to return in time for a league game at the weekend. The games ended in a 3-1 win against Al Ahli and a 1-1 draw against Al Nasr.
City then lost 3-0 at leaders Arsenal, was it the midweek travelling that affected the players or was it the gulf in class that the Gunners showed on the pitch? A mix of both maybe!
The Full Members Cup was a competition the Blues seemed to enjoy and they progressed from the 3rd Round beating Watford 1-0 at Maine Road.
Back in the league and The Blues plummeted back to the foot of the table as they lost 2-1 at home to Everton and then 2-0 at Nottingham Forest.
A strong squad played at the G-Mex in the Guinness Soccer Six but City failed to progress past the group stage.

The visit of West Ham saw  a new 'Hi-Tech' electronic information board unveiled at the Platt Lane end, and a good 3-1 win for Jimmy Frizzell's men and then they earned a good point at Coventry drawing 2-2.
The Christmas period saw a good 1-0 home win against Sheffield Wednesday on Boxing Day, however the Blues were embarrassed at Charlton losing 5-0 in the last game of 1986.
Moving into the new year and City sat fourth from bottom of the league, and they began to climb the table slowly as they drew 1-1 at Watford and then beat Oxford 1-0 at Maine Road to move the Blues up to a 'lofty' 16th place.
In the FA Cup 3rd Round a travelling army of 13,000 City fans felt the Citizens were robbed of a replay as Imre Varadi's 'equalizer' at Old Trafford was inexplicably ruled offside and Manchester United ended up 1-0 winners.
With Jimmy Frizzell feeling that he needed more experience in the side for the relegation battle ahead, Peter Barnes returned to Maine Road.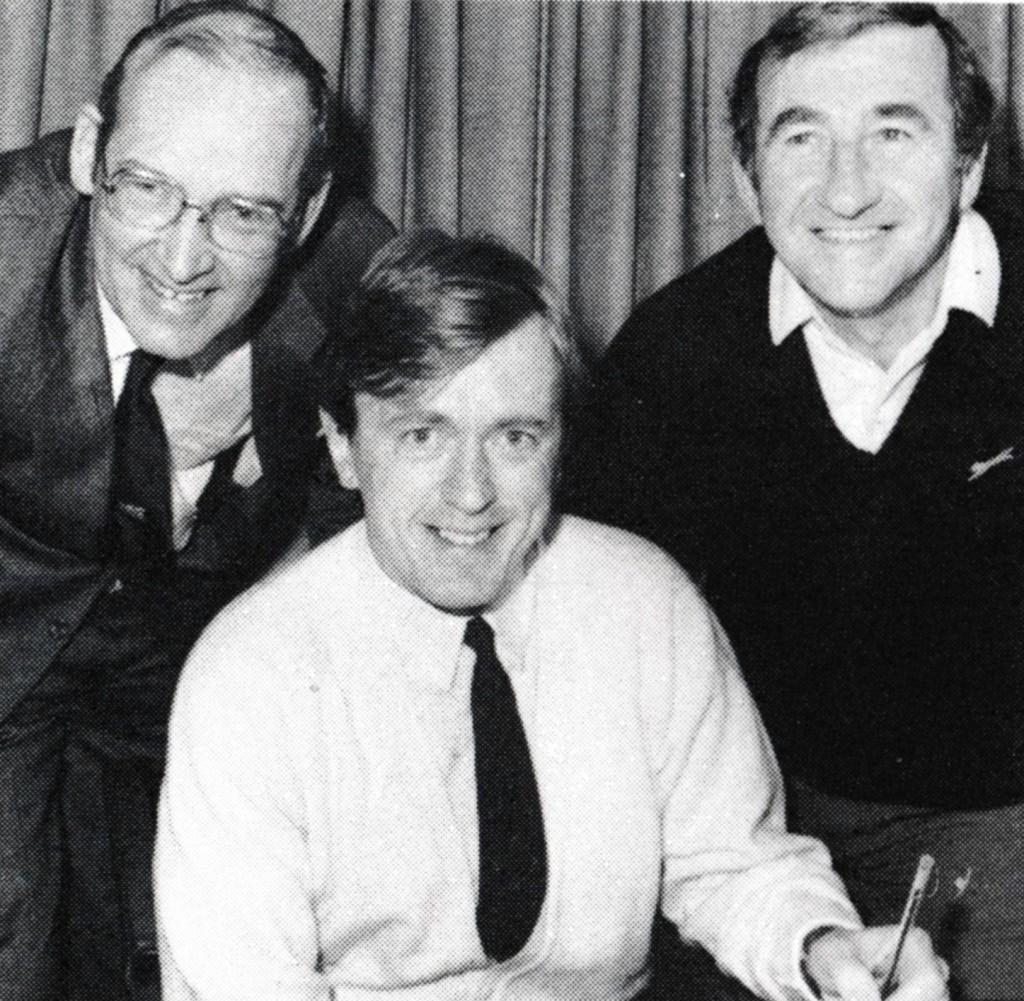 Barnes went straight into the game at home against Liverpool but couldn't stop a 1-0 defeat. The blues then travelled to Wimbledon and failed to score for the third game on the trot, but managed to gain a point in a 0-0 draw.
City's hopes of a trip back to Wembley were ended by Ipswich as the Blues lost 3-2 at Maine Road in the Full Members Cup.
The Blues gained another valuable away point drawing 1-1 at Norwich to leave them fifth from bottom of the league with a third of the seasonleft.
Alex Williams, who had been on loan at Port Vale for the last three months made the move permanent, with City receiving a fee of £20,000.
A third league draw on the trot, 1-1 at home to Luton was followed by two further defeats, 1-0 at QPR and 2-0 in the Derby at Manchester United a game for which Peter Barnes was dropped after his negative comments about staff and tactics were published in the media.
There was some major movements at Maine Road as Jimmy Frizzell tried to avert relegation. He accepted an offer from Chelsea to sell Clive Wilson to them however Clive would still stay a City player until the end of the season. Frizzell used most of the Chelsea money to sign striker Paul Stewart from Blackpool for £200,000.
Paul remembers in his autobiography 'Damaged' how farcical the negotiations went; "For our first meeting at City, I didn't have an agent. I took Bev across with me because I was so nervous, and just had a figure in my head for my weekly wage which I decided I was going to stick to… When I arrived at the old Maine Road ground, all the press had been tipped off and were waiting for me. The photographers took me onto the pitch and before I knew it, I had a scarf in my hand. I was holding it up but thinking: This is a bit strange, I haven't agreed terms yet. Then believe it or not, they sent me off for a medical. It was a case of going into the boardroom and this is what we are offering, sign here.
In that first meeting I was introduced to Freddie Pye, a scrap metal merchant who was director, the coach Jimmy Frizzell, and the team bus driver called Derek. I remember thinking What the fuck is the coach driver doing here? (I learned he would sit on the bench, and got so involved in team affairs that he was invited to contract talks, he was into everything).
… I said that I wanted £450 a week and they were offering £350. I also wanted a £10,000 signing on fee, which was not a big amount even in those days… But they were offering 150 quid more than I was on at Blackpool, and I was going up three divisions. They would not agree.
Every time I spoke, they scurried through to the next room to see the chairman Peter Swales who was conducting negotiations by remote, from the other side of the wall!
I left without agreeing a deal, devastated, and the next morning on the back of the Daily Star was the headline 'GREEDY STEWART'. I remember saying to Bev: That is my chance gone.
I had the same discussions in the same room with the same people, including Derek the coach driver, a short time afterwards, and still we could not come to an agreement.
Then Blackpool were playing Northampton, I scored a hat-trick, and when I went down the tunnel, City legend Tony Book was there with Jimmy Frizzell. They said 'We're going to give you what you are after'. I signed the next day, it had taken three weeks.
Stewart wasn't signed in time to play Chelsea at Maine Road and City lost again 2-1 and were now third from bottom with a quarter of the season to go.
Stewart made his debut in a 0-0 home draw against Newcastle and then midfielder Kevin Langley was brought in from Everton to help the cause, however things were looking grim as City lost 4-0 at Leicester and failed to score again in a 0-0 draw at Aston Villa.
Relegation looked inevitable as City took just one point from their next four games losing 4-2 to Southampton, drawing 1-1 against Tottenham, losing 2-1 to Watford, all three games at Maine Road, and then lost 2-1 at Sheffield Wednesday.
With City bottom of the league with just four games left to play the Blues needed a miracle, so hopes were boosted as City gained their first win since early January beating Arsenal 3-0 at Maine Road and then earned a 0-0 draw at table topping Everton and a further 1-0 win at home to Nottingham Forest.
The last game of the season saw City visiting the Boleyn Ground with first Division survival out of their hands The Blues were second from bottom on 39 points with Charlton and Leicester above them both on 41 points. The mathematics were immaterial in the end as West Ham beat City 2-0 and so the Blues were relegated along with Aston Villa, who's manager, and ex City manager, Billy McNeil ignobly held the record 0f having managed two sides which were relegated in the same season.
 Neil McNab was voted City supporters' Player of the Year and Paul Moulden picked up the Young Player of the Year award.