1987/88 SEASON REVIEW
Off the pitch Peter Swales announced a club record sponsorship deal with Brother worth over £500,000 over three years. There was also a change in management, Jimmy Frizzell's role was 're-titled' General Manager and Mel Machin was appointed the new team manager. City had released Graham Baker, Nicky Reid, Tony Grealish and Nigel Johnson prior to the Summer break and then Mick McCarthy was sold to Celtic for £500,000, Darren Beckford moved to Port Vale for £17,500.

 Andy May joins Huddersfield for £35,000 Machin's first addition to the squad is striker Tony Adcock who joins from Colchester for £85,000, The Blues begin pre-season with a tour of Sweden, beating IFK Holmsund 3-2, Rundvik 10-0 and Lovanger 12-0. Travelling on to Finland The Blues beat IF Kraft 2-0 and Nykarleby 5-0. The last pre-season games were played at Maine Road in The Manchester International Football Tournament. The Blues lost 3-1 in the semi-final against neighbours Manchester United and then the next day beat PSV Eindhoven 3-1 in the third place play-off. City began their promotion campaign at home with a 2-1 win over Plymouth. Then a good 1-1 draw on Oldham's 'plastic pitch' followed by a further point earned at Aston Villa with another 1-1 draw. The good start to the season was spoiled by a 2-1 home defeat to Blackburn. Then what should have been a winnable away game at Shrewsbury turned into a 0-0 draw with Neil McNab missing a penalty. Back at Maine Road two excellent performances saw the Blues win 4-0 against Millwall and then 3-0 aginst Stoke, leaving Machin's men a comfortable ninth position in the league. In the Littlewoods Cup City went down to a 2-1 home defeat in the 2nd round 1st leg tie against Wolves . Following criticism from the fans of several Eric Nixon 'mistakes' City brought in Bobby Mimms from Everton on loan to relieve the pressure on the young keeper.
Away from home The Blues still struggled with consecutive defeats, 2-0 at Leeds and 3-1 at Hull, where new £100,000 sigining from Liverpool, Mark Seagraves made his debut and alarmingly saw City slip to 15th place. The inconsistency tag that has been labelled at City throughout their history was certainly a tag that fitted this season as they went on to beat Leicester 4-2. However at the 37th time of asking City won away beating Wolves 2-0 in the 2nd leg of the Littlewoods cup 2nd round, Eric Nixon returning between the sticks after Bobby Mimms loan spell was ended, as Everton recalled him after an injury to Neville Southall.
In the league though the Blues then ineplicably lost 3-2 to a struggling Sheffield United team at Maine Road. Then in another disastrous away trip they lost 3-0 at Ipswich. It seemed the first league away win of the season would never arrive, but a great battling display at a top of the top table Bradford side who were unbeaten in the last 17 games, saw the Blues seal all three points and win 4-2. The first away League win in 21 months.
A disappointing 1-1 home draw against Barnsley was followed by a 3-0 victory over Notts Forest in the Littlewoods Cup 3rd Round and then a thrilling 4-3 away win at Swindon. It was to be five games unbeaten as Middlesbrough took a point away from maine Road in a 1-1 draw. What followed next would go down in City folklore forever. Huddersfield decked out in a yellow and black chequer board kit were smashed out of site 10-1 with three hat-tricks, one each for David White, Tony Adcock and Paul Stewart. The scoring continued as City made it 16 goals in two games by beating Plymouth 6-2 in the Simod Cup 1st Round at Maine Road with another hat-trick from Tony Adcock. The Blues were certainly on a great run and they continued with a 2-0 win at Reading . and then knocked Watford out of the Littlewoods Cup 3-1, before going on to make it five wins on the trot with a 3-0 home win against Birmingham. The run was halted with a 1-1 draw at West Brom, however a 2-0 win at Bournemouth saw the Blues move up to 6th place and hopes of a promotion push were high. City were now 12 matches unbeaten in all competitions, however this run came to an end as they lost 3-1 to Crystal Palace at Maine Road after Blues custodian Eric Nixon had been sent off. City had a welcome break from promotion push stress as they played in the Guinness Soccer Six tournament at Manchester's G-Mex but failed to qualify from their group. A good away 1-0 win over Millwall at the Den and then a 2-0 defeat in the Simod Cup at home to Chelsea saw the Blues enter the crucial Christmas period, but with defeats at Maine Road by Oldham, 2-1 and Leeds by the same score, and a solitary 3-1 win at Stoke, City's promotion hopes looked to have ended, and in the first game of 1988 City lost again at home to Shrewsbury 3-1. The FA Cup 3rd Round tie at Huddersfield ended in a 2-2 draw. And in the replay City and Huddersfield were still deadlocked drawing 0-0. Back in the league The Blues lost again 3-2 at Plymouth and had now dropped to 10th in the League with just a third of the season to go. Despite scoring two hat-tricks in the first half of the season it was time for Tony Adcock to move from Maine Road and he left for Northampton Town in an exchange deal which saw Trevor Morley move to City.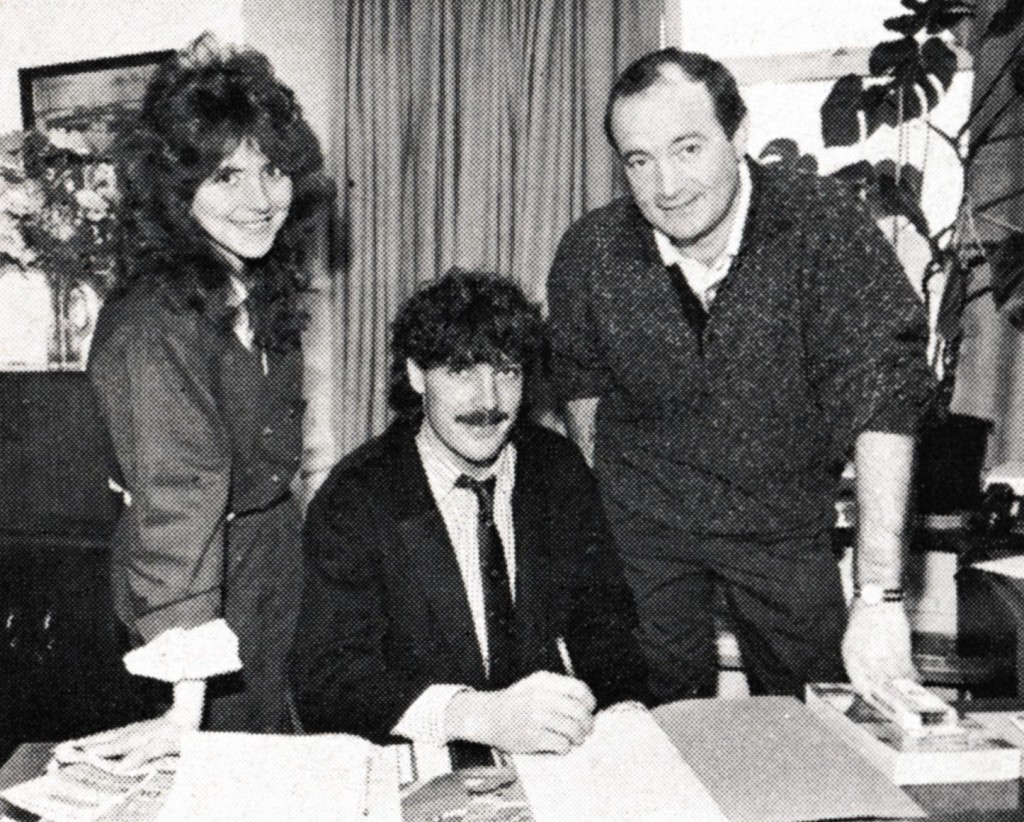 More bad news for Mel Machin as Everton knocked City out in the League Cup 5th Round, 2-0, at Goodison Park. Another defeat in the league followed, The Blues losing 2-0 at home to Aston Villa. Better news in the FA Cup as City finally overcame Huddersfield in a second replay winning 3-0, and just five days later they played Blackpool in the 4th Round and earned a replay again drawing 1-1 at and four days later The Blues won the replay beating Blackpool 2-1. Mel Machin felt that Eric Nixon's bad form was one one of the main reasons for such a slump in the team's league peformance and so he was rested and the custodian immediately put in a transfer request, so Machin felt it prudent to bring in another keeper and so Mike Stowell joined on loan from Everton and played at Blackburn in the league, however, it was Stowell's 'howler' in the 3rd minute which gifted Rovers an opening goal and City lost 2-1 in their fourth league defeat on the trot. The Blues managed to stop the slide in the League with a 2-0 win over Bournemouth at Maine Road and then booked a Quarter Final place in the FA Cup by beating Plymouth 3-1 in the 5th Round, however back in the League The Blues lost again 1-0 at Leicester . Machin's men then put together a three match winning run, with 2-0 wins over Hull and Ipswich and 2-1 at Sheffield United. The gulf between the 2nd Division and the first was never more apparent than in City's next game as they were walloped 4-0 at Maine Road by Liverpool in the FA Cup 6th Round. Kenny Clements then left the club after an illustrious career at Maine Road, he joined Bury for £20,000. A 1-1 home draw to Swindon and then a 3-1 defeat at Barnsley saw the Blues in 9th place, and with just seven games left promotion looked highly unlikely.
Kevin Langley was the next player to move away from Maine Road, moving to Birmingham for £100,000.
Another defeat 1-0 at Huddersfield was followed by a 2-0 win at home against Reading, but a 2-1 defeat at Middlesbrough confirmed that promotion was mathematically impossible for Machin's team. The season fizzled out with a 2-2 draw at home to Bradford, a 3-0 win at Birmingham followed by a 4-2 win over West Brom in The Blues' last home game. City lost the final game of the season 2-0 at Crystal Palace. Steve Redmond was named City's player of the year