1985/86 SEASON REVIEW
City looked to improve the squad during the Summer ready for their return to the 1st Division. Mark Lillis moved from Huddersfield for a fee of £132,000 which was set by a Football League tribunal
a tribunal also came up with a complicated system of payments for the purchase of of the Rotherham United defender, Nigel Johnson, City paid 75,000 down, rising to £120,000 after 50 appearances, there was also a sell on clause if he was sold on in the next two years.
Former Old Trafford favourite, Sammy McIlroy, also moved to Maine Road from Stoke City on a free transfer.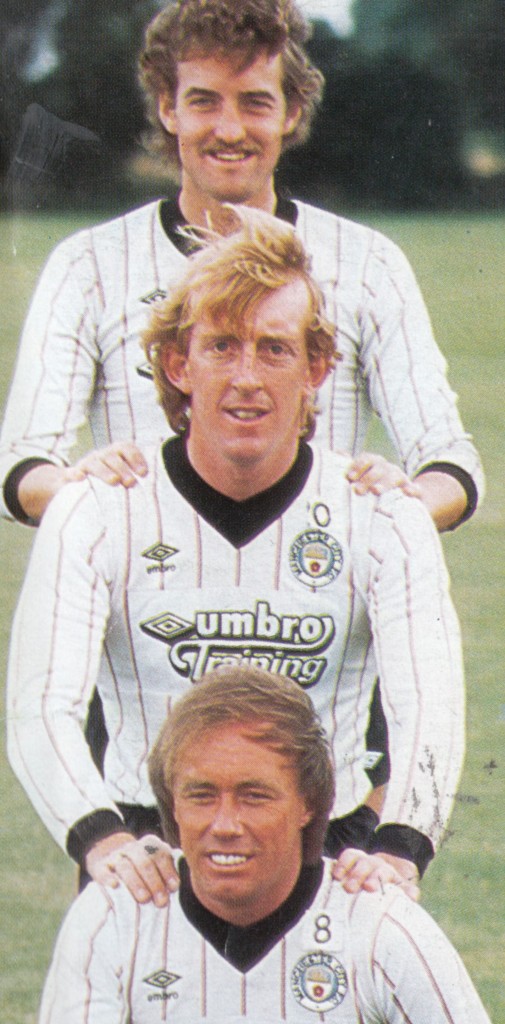 City kicked off the pre-season with a 1-1 draw at Preston and then took part in the Isle Of Man International Football Festival, losing 2-1 to Stoke, beating Carlisle 3-0 and then walloping an Isle of Man XI 6-1.
City then visited Hull and lost 2-1 and finally they beat Oldham 3-1 at Maine Road.
The first game of the season saw Sammy McIlroy score on his debut as City draw 1-1 at Coventry. Another 1-1 draw followed at Maine Road against Leicester and then a home defeat, 3-1 to Sheffield Wednesday.
The fourth game of the season saw City's first win, 3-2 against West Brom at The Hawthorns. And then the Blues won again, 2-1 at home to Spurs.
On the road City began to struggle losing 1-0 at Birmingham and 3-0 at Southampton, where Billy McNeill commented "Everything we did was full of uncertainty and too many players looked second class, the defeat left them 13th in the league after seven games.
The Blues failed to score again as they lost at home in the Manchester Derby, United winning 3-0.
The Blues managed a point at home drawing 2-2 against West Ham and then in the Milk Cup City travelled to Old Trafford to play Bury in the 1st leg and won 2-1, however the League form was becoming a concern as City lost 1-0 at Oxford to leave them fourth from bottom with a quarter of the season gone.
Another defeat, 1-0 at home to Chelsea pushed City into the bottom three.
The Blues announced a small trading profit for the previous season of almost £8,000, however after promotion bonuses and transfers they actually reported a deficit of almost £194,000, bringing City's debts to around £4m and The Blues' interest payments to a reported, worrying £1,000 per day.
City had failed to score in five of their last league games and so Billy McNeill decided to bring in 30 year old striker Gordon Davies from Chelsea for a fee of £100,000.
The Milk Cup gave Billy McNeill's team a little respite from the frustrations of the league and they beat Bury 2-1 at Maine Road in the 2nd leg to progress to the 3rd round.
The bad run of results continued in the league with a 3-2 defeat at Watford, however in the much maligned Full Members Cup the Blues found their scoring boots and beat Leeds 6-1 at Maine Road in the Northern Group 1 League, the City fans however were apathetic to the new competition and a record low crowd for a City senior game, 4,029 turned up for the match. Back in the League City drew a blank again with a 0-0 draw at QPR.
City progressed from the group stage of the Full Members Cup with a 2-1 win at Sheffield United.
The Blues went nine games in the league without a win with a 1-1 draw at home to Everton.
City's were then knocked out of the Milk Cup losing 2-1 to Arsenal at Maine Road. The Gunners poured more misery on the Blues at Highbury where Arsenal won 1-0, this time in the league, cementing City in the bottom three in Division 1 after 15 games.
In the Full Members Cup, The Blues played Sunderland at Maine Road in the Northern Area Semi-Final, the game ended 0-0, however City went through winning 4-3 in a penalty shoot-out.
City's league form improved slightly with 1-1 draw at home to Ipswich, a 2-0 win at Notts Forest and a 1-0 victory over Newcastle at Maine Road.
In the Full Members Cup City were beaten 2-1 at Hull in the 1st leg of the Northern Area final and back in the league they lost 2-1 at Luton and managed a 1-1 draw at Leicester.
City then booked a trip to Wembley as they beat Hull 2-0 at Maine Road in the 2nd leg of the Northern Area final and will now meet Chelsea in the final.
Geoff Lomax who had struggled to get into the first team then joined Carlisle for £7,000.
In the League City showed their inconsistency as they beat Coventry 5-1 at Maine Road and then lost 3-2 at Sheffield Wednesday.
Christmas saw The Blues unbeaten as they beat Liverpool 1-0 on Boxing Day and then drew 1-1 against Birmingham two days later, both games played at Maine Road
It was also a great start to 1986 as City beat beat Aston Villa 1-0 at Villa Park on New Years Day to climb up to 15th in the table.
In the FA Cup The Blues progressed to the fourth round with a 3-1 win at Walsall.
City's league position improved to 13th with a 1-0 home win against Southampton and a 2-0 win over Tottenham Hotspur at White Hart Lane.
In the 4th Round of the FA Cup Watford forced a replay with a 1-1 draw at Maine Road. City then win for the fourth match on the trot in the league beating West Brom at home 2-1.
The replay of the FA Cup tie at Watford still couldn't produce a winner as the sides drew 0-0 after extra time, and so with City winning the toss for home advantage the tie went back to Maine Road three days later for a second replay and The Blues were knocked out, Watford winning 3-1.
Back in the League it was five wins on the trot as City beat QPR 2-0 at Maine Road, however The Blues improvement in the league was brought to a halt with a 4-0 defeat at league leaders Everton. Three further defeats followed with City unable to score a goal, 3-0 at home to Oxford, 1-0 at Chelsea and 1-0 at home to Watford.
It wasn't good preperation for the amazing weekend that was to come. on Saturday 22nd March City came back from 2 down to draw 2-2 against Manchester United at Old Trafford. Just 24 hours later The Blues' fans had travelled to Wembley to see City take on Chelsea in the Full Members Cup and nearly managed an even better comeback, losing 5-1 with just minutes to go City pulled it back to 5-4, but were unable to take the game into extra time.
Back to the league and City drew 2-2 at home to Aston Villa and then lost 2-0 at Liverpool. With just six games left to play The Blues were looking safe in 14th place, 10 points from the relegation zone, in an effort to ensure they were not sucked into the relegation battle Billy McNeill had brought in experienced keeper Barry Siddall on loan from Stoke. Jim Melrose short time with the club came to an end as he was transferred to Charlton.
The Blues were still struggling in the goalscoring department and this showed as they lost 1-0 at home to Arsenal and drew 0-0 at Ipswich.
Three further defeats followed, 2-1 at home to Nottingham Forest, 3-1 at Newcastle and 1-0 at West Ham. It had been a disastrous run for McNeill's side, they had taken just three points from the last twelve league games, however going into the last game of the season City were safe
The last game, saw City draw 1-1 against Luton at Maine Road leaving them 15th in the table on 45 points, 4 points clear of the relegation zone.
Kenny Clements was named as the club's Player of the Year
The Blues then went on an end of season tour of Canada and the United States where they were unbeaten in seven games. Beating Edmonton Brickmen 3-0, Seattle Storm 1-0, and San Jose Earthquakes 1-0, they drew 1-1 against Dundee and then won the penalty decider 4-3, they then beat Hollywood Kickers 3-0, San Diego Nomads 3-1 and finished with a 1-1 draw against Los Angeles Heat.