1969/70 SEASON REVIEW
The 1969-70 season began unusually early because of the World Cup finals which were to take place the following summer. Because of this City only managed to fit in two pre-season friendlies both away, a 1-1 draw against Caernarfon and a 3-3 draw against Ajax.
The Blues hadn't done any team-strengthening during the close season. The only signings had been apprentice professionals in the shape of Dave Gibbons from Belfast, Gary Clarke from Manchester, and Roy Bailey who would go on to be City's physio after his career was cut short by injury.
The traditional Charity Shield fixture saw City lose 2-1 to Leeds at Elland Road. However, in the league the Maine Road crowd were treated to an opening day 4-1 demolition of Sheffield Wednesday, but the hopes of a good start in the league were soon forgotten as The Blues lost 3-2 against Liverpool at Anfield, and 1-0 at Newcastle. Liverpool then came to Maine Road and inflicted an early season double over City by beating them 2-0.
Everton then took a point from Maine Road in a 1-1 draw before The Blues got back into winning ways beating Sunderland 4-0 at Roker Park. then drew 1-1 at Burnley.
A trip to the seaside in the League Cup saw City through to the 3rd round with 3-0 win against Southport.
City then drew 0-0 at home to Chelsea and beat Tottenham 3-0 at White Hart Lane and so after nine games The Blues were mid-table, seven points adrift of League leaders Derby.
A trip to Northern Spain in the European Cup Winners Cup ended in a thrilling 3-3 draw in a first leg match against Athletico Bilbao.
Back at Maine Road The Blues scored another three goals beating Coventry 3-1 and then again in the League Cup 3rd Round beating Liverpool 3-2, however they were brought down to earth at the Victoria Ground when Stoke beat them 2-0.
In the return leg at Maine Road City saw off the Basques of Athletico Bilbao in a 3-0 win to see them into the next round of the European Cup Winners Cup.
City needed to improve their league form and two 2-1 home wins against West Brom and Newcastle followed by a 2-2 draw at Nottingham Forest cemented them into ninth.
During the same week Tony Coleman moved to Sheffield Wednesday for a fee of £15,000 after two and half years service with the Blues.
City then beat League leaders Everton 2-0 at Maine Road in the 4th Round of the League Cup. They moved up to seventh in the League by beating Derby 1-0 at the Baseball Ground.
The Blues then beat Wolves at home 1-0. And then made it seven wins in eight unbeaten games as they showed their liking for cup competitions, disposing of QPR 3-0 in the 5th Round of the League Cup in front of a Maine Road crowd in excess of 42,000.
City then moved into fourth place in the league with a 1-1 draw at Ipswich, followed by a 1-0 home win against Southampton.
City then lifted the first trophy of the season as they won the National Daily Express 5 A Side Competition at the Empire Pool, Wembley.
It seemed that the Citizens were unbeatable as they travelled to S K Lierse in the 2nd Round of the European Cup Winners Cup and won 3-0 in the 1st leg.
The bragging rights in Manchester certainly were with the Kippax as Manchester United were humiliated 4-0 at Maine Road. before City drew 1-1 against Arsenal at Highbury.
City made it 8-0 on aggregate against S K Lierse as they beat them 5-0 at Maine Road. The Blues had now only lost one game in the last twenty four, however Leeds then beat City 2-1 at Maine Road
It was a quick return to Maine Road for Manchester United in the League Cup Semi-Final 1st Leg The Citizens beating the Red Devils 2-1.
The Blues then produced a stunning performance at the Boleyn Ground beating West Ham 4-0, then drew at Home 1-1 against Tottenham
Joe Mercer's men then booked a place at Wembley for the second season on the run this time the League Cup final by drawing 2-2 at Old Trafford in the 2nd leg of the semi-final to beat Man United 4-3 on aggregate.
City then lost away from Maine Road twice, 3-1 against Chelsea and 1-0 against Everton in the City's last game of the decade.
The Blues love of cup competitions continued as they travelled to Hull in the 3rd Round of the FA Cup and won 1-0.
It looked like City's League form had begun to fail them as they drew 1-1 at home to Burnley then lost 3-0 at Coventry  and 1-0 at home to Stoke, to take just 2 points from last possible 12. The Blue's defence were now leaking goals for fun and as they were knocked out of the FA Cup 3-0 at rivals Manchester United and then lost by the same score in the League at West Brom .
Clearly City's season was concentrated on the League Cup and the European Cup and with hopes high for a Wembley win and a financial windfall City announced plans to build a state of the art all seater canterlevered North Stand (ARTICLE HERE) and on the pitch the team drew 1-1 twice at home first against Nottingham Forest and then Arsenal before there first league win in ten games, 3-1 at Wolves to keep them mid-table in the League.
A further league win followed a 1-0 win against Ipswich at Maine Road.
Back to Cup Football and in a 1st leg Quarter Final in the European Cup Winners Cup City drew 0-0 away at Academica De Coimbra. Then it was off to Wembley for the League Cup Final and on a 'bog' of a pitch City  came from behind to beat West Brom 2-1. And lift the their 3rd major trophy in two years.

A fourth trophy was also in City's sights as they progressed in the European Cup Winners Cup beating Academica De Coimbra 1-0 in the 2nd leg at Maine Road sandwiched in between was a disappointing league defeat 1-0 at home to Crystal Palace.
The Cup competitions were definitely taking there toll for an injury ravaged City in the league as they lost 5-1 at home to West Ham and then 1-0 against Derby.
City however kept the bragging rights in Manchester as they beat United at Old Trafford 2-1 to sit 13th in the League.
The real emphasis for the Blues now was on Europe as they attempted an unprecedented cup double, City travelled to Germany in the semi-final first leg of the European Cup Winners Cup and lost 1-0 to Schalke 04. . Joe Mercer was still confident though, stating "It was a tough game, a fair game, a good game, but I think we will be there at the end".
Back in the league and City were on a downward spiral as they lost 1-0 at home to Sunderland, 1-0 at Crystal Palace and drew 0-0 at Southampton.
Saving all their might for the 2nd leg of the European Cup Winners Cup semi-final City put up a magnificent performance, beating Schalke 04 5-1 and booking a place in their second cup final of the season. The penultimate league game of the season arrived earlier than usual on 18th April as the fixtures had been moved forward due to the impending World Cup in Mexico. The game saw City meet a Leeds side which may have had their FA Cup final defeat on their minds with City beating them 3-1 at Elland Road.
City were away again for the last game of the season and they beat an already relegated Sheffield Wednesday side 2-1 at Hillsborough.The Blues season ended triumphantly on a rain sodden night in Vienna as they beat Gornik of Poland 2-1 to lift the European Cup Winners Cup. To make it five trophies in just three seasons.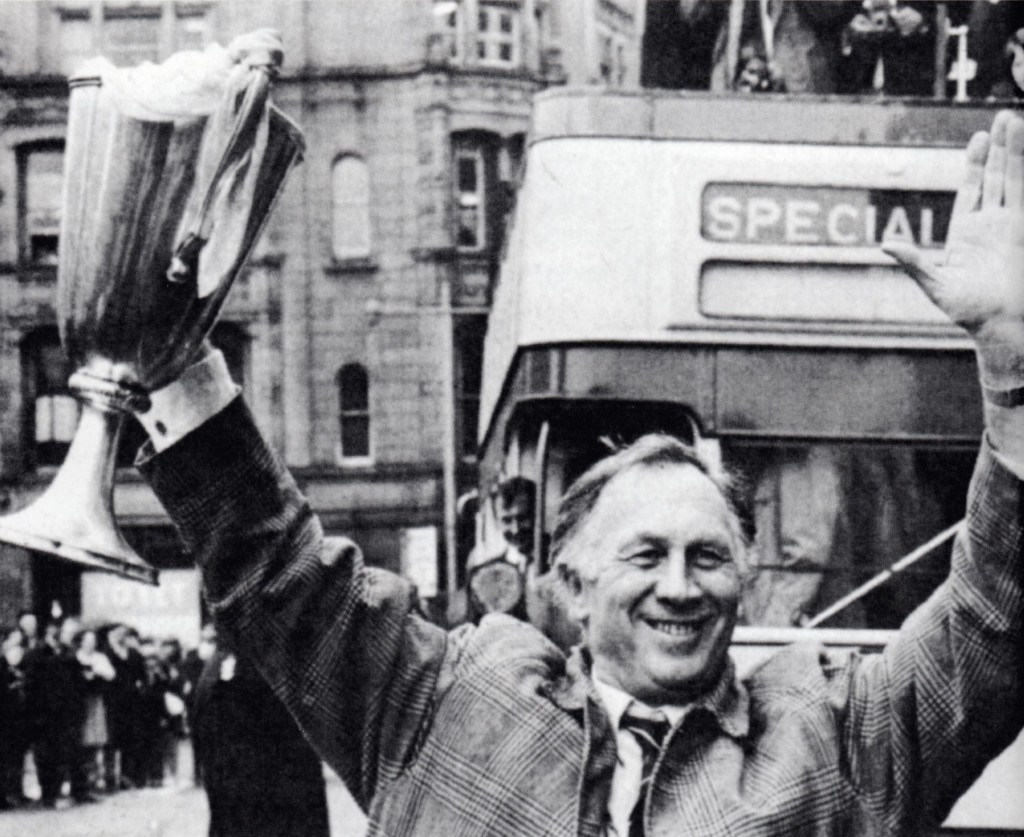 Following the European win City sensationally threatened to withdraw from the competition next season, City officials were outraged by the choice of the totally uncovered Prater Stadium and were pressing UEFA to make  the final a two legged home and away tie from next season. Vice Chairman Frank Johnson  said This was an absolute scandel tonight. Our fans had to travel a thousand miles to be soaked to the skin it came close to ruining the whole thing. Joe Mercer then took the side for a lucrative seven match tour of Australia,  which was sponsored by tobacco giants WH & DO Wills.