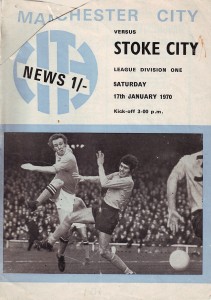 CITY 0 STOKE CITY 1
League Division 1
17th January 1970
attendance 31,965
scorer Conroy(75)
Ref Roger Kirkpatrick
City Mulhearn, Book, Pardoe, Doyle, Booth, Oakes, Summerbee, Bell, Lee, Young, Bowyer used sub Bowles
Stoke Banks, Marsh, Pejic, Stevenson, Smith, Bloor, Conroy, Greenhoff, Ritchie, Skeels, Burrows – sub Herd
JOHN MADDOCKS WRITING IN THE CITY PROGRAMME 4TH OCTOBER 1989
After our 0-3 defeat at Coventry, Stoke City visited Maine Road. Changes were inevitable: out went Corrigan, Connor and Bowles, to be replaced by Mulhearn, Book and Young. Whether the Blues had the forthcoming F.A. Cup clash at Old Trafford on their minds as they went down 0-1 to a Conroy goal is speculation. What is recorded is that the display against Stoke was a hapless one. The Potteries team soaked up early City pressure comfortably, their defence ensuring that Banks spent a leisurely afternoon.
Then the visitors applied their own pressure, giving our defence a wretched time, and with a little more luck they would have won by a far greater margin. Conroy hit a post, Greenhoff had a shot blocked by Bell and Book between them, Conroy fired against Mulhearn, then Skeels went narrowly wide.
A goal duly arrived with 15 minutes left, Conroy latching onto a Burrows centre before slotting the ball past Mulhearn from 10 yards. And to compound City's misery Book, Doyle and Mulhearn were all injured.