1968/69 SEASON REVIEW
After a long tour of the United States that took up all of May and half of June, City scheduled just one pre-season friendly at Chester, which the Blues drew 4-4.
Also in July Chris Jones moved to Swindon for £15,000.
In a determined effort to make City even a bigger force than last season Malcolm Allison announced he had banned the players from drinking alcohol during the season "They'll have to drink lemonade" he said "There is no point in me working on their fitness during the day for them to go drinking at night. To be the best team in the world you have to sacrifice things. We are aiming for higher targets now so we have got to work to higher standards, And that means no booze at all in the season!"

City, the English First Divisions Champions, met West Brom at Maine Road in the Charity Shield and  showed their intentions for the season as they trounced the 'Baggies, 6-1, with Bobby Owen scoring a brace on his Maine Road debut after signing from Bury for £40,000 in the Summer
It was not to be as an auspicious start in the defence of their title as the Blues lost on the opening day of the season at Anfield, Liverpool winning 2-1. At Maine Road things were better as they beat Wolves 3-2 and then drew 0-0 against Manchester United.
City's League form slumped as they then lost 3-0 at Leicester, drew 1-1 at QPR and lost 4-1 at Arsenal. Joe Mercer defended the side saying "It is not really a vote of confidence in the side, but at present this is our strongest available line-up, it is no use singling out individuals, we will only solve this problem collectively".
But even at home City were struggling as they drew 1-1 against Ipswich.
In the League Cup they travelled to Huddersfield and earned a replay in a 0-0 draw. The Blues beat Huddersfield in the replay 4-0, but not before they lost in the league again, 1-0 at Stoke.
Following a 1-1 home draw against Southampton, City were 2nd from bottom in the league having played 9 games.
Malcolm Allison had claimed City would take Europe by storm and so the visit of Turkish side Fenerbahce in the European Cup first Round first leg was a bit of a let down as City, despite attacking for the majority of the game, were unable to score against a solid Turkish defence and the 1st leg ended 0-0.
Back in the league City moved up to 15th in Division 1 with an emphatic 4-0 win against Sunderland at Roker Park. However, disappointingly, the Blues were then knocked out in the 3rd Round of the League Cup as they lost 1-0 to Blackpool at Bloomfield Road.
The next visitors to Maine Road were Leeds and City disposed of them 3-1, before they made their trip to Istanbul for the second leg of the European Cup tie.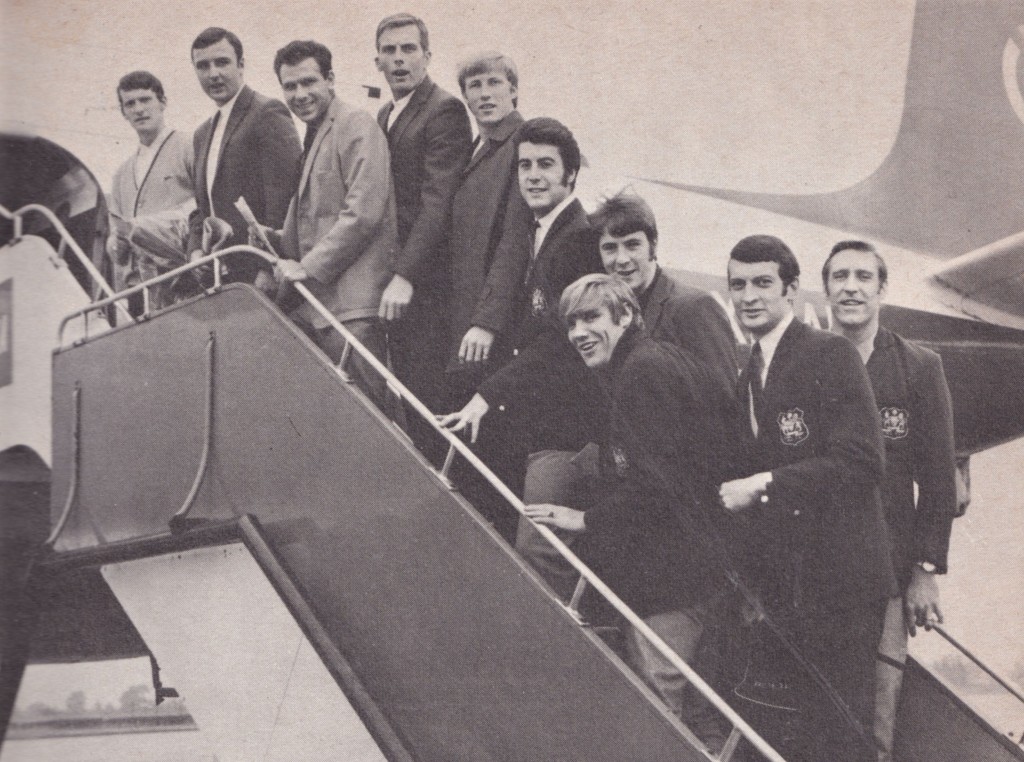 Despite Malcolm Allison's confidence about City's power in Europe, the Blues' dalliance abroad, at least for this year, was over as Fenerbahce came from a goal behind to win 2-1.
The trip may have taken it's toll on the players as a visit to Goodison Park in the league ended in a 2-0 win for Everton.
Back at Maine Road and the visit of two North London Clubs, Arsenal ended 1-1 and Tottenham were well beaten, 4-0.
The Blues then drew 1-1 at Coventry and 3-3 at home to Nottingham Forest and were now 12th in the league.
In the same week Malcolm Allison appeared for the fourth time in his career in front of the FA's Discplinary Committee, this time for making foul and abusive remarks to a linesman in the home game against Southampton, and possibly because of his previous bad behaviour he was amazingly banned for life from sitting on or near to the touchline during a match, and was fined £100.
With City's European fixture calendar now somewhat empty a prestigeous Maine Road friendly was arranged with Ajax which Joe Mercer's team won 3-0.
The League Champions form in their defence of the title (which was now looking highly unlikely), was cause for concern as they lost 2-0 at Chelsea, 1-0 at home to Sheffield Wednesday and 1-0 at Newcastle, then despite an impressive 5-1 destruction of West Brom at Maine Road, City lost again, 2-1 at West Ham, slipping down to 16th in Division 1.  
Joe Mercer decided he need to bolster his defence and therefore forked out a club record fee of £65,000 to bring in defender Arthur Mann from Hearts, who made his debut in the defeat at Upton Park.
Back at Maine Road City made it 12 goals in two home games as they demolished Burnley 7-0, and then earned a good point at Tottenham drawing 1-1.
They then played a friendly at Crook Town to commemorate the opening of the floodlights at Millfield, City winning 6-1.
Another 4 goals at Maine Road saw  the Blues beat Coventry 4-2, however in the last game of 1968 a bumper Boxing Day Maine Road crowd of over 53,000 saw City lose 3-1 to Everton. The Citizens ended the year 14th in Division 1.
The first game of the year saw City beat Luton 1-0 at Maine Road in the FA Cup 3rd Round and the home form continued with a 4-1 victory over Chelsea in the league.
City were still struggling away from home and drew 1-1 at Sheffield Wednesday in the league, and then 1-1 at Newcastle in the FA Cup to earn a 4th round replay where they beat Newcastle 2-0 in front of a crowd of over 60,000.
Newcastle returned to Maine Road in the league, however the game was abandoned due to the weather after 41 minutes with the score at 1-1.
Stan Horne, the first black player to play for City, had been struggling to  get a place in the side and decided to take up an offer to move to Fulham.
In the FA Cup The Blues booked a place in the semi-finals as they beat Blackburn 4-1 at Ewood Park in the 5th Round, and then beat Tottenham 1-0 at Maine Road in the 6th Round. After eight years at the club, 31 year old Bobby Kennedy moved to Grimsby as player manager for £9,000. It was clear that in the league mid table security was probably the best City could hope for, with minds clearly on the Cup, they lost 2-1 at Burnley, won 1-0 against Manchester United at Old Trafford, lost 2-1 at Ipswich and then beat QPR 3-1 at home.
City met Everton in the FA Cup semi-final at Villa Park and they won 1-0 courtesy of a last minute goal from Tommy Booth.
Back in the league, and away from home City were still struggling as they lost 1-0 at Nottingham Forest, they won at home 3-1 against Stoke and Leicester and then lost away 1-0 at Leeds and 3-1 at Wolves.
Predictably City then won at home 1-0 against Sunderland but lost on their travels 2-0 at West Brom and 3-0 at Southampton with all minds set on the visit to Wembley a week later.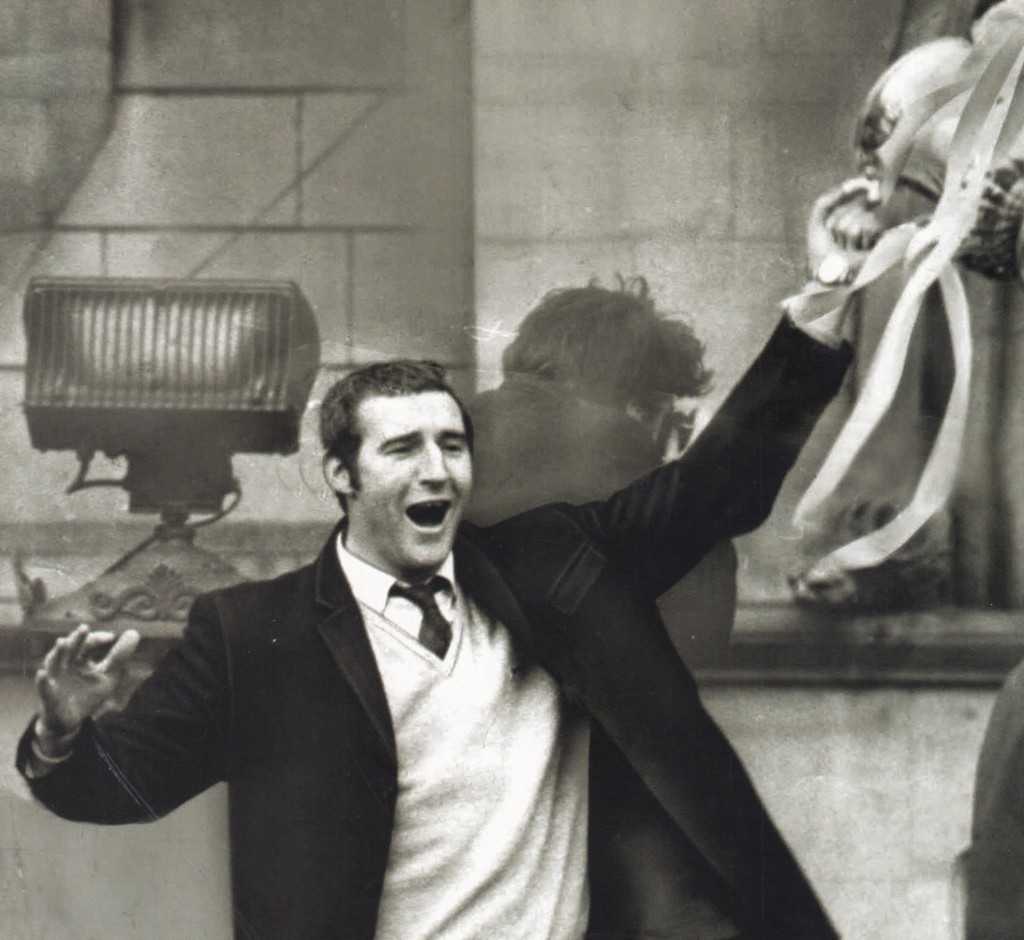 The Blue army were out in force for the FA Cup final and were not disappointed, the cultured left foot of Neil Young converted Mike Summerbee's cross to beat Leicester 1-0 and the Cup was City's.
There were still three games to be played in Division 1, all at Maine Road, and The Blues recovered their league form drawing 1-1 against West Ham, and beating Newcastle and Liverpool both 1-0, to finish the season in 13th place on 40 points.
Tony Book was voted The Football Writers' Footballer of the Year, however he had to share the award with Dave Mackay.