1967/68 SEASON REVIEW
Ralph Brand was transferred to to Sunderland for £5,000, the week before the start of the season.
City's pre-season consisted of a 2-0 win at Portsmouth and then against German opposition as they took on Borussia Dortmund at Maine Road and won 4-0.
The first game of the season saw the visit of Liverpool and an entertaining 0-0 draw was the result. City faced a long journey to The Dell for their first away game and were beaten 3-2 by Southampton , the same day Johnny Crossan moved to Middlesbrough for £30,000.
A trip to the Potteries proved even worse with a 3-0 defeat to Stoke. Malcolm Allison was unhappy with City's effort at The Victoria Ground and called the display 'disgraceful'.
The Blues got an early chance to avenge their defeat at The Dell as Southampton visited Maine Road and City gained their first win of the season winning 4-2, three days later table topping Nottingham Forest were the visitors and were well beaten 2-0 by an improving City side.
So five games into the season and the Blues lay in 11th place, three points behind leaders Sheffield Wednesday.
Manager Joe Mercer was not entirely enthralled by City's attack so far, and the month of September saw him go on a series of scouting missions. Almost every day Mercer was reported as being interested in a different player with Blackpool winger Alan Skirton, Everton's Alex Young, Hull's centre-forward Chris Chilton, and Mike Leach of QPR appearing to be his most popular targets.
While discussions with a variety of players continued behind the scenes, coach Malcolm Allison was encouraged to focus on the current squad. His efforts soon brought dividends as the City made it three home wins on the trot with a 2-0 victory against Newcastle. On 7th September Mike Summerbee hit the headlines when his boutique on King Street West, owned in partnership with George Best, was officially opened in front of a whole host of celebrities including musician/TV presenter Simon Dee.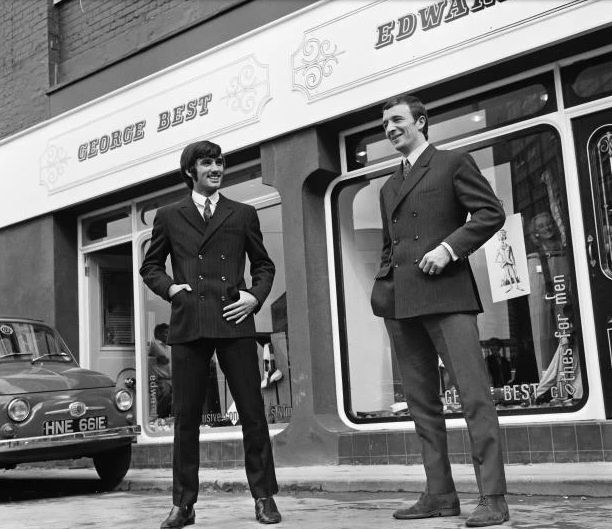 Coventry were then defeated 3-0 at Highfield Road, a performance which was described by The Manchester Evening News as an "amazing show of power by Mercer's men".
The victory took the Blues into fifth place, two points behind new leaders Liverpool.
The first cup game of the season saw City thrash Leicester 4-0 at Maine Road in the Second Round of the League Cup, with debutant Stan Bowles grabbing a brace.
Bowles stayed in the side for the league visit of Sheffield United and he made it a dream four goals in two games when he claimed another brace as the Blades were swept aside 5-2 by The Citizens.
City then swapped keepers with Stockport, Ken Mulhearn moved to Maine Road from Stockport and Alan Ogley went the other way with County also receiving £18,000.
City then lost three games in a row, 1-0 at Highbury against Arsenal then 1-2 at home to Manchester United and 1-0 at Sunderland and dropped down to ninth in the league.
The Blues then broke their transfer record by signing Francis Lee who had been courted by many of the top sides whilst playing for Bolton, however Joe Mercer managed to persuade the young striker to come to Maine Road for a fee of £60,000 (A copy of his contract can be seen HERE).
Surprisingly the press were reporting that Coventry City had offered Malcolm Allison the manager's position at Highfield Road and City's coach was reported as saying "…this is too good an offer and I must accept it, provided the directors agree to release me from my contract". However a day later Coventry's chairman Derrick Robins issued a statement to say they would not be appointing Allison saying "I stressed that it must be treated with secrecy. The next thing is that it is blazoned across the newspapers. This is not the way we work". An angry Allison stated "It makes me look stupid"
Back on the pitch and Francis Lee's arrival boosted The Blues and they put together an excellent run of results after drawing 1-1 at home to Blackpool in the League Cup 3rd Round, City beat Wolves 2-0 at Maine Road, a match that brought together the legendary trifold of Bell, Lee and Summerbee for the first time, the Blues then beat Blackpool 2-0 at Bloomfield Road in the League Cup replay, they then won 4-2 at Fulham and Leeds were then beaten 1-0 at Maine Road.
In the 3rd Round of the League Cup City made a quick return to Craven Cottage, however Fulham were the victors this time, winning 3-2. Back in the league and a controversial Everton goal stopped City taking all the points as they drew 1-1 to leave them fourth in the league just 3 points away from leaders Liverpool with a third of the season gone.
City's push up the table continued with an emphatic 6-0 home win over Leicester and then beat West Ham at the Boleyn Ground 3-2.
The Blues then went eight games unbeaten as they beat Burnley 4-2 at Maine Road and then drew 1-1 at Sheffield Wednesday.
A break from the pressures of the league should have seen City entertain Sparta Prague in a friendly match at Maine Road, however an hour before kick-off referee, Mr Dagnall declared the pitch unfit due to a frozen pitch.
The Blues made it 14 goals in 3 home games as they beat Spurs 4-1 in a remarkable game which would become known as the 'Ballet on Ice' due to the way the City team glided across a snowy icebound pitch whilst Spurs players struggled to stay on their feet.
A visit to Anfield saw a good 1-1 draw against title rivals Liverpool.
The festive season arrived and Maine Road saw an early Christmas present on 23rd December as City scored another four goals to beat Stoke 4-2, however on Boxing Day The Blues suffered there first defeat in 12 league games as they were beaten 3-2 at West Brom.
The Baggies travelled to Maine Road just four days later for a return fiture and West Brom won again 2-0.
The New year saw City get back on track with a 3-0 win at Notts Forest, The Blues next game should have been at home to Coventry but the game was postponed due to the cold snap, so Mercer's men went away to Sheffield United , and won 3-0 again. 
Reading visited Maine Road in the 3rd Round of the FA Cup and earned a replay with a creditable 0-0 draw, however four days later in the replay at Reading, City showed their superiority with a 7-0 victory.
Roy Cheetham then moved to America, joining Detroit Cougars for a fee of £10,000.
Back in the league and Arsenal drew 1-1 at Maine Road and the the club announced that Paul Hince had been transferred to Charlton for a fee of around £15,000
In the 4th Round of the FA Cup City couldn't take advantage of a home tie and drew 0-0 with Leicester and then lost in the replay at Filbert Street, Leicester winning 4-3.
However The Blues kept their Championship aspirations alive by beating Sunderland 1-0 at Maine Road, Burnley 1-0 at Turf Moor, Coventry 3-1 and Fulham 5-1 both at home.
City's first defeat of the year came at Elland Road as Leeds won 2-0, however in the Manchester Derby at Old Trafford City beat their Championship rivals, Manchester United 3-1.
Another defeat followed 1-0 at Leicester as The Blues moved into a crucial Easter period.
Two wins in two days kept the pressure on Manchester United and Leeds at the top of the league, City beating Chelsea 1-0 and West Ham 3-0, both games at Maine Road.
City failed to win the next two games however, losing 1-0 at Chelsea and drawing 0-0 at Wolves, and so with just four games of the season left City were third with 50 points, Leeds second with 53 points and Man United top on 54 points, however City and Leeds had a game in hand on United. After twelve years at Maine Road Cliff Sear was then allowed to join Chester on a free transfer.
Leeds lost their next game as City beat Sheffield Wednesday 1-0, and in the last home game of the season The Blues triumphed again 2-0 against Everton, and with Man United losing City and United were level on points at the top of the league with two games left to play.
In the words of Joe Mercer "Now we have to climb Everest and K2 in a week, but we can do it."
The penultimate game for City was at White Hart Lane where City beat Tottenham 3-1, and so coming in to the last game of the season, City and Manchester United were level on 56 points, and with the Blues having to travel to Newcastle Matt Busby's team were clearly favourites to retain the League Championship. You could also add in to the equation, Liverpool who had 2 games to play and were 3 points behind City and United so if the Manchester teams both lost then Liverpool could take the title if they won their last two games.
Mike Doyle writes in his biography "… Prior to the last game at Newcastle training was fantastic all week and we all felt on top of the world. To us it was a matter of doing what we had done all season for one more game. If we did we were guaranteed the Championship.
The only team that could catch us was Man United and you can imagine how that fired us up even more. They were playing Sunderland at Old Trafford, and since Sunderland had nothing to play for a lot of people reckoned that our journey to St James Park would end in misery. United were rated as cold certainties to beat Sunderland and many people thought we would struggle to get two points at Newcastle, who gave nothing away on their own ground."
In an amazing final day City beat Newcastle 4-3 at St James Park and United unexpectedly were beaten at Old Trafford and so City were Champions!
Joe Mercer was immensely proud of the way his side had played. The Blues won praise from all the nation. The newspapers viewed City's success as being good for the game. City were stylish and a joy to watch.
Malcolm Allison had proved himself one of the best coaches in the world. Tony Book had proved a great role model for all people starting late in their career. And Joe Mercer had proved that he was able to bounce back and manage a truly great side. Because the League Championship trophy had been at Old Trafford on the last day of the season, City arranged a friendly against Bury where they won 4-2 and were presented with the trophy.
City then embarked on what would be a troublesome end of season tour of the Americas, City played nine games in all. They played Dunfermline twice in two days, both games ending 1-1, they then beat Rochester 4-0, lost to Atlanta Chiefs 3-2 and were also defeated 2-1 by Borussia Dortmund. They then played Dunfermline twice again drawing 0-0 on both occasions and then finished the tour with two defeats 3-0 against Oakland Clippers and 2-1 against Atlanta Chiefs.
On their return to England, Joe Mercer said "We shall never again attempt to make such an exhausting trip as this has been. It was too long, there were too many matches involved and everyone of them was like a cup tie. Our troubles really started before we set off because Mike Summerbee, Colin Bell and Mike Doyle had been called up for England and Alan Oakes had been released because he is a bad traveller. Thus our playing strength was cut down to 14 instead of the 18 players we expected to have available.
The injuries hit us hard that at one time we only had seven fit players in America and in one particular match we played with nine men for over an hour after two of the boys  had been sent off."
THE STORY OF THE SEASON FROM ROY OF THE ROVERS COMIC