1984/85 SEASON REVIEW
After a disappointing season which left City still in the Canon League Division 2, Billy McMeill was determined that City would make it back to the big time this season, despite the fact that Chairman Peter Swales had confirmed that the club's days of Million Pound signings were over.
McNeill made a few Summer signings, striker Tony Cunningham joined from Sheffield Wednesday for a fee of £100,000. An independant tribunal was involved in bringing David Phillips from Plymouth, City happy that they only had to pay an initial payment of £65,000, rising to £90,000 after 25 league games.
The pre-season games began in Scotland with City drawing 0-0 at Hibernian then losing to Partick Thistle 3-1. The Blues then travelled to Ireland beating Waterford United 4-1, drawing 2-2 with Drogheda and finishing the tour with a 5-0 win over Finn Harps.
A rare home friendly saw a good performance against Tottenham although the visitors from North London won 2-0.
The final two friendlies saw City win 5-1 at Crewe, but lose 2-1 at Chester.
City's first league game was at newly promoted Wimbledon and the Blues gained a point in a 2-2 draw, The first home game saw a good 3-0 win over Grimsby, however five days later Maine Road saw a 3-2 defeat courtesy of visitors Fulham.
Things didn't get any better as City failed to score in the next two away games, losing 2-0 at Molyneaux against Wolves and drawing 0-0 at Carlisle.
So it was not exactly an auspicious start to a potential promotion campaign with City only able to accumulate five points after five games.
The Blues managed to find some form and beat Huddersfield 1-0 at Maine Road and then won 3-0 at Cardiff.
Kevin Bond who was struggling to get a place in the side moved to Southampton for £75,000 just before City's home Milk Cup 2nd Round 1st leg tie against Blackpool which The Blues won 4-2.
Two further home wins in the league saw City beat Crystal Palace 2-1 and Oxford 1-0 , and then secure a place in the 3rd Round of the Milk Cup with a 3-1 win over Blackpool at Bloomfield Road. City's league form failed them with a 1-0 defeat at Shrewsbury and a 2-1 reverse at Middlesbrough to leave the Blues mid-table after 11 games.
Back on track City beat Blackburn 2-1 at Maine Road and then drew 0-0 at home to West Ham in the Milk Cup 3rd Round, a further goal-less draw followed in the league game at Brighton before the Blues disposed of West Ham at Upton Park 2-1 in the Milk Cup replay. In an effort to bolster the City forward line Billy McNeill brought in Jim Melrose from Celtic in a £40,000 deal.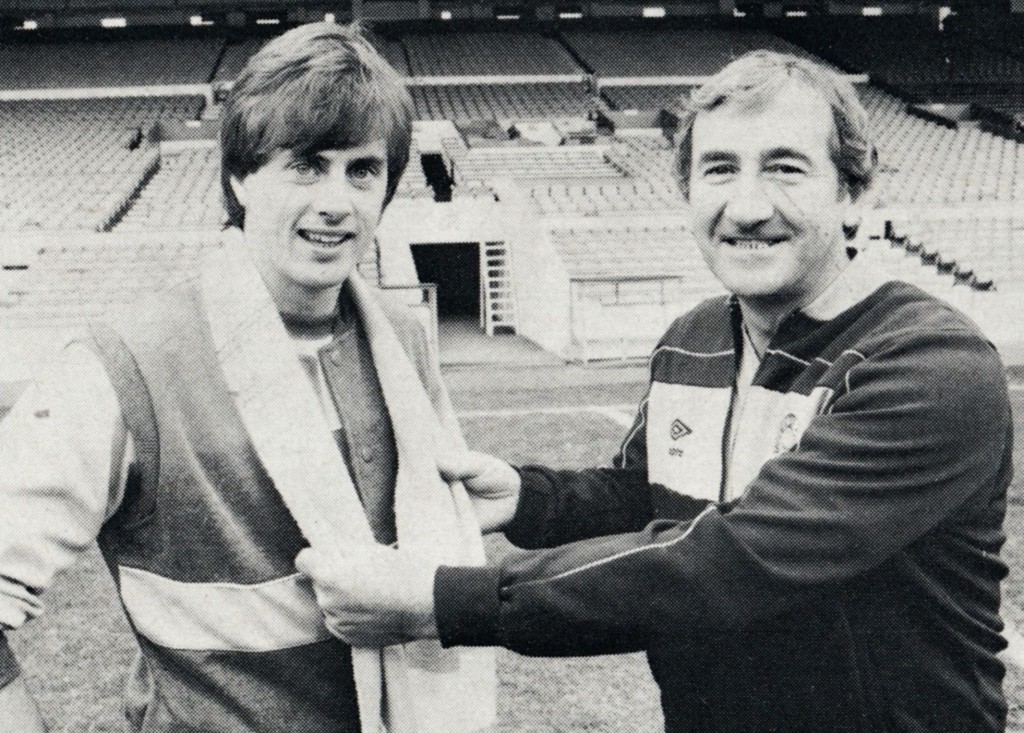 City then beat Birmingham 1-0 at Maine Road and drew 0-0 at Sheffield United in the league to move up to 8th, six points behind leaders Oxford.
The Blues went out of the Milk Cup losing 4-1 at Chelsea in the 4th Round. City's financial state was shown to be less than stable with the announcement of losses of £192,479 on the previous season. Peter Swales commented "We have overpaid players in the past and we have got to be more realistic".
Ray Ranson, who had voiced his eagerness to leave Maine Road, got his wish with a move to Birmingham, the fee with add-ons was £35,000, but none of that money would be given to Billy McNeill to bring in much needed additions to the squad, so he was only able to bring in Graeme Sinclair on a month's loan from Celtic, and he'd had a disastrous debut at Stamford Bridge.
City put the cup exit and money matters to the back of their minds in the hunt for promotion and put together a good run in the league, drawing 2-2 at home to Portsmouth and then a sequence of wins, 2-0 at Oldham, 2-0 at home to Notts County and 3-1 at Charlton, moving the Blues into fifth place as they approached the Christmas period.
McNeil's men slipped up at Craven Cottage losing 3-2 against Fulham, then on Boxing Day they drew 1-1 against Barnsley and then beat Wolves 4-0 in the final game of 1984.
New Years day 1985 saw a 1-1 draw in at Leeds and then City went out of the FA Cup at the first hurdle losing 2-1 at Coventry in the 3rd Round, however in the league The Blues won 2-0 at Huddersfield to move fourth in the League after 24 games. Derek Parlane, who had failed to force himself back in to the side after his ligament injury early in the season, was allowed to leave Maine Road on a free transfer to Swansea.
The Blues had a good 3-0 win at home to Wimbledon and then with the winter biting hard in England an many matches being postponed, Billy McNeill took the City squad to warmer climes with a 10 day tour of Malaysia. The Blues won all four of their games, 2-0 against Trengganu, 1-0 against Selangor, 3-0 against Kelantan and 5-0 against Kedah.
48 hours after landing back in the Uk City moved up to third spot in the League with a 2-1 win at Crystal Palace.
The exodus of strikers from Maine Road continued with the transfer of Tony Cunningham to Newcastle for a fee of £75,000.
Billy McNeill was less than happy with a lacklustre performance as City lost at home 3-1 to Carlisle, however the promotion push was back on track with a 2-0 win at Maine Road against Brighton and a 1-0 win at Blackburn which took The Blues to the top of the league with a third of the season left.
Ken McNaught completed his two month loan spell and returned to West Brom and so McNeill realising he still needed defensive cover brought in former City player Kenny Clements on loan from Oldham. City carried on there winning spree with a 1-0 win against Middlesbrough and a 4-0 win against Shrewsbury, both games a Maine Road, The Blues then drew 0-0 at Birmingham, the fifth game on the trot they had kept a clean sheet, however they then travelled to promotion rivals Oxford and lost 3-0, City were still four points clear at the top of the table with nine games to play.
The pressure to stay at the summit seemed to be getting to some players and two points were dropped at home as City drew 2-2 against Cardiff, Billy McNeil described the performance as a shambles.
It seemed like City had hit the self destruct button as their promotion hopes took a battering  over the Easter period, they drew 0-0 at Barnsley, lost 3-1 at home to Leeds and then were humiliated at bottom of the table Grimsby losing 4-1. The Blues had slipped from top place to fifth and were now outsiders to return to Division 1, With just five games to play the Blues needed a dramatic change in fortune.
City got back on track with a 2-0 win at Maine Road against Sheffield United and then went to promotion rivals Portsmouth and pulled off a great 2-1 victory and with results elsewhere going with them the Blues moved into the third automatic promotion place, three points ahead of Leeds with three games to play. Of course City never make it easy for their ever faithful fans and they then drew 0-0 at home to Oldham and then lost 3-2 at Notts County. where with City 3-0 down at half time, some frustrated Blues fans tore down fencing at Meadow Lane and invaded the pitch and were involved in tussles with the police, the game was held up for over 30 minutes whilst the pitch could be cleared. The defeat left City still in third place on 71 points, however Portsmouth were in fourth on 71 points as well, but with a goal difference 5 inferior of the Blues. The last game of the season saw a packed Maine Road hoping that City could secure a victory that would guarantee first division football returning. The team didn't let the fans down as they battered Charlton 5-1, at the final whistle the fans invaded the pitch to celebrate and promotion was confirmed.
City finished on 74 points pipping Portsmouth for the third promotion spot on goal difference.