1983/84 SEASON REVIEW
With City's financial problems steam-rolling, Billy McNeill took the hot seat at the start of the season, bringing in Jimmy Frizzell as his assistant.
There was no money to spend and the media were reporting interest on loans was costing City £1,000 per day. Ken Barnes wrote in his biography "Bill was unaware of the severe financial difficulty City were in when he first took over, and he was unsure of Peter Swales. Bill approached Ken to ask what the situation was with the chairman. Barnes told him that he had nothing to do with him and wanted to keep it that way because "the chairman was a T@%*" I really think Billy was bemused at how bad the money situation was and said to Ken "They're telling me there's nothing at all in the pot" Ken retorted "You've picked the wrong day to come to me for sympathy, Bill, I've had my fuckin' phone cut off this morning!"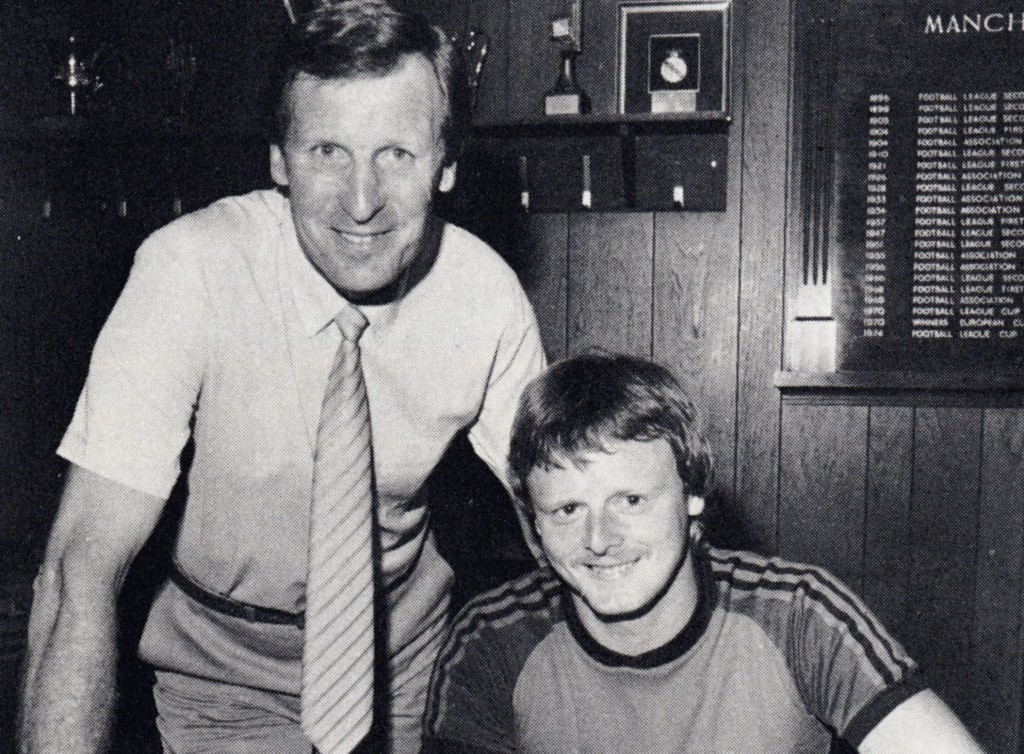 The board certainly had to be frugal when bringing in new players and Billy McNeill brought in several players for what proved to be bargain prices. Neil McNab came in for £30,000 from Brighton.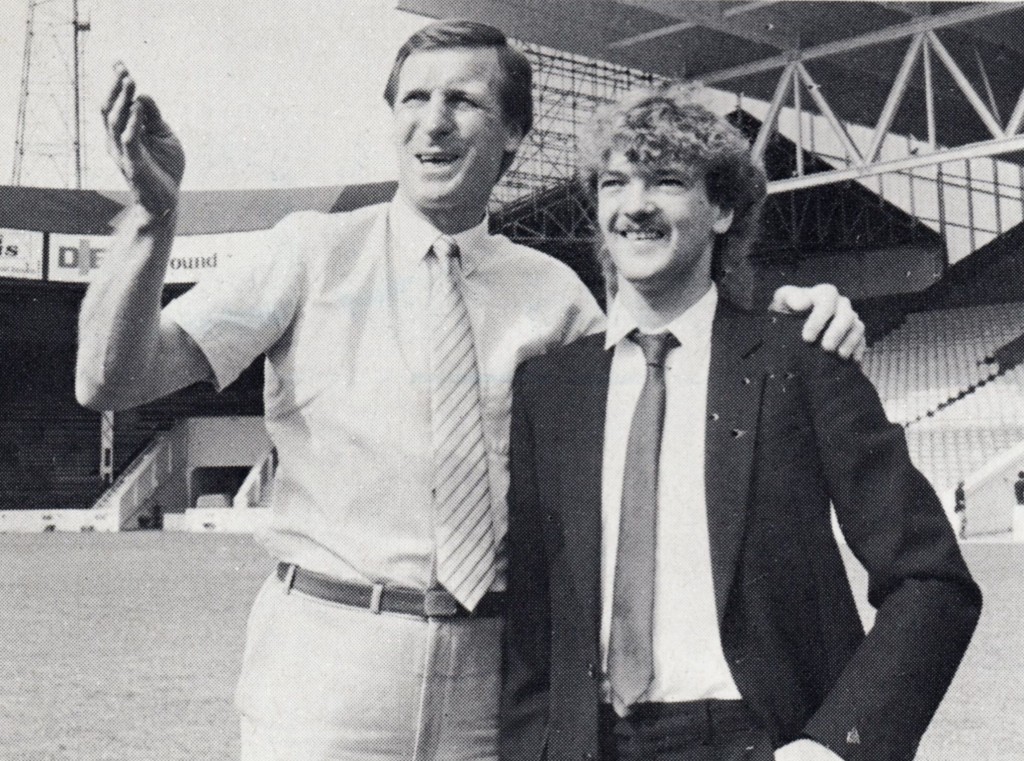 then relative unknown Jim Tolmie came in for a similar amount from Lokeren of Belgium. And a third Scot, Derek Parlane was signed up on a free transfer.
Outgoing, funds were recouped with the sale of Kevin Reeves to Burnley The team went on a gruelling 6 match pre-season tour to West Germany in which they won all their matches:

4-2 against 

FC Pfungstadt , then FC Eppinghen by  the same score, they scored 4 again as they beat FC Osterode 4-0, and then 4-1 against FC Sinsheim . FC Wolsfburg were then trounced 6-0 before the Blues made it 26 goals in 6 games by beating  FC Willem II 4-3  Back on English soil and the pre-season friendlies were completed with a 3-1 defeat at Blackpool.
Following the game at Bloomfield Road, Bobby McDonald and Peter Bodak were sacked by the club. Years later McDonald gave his take on this "…It's not easy to say what happened. I think it would be fair to say that Billy was keen to reduce the wage bill, which is fair enough, but the way I left the club was a little disappointing. A few of us had a drink, the night before a friendly at Blackpool. On the way home, the driver, Peter Bodak, left the road as we entered some roadworks, It was an accident, no more, no less. Nobody was hurt, but when Billy McNeill found out he was furious we had been out before a match and he sacked me and Peter".
On the field, Billy McNeill could not have asked for a better start to his promotion campaign as City travelled to Crystal Palace and won 2-0, however again playing away from Maine Road the Blues were beaten two days later by Cardiff 2-1.
Another Scot joining the club was Duncan Davidson who came initially as a triallist, after being released by Hong Kong club, See Bee.
The first game of the season at Maine Road saw the Blues beat Barnsley in an entertaining 3-2 victory. Maine Road was then the venue for a hard fought 0-0 draw against Fulham before the Blues gained an excellent 2-1 victory at Portsmouth leaving them 4th in the league just one point behind leaders Sheffield Wednesday. City continued there scoring spree and walloped Blackburn 6-0 at home and then winning 2-1 at Leeds , and then 2-1 at home to Grimsby . The Blues' first taste of cup football for the season came at Torquay where the could only manage a 0-0 draw in the 1st leg of The Milk Cup 2nd round, Another Scottish triallist, Dom Sullivan, made his debut in this game, but he never played for City again.
Back to the League and City made it five straight League wins as they beat Swansea 2-1 at Maine Road, however they were then beaten 1-0 at Charlton . Meanwhile The Blues' defence was strengthened as Mike Walsh joined City on a free from Fort Lauderdale.
Back at Maine Road and City win 2-1 against Middlesbrough   and then score six for the second time in the season beating Torquay 6-0 in the 2nd leg of of the Milk Cup 2nd Round. The inconsistent tag that has followed City through history seemingly was still there as City then lost 5-0 at Newcastle before beating Shrewsbury away 3-0 and with a third of the season gone City were in third position five points off top spot. Back to the Milk Cup and City were knocked out in the 3rd round by Aston Villa 3-0. Joe Corrigan returned to Maine Road with Brighton and City made it an unhappy return for the big man as they won 4-0. However the away day blues returned with a 2-0 defeat at Carlisle . The Blues made it nine games unbeaten at Maine Road with a 1-1 draw against Derby . and then beat fellow promotion rivals Chelsea 1-0 at Stamford Bridge. Tommy Caton who had made his intention clear that he wanted to play first division football moved to Arsenal for £400k, at the same time midfielder Gordon Dalziel was brought in from Rangers for a snip at £25k. City then played leaders Sheffield Wednesday at Maine Road and were beaten 2-1. Billy McNeill spent half the money from the Caton transfer to bring in his replacement, Mick McCarthy for £200k from Barnsley,
The new look City defence kept a clean sheet in a 0-0 draw at Cambridge . The Blues had now slipped to fourth in the table with the important Christmas period approaching. Boxing Day brought some festive cheer for the Kippax as City beat Oldham 2-0 and a day later they travelled to Huddersfield and won 3-1. They then made it six unbeaten on the trot with two 1-1 draws away at Barnsley and at home to Leeds . With City still well placed in 4th in the League they faced a shock exit from the FA Cup beaten 2-1 in the 3rd round at Blackpool . A few days later Mick Walsh who had played against Blackpool left City to join Blackpool. Mixed performances then saw City beat Crystal Palace 3-1 at Maine Road. Before losing 2-1 at at an icy Blackburn and then drawing 1-1 at Grimsby , moving them into 3rd place in their promotion push. The visit of Portsmouth saw City win 2-1 and cement them in the 3rd promotion place with a third of the season to go. City however don't do things easy and Newcastle visited Maine Road and exacted a double over the Blues winning 2-1, and then City failed to beat Middlesbrough at Ayresome Park in a 0-0 draw, City had suddenly slipped to 5th in the table. The Blues home form was the only thing keeping them in contention as they beat Shrewsbury 1-0 however on their travels they drew 1-1 at Brighton and crashed 5-1 ay Fulham , the need for new sigings to boost a last concerted push for promotion and so Billy McNeill plunged into the transfer market buying midfielder Gordon Smith from Brighton for £30k and striker David Johnson who came on loan until the end of the season from Everton. Johnson scored on his debut as City beat Cardiff 2-1 at Maine Road. However City's chance of promotion now looked slim as they lost 1-0 at home to Charlton and despite a 2-0 win at relegation threatened Swansea The Blues were now in 4th place, 7 points away from the promotion positions. The gap was reduced to four points as City beat Carlisle 3-1 at Maine Road before the all important Easter period. Unfortunately City could not pick up a win over Easter, drawing 2-2 at Oldham , losing 3-2 at home to Huddersfield and then a further defeat, 1-0 at Derby . Leaving City in fith and unable to reach a promotion place with only three league games left. A further defeat at home, 2-0 to Chelsea and a 0-0 draw at Sheffield Wednesday meant that a 5-0 drubbing of Cambridge at Maine Road on the last day of the season was to see the Blues finish in 4th one position behind the promotion places. Mick McCarthy had easily ingratiated himself with the City fans and they voted him The Blues player of the year. The Blues played an end of season friendly at Stockport and won 5-0