1988/89 SEASON REVIEW
Prior to the season City fans saw their star striker, Paul Stewart, succumb to the lure of the first division and join Tottenham for £1.7M. The money the Blues received brought in five new signings.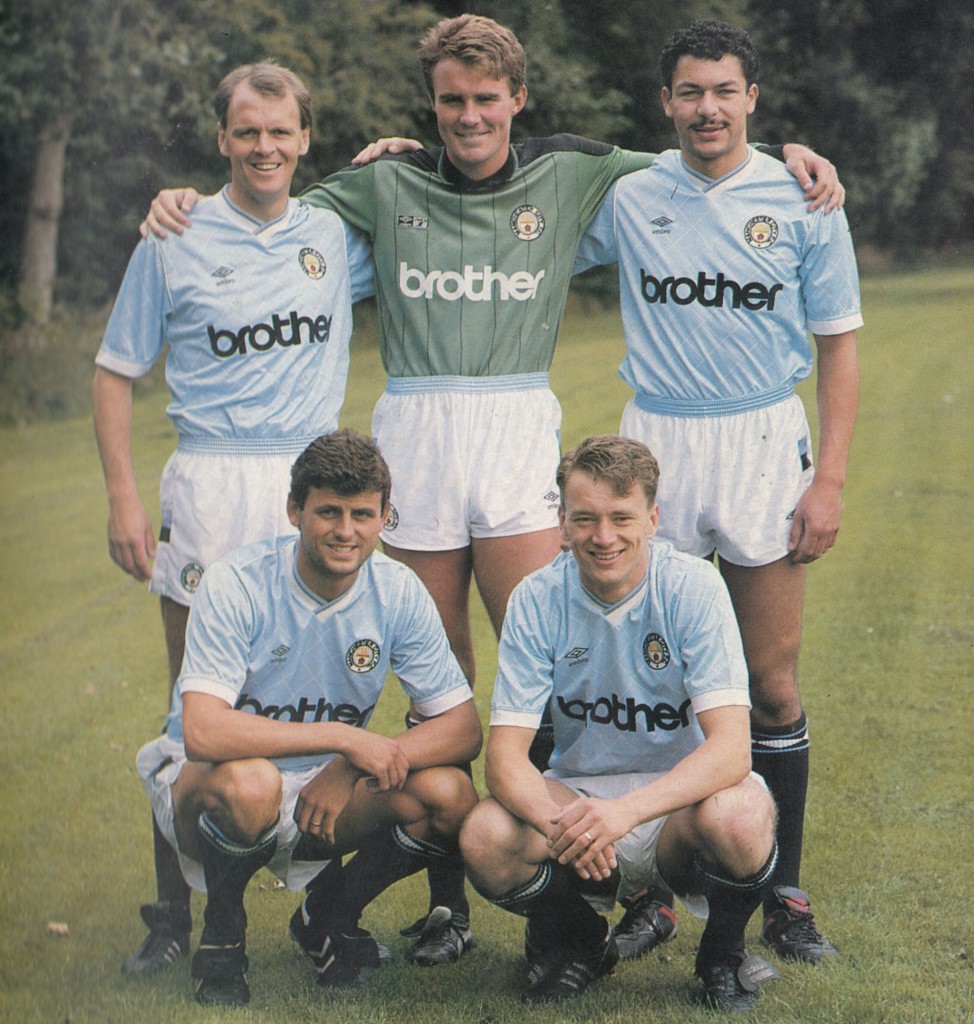 Goalkeeper, Andy Dibble for £240,000 from Luton Town, Nigel Gleghorn joined from Ipswich for £47,000, also coming in from Ipswich was John Deehan who joined as player-coach, Brian Gayle came in from Wimbledon for £320,000 and finally striker Wayne Biggins was bought from Norwich for £160,000.
The pre-season got underway with an unbeaten Scandanavian tour. The Blues won 5-1 against Obbola IK, 6-1 against Harnosand, 2-0 versus Matfors, 7-1 against OFF and 2-0 against Vasa BK.
Back on English soil and City won 4-1 at Carlisle and then 3-1 at Stockport in Tommy Sword's Testimonial. The Blues last pre-season game was at Old Trafford for Kevin Moran's testimonial where Manchester United won 5-2.
The first game of the season saw Hull snatch a 1-0 win at Boothferry Park and then a very disappointing display at Maine Road saw City embarrased in a 4-1 defeat against Oldham in front of a very angry Bank Holiday crowd.
The Blues first point came in a 2-2 home draw with Walsall and the they gained another point with a 1-1 draw at Leeds.
City finally hit some form and won three on the trot in the league, 2-1 at home to Brighton, then 3-1 at Chelsea and 2-1 at Barnsley.
The winning streak continued in the Littlewoods Cup as City beat Plymouth 1-0 at Maine Road in the 2nd round 1st leg tie. A 1-0 home win in the league against Blackburn saw The Blues make it five wins on the trot and amove to 5th in the table just three points behind leaders Ipswich after eight games.
City swopped strikers with Sheffield Wednesday as Carl Bradshaw moved to Maine Road and Imre Varadi moved over the Pennines to join the Owls.
It was six wins on the trot as Portsmouth were beaten 4-1 at Maine Road, however away at Ipswich City suffered a 1-0 defeat before disposing of Plymouth 6-3 in the 2nd leg of the Littlewoods Cup 2nd round tie at Maine Road. The Blues then inflicted the third defeat of the season for Plymouth as they beat the Pilgrims 1-0 at Home Park to move into 4th place in the league. Machin's men started to falter slightly in the league as they drew 0-0 at home to Birmingham and then lost 1-0 against West Brom at The Hawthorns. Before drawing at home again, 1-1 against Sunderland.
Out of favour Paul Simpson then moved to Oxford for a fee of £200,000.
There was then some sign of the early season good form in the Littlewoods Cup as The Blues progressed to the 4th Round of the Littlewoods cup by beating Sheffield United 4-2 at Maine Road, but back in the league it was another draw, this time 0-0 at Leicester which saw City down to 7th place in the table with a third of the season gone.
Back to winning ways in the league, City beat Watford 3-1 at Maine Road and then win 1-0 at Bournemouth, before a third win, 2-1 at home to Oxford
In the Littlewoods Cup City are knocked out in the 4th Round losing 3-1 on the 'plastic' pitch at Luton. And in the league the Blues drew 0-0 at Crystal Palace to keep up promotion aspirations.
A welcome change to the league was the Guinness Soccer Six tournament with City going out in the group stages.
The Blues then hit top spot in the table as they beat Bradford 4-0 at Maine Road before being beaten 3-2 at Blackburn in the Simod Cup 1st Round.
City then drew 2-2 at home to Shrewsbury before Stoke spoiled the Boxing Day inflatables party for an estimated 12,000 travelling City fans as they beat the Blues 3-1 at a packed Victoria Ground.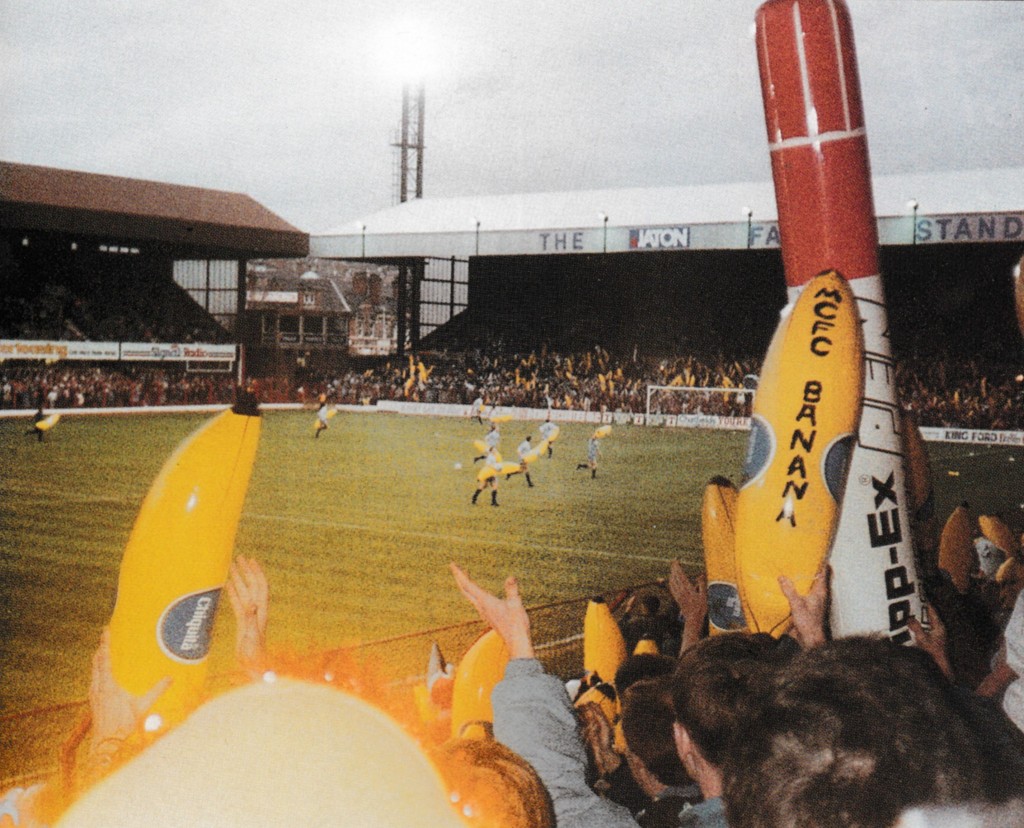 Justin Fashanu, who had previously retired from the game due to injury was invited to train with City in an attempt to ressurect his career.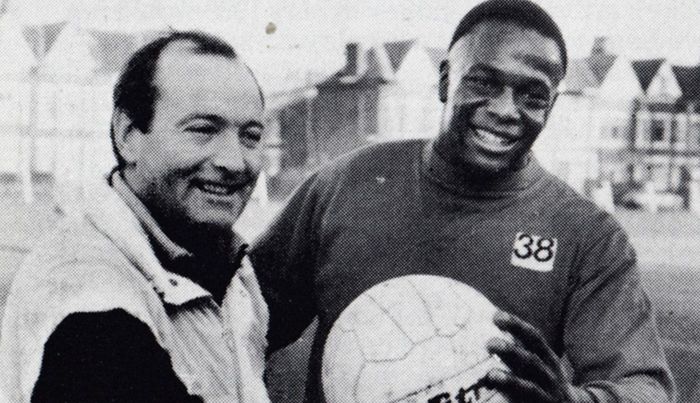 New Years Eve saw City win 2-1 at Swindon and then in the first game of 1989 The Blues drew 0-0 at home to Leeds. And then in the FA Cup 3rd Round City knocked out Leicester at Maine Road winning 1-0.
Mel Machin brought in re-inforcements for the promotion push and purchased Gary Megson from Sheffield Wednesday for £250,000, and youngster Andy Milner from non league Netherfield came in for £7,000.
Megson scored on his debut in a 1-0 win at Oldham keeping them just three points off leaders Chelsea in the table.
Another league win this time 4-1 at home to Hull was followed by a disappointing exit from the FA Cup as Brentford beat City 3-1 in the 4th Round, however in the League Machin's men marched on with a 1-0 win at Portsmouth which saw them move in to 2nd place in the Division 2 just one point behind Chelsea.
The Blues then made it five league wins on the trot with a 4-0 win at home to Ipswich and 2-0 at Birmingham.
A further win, 2-0 at home to Plymouth saw the blues hit the summit of the league with a third of the season to go, and Mel Machin's achievements were noted as he received the February Barclays Manager of the Month award.
Moving in to March and City could only draw 1-1 at home to West Brom and then they lost 1-0 at Watford. It was time for Mel Machin to go back into the transfer market and he brought in David Oldfield from Luton for £600,000, Oldfield was introduced on the pitch at Maine Road and he watched on as Trevor Morley scored a hat-trick as City beat Leicester 4-2.

City scored another four goals winning 4-2 at Sunderland keeping them as leaders in the league. However a 3-2 beating by Chelsea at Maine Road saw the team from Stamford Bridge leapfrog City into first place.
Veteran keeper Paul Cooper was signed from Leicester for £20,000 as cover for Andy Dibble, And he was called on earlier than was thought as Andy Dibble was injured in a 3-3 draw at Walsall, and so Cooper made his debut in the 2-1 win against Stoke at Maine Road, and continued in the team as City lost 2-1 at Brighton and then won 1-0 at Shrewsbury. And so with seven games left City were still sat in the second automatic promotion place seven points clear of West Brom and Blackburn. A further win followed 2-1 at home to Swindon
With promotion in sight City seemed to get the jitters as they fell to their biggest defeat of the season losing 4-0 at promotion rivals Blackburn, and then a 2-1 home defeat to Barnsley and it looked like The Blues could be pressing the self destruct button. 'The good ship promotion' was steadied slightly with a 4-2 win at Oxford and then City were glad to get a point in 1-1 home draw with Crystal Palace as Nigel Gleghorn had to take his place between the sticks for half the game after an injury to Andy Dibble.
And so with just two games left City were 6 points clear of Crystal Palace with the Eagles having a game in hand. The Maine Road crowd were already having a promotion party at half-time in the penultimate game of the season as City led Bournemouth 3-0 at the break, however nothing is certain when it comes to supporting the Citizens and amazingly the game ended 3-3 with Bournemouth equalising in the 6th minute of injury time.
Promotion was still in City's hands as they travelled to Bradford on the last day of the season with the knowledge they only needed a point to gain promotion.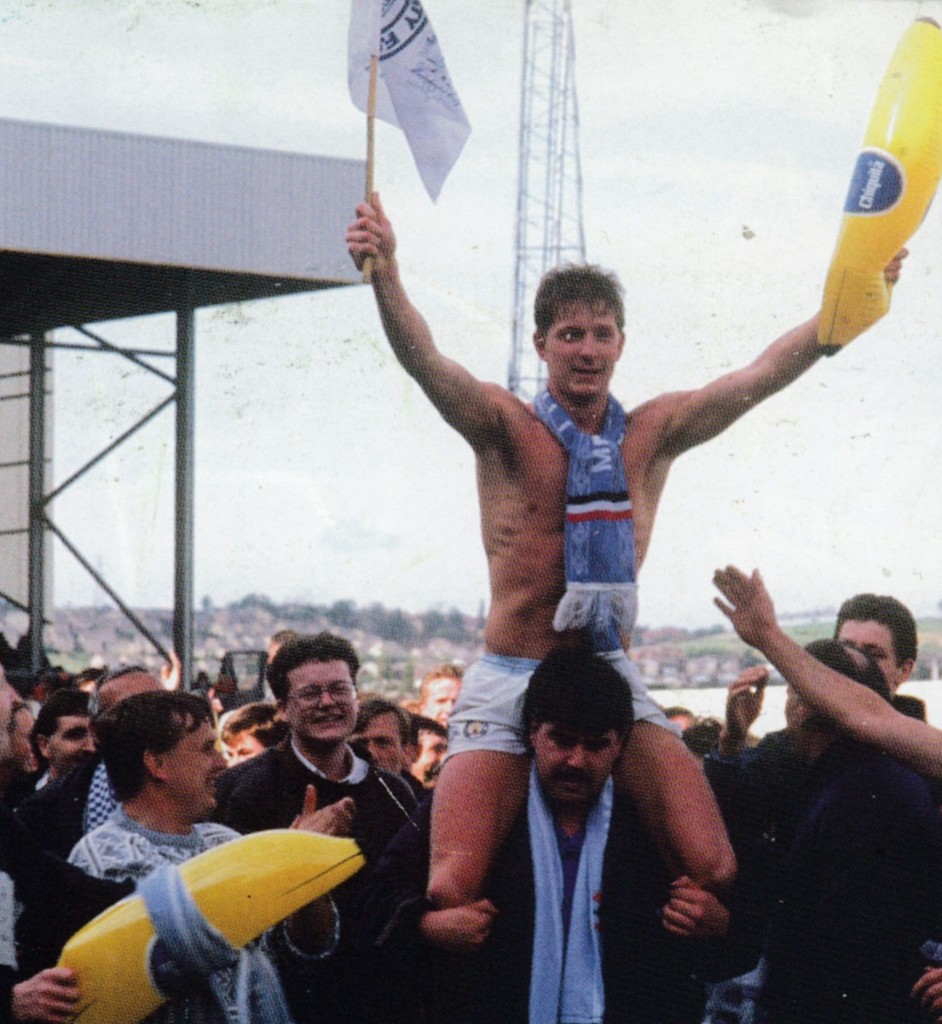 City's travelling support were put through the mire at Valley Parade as they trailed 1-0 until hero Trevor Morley grabbed the equalising goal with just 4 minutes to spare to take City back to the big time.
Neil McNabb was named City's Player of The Year with Gerry taggart picking up the Young Player award.