1981/82 SEASON REVIEW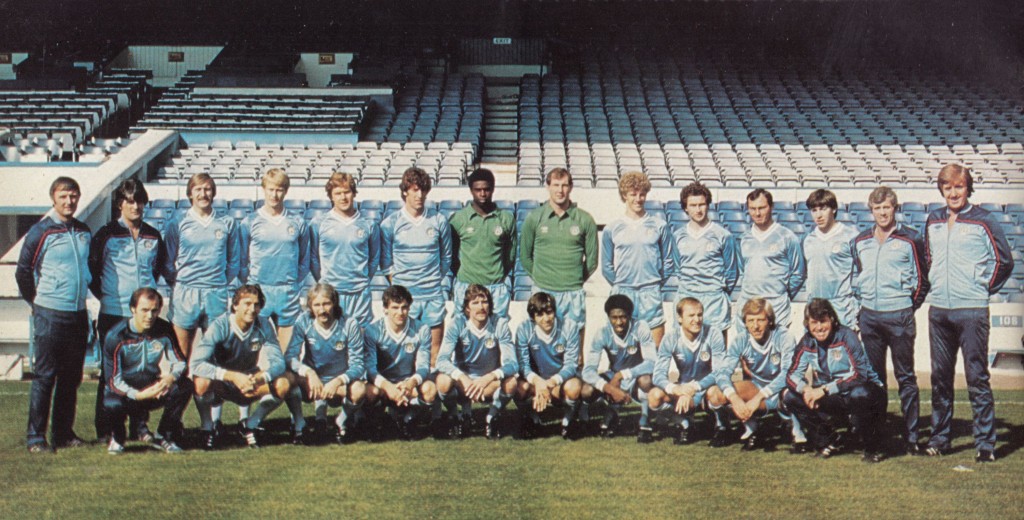 John Bond had a major new signing on board for the start of the season, as Martin O'Neill joined from Norwich for £275,000.
To bring in some much needed cash for possibly further signings John Bond sold Steve MacKenzie to West Brom for £500,000. Also placed on the transfer list were Dennis Tueart and Tony Henry, but they were still at Maine Road as the season kicked off
During the summer, Peter Swales announced a £3M facelift for Maine Road; over the next two years a new cantilever roof would be added to the Main Stand and 36 executive boxes would be built, which would cost fans £15,000 for a three year 'tenancy'.
In an effort to promote more adventurous football the Football League announced that this season clubs would now receive three points for a win instead of the previous two.
City played seven pre-season friendlies, winning 4-1 at Bideford, then lost 2-0 at Rangers and were thrashed 8-0 at Werder Bremen, a better performance earned a 1-1 draw at PSV Eindhoven before a trip to Iceland and a 5-0 win against Thor Akureyri and a 2-1 win against an Icelandic National XI, the final game was a prestigeous game at AC Milan where the Blues lost 1-0.
The season started with an expectant Maine Road crowd cheering on the Blues to a 2-1 opening day victory over West Brom, before a midweek 1-1 draw at Notts County.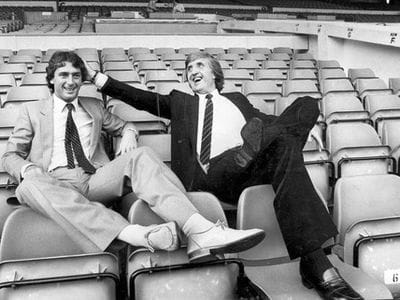 It was then that City announced one of the most exciting signings they have ever made, as they paid Nottingham Forest over £1M for Trevor Francis, also joining his father at Maine Road, Kevin Bond moved from Seattle Sounders in a deal worth £350,000
Trevor Francis began paying off a chunk of his fee immediately as he scored two goals on his debut at Stoke, the Blues winning 3-1. City's coffers were then increased by around £125,000 as Tony Henry moved to Bolton.
City continued unbeaten with a 1-1 draw at home to Southampton, however John Bond was openly unhappy with his team's performance, he called some of his players "rubbish" and called them cheats, and in a tirade of expletives he said he would "wring the bastards' necks."
Unusually John Bond's side then played a friendly midweek at Rosenberg and won 3-0, however they suffered their first defeat in the League three days later at Birmingham, losing 3-0, leaving them in a comfortable seventh position just three points behind leaders West Ham.
Back on track the Blues inflicted a 4-0 thrashing of Leeds at Maine Road, however both Trevor Francis and Paul Power suffered injuries which looked like they could be be out of the side for some weeks.
A depleted City side lost at home to Tottenham 1-0, and with Gerry Gow also joining the growing injury list the team travelled to Brighton and were well beaten 4-1, which prompted Peter Swales to dip into the transfer market again, bringing Asa Hartford back to Maine Road for a second spell, Everton receiving £350,000, an amount City really couldn't afford! Also moving to Maine Road for the more modest amount of £10,000 was Norwegian International defender Age Hareide
In an effort to recoup some more of the money paid for Francis and Hartford three of City's 'squad' players were sold, Dave Bennett moved to Cardiff for £120,000, and loyal servant Tommy Booth and young midfielder Gary Buckley both moved to Preston for a combined fee of £50,000.
The League Cup brought a welcome win as The Blues beat Stoke 2-0 at Maine Road in a 2nd Round 1st Leg tie, however in the league injury ravaged City were struggling to score and drew 0-0 at home to Manchester United, and then lost 1-0 at Arsenal, so after 10 games City had slipped down to 15th place in the league, three points off the relegation zone.
They failed to score again drawing 0-0 at home to Nottingham Forest, and then in the second leg of the 2nd Round League Cup tie Stoke lead City 2-0 at full-time taking the game to penalties which City won 9-8, it was the first English cup tie to be decided by penalties.
In the league City stopped the rot with a 1-0 win at Everton, and then a strong side travelled to play Leyland Motors in a friendly to help raise money for the non-leaguers new floodlights, City winning 3-2.
Finally City's million pound man Trevor Francis was back in action after a six week injury lay-off and he scored one of the goals as The Blues beat Middlesbrough 3-2 at Maine Road. In the League Cup City disposed of Northampton 3-1 at Maine Road to progress to the 4th round.
City then beat Swansea 4-0 at home in the League, but then had to postpone their next game at Leeds, as a flu epidemic swept through the club. With most players fit again City travelled to Ipswich and lost 2-0.
In the League Cup City slipped up at Barnsley and were knocked out, losing 1-0.
Back in the League two 1-0 wins, at home to Aston Villa and away at Coventry saw City move up to seventh, just five points off surprise league leaders Swansea with 17 games played. City lost their next home game 3-2 against Sunderland, and even worse news was that in form Dennis Tueart snapped an achilles tendon and was expected to be out of action for the rest of the season.

Against all odds City then beat Liverpool on Boxing Day 3-1, their first win at Anfield in 28 years, and then in the last game of 1981 a packed Maine Road cheered on the Blues to beat Wolves 2-1 and storm to the top of Division 1.
It was a good start to the New Year as City knocked out Cardiff in the 3rd Round of the FA Cup, The Blues beating the Bluebirds 3-1 at Maine Road.
John Bond brought in veteran 34 year old John Ryan on a free from Sheffield United as a backup for the right back spot, and with Ray Ranson suspended he made his debut in a 1-1 draw at home to Stoke. City then played a friendly in France drawing 2-2 with Bordeaux.
City's performance in their next competitive game, a 4th Round FA Cup tie against Coventry at Maine Road, was described by John Bond as "…scandalous, deserving of defeat and demanding that I react with more than words. The time has come for a few first team faces to be changed". For the record City lost 3-1. Gerry Gow then left Maine Road, joining Rotherham for £75,000
The team responded to John Bond's criticism and beat Birmingham 4-2 at Maine Road.
Another departure from Maine Road occurred as Martin O'Neill's short spell with the Blues was ended, as he moved back to former side Norwich for £125,000, City had defaulted on their final payment of £400,000 for Kevin Reeves so their 'arm was bent' to let O'Neill leave. Two away games followed with a 1-1 draw at West Ham and a 2-1 defeat against Southampton at The Dell. The Blues moving down to 4th in the table with over half the season gone.
Former Manchester City and England coach, Bill Taylor, had died suddenly in November 1981 and City played an England XI, losing 2-1 in a Memorial match at Maine Road, raising over £20,000 for his family.
Two more faces then left the club, Phil Boyer and Tommy Hutchison both moved to Bulova in Hong Kong for an initial temporary 3 month transfer for which City received a fee of £15,000.
City's home league form was keeping them in with a shout of a top three finish as they beat Brighton 4-0 at Maine Road, they then won 6-1 in a friendly at Poole Town, however on their travels in the League they were struggling, and lost 2-0 at Tottenham, and with an injury ravaged side managed a good 1-1 draw against Manchester United at Old Trafford, dropping John Bond's side down to 8th in the League.
Still fighting to attain a good league finish they drew 0-0 at home to Arsenal then won 1-0 at Leeds and drew 1-1 at Notts Forest to move back up to sixth in the League just seven points behind leaders Southampton, with 12 games to play.
Another player to move on loan to Hong Kong was young striker David Wiffill, who joined Happy Valley.
The Blues went on to draw twice again, 1-1 at home to Everton and 0-0 at Middlesbrough, before a depleted side flew to Sweden to play a friendly against IFK Gothenburg, the match ending 1-1.
City then lost at Maine Road 1-0 against West Ham, John Bond described the team display as pathetic and made the team take extra training as punishment.
The wheels certainly seemed to be falling off the wagon as City then lost 5-0 at home to Liverpool, 4-1 at Wolves and a fourth loss on the trot, 2-0 at Swansea. The rot was stopped with a 1-0 victory at West Brom, and so with five games left City had dropped to ninth and a mid-table finish now looked likely.
The end of the season was a bit of a damp squib, A 1-1 draw at home to Ipswich and then a 0-0 draw at Aston Villa were followed by a 1-0 home win against Notts County, but the last home game of the season saw a defeat, 3-1 to Coventry and a further defeat followed on the final day of the season City losing 1-0 at Sunderland.
Tommy Caton won the City Player of The Year Award and Steve Kinsey picked up the Young Player of the Year Award.
City finished the season in tenth position on 55 points.