1977/78 SEASON REVIEW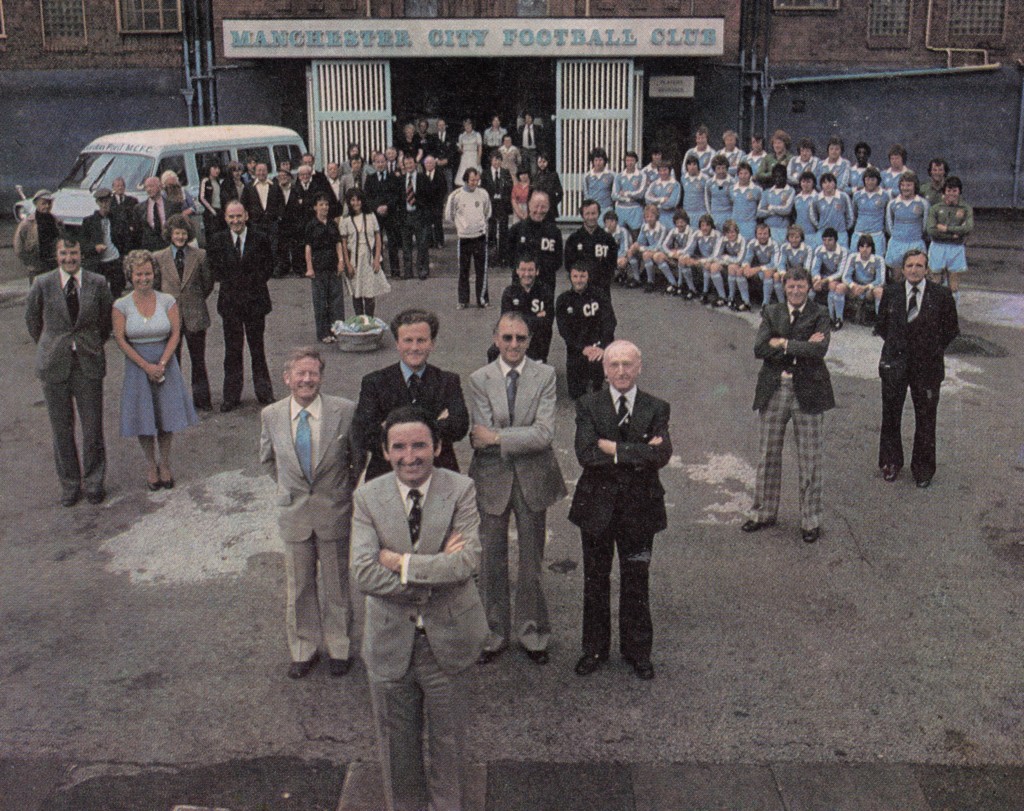 In an attempt to go one place better than the previous season's Division 1 runners up spot, City splashed out £300,000 to bring in Mick Channon from Southampton. In his biography, whilst on tour with England,  Channon remembers Kevin Keegan's comments; "It was the most blatant tap-up job I've ever seen. Peter [Swales] approached Mick in front of everyone. It was so obvious, that we began chiding Mick: "Off to Manchester City then, are we mate? And he was".  City were paying him a record £1.000 per week to bring him to Maine Road.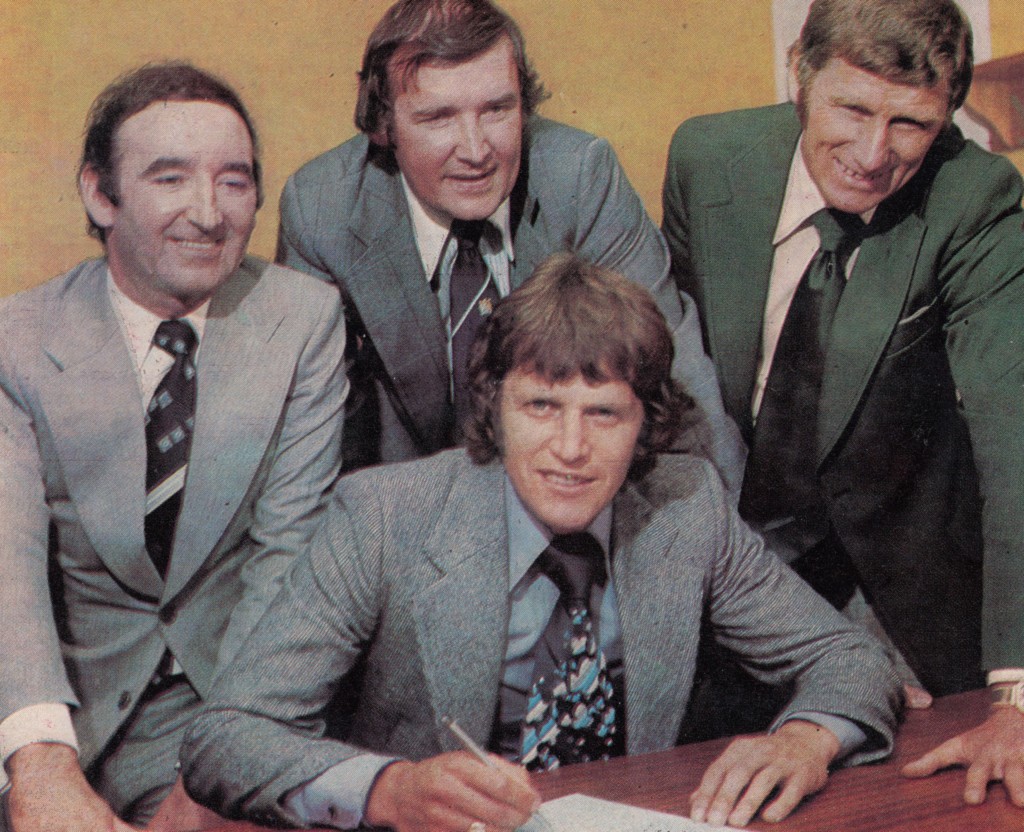 City's pre-season friendlies started with a 4-1 win at Walsall, then it was off to Europe as the Blues won 2-1 against Vitesse Arnhem, they then drew 1-1 against Zwolle PEC and Lokeren. The first game of the season saw an expectant Maine Road crowd of over 45,000 watch Mike Channon make his debut in a disappointing 0-0 draw against Leicester, however, City got on the winning trail with a 4-1 win at Aston Villa and then a 1-0 win against West Ham at Upton Park.  City's third away trip on the trot saw them beat Chesterfield 1-0 in the 2nd Round of the League Cup, and then they beat Norwich 4-0 at Maine Road to go top of the table, albeit only after four games. Manchester United were the next visitors at Maine Road, and City comfortably despatched their Derby rivals 3-1. Courtesy of last season's 2nd spot finish in the League, City were back in Europe, they were expected to progress easily through the first round of the UEFA Cup as they faced Polish side Widzew Lodz, however, in the first leg at Maine Road The Blues gave away a two goal lead to draw 2-2, manager Tony Book commented "We dismayed our fans, let ourselves down and can feel no satisfaction at having achieved a 2-2 result". City were however unbeaten in all competions, and they continued the run with a 1-1 draw in the league at QPR, which kept them at the top of the division. It was another win at Maine Road in the league as City beat Bristol City 2-0, but in the 2nd leg of the UEFA Cup tie in Poland The Blues were knocked out on away goals as they drew 0-0 with Widzew Lodz. Back in the League TCity stayed top of the table, and unbeaten, with a 1-1 draw at Everton. It was Coventry who ended City's eleven match unbeaten run, as they beat Tony Book's men 4-2 at Highfield Road, but back at Maine Road it was another win for City as they beat Arsenal 2-1. A second away defeat on the trot followed, as Brian Clough's now table topping Nottingham Forest beat City 2-1 to send The Blues down to fourth in the league with a quarter of the season gone. City's first home defeat came next as they lost 2-0 to Wolves. In the League Cup 3rd Round City drew 1-1 at Luton to earn a replay. Tony Book called for an extra effort as City met champions Liverpool at Maine Road, the players certainly responded as The Blues won 3-1 to stay 4th in the table. Dennis Tueart, who had missed the Liverpool game through injury, was fit for the League Cup replay against Luton at Maine Road, however Tony Book decided to stay with the team that had played so well against the Champions. Dennis Tueart obviously dismayed that he wasn't going to play, immediately slapped in a transfer request and Tony Book reluctantly accepted it and put the City star on the transfer list. The replay ended 0-0 and without Tueart, City failed to score again as they lost 1-0 at Ipswich. The League Cup 2nd Replay against Luton was held at Old Trafford, and Dennis Tueart, although still adamant that he wanted to leave Maine Road, was included in the team and scored and missed a penalty, as City finally disposed of Luton 3-2. City then lost in the league 3-2 at home to Leeds and drew 0-0 at West Brom. However Dennis Tueart proved his worth to the Blues as he struck a hat-trick in a 6-2 demolition of Chelsea at Maine Road. In the League Cup 4th Round City triumphed in a difficult game at Portman Road beating Ipswich 2-1. Out of favour striker Joe Royle was then allowed to move to Bristol City on loan. Before City lost 2-1 at Derby in the league, to leave them 9th in Division 1 after 18 games. At Maine Road City were having no trouble scoring goals and they beat Birmingham 3-0. Joe Royle's loan deal at Bristol City became permanent as City received a fee of £90,000 for the former England striker. Away from Maine Road City were struggling and they lost 2-0 at Leeds. Into the Christmas period and Boxing Day 1977 may go down as the most memorable, emotional occasion Maine Road would ever see. The return of the King! Colin Bell.
City were drawing 0-0 at half-time to Newcastle, then as the teams appeared for the second half the fans saw that Colin had replaced Paul Power and the outpouring of emotion and encouragement for the King was unbelievable, there was not a dry eye in the house as the crowd, and a limping, but still majestic, Colin Bell powered City to a 4-0 victory. Colin started the game the next day as City beat Middlesbrough 2-0 at Ayresome Park, and then rounded off a 100% winning festive period with a 2-0 win at home to Aston Villa on New Years Eve. 1978 started the way 1977 finished with another victory and a fourth successive clean sheet as The Blues won at Leicester 1-0. City went to Elland Road in the FA Cup 3rd Round where the game was interrupted for 16 minutes amidst some of the worst scenes of hooliganism  seen for some years in England.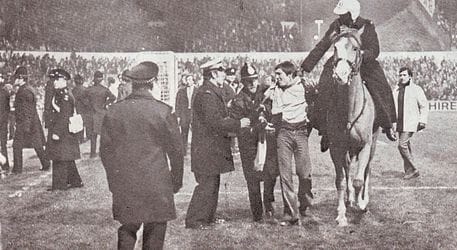 The Leeds fans behind Joe Corrigan's goal invaded the pitch heading for the City fans, and mounted police charged on to the pitch to quell the violence. City kept their composure and won 2-1. The Blues then made it six wins on the trot as they beat West Ham 3-2 at Maine Road, before it was announced that Jim Conway had moved to Portland Timbers for £10,000. In the League Cup 5th Round City earned a replay drawing 0-0 with Arsenal, and in the League Tony Book's men were flying as they beat Norwich City 3-1 at Carrow Road to move into third place in Division 1. The saying goes 'bad things come in threes' and the following week this was certainly true for City. First they went out of the League Cup losing 1-0 in the 5th Round replay at Arsenal, three days later Notts Forest beat City 2-1 at The City Ground in the 4th Round of the FA Cup and then Dennis Tueart, who had at his own request remained on the transfer list, took up the offer of a $2,000 a week salary by moving to New York Cosmos, City receiving a fee of £250,000. Manager, Tony Book exclaimed "I did not want to lose a player of his proven goal scoring capabilities, but he made it clear that he wanted to to go to new pastures, preferably abroad. There was no way I could talk him out of that decision".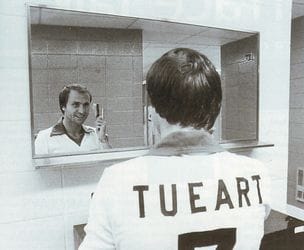 The League title was all City had to play for now, and even without Dennis Tueart they were giving it a good shot, beating QPR 2-1 at Maine Road and drawing 2-2 at Bristol City. The Blues were still third in Division 1 but just one point behind Everton and five points behind leaders Nottingham Forest with a third of the season left. City leapfrogged Everton into second place as they beat the Toffees 1-0 at Maine Road. It had been a great February for The men from Maine Road and Tony Book was rightfully awarded The Bells Manager of the Month award.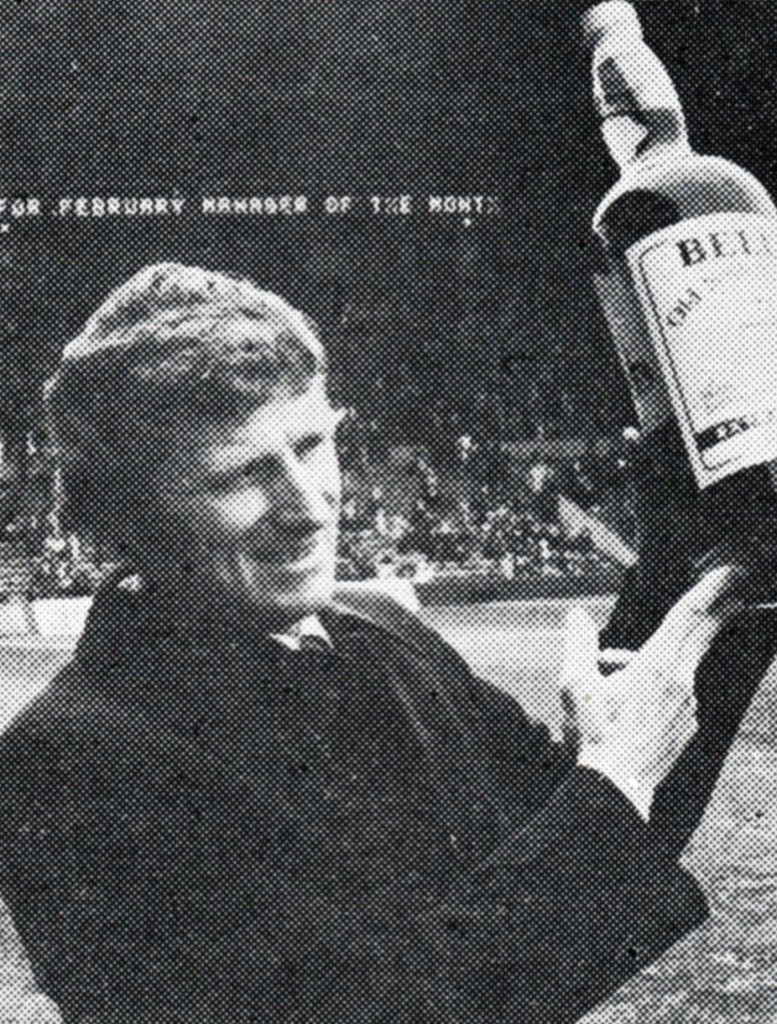 March wasn't as good, as The Blues slipped back in the league, failing to win in their next five games, losing 3-0 at Arsenal and drawing 2-2 at Manchester United, 1-1 at Wolves, 2-2 at home to Middlesbrough and 2-2 at Newcastle. A chance at the title now looked dead even though City beat Ipswich 2-1, they then drew 0-0 against Nottingham Forest and lost 3-1 against West Brom, all three games at Maine Road. A good 4-1 win at Birmingham left City in fifth position in the league with just four games to play. City won the next game 3-1 at home to Coventry and in the season's last game at Maine Road The Blues drew 1-1 with Derby. A disastrous 4-0 defeat followed against Liverpool at Anfield and the season finshed with a 0-0 draw at Chelsea to leave City in 4th place on 52 points, 12 points behind champions Nottingham Forest. City played a final game before breaking for the Summer it was for Mike Doyle in his Testimonial game against an England XI, unfortunately for Mike their was a bus strike on the night and less than 10,000 fans attended the game.