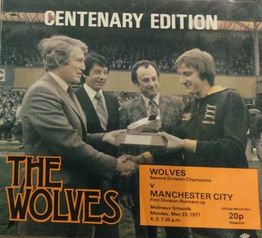 WOLVERHAMPTON WANDERERS 1 CITY 2
Centenary Friendly Match
23rd May 1977
Attendance 14,721
Scorers
City Tueart(68), Power(70)
Wolves Todd(80)
FROM THE PRESS BOX

PETER GARDNER WRITING IN THE MANCHESTER EVENING NEWS 24TH MAY 1977
Joe Royle's injury in last night's friendly against Wolves in the Centenary match at Molyneux gave another rising young Manchester City star to show his paces.
As Royle limped off after only 8 minutes Tony Henry goth the chance to show his paces in almost a full game.
Despite playing as a makeshift striker the powerful North East teenager showed lots of promise as City beat the Second Division champions 2-1.
Playing classy and confident soccer, the Blues did not exert their superiority until the second half when Dennis Tueart game them a 68th minute lead with a header from a Brian Kidd cross.
Two minutes later Paul Power made it two and in the 80th minute Ken Todd pulled one back for Wolves who had earlier missed a host of excellent chances in a competitive and entertaining game.