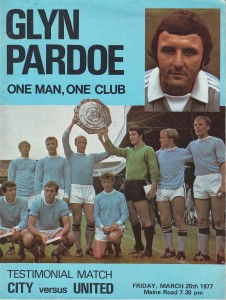 CITY 4 MANCHESTER UNITED 2
Glyn Pardoe Testimonial
25th March 1977
Attendance 7,564
Scorers
City Bennett, Palmer, Hartford
United Macari, Greenhoff
FROM THE PRESS BOX

PAUL HINCE & PETER GARDNER WRITING IN THE MANCHESTER EVENING NEWS 26TH MARCH 1977
Manchester City chairman Peter Swales and manager Tony Book today called for the phasing out of testimonial games.
Both were bitterly upset at last night's miserable attendance of 7,564 for Glyn Pardoe's testimonial against Manchester United at Maine Road.
"Nobody deserved a bumper testimonial more than Glyn," said Swales. "But I believe that the fans made the point last night that they are getting tired of these games. I am convinced that these games have outlived their usefulness. They should be phased out over the next three to five years so that the current crop of long serving players will not miss out. A new way of rewarding loyalty should be devised, with freedom of contract on the way. It should be up to the club, not the fans, to reward the one-club player. We should write a clause into the contracts whereby loyal players are given a life pension or a lump sum when they end their playing careers."
Those views are endorsed by manager Book who feels Pardoe deserved much more than the estimated £8,000 he will receive, particularly in view of the huge sums picked up by other players in recent seasons. I was terribly upset for Glyn," he said. "But this is not meant as a criticism of the fans. After all it costs a lot of money to watch a match these days and you cannot expect people who are struggling to make ends meet to keep forking out for matches like this."
… Another problem from these games was highlighted by the injury to Brian Kidd who limped off after a clash with Martin Buchan in the first half.
"Brian should be fit by next week but it does show that playing in these games can be risky for the players," said Book.
… It was the one sour moment of a game that possessed more conviction than most testimonials because stars of the future as well as the present were thrown into the fray to show their paces.
The first half, in fact, saw both clubs' reserve goalkeepers stealing the limelight. City's Keith MacRae made a string of fine saves as did the much criticised Paddy Roche for the Reds.
After playing the first half, Pardoe made way in the second for the stylish young Tony Henry while teenage coloured strikers Dave Bennett and Roger Palmer stepped into the senior spotlight for the first time and between them scored three of the goals that gave City a 4-2 win.
Asa Hartford scored the other, a first half equaliser after Lou Macari had given United the lead.
Jimmy Greenhoff hit the second for the Reds who gave Ashley Grimes, the £20,000 recruit from League of Ireland Bohemians, his first taste of English football since moving to Old Trafford.
Stars from a different era entertained at half-time with Francis Lee's City side beating a Bobby Charlton United line-up 3-2 in a five-a-side game.