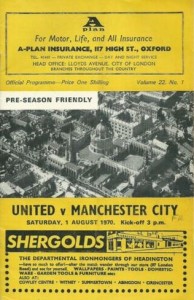 OXFORD UNITED 4 CITY 1
Friendly
1st August 1970
Scorers
City Lee(3)
Oxford ?
City Corrigan, Book, Pardoe, Doyle, Booth, Oakes, Heslop, Bell, Summerbee, Lee, Bowyer – subs Mulhearn, Carter
Oxford Kearns, Lucas, Shuker, Smithson, Clarke, Thompson, Sloan, G Atkinson, Skeen, Clayton, R Atkinson – subs Gladwin, Evanson, Lewis
FROM THE PRESS BOX

PETER GARDNER WRITING IN THE MANCHESTER EVENING NEWS 3RD AUGUST 1970
There were no pre-season graduation honours for Manchester City at Oxford, where a couple of tragic goalkeeping errors by Joe Corrigan ultimately saw the Blues sent down by a staggering 4-1 margin.
Yet, despite their second-half endeavour and enthusiasm, Oxford could hardly match the more skilful, classier City, who had threatened to massacre the local side in a scintillating opening 20 minute sprint.
Corrigan's errors allied to some quite abysmal refereeing were mainly responsible for City conceding so many goals in a game which assistant boss Malcolm Allison described as: "Quite satisfactory considering the hard ground and terrific heat."
He totally dismissed the scoreline, adding: "The result didn't matter. There are some things that need putting right, but the main object of all pre-season outings is to get players match fit. That is all that really matters at this stage."
The most optimistic outcome from this workout was the fine form revealed by Mike Summerbee, whose delightful move and cross, following some fine work by Mike Doyle, paved the way for Francis Lee's third minute headed goal.
From that point City displayed their full array of flair and attacking aggression, but were then halted in their tracks by an equaliser that was so far offside it did not seem true.
Corrigan boobed shortly after half-time and the prospect of beating a top European trophy winning side really put Oxford spirits up and they took command to give themselves a handsome boost for the new campaign.
Certainly more effort will have to be put into the task against Celtic at Hampden tomorrow, but the challenge facing City in Glasgow is far greater than the one at Oxford. And that's just the way the Blues like it. This match should give a far more accurate picture of prospects for the season.