CITY 1 SOUTHAMPTON 1
League Division 1
17th October 1970
Attendance 31,998

Scorers
City Lee(72)
Southampton Davies(29)
Ref R Johnson
City Corrigan, Book, Pardoe, Doyle, Heslop, Oakes, Summerbee, Bell, Lee, Hill, Towers – sub Bowyer(unused)
.
Southampton Martin, Kirkup, Hollywood, Fisher, McGrath, Walker, Paine, Channon, Davies, O'Neill, Jenkins – sub Stokes.
FRANCIS LEE GRABS CITY'S GOAL
FROM THE PRESS BOX

LESLIE DUXBURY WRITING IN THE OBSERVER 18TH OCTOBER 1970
Southampton employing classic away tactics, pushed City to the limits of patience and tolerance in a harsh and scrappy clash of opposing styles.
Admittedly Manchester played far short of their engaging best, but much of Southampton's massive holding operation had its roots in cynicism and the booking a single player, Hollywood was disproportionate punishment.
Southampton were plainly well pleased with their point which seemed highly likely to be a surprising two for more than half the match. Their defence, particularly the brave and agile Martin was rigidly competent.
Signs that one or two City players might be below form appeared very early. Hill, Bell and Lee all thrashed unconvincingly at a ball left loose and inviting on the six yard line. A marvelous duet between Bell and Lee ending with the latter barely a toe's length from touching the ball home repaired their confidence, but only briefly.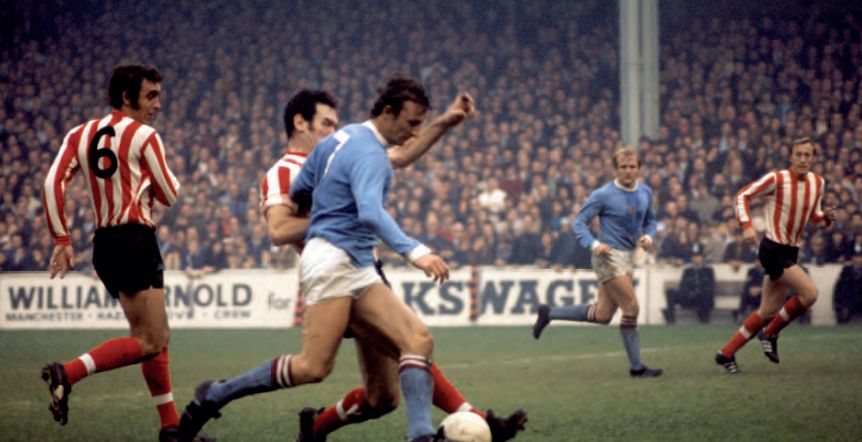 Southampton's goal came after 29 minutes when Fisher lifted a pass to O'Neill deep on the left, his cross looped high over a static City defence, to the slashing foot of Davies standing eight yards out, Corrigan managed to parry the centre forward's volley but only into the roof of his net.
Manchester then embarked on a relentless crusade to put matters right. But the lack of co-ordination and the stubborness of Martin made it extremely hard work.
But in the seventy second minute Manchester achieved at least part of their objective. A sweet fluid move reminiscent of palmier days ended in a corner. Hill took it, got the ball back again, and centred to the far post, where the bruised and buffeted Lee got high enough to head past Martin though the ball had to make a special effort to creep inside the post.