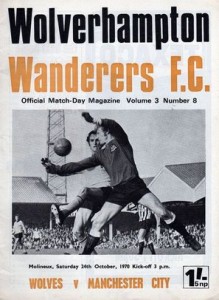 WOLVERHAMPTON WANDERERS 3 CITY 0
League Division 1
24th October 1970
Attendance 32.700
Scorers McCalliog(8 pen), Gould(48 & ?)
Ref D Smith
City Corrigan, Book, Pardoe, Doyle, Heslop, Jeffries, Summerbee, Bell, Lee, Hill, Towers – sub Bowyer(unused)
Wolves Parkes, Shaw, Parkin, Bailey, Munroe, McAlle, McCalliog, Hibbitt, Gould, Dougan, Wagstaffe
FROM THE PRESS BOX

CUP HANGOVER FOR BLUES!
PETER GARDNER WRITING IN THE MANCHESTER EVENING NEWS 26TH OCTOBER 1970
It was a sort of Hungarian goulash from Manchester City at Molyneux.
A touch of the spicy sparkle that floored Honved, and a disastrous helping of defensive jitters that gave Wolves all three goals in the Blues' heaviest defeat of the season,
City's generosity at the back was the prime reason for their defeat, plus their failure where it mattered most, in front of goal.
And I believe one of the real differences was that Wolves seemed more hungry for success than a City side who have now not won a League game for more than a month.
There was plenty of endeavour and effort from the Blues, but they have lost the habit of scoring to such an alarming extent that it makes one wonder where their next goal is coming from.
Francis Lee and Colin Bell tried hard enough, while Mike Summerbee clipped the inside of a post. But the sad truth is that City have lost that 'killer' touch in fromt of goal.
At times they more than matched Wolves with their midfield industry and fight, but the game was lost in the ninth minute ofthe first half and the third minute of the second.
And, on each occasion, Mike Doyle was to blame for handing Wolves the goals on which the foundations of their sixth successive victory was built. Each time he allowed Bobby Gould, last season an Arsenal reserve and now one of the League's leading marksmen, the freedom of Molyneux.
If City had possessed someone as good as Gould, they might have been able to snap the resistance of a Wolves defence that snarled and bit deep into the tackle in defence. Lee hard and aggressively though he battled, could ring little change out of Frank Munro. While even Bell's surging, powerful runs failed to upset the composure of Wanderers.
Glyn Pardoe and Derek Jeffries, apart from the Lee-Bell double act, were City's only other real successes in a match Doyle particularly will be glad to forget.