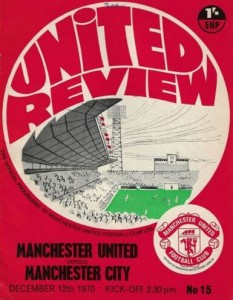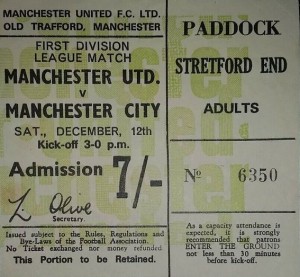 MANCHESTER UNITED 1 CITY 4
League Division 1
12th December 1970
attendance 52,636
scorers
City Doyle(15), Lee(41, ?, ?)
United Kidd(72)
Ref B Homewood
City Corrigan, Book, Pardoe, Doyle, Booth, Oakes, Summerbee, Bell, Lee, Young, Jeffries – Sub Mann(25)
United Rimmer, Watson, Dunne, Fitzpatrick, James, Sadler, Law, Best, Charlton, Kidd, Aston – Sub Sartori(45)
GLYN PARDOE SUFFERS A HORRENDOUS LEG BREAK, WHICH WOULD SUBSEQUENTLY END HIS CAREER
FROM AN ARTICLE IN THE CITY PROGRAMME 'THAT WAS THE WEEK'
City hero Francis Lee surprisingly scored only two hat-tricks in the Football League… but it was his first which endeared him to every Manchester City supporter.
The reason? It was scored at Old Trafford in 1970 on a grey December day when the former European Cup winners began a decline that would end with relegation in 1974.
Unfortunately, a severe downside to the euphoria saw Glyn Pardoe's right leg broken in two places, and the popular full back had to wait several years to re-appear in the League side.
The tackle which put Pardoe in hospital went unseen by the referee, busy sorting out an altercation between Denis Law and Derek Jeffries, but he acted on the advice of a linesman in booking George Best.
The Blues went into the match following successive defeats by Leeds United and Arsenal, but were still well placed in the upper echelons. They welcomed back Tommy Booth and Neil Young, who had been missing through injury.
The Reds meanwhile were languishing in the lower reaches and hadn't won for three games.
In the derby match, City went ahead after 15 minutes through Mike Doyle, dubbed by the Press as "the player who hates United the most" (a self-built publicity facade, in fact).
Colin Bell retrieved a United clearance and centred accurately to Doyle, who soared higher than anyone in a knot of players to head firmly past England Under-23 goalkeeper Jimmy Rimmer, via his right hand post.
A second strike, and the first of Lee's trio, arrived when centre half Steve James cleared a free kick straight back to the taker, Alan Oakes, on the left.
Under pressure from James, Lee had a shot with his left foot which was beaten away, but a second attempt saw the ball enter the net to Rimmer's left.
Two-nil at the interval . . . could the Blues add to their tally?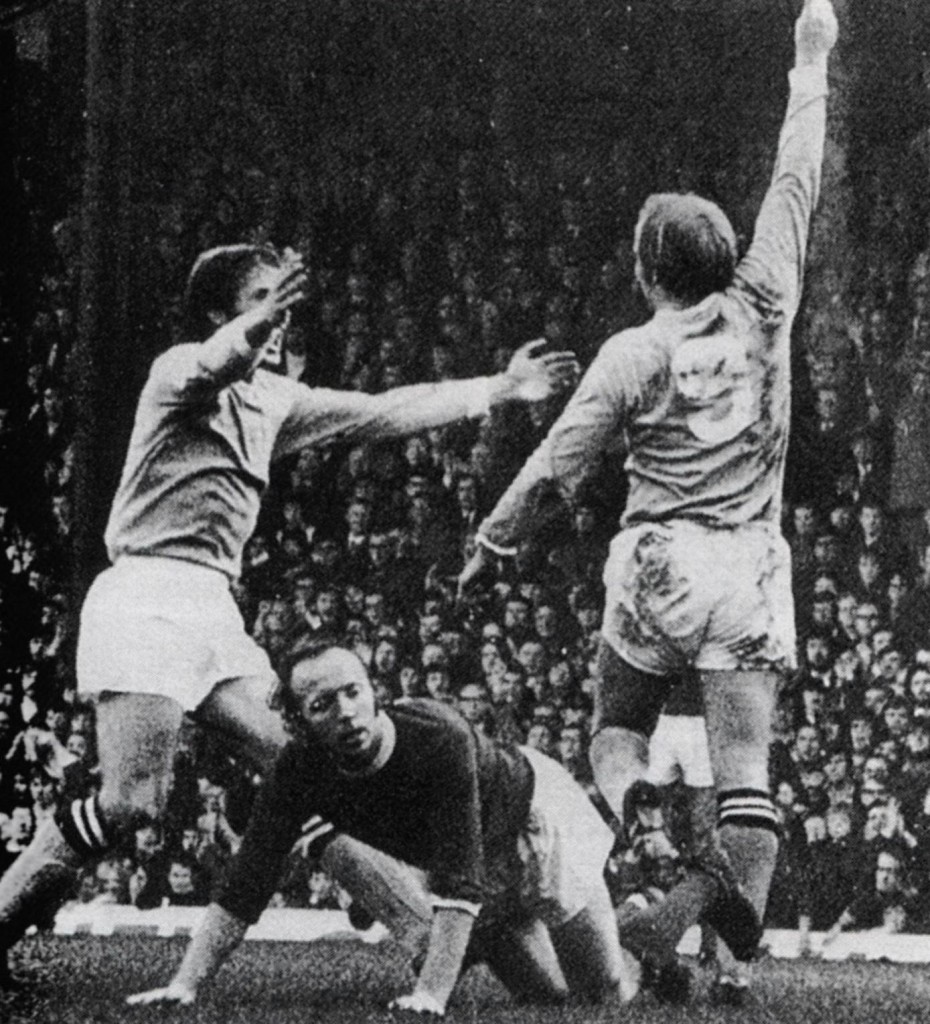 They certainly could, and the third goal was a masterpiece in its simplicity and execution.
Nobby Stiles, the man City fans loved to hate, tried to findTony Dunne, only for a misplaced pass to reach Bell. He sent Mike Summerbee galloping away on the right wing and his cross, taken on the run, fell to Lee for a shot which went in off Rimmer's legs
Franny once said he would donate a sum of money to charity whenever he managed to score with a header, so he would have been pleased to pay up following his third goal.
A short free kick from Neil Young found Arthur Mann, who turned skillfully before sending the ball deep into the penalty area. Lee got under it and, despite a barge in the back from Dunne, directed his header to Rimmer's right.
City were toying with dispirited opponents and were not greatly bothered when future Blue Brian Kidd pinched a consolation goal with 18 minutes left.