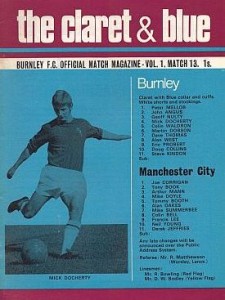 BURNLEY 0 CITY 4
League Division 1
19th December 1970
attendance 19,917
scorers Lee(25), Bell(35 & 61), Summerbee(52)
Ref R Matthewson
City Corrigan, Book, Mann, Doyle, Booth, Oakes, Summerbee, Bell, Lee, Young, Jeffries – Sub Connor(unused)
FROM THE PRESS BOX

PETER GARDNER WRITING IN THE MANCHESTER EVENING NEWS 21ST DECEMBER 1970
Manchester City have rekindled that killer scoring touch which burned so fiercly when they won the League Championship two years ago.
But the spark has been ignited too late for them to make any impression on either Leeds or Arsenal this season.
That is why Malcolm Allison is talking about third position in the First Division for a side that has at last found some of the consistency so vital for a successful title campaign.
Eight goals in two away games provides sufficient evidence of this with struggling Burnley the latest to feel the force of the new, emergent City.
And it is no coincidence that the fresh wave of confidence has been generated since Tommy Booth returned agaist Manchester United. He brings stability and strength that rubs off on those around him.
The return of Neil Young, too, has given the attack added balance and though he has yet to reveal his old scoring touvh he has provided a meaty contribution, particularly at Turf Moor where one superb flash of inspiration saw him 'ghost' across the face of the Burnley penalty area before setting up the first of Colin Bell's two goals.
With man-of-the-match Mike Doyle and Alan Oakes finding the scope to back up their attack in the old fashion, Burnley never stood a chance.
Burnley rarely had a scoring contribution of note with City's goals coming in a magical 37 minute spell.