1996/97 SEASON REVIEW
Although City  had to look forward to a season of lower league opposition there was some good news in that City had managed to stave off the interests of top Italian clubs in Kinkladze and indeed Francis Lee had managed to persuade the little Georgian genius to sign a new contract which would on paper keep him at the club until at least 1999.
City's pre-season started in Ireland beating Athlone Town 3-1 and then beating Cork City by the same score.
Then it was off to China for just a single game against Tianjin , the rest of the tour was a wash-out as two more games were cancelled due to weather conditions.
Keith Curle then left Maine Road, joining Wolves for £650,000.
Back to England and City drew 2-2 at Scarborough , the Blues then travelled to Devon and beat Exeter 3-1 followed by a 1-0 defeat against Plymouth
Niall Quinn then left Maine Road, joining Sunderland for £1.3M.
City started the new league season by beating Ipswich 1-0, at Maine Road, unusually on a Friday night before all the rest of the games kicked off a day later (TV Commitments).
It looked good for the new season but as is the rollercoaster that is Manchester City things soon changed  and the blues were easily beaten at Bolton 1-0. Diminutive forward, Paul Dickov, was then persuaded to leave Arsenal by Alan Ball, City paying the Gunners around £1M, and he made his debut in a 2-1 defeat at  Stoke and with calls from the fans for Alan Ball to be removed as manager, just three games into the season, 'he resigned!' Richard Edghill recalls in his autobiography; 'The Monday after the game at Stoke, Franny Lee was in the tunnel and came in with Ball clearly quite emotional that he'd had to sack his friend, or had Ball 'resigned' ? Either way Franny was not besy pleased "You fucking bastards have got this man the sack! I hope you're proud of yourselves!" he raged as Bally looked down at the floor crestfallen, a broken man'
  A Manager-less City then beat Charlton 2-1 with Asa Hartford in charge as Caretaker Manager.
City's performances were up and down as they lost at home to Barnsley but then put up a good display by beating Port Vale 2-0 away. The board brought in Darren Wassell on loan from Derby to try and bolster the squad however results were worse as they then lost 3-1 at Crystal Palace   before a humiliating 4-1 defeat at 3rd Division Lincoln City in the First Leg of the Coca Cola Cup. The Blues got some pride back beating Birmingham 1-0, Eddie McGoldrick making his debut for City after signing on loan from Arsenal. However with the chance to make amends in the 2nd leg of the Coca Cola Cup, City amazingly lost again with Lincoln racking up a 5-1 aggregate win.
City the went on to lose 2-0 at Sheffield United and two days later Steve Coppell was appointed as City's new manager, before a 2-2 draw at QPR and then the 'consistently inconsistent' Blues lost 2-0 at Reading. McGoldrick's loan was then made a permanent move with City paying Arsenal £300k and The Blues then went on to beat Norwich 2-1 at home, before losing 1-0 at Maine Road to Wolves . Steve Coppell had sent Gerry Creaney on loan to Ipswich but brought in Simon Rodger on loan from Crystal Palace, and he made his debut in a 3-2 victory at Southend , before City lost again, 2-0 at Swindon .Then a shock announcement from the club; After just six games in charge Coppell amazingly resigned. We will never really know what happened behind the scenes, however Coppell's statement stated "I'm not ashamed to admit that I have suffered for some time with huge pressure I have imposed upon myself, and since my appointment this has completely overwhelmed me to such an extent that I cannot function in the job the way I would like to, As this situation is affecting my wellbeing I have asked Feancis Lee to relieve me of my obligation to manage the club"
Phil Neal Neal stepped up from Assistant to temporarily manage a disbelieving City side after what had transpired things didn't get any better as City were beaten 3-2 by Oxford at Maine Road.
A third defeat on the trot saw City lose 2-1 at Portsmouth , before a 0-0 draw at home to Huddersfield.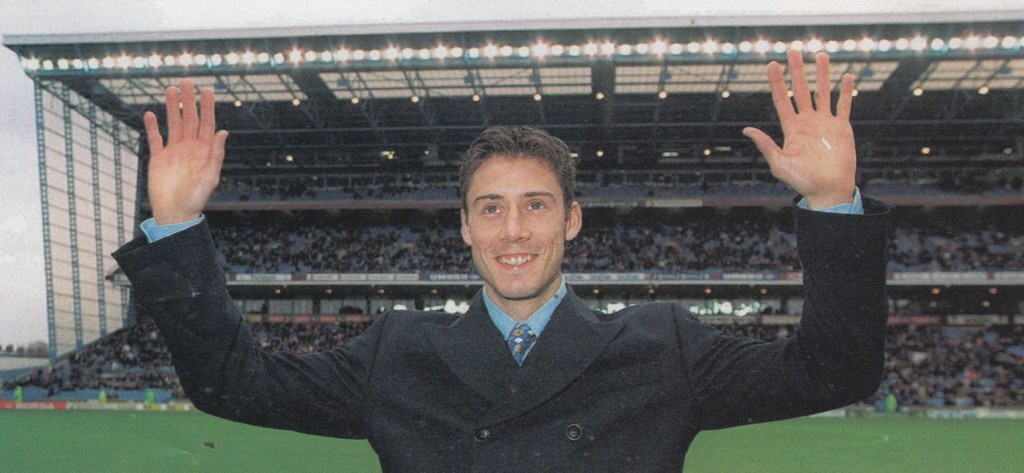 Neal was then allowed to splash out £500,000 to bring in Neil Heaney from Southampton, he wasn't signed in time to play in a 2-1 home defeat by Tranmere but made his debut in a 3-2 win at Maine Road against West Brom.
Moving into December and another defeat, 3-0 at Wolves , followed by a 3-2 home win over Bradford and then three further defeats on the trot, 2-1 at Oldham , 1-0 at home to Port Vale and 2-0 at Barnsley .
Come the new year come the new manager in the shape of Frank Clarke, the fifth man in charge in less than six months if Asa's role is included.
Before Frank could take charge of a team Michael Frontzeck moved on with an £80,000 transfer to Freiburg in Germany
The Clarke era started with a 1-1 draw against Crystal Palace , followed by another 1-1 draw at Huddersfield in which Tommy Wright made his debut in nets for the Blues after joining on loan from Nottingham Forest a few days earlier.
After being postponed due to bad weather at Brentford it was third time lucky for City as they won 1-0 in the 3rd Round of the FA Cup to give Frank Clark his first win, however back in the league it was a third consecutive draw 0-0 at home to Sheffield United .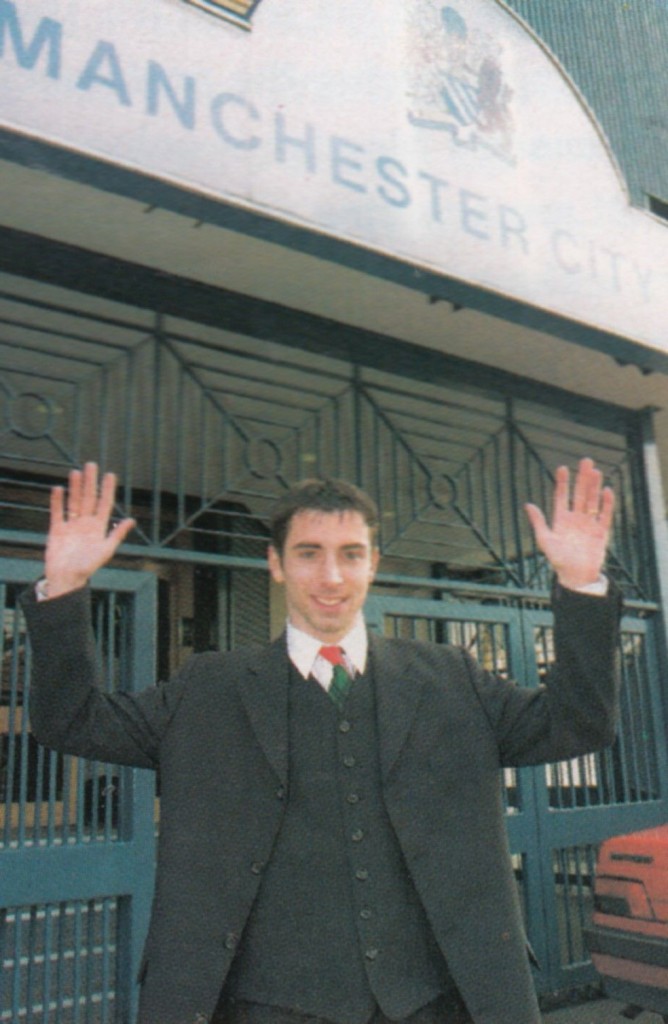 In an effort to kick start some league form Frank Clark made his first signing, Kevin Horlock in a 1.25M move from Swindon and he went straight into the team at Oxford and an impressive display helped the Blues to a 4-1 win.
The wins continued as City qualified for the 5th Round of the FA Cup with 3-1 win at Maine Road against Watford .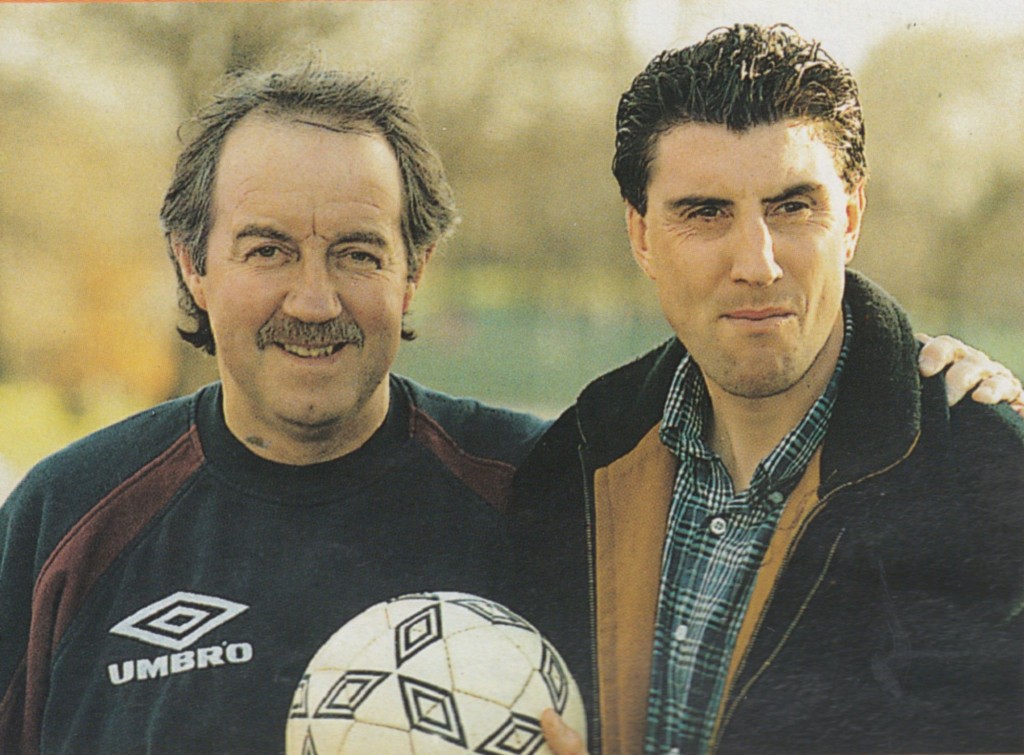 Paul Beesley was bought from Leeds for £500k to bolster the City defence and he made his debut in the league saw the Blues beat Southend at Maine Road 3-0, and so after 30 games played City sat precariously in 20th position just 5 points above the relegation zone.
City's run in the FA Cup came to a halt as they were beaten 1-0 by Middlesbrough at Maine Road.
Tommy Wright's loan was made permanent as City pay Forest £450,000 and in the League The Blues managed two successive victories 3-0 at home to Swindon and 3-1 at Bradford . This eased relegation worries as City moved up to 16th position, eight points clear of the drop zone. A 1-1 draw at home followed against Portsmouth and then again at Maine Road Oldham were beaten 1-0, making it nine games unbeaten in the league since Frank Clark took over.
Clark's first defeat happened at Birmingham where City were beaten 2-0, a few days later Ged Brannen joins City from Tranmere for £750k and he makes his debut in a 1-1 draw at Grimsby , City also draw their next game 1-1 at Tranmere .
Striker Dalian Atkinson gets clearance to join City after playing for Fenerbahce in Turkey and he scored on his debut, a 2-0 win over Stoke at Maine Road.
On transfer deadline day Steve Lomas moved to West Ham in a deal worth upo to £2M.
Another good away draw 1-1 at Charlton was followed by a bad defeat at home to Bolton , 2-1 however City then beat West Brom 3-1 at The Hawthorns and then Grimsby at Maine Road by the same score and so with just four games to go City were sat mid-table with nothing to play for.
The run in saw a 3-0 home defeat to QPR and then a 1-0 loss at Ipswich and a 0-0 draw at Norwich
The last game of the season saw Reading go two up but City came back to win 3-2. Meaning The Blues finished in a disappointing and unacceptable 14th place. The day would be remembered more for the tributes, flags and chanting for Gio Kinkladze who did not play in the match due to an injury sustained whilst playing for Georgia against England, but nevertheless the Maine Road faithful were doing everything in their power to convince Kinky to stay at City in another year in the doldrums of Division 1.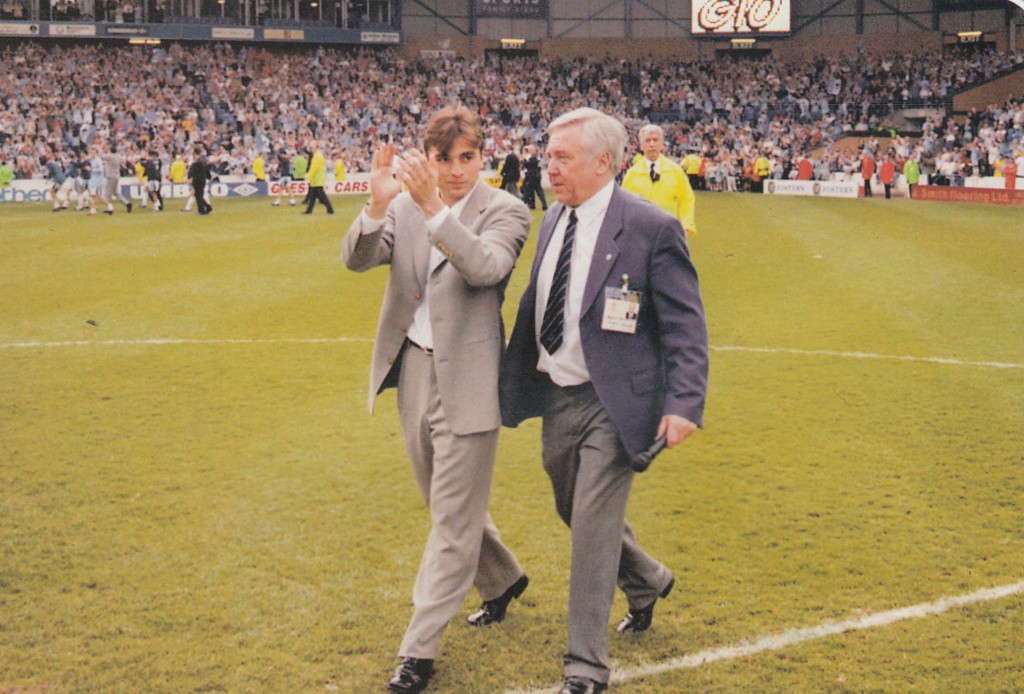 Of course the little Georgian was named player of the year for the second year running and with a very good financial offer on the table Gio's future at City was confirmed for at least another year.
City invest in their future as they buy Young keeper Nicky Weaver from Mansfield.
The Blues play an end of season testimonial game at Barnsley for Gary Fleming and draw 2-2.
Amongst players leaving the club are Dalian Atkinson who is not offered a contract after his short spell with the club.
Controversially all City's youth team back room staff are dismissed, amongst them Colin Bell, Neil McNab and Terry Farrell, who stated "The youth section is being made the scapegoat for the club's lack of success". City legend Colin Bell is so upset with the decision he also removes an England cap he let City display at Maine Road.
It was announced that Paul Power would head up the youth department in the coming season.