1997/98 SEASON REVIEW
Chairman Francis Lee hailed the new season by announcing "There is a great feeling of anticipation in the club that this is going to be our season". The famous sky blue shirts were now Laser Blue for the new campaign as the club signed with Italian kit giants Kappa.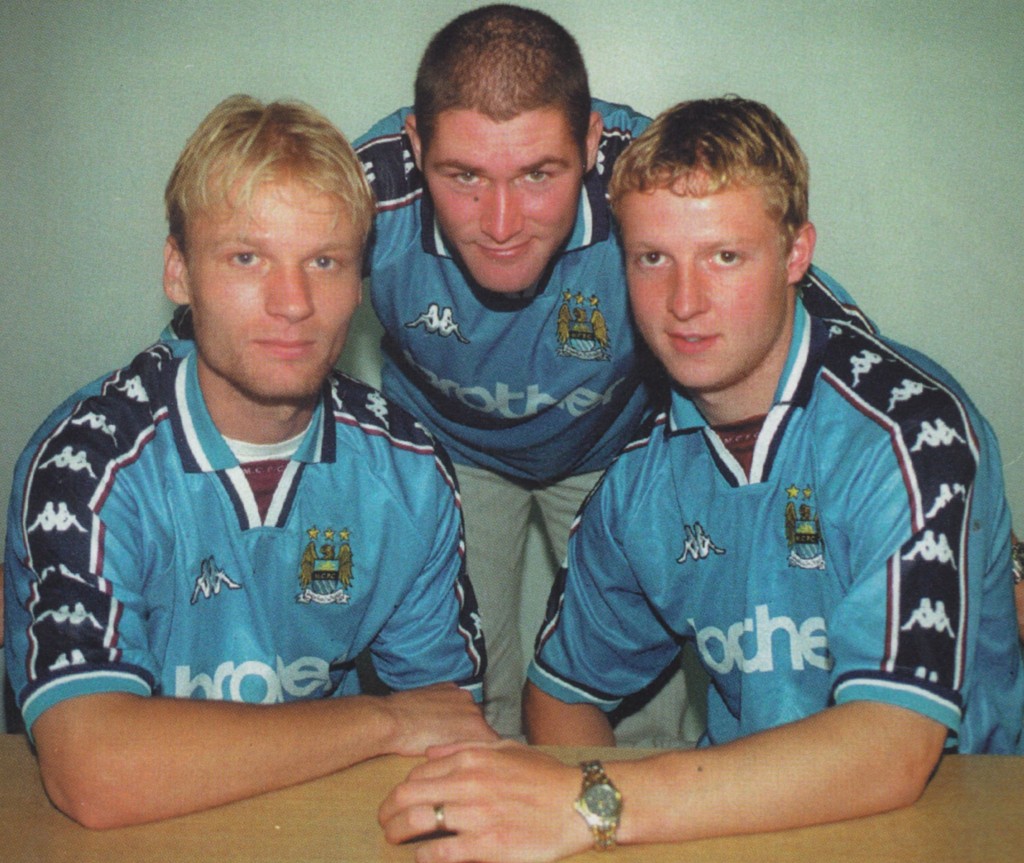 City splashed out a record breaking £3m on Portsmouth's Lee Bradbury in an effort to ensure that the team would win promotion this campaign and also managed to keep the services of the Georgian genius, Georgi Kinkladze. In addition a tribunal ordered City to pay 1.35M for defender Tony Vaughan who moved from Ipswich, a young Irish winger, Tony Scully joined on a free from Crystal Palace, and Gerard Wiekens joined the Blues from FC Veendam.
Players moving away from the club pre-season were Peter Beagrie who moved to Bradford for £200,000, and Mikhail Kavelashvili who joined  Grasshoppers Zurich on a one year loan City's first friendly was a 1-1 draw at Blackpool followed by a 1-0 win at Macclesfield  , where Australian trialist Danny Tiatto played, however Frank Clark decided that he would not pay the £250,000 to bring him to Maine Road and he returned to Salernitana in Italy . A four game tour of Scotland followed with a 4-0 win against Livingston , 0-0 at Stirling Albion , 4-0 at Kilmarnock and 1-1 at Falkirk . City celebrated the news of Lee Bradbury's record signing with a 7-1 win at Mansfield and then Bradbury scored on his debut in a 3-0 win in a friendly at Burnley . City started the campaign at home to Portsmouth with an unconvincing 2-2 draw, following the game Frank Clark brought in another signing, Jason van Blerk from Millwall for £200,000 however another disappointing display followed, a 1-0 defeat at Blackpool in the 1st leg of the Coca Cola Cup 1st Round and then a further defeat 3-1 at Sunderland in the League. City then drew 1-1 with Tranmere and couldn't over-turn Blackpool in the 2nd leg of the Coca Cola Cup tie despite the game going to penalties, and then with a 2-1 defeat in the league at Charlton the Blues were still without a win and found themselves at the wrong end of the table. The Blues' first win came with a 3-1 win at Nottingham Forest followed by a 1-1 draw at Bury . Frank Clark's time at the club looked like it could be cut short as the City faithfull turned on him as City lost 2-1 at home to Norwich , but the team seemed to rally and sensationally beat Swindon 6-0 in their next home game. The win against Swindon could not be duplicated and The Blues lost 1-0 at Ipswich. Paul Lake's brave fight against his terrible injury was celebrated with a testimonial against Manchester United a day later, the game ending 2-2.
Back in the league and the Blues drew 0-0 at home to Reading to leave them just fourth from the bottom of the league with a quarter of the season gone. Alarmingly two further defeats followed 1-0 at home to Stoke and 2-0 at QPR. In an attempt to freshen up the squad The Blues agree a deal to bring Georgian, Murtaz Shelia, from Alania Vladkavkaz. A Rare win, 1-0 at home to Crewe , did not mask the problems for Frank Clark and City then drew 0-0 at Oxford before losing again at Maine Road, 3-2 against Port Vale to leave the Blues still 4th from bottom of the league after 15 games. Things got worse with another defeat at Maine Road, 1-0 against Huddersfield . The ship certainly needed steadying, Frank Clark brought in striker Craig Russell from Sunderland for £1M and things improved slightly with a 1-1 draw at Sheffield United , and then a 1-0 win at home to Bradford . A first local derby meeting against Stockport County for 87 years saw City embarrassingly beaten 3-1, The Blues managed a 1-0 away win at West Brom but then lost again 1-0 at home to Wolves and 2-1 at Birmingham and so with 22 games gone City are still 4th from bottom and only one point off rock bottom. A home win followed 2-0 against high flying Middlesbrough, Alan Kernaghan then left the club joining St Johnstone on a 'free'. It was to be an unhappy Christmas for Frank Clark as City are beaten 1-0 at Crewe on Boxing Day and two days later at Maine Road the Blues lose again, 3-2 to Nottingham Forest . A respite from the league is welcomed as City progress to the 4th round of the FA Cup by beating Bradford 2-0 at Maine Road. The euphoria of the win transfers to the league and City beat Portsmouth 3-0 at Fratton Park, but at home they lose 1-0 to Sunderland and stay just one point ahead of the relegation zone. Despite a fantastic goal by Gio Kinkladze City are knocked out of the FA Cup losing 2-1 to West Ham at Maine Road. Three draws in the league, 2-2 at home to Charlton , 0-0 at Tranmere and 0-0 at Norwich where another Georgian Kakhaber Tskhadadze makes his debut after receiving his work permit, and The Blues drop into the relegation zone. Following a 1-0 defeat against Bury Peter Beardsley was brought in on loan from Bolton, however the next day on 4th February 1998, with the club still sitting third from bottom of the First Division, and just 13 months after he arrived, Frank Clark was sacked as City's manager.
Ex City player Joe Royle was installed as boss with the unthankful task of staving off relegation and he watched on as City lost again 2-1 at home to Ipswich .
A promising 3-1 away win against Swindon boosted City's chances of staying up and although they lost 3-0 at Reading a further two wins, 1-0 at home to West Brom and 3-1 at Huddersfield saw the Blues move up the table to 18th place, however only two points off the relegation zone with ten games to play. The Blues improvement was short lived and City lost 2-0 at home to Oxford and 2-1 at Port Vale. Peter Beardsley then returned to Bolton, he remembers "It was sad in lots of ways because it was Frank Clark who signed me and the day after he lost his job. To be honest, and with no disrespect to anyone at City, I had a great experience at the club. But had I known what was going to happen to Frank I wouldn't have signed".
With City looking like they may be relegated to football's third string for the first time in their history, Francis Lee resigned as chairman on 16th March, he sited "There are enemies within and without. The quality of my life began to suffer as did my family's. I have had four years of unfair pressures and I have even been blamed for performances on the pitch, why, I do not know." Jamie Pollock is brought in from Bolton for £800,000 however he was unable to help City to a win as they draw 0-0 with Sheffield United at Maine Road.  More moves in the transfer market as Joe Royle brings in Ian Bishop from West Ham on a free for his second spell at Maine Road The Blues also splash out £400,000 on striker Shaun Goater. John Foster leaves  the club with a move to Carlisle. The new troops couldn't stop a further defeat as City lose 2-1 at Bradford . However Joe Royle's team put up a great performance to beat Stockport 4-1 at Maine Road but then drew 2-2 at Wolves , lost 1-0 at home to Birmingham and 1-0 at Middlesbrough . City agreed a £5.5m deal with Ajax which would see Kinkladze leave at the end of the season and with two games left he was recalled to the side by Joe Royle, if he could inspire the team to win both games then the Blues would be guaranteed safety from relegation. However despite a fantastic thirty yard free-kick goal from the Georgian the rest of his team-mates couldn't rise to the same heights and City drew their last home game 2-2 against QPR which meant even if City won their last match of the season at Stoke they would only avoid relegation  if certain other results went their way. It wasn't to be, and although City beat Stoke 5-2 in an emotional end to the game news came through that the other games had not gone in City's favour and with the fan's in tears it soon became apparent before the final whistle that City would be playing their next season in the league's third tier for the first time in their history. Shaun Goater, who scored two goals but went off injured in the second half remembers in his autobiography "When I reached the doctor in the dressing room he said Shaun do you want the good news or the bad news? I said he'd better give me the good news and he replied Shaun your shoulder is dislocated, the bad news is we're relegated".
City's player of the year award was announced as Michael Brown before City played Jamaica and drew 0-0 in an end of season friendly at Maine Road.