1995/96 Season
In July Francis Lee controversially appointed Alan Ball as City's manager. Lee commented "Alan Ball says this is the manager's job he has been waiting for and that he is willing to die for the club. If the players go out with the same determination, we will be on our way"  Some of the players weren't as enamored with Ball as Francis Lee, in his autobiography Richard Edghill recalls; 'On his first day of training his wife was upstairs at Platt Lane waving his World Cup medal to anyone who cared, Nobody did, much. His wife would often be at the training ground. Ball tried to stamp his authority but having her flashing his medal about like Tessa Sanderson at the Olympic Games did nothing to help the cause.' Former City player Asa Hartford was appointed as Ball's number 2 and shortly after it was announced City had captured the signature of the Georgian genius, Georgiou Kinkladze from Dinamo Tbilisi in a £2m deal brokered between Francis Lee and the Dinamo President, Merab Jordania.
With City still awaiting a work permit for Kinkladze, who had returned to Georgia to train with his ex-team mates, City went on a tour of Ireland and won 3-0 against Galway United and 2-0 against Cork City.
Back to England and another win, 1-0 in a friendly at Stockport, but then the Blues lost their next two friendlies 2-1 at Wolves and then by the same score at Burnley . The Blues then went on a short tour of Scotland, again without Kinkladze, After a 2-2 draw with Raith Rovers they lost disastrously 5-1 at Hearts.
The team returned to England to the good news that Kinkladze had been allowed a work permit and therefore cleared to play in the new season.
Alan Ball had seen enough in the pre-season friendlies to realise his squad needed re-inforcements and snapped up German goalkeeper Eike Immel from Vfb Stuttgart as well as bringing in Centre Back Kit Symons from Portsmouth. Carl Griffiths and Fitzroy Simpson moved to Pompey as part of the deal. In addition youngster Adie Mike joined Stockport for £60,000
The season opener at Maine Road saw a decent City performance in a 1-1 draw with Tottenham . The Blues then travelled midweek to Coventry and were beaten 2-1 and were beaten again on their travels, 1-0 at QPR . The Maine Road faithful's support was put to the test just four days later as they were beaten 2-0 by Joe Royle's Everton .
A crowd of less than 24,000 turned up for a clash with Arsenal and saw City slip to another defeat, 1-0, and slip to another defeat, 1-0, and slip to the bottom of the table. Alan Ball made another signing, hoping by bringing in striker Gerry Creaney from Portsmouth, in a £1m swap deal with Paul Walsh, he could help turn the tide.
Uwe Rosler was one of several players unhappy with the direction of the club, in his autobiography he recounts: "We had no recognisable formation to speak of and there was general confusion in our play. Unbelievably, Walshy was sold to Portsmouth and in return we got Gerry Creaney who, with respect, was nowhere near the player Paul was. I thought it was a poor piece of business by the club and those thoughts were echoed by our fans, who were also mystified. In many ways it put a huge question mark over Ball's judgement in the minds of our fans and some of the players. I had tried to talk Walshy out of it, but he told me the writing had been on the wall since Ball arrived because I think there was some history between them… it was too late and he headed back to Pompey… Our loss was very much their gain."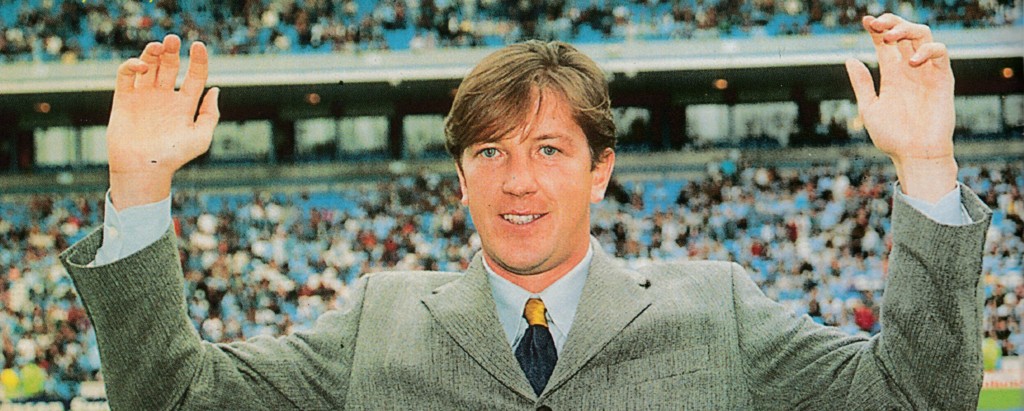 Chairman Francis Lee must have been thinking he may have made  grave mistake by bringing in his former England team-mate and friend, Alan Ball, and those fears increased as City were beaten 3-1 at St James' Park by Kevin Keegan's entertaining Newcastle side.
Things went from bad to worse as City could only draw 0-0 against 3rd Division Wycombe Wanderers in the Coca Cola Cup. They then lost 1-0 at home to Middlesbrough and 3-0 at Nottingham Forest. And so still no wins after nine games and the Blues rock bottom in the league this was the worst start by any City side in the top division.
The tenth game brought the Blues first victory, but just in the Coca Cola Cup as Wycombe were soundly beaten 4-0 in the replay at Maine Road.
But City still couldn't buy a league win as they travelled to Old Trafford and were beaten 1-0 by neighbours United, and then failed to score again in a 0-0 draw at home to Leeds . A poll run in the Manchester Evening News claimed that 83% of callers wanted Francis Lee to stand down, Lee stated "I have made a commitment and I am prepared to see it through. I will stick it out as long as the genuine fans want me to stay."
Worst results were to come though, both against Liverpool . The first was a 4-0 defeat at Anfield in the 3rd Round of The Coca Cola Cup. Followed by a demoralising 6-0 thrashing again in front of the Liverpool Kop, just three days later.
With City sat with just 2 points from 11 games there were understandable calls for Alan Ball to be removed from the Maine Road hot seat by the City faithful. Eventually after eleven previous attempts City got their first League victory,  1-0 at Maine Road against Bolton. A few days after it was announced that Terry Phelan had been sold to Chelsea for £750,000. City were then unlucky not to take all the points in their next game as they drew 1-1 at Sheffield Wednesday , however the slight change in form was not enough to lift them off the bottom of the table. During this period Alan Ball signed virtual unknown, Martin Phillips from Exeter, a player he claimed would become "the first £10m player!"
City did then start to edge away from the foot of the table as they beat Wimbledon At home 1-0 and then the Maine Road crowd was treated to the Georgi Kinkladze show as the mercurial Georgian almost single handidly beat an excellent Aston Villa side 1-0.
Amazingly this turnaround in form earned Alan Ball the November Manager of The Month Award. A resurgent City went on to beat Leeds at Elland Road 1-0 but an unfortunate Richard Edghill was ruled out for the season as he was carried off with a cruciate ligament injury.
December was not to be as fruitful a month as November as City then lost away at Middlesbrough 4-1, before a 1-1 home draw aginst Nottingham Forest and then losing at home 1-0 to Chelsea, and a further defeat 2-0 at Blackburn.
It was a good start to 1996 as a double Niall Quinn strike beat West Ham 2-1 at Maine Road. City then earned a replay in the FA Cup drawing 0-0 at Leicester in the 3rd Round, however City's league form failed them again as they were beaten 1-0 at Tottenham leaving the still in the bottom three. There was bad news as well for Paul Lake as he announced his retirement after failing to regain his fitness after a five and a half year battle against serious injury.
Away from the league and the Blues shrugged off the their league problems with an emphatic 5-0 win over Leicester in the FA Cup 3rd Round Replay at Maine Road. A few days later it was announced that Tony Coton had left to move to rivals United and Ronnie Ekelund returned to Barcelona after his loan spell. Then followed two 1-1 draws at home to Coventry and away to Southampton where both Nigel Clough and Michael Frontzeck made their debuts as City clawed their way out of the relegation zone.
City then beat QPR 2-0 before making it 5 games unbeaten drawing 2-2 against Coventry at Highfield Road in a delayed FA Cup 4th round tie. However they fell back into the relegation zone as they were beaten at Goodison 2-0 by Everton.
With the knowledge they would meet neighbours United in the next round City saw off Coventry 2-1 in the FA Cup 4th Round Replay at Maine Road. However the trip to Old Trafford in the 5th round proved to be a match too far as they were beaten 2-1 by Manchester United.
Scott Hiley made his debut in a classic entertaining 3-3 home draw against Newcastle followed but that couldn't move The Blues out of the bottom three.
A further home draw followed, 1-1 against Blackburn, and then a trip to Highbury ended in a 3-1 defeat against Arsenal, City had a respite from the league with a friendly at Athlone Town which they lost 2-1, however the Blues travelled back to London to gain a creditible point against Chelsea drawing 1-1 and then a further 2 points were earned with a 2-1 win over Southampton.
It was then a case of one player in and one player out as the Blues signed Mikhail Kavelashvili from Spartak Vladikavkaz and Garry Flitcroft moved on to Blackburn for a fee of £3.2 Million.
Another trip to London ended in a 4-2 defeat at West Ham, however the Blues were clawing their way out of the relegation zone and with a further 1-1 draw against Bolton the Blues were 5th from bottom, 4 points above the relegation zone.
It would be Neighbours and rivals Manchester United, however who would soon put a stop to The Blues improvement as they beat City 3-2 at Maine Road. The Blues then conceded a further three goals without reply at Wimbledon.
Relegation was now staring Alan Ball and his players in the face, however they rallied with two 1-0 victories, at home to Sheffield Wednesday and away at Aston Villa.
If City could just get something out of the last game of the season it looked like they could stay up and a 2-2 home draw with third-placed Liverpool on that final day looked to have secured their survival. But positive results, and a greater goal difference, for the two sides directly above them, Coventry City and Southampton, condemned the club to relegation after seven years in the top flight.
Georgi Kinkladze was voted Player of the Year and Michael Brown the Young Player of the Year at a sombre Supporters Club end of season event.
There was one end of the season fiendly as City were beaten 6-1 at Wrexham in Cliff Sears Testimonial.
 .
.