1989/90 SEASON REVIEW
Newly promoted City spent almost £2m in the summer bringing in Clive Allen from Bordeaux, Ian Bishop from Bournemouth and Gary Fleming from Nottingham Forest. Mel Machin recouped £725,000 with the sale of Wayne Biggins and Ian Scott to Stoke and Paul Moulden to Bournemouth.
City's pre-season consisted mostly of a tour of Norway. Opening with a 2-1 win over Askim and a 3-1 win against Sandefjords. Then an emphatic 10-0 mauling of Lervik with new signing Clive Allen claiming six of the goals.
The Blues finished the tour with three draws, 3-3 against Oslo-Grei, 0-0 against Tromso and 0-0 against Faaberg.
Back in England and pre-season was completed with two testimonials. A 2-0 win at Bolton in Nat Lofthouse's benefit and then a 2-0 win in Mike Duxbury's testimonial against Manchester United at Old Trafford.
City opened the season at Liverpool, but a good performance by Mel Machin's team wasn't enough to avoid a 3-1 defeat. Unfortunately at home The Blues were less impressive and lost 2-1 against Southampton.
The first point of the season was gained against Tottenham in 1-1 draw at Maine Road, however a further defeat, 2-1 at Coventry meant The Blues had taken just one point from a possible twelve. It was then announced that Nigel Gleghorn had left the club in a £175,000 move to 3rd Division Birmingham
A first win of the season 1-0 at home to QPR was easily forgotten as City lost their third away game on the trot 1-0 at Wimbledon.
Things didn't get any better for Mel Machin in the Littlewoods Cup as The Blues were beaten 2-1 at Brentford in the 1st leg of the 2nd round, so you could well understand the trepidation of the City fans as the Manchester Derby at Maine Road loomed on the horizon.
City fans shouldn't have worried about the meeting with Manchester United as Maine Road witnessed one of the most amazing derbys as city ended up 5-1 winners. The Blues carried on the momentum into their next home game beating Luton 3-1.
Carl Bradshaw, who had been on loan at Sheffield United made it a permanent move with City receiving £50,000 for the striker.
The Blues made it three wins on the trot as they beat Brentford at Maine Road 4-1 to progress to the 3rd round of the Littlewoods Cup
City were then brought down to earth at Highbury as they were beaten 4-0 by Arsenal. And so after nine games City stood in 14th position, four points off the relegation zone.
City lost again a week later 2-0 at home to Aston Villa. However in the Littlewoods Cup 3rd Round the Blues pulled off a great 3-1 victory at Maine Road to dispose of Norwich.
A good 1-1 draw at Chelsea followed and then a 3-0 home win over Crystal Palace. Just as things seemed to be improving 'the wheels fell off the cart' as Mel Machins team were humiliated in a 6-0 defeat at Derby.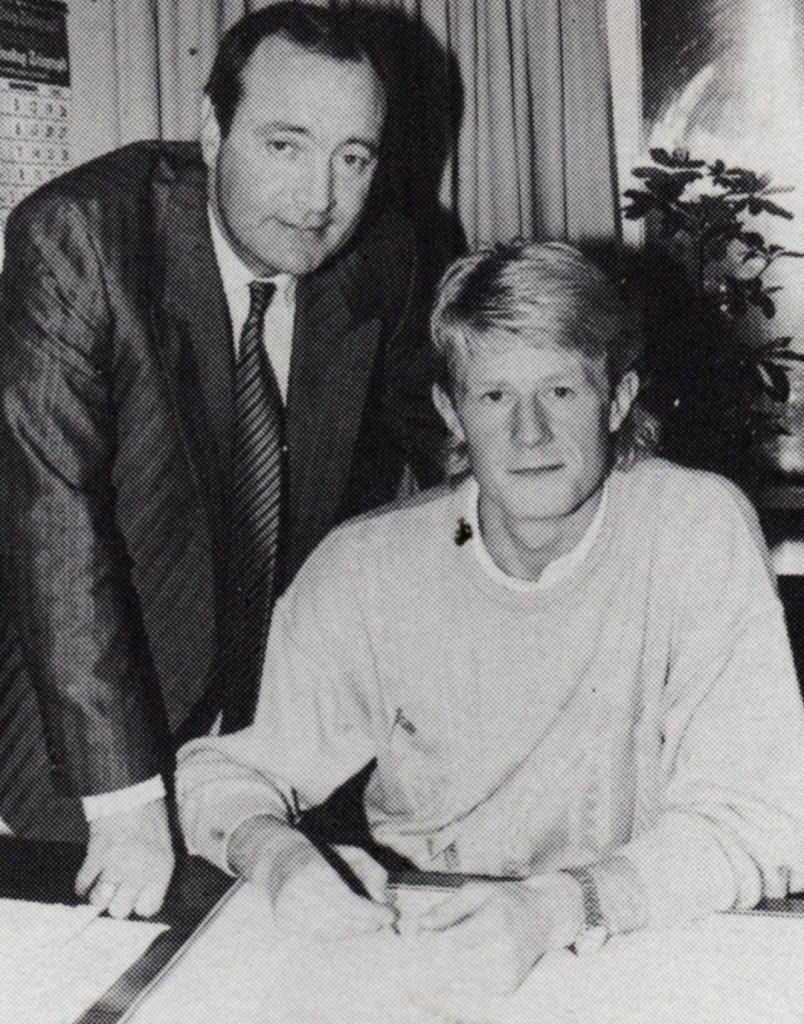 Colin Hendry was brought in for £750,000 from Blackburn to try and shore up the defence, however City lost again, 3-0 at home to Nottingham Forest and were now second from bottom of the league.
A 1-0 home defeat to Coventry in The Littlewoods Cup 4th Round was the final nail in the coffin for Mel Machin and he was sacked by the board.  A managerless City then drew 1-1 at Charlton, after the game Machin's departure was announced and then the Blues went on to lose 3-2 at Nottingham Forest in the Zenith Data Systems Cup and in the league 4-1 at home to Liverpool and 2-1 at Southampton to leave them rock bottom of Division 1 after 17 games played.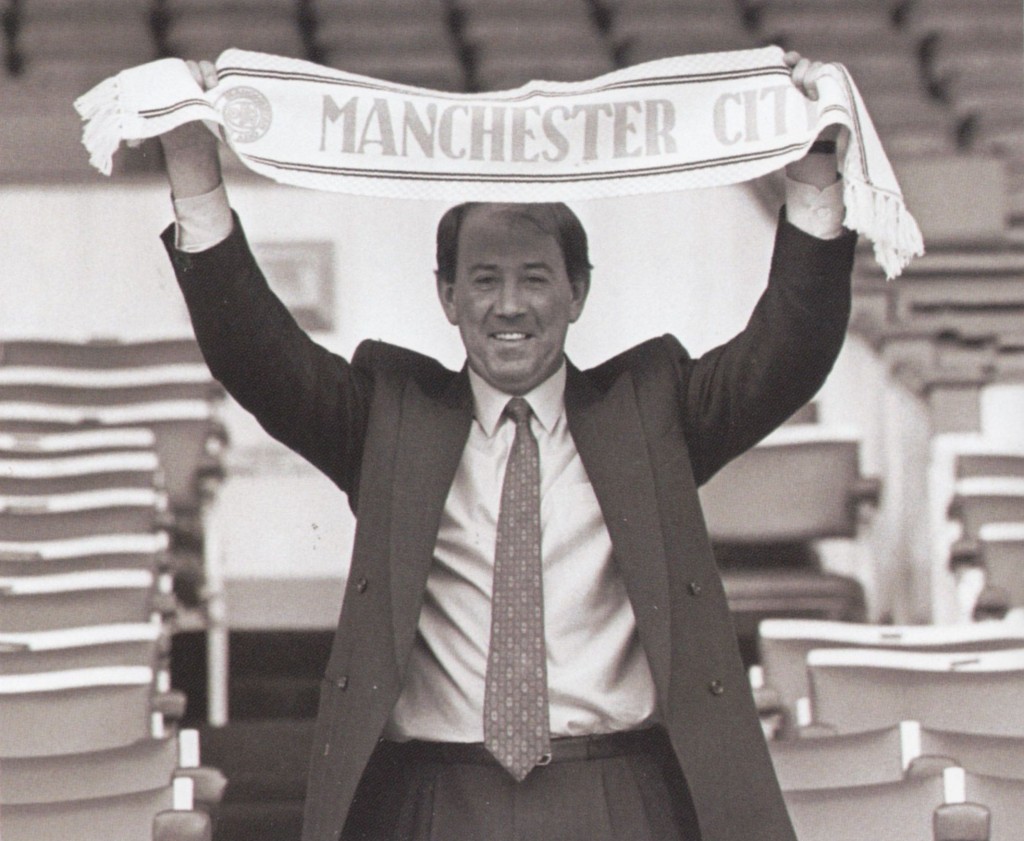 The ship had to be steadied as soon as possible and Peter Swales pulled off a major coup by persuading Howard Kendall to take over as manager. Kendall immediately brought in Peter Reid from QPR as Player Coach. Reid recalls in his autobiography "Howard called me, I suppose it would be described as an illegal approach nowadays because he just came out with what was happening with him, and what he hoped would happen with me. 'I'm coming back, lad," he said. 'Do you fancy coming to Man City with me? ]ust to dangle the carrot a bit more, he told me that if I moved up there with him I'd be working as his number two as well as playing".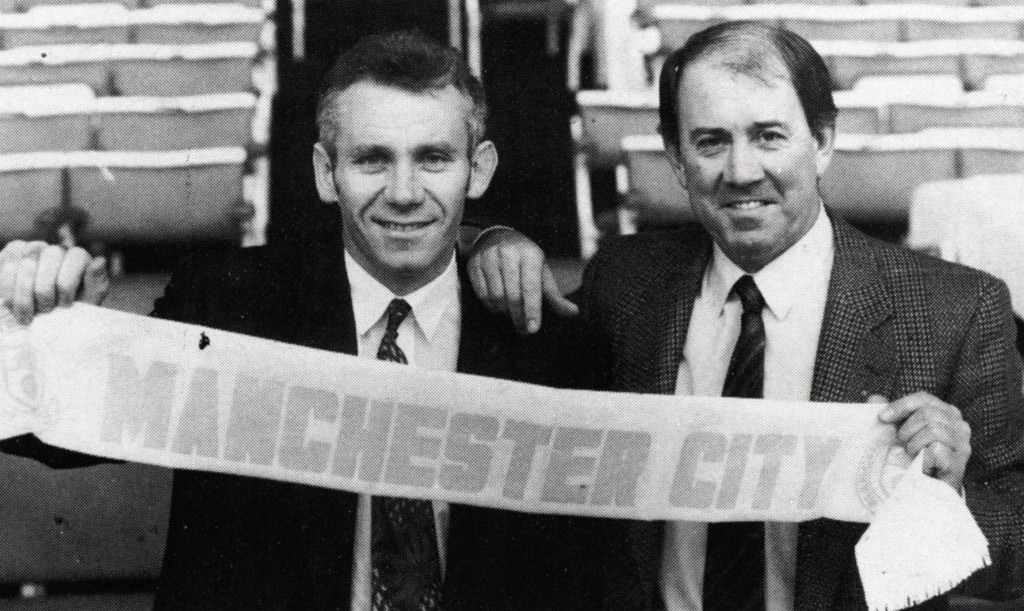 Kendall also signed Alan Harper for £150,000 from Sheffield Wednesday. The new regime made an immediate impact as Kendall gained a creditable 0-0 draw against Everton at Goodison Park.
The improvement continued over Christmas as Norwich were beaten 1-0 at Maine Road on Boxing Day.
City then brought in Mark Ward from West Ham, a deal valued at £2M that saw Ian Bishop and Trevor Morley move to Upton Park.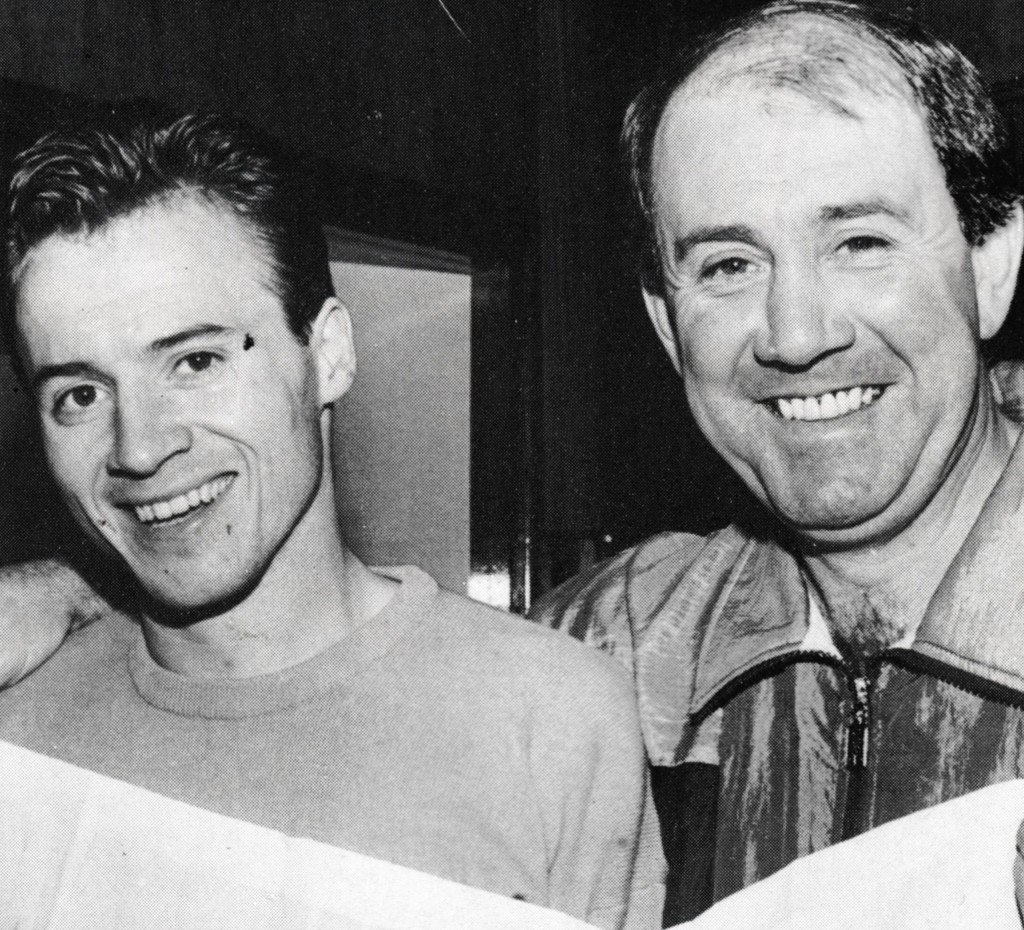 Ward made an impressive home debut as The Blues beat Millwall 2-0 in City's last game of the decade.
Kendall suffered his first defeat on New Years Day as City lost 2-0 at Sheffield Wednesday, however The Blues position in the league was improving as they moved three from bottom.
The FA Cup saw an early return for Millwall at Maine Road and the 3rd round tie ended 0-0. three days later the replay at Millwall's Den was also drawn 1-1.Howard Kendall was certainly beginning to stamp his own ideas at Maine Road and he brought in yet another ex Everton Player, Wayne Clarke, the deal saw David Oldfield and £135,000 move the other way to Leicester.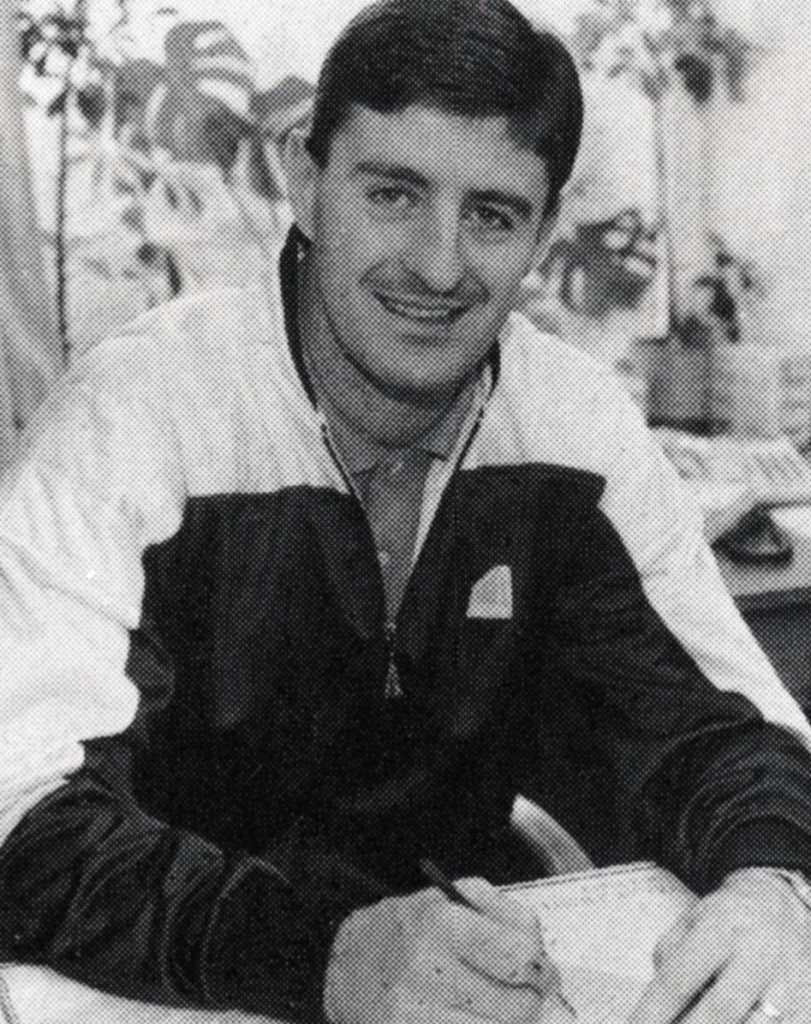 The Blues also bid farewell to Neil McNab who joined Tranmere for £125,000, Gerry Taggart moved to Barnsley for £100,000 and Andy Milner joined Rochdale for £20,000.
Back to the League and and another creditable away draw 1-1 against Tottenham.
The FA Cup 3rd Round tie was eventually decided as Millwall drew home advantage and beat the Blues 3-1.
After just 55 appearances for City Brian Gayle was then moved out of the club, joining Ipswich for £330,000
Following their FA Cup exit The Blues could now concentrate on clawing their way out of the relegation zone and a 1-0 win at home to Coventry and a 1-1 draw against Manchester United at Old Trafford saw City rise to the 'heady heights' of 14th in the league.
City could only muster a 1-1 draw at home to Wimbledon and dropped to 4th from bottom after 25 games. It was time for Kendall to bring in another ex Evertonian as he signed Adrian Heath from Aston Villa for £300,000.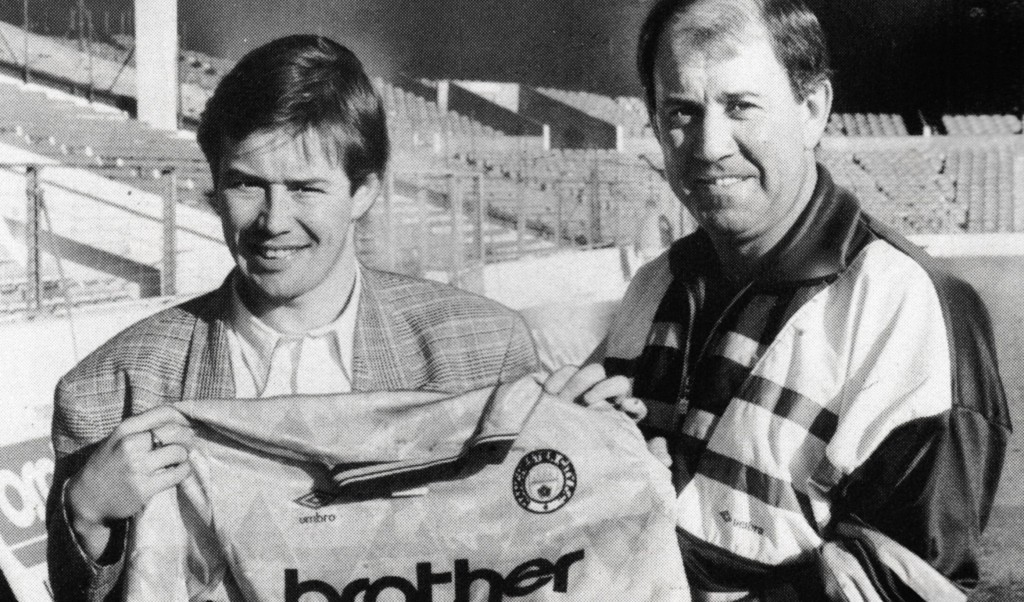 Heath's arrival saw two defeats for the Blues 2-1 at home to Charlton and 1-0 at Nottingham Forest, then two draws 1-1 at home to Arsenal and 1-1 at Luton, and so without a win in six games and now 3rd from bottom of the League with nine games to go Kendall splashed out £800,000 on Arsenal striker Niall Quinn.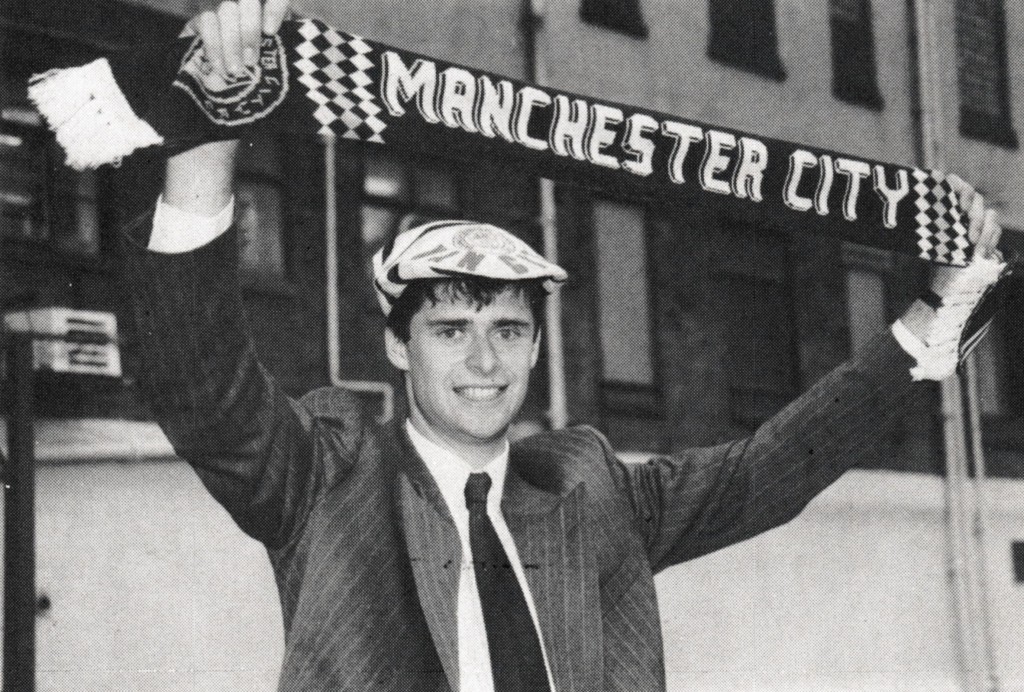 Quinn scored on his home debut but City could only manage a 1-1 draw against Chelsea, however The Blues then beat Aston Villa at Villa Park 2-1 and drew 1-1 against Millwall at the Den  to leave them four from bottom with just six games to play.
City then won 3-1 at QPR and 2-1 at home to Sheffield Wednesday, then on Easter Monday The Blues place in Division 1 was guaranteed as City beat Norwich 1-0 at Carrow Road. The fans showed there full adulation for Kendall's rescue of their club and during the last run of eight unbeaten games the Kippax adopted Blue Moon as their new anthem.
The season ended with a 1-0 home win against Everton then a 1-0 home defeat against Derby and in the last game of the season City drew 2-2 against Crystal Palace at Selhurst Park.
Colin Hendry was named City's Player of The Year.