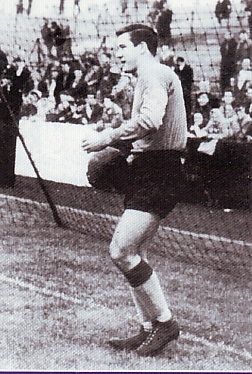 Steve Fleet was born in Urmston on 2nd July 1937, and was involved with Manchester City for Over 50 years, first as a player making his debut in 1957, then a coach and later as manager of the Platt Lane complex. His early City career saw him as goalkeeping understudy to the great Bert Trautmann.
stats
City appearances 5
Wrexham appearances 79
Stockport appearances 36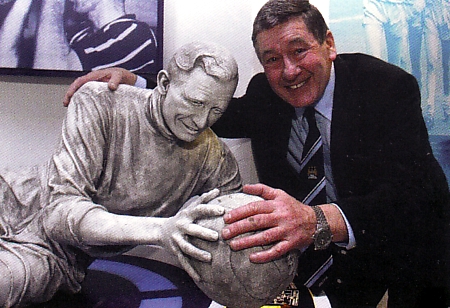 AN INTERVIEW WITH STEVE FLEET FROM APRIL 2004
You made your debut against Wolves in 1957, can you remember much about that day?
I actually heard I was making my debut from the Manchester Evening News. I woke up to find a newspaper reporter and photographer on my doorstep, and they told me I was actually going to play. City had told me to report for training pre match but hadn't said anything about being in the team. The reporter asked me what I thought of the news and then they got me to pose next to my record player, I suppose they wanted me to be doing the sort of things any 20 year old would be doing.
The game was a thriller and ended 4-3 to Wolves, how do you think you played? I thought I'd played well, and I was fairly happy with my performance. I remember it was a bit of a foggy day and also that Wolves were powerful, they won the League that season and were one of the great sides of the period. Afterwards I saw the newspaper reports and they were full of praise, so that was great. In addition Frank Swift, a truly great City & England 'keeper, wrote a very complimentary piece in his newspaper column and said I had a great future ahead of me, while Bert Trautmann told reporters I was the best young 'keeper he had ever seen. All of that praise made me feel terrific of course, but I also knew I was only filling in until Bert was ready to return. He was an outstanding 'keeper and there was no way any other 'keeper would replace him if he was fit.
Did you feel despondent knowing you had little chance of replacing him on a regular basis?
No, not at all. I knew I was still young and all the praise made me feel that I would eventually be City's number one. I suppose I felt I had to serve out my apprenticeship first of all. There were other good 'keepers at City, including Roy Dixon, the father of the famous Arsenal player Lee Dixon, but I was sure my day would come. I was also delighted to be second choice to Bert. He was a terrific player and a great man.
Did he coach you or help in any other way?
Bert helped in every way. He was a great role model and taught me so much about life as well as football. He was like an older brother to me and I was fortunate to be taken under Bert's wing. He insisted I presented myself well, clean shoes, wear a tie etc… at all times. I listened and followed his lead both on and off the pitch. My father needed a car to go south on holiday once and Bert offered to let Dad use it. For a fortnight my Dad had his car and when it came time to give it back, Bert refused any payment of any kind. He was terrific to be with and he remains a great man. There are few men in football or in life like Bert. Even today every former player looks at Bert Trautmann in awe, he is a true great and there are very few around. As I was 14 years younger than him I thought I was being groomed as his natural successor. It didn't quite work out like that, but Bert tried to ensure I was given some opportunities. I only managed to play five League games and one League Cup match during my City career but Bert ensured l'd play in some of those. I only found out recently but Bert deliberately pulled out of a couple of games simply so that I could get the opportunity. City would try and make him play every game, no matter how fit he was, and he often played when not fully fit because everyone demanded it, but for those games he made sure I got my chance.
Did you always play in goals, or did you start as an outfield player?
I didn't like playing in goal at first and always wanted to be an outfield player but I was too slow. When I was nine I played a game in goal and I remember a teacher shouting 'great save', and that spurred me on. The encouragement helped me enormously and, later when I became a coach, I always tried to ensure I encouraged and gave opportunities to those playing for me. My first ever City match was in the Wythenshawe League for City's 5th team. Charlie Gee, the ex-Everton & England star was watching and I remember him complimenting me on how I'd played. Again that encouragement gave me a major boost.
What was training like at City when you first started to make it into the first team?
We'd train in the mornings, but nothing in the afternoon. We'd finish at lunch and |'d then go over to United's training ground, The Cliff, to meet my best friend Eddie Colman. All the United youngsters would still be training hard for Bert Whalley, I think that was the big difference at the time. United, under Busby, and Wolves, under Cullis, were concentrating on coaching and on youth development, whereas the Clubs managed by more traditional managers were doing what they had always done. Sadly, Eddie later died in the Munich disaster and I was a pallbearer at his funeral, no one can underestimate how the disaster affected all Mancunians. As a young boy I was brought up in Ordsall and played for Salford Boys with Eddie, the first photo ever taken of me playing was in 1951 when Salford Boys beat Manchester Boys 1-0 in front of 11,000, and they used to take us to watch United. Then I got the chance to go to Maine Road to watch City. I loved the colour of City's shirts, a beautiful colour, and I also knew that City's ground was better than Old Trafford, it definitely Was.
One of your League appearances was, against United in 1961, do you remember much about that?
It was highly controversial! City were the better side in the opening minutes and United's key danger was Alex Dawson but every time he challenged I had the better of him. Every time he jumped for the ball I would jump higher and catch it. There were no problems. Then it all changed. We both went up and his only chance of beating me was to punch the ball with his fist! He did that and amazingly the referee gave United the goal. I could not believe it, and afterwards Dawson admitted what he had done, I still have the newspaper cutting! but it was too late, and United went on to win the match.
When Bert's City career neared its end did you feel your time had arrived?
Unfortunately not. In fact it felt as if my time had already gone. I made a big mistake waiting all those years because, despite the promise and the positive coverage at the start of my career, I had stagnated to some extent in the reserves. It was great being number two to Bert, but I now realise I should have moved on earlier I would never advise a young boy to wait to fill anybody's shoes now. You do need first team football if you want to develop. I never achieved my full potential. I was frustrated when Harry Dowd's opportunities came but, fortunately, Ken Barnes was now the manager at Wrexham and he asked me to go there. I was at last a true first team footballer. A couple of years later Bert was manager at Stockport County and he asked me to go there. We won promotion and I started to do a bit of coaching, I coached Ken Mulhearn who became City's keeper.
Is that when you started moving into coaching?
In 1969 I moved to Altrincham as a player and started coaching there, then a year later I moved back to Stockport as Chief Coach. In 1973 I got the chance to come back to City and work with the Youth team. It was then that we tried to create a Busby style youth dynasty at Maine Road. We figured that if we could find good lads, coach them correctly, and give them the right opportunities we'd be able to keep the Club progressing.
With Harry Godwin, Ken Barnes, and all the other members of City's backroom staff, you helped find and develop several exciting players. Who was your favourite from a footballing point of view?
Peter Barnes had the greatest skill and he was one of the nicest young players as well. He was always appreciative of the support given to him. He had lots of natural skill but was grateful for the advice given. Clive Wilson was another very skilful player, but I suppose l was most pleased for Kenny Clements. Initially nobody rated him and he had to go on the groundstaff. We kept throwing him into practice matches and eventually Ian McFarlane recognised his ability and his career blossomed. Gary Owen was the most enthusiastic player l ever had, while Alex Williams was another nice young man who developed well.
This was a golden period for youth football at City, reaching the FA Youth Cup final in successive years (1979 & 1980). How did it compare to your own playing career?
I loved playing of course, but I believe my biggest contribution to football came after my own playing days were over. The development of the Youth set-up during this time saw Ken Barnes, myself and the others give the Club much more than the occasional victory. Some of our players were the backbone of the League side in the seventies and eighties. It was the most productive time in the C|ub's history for youth.
Around this time you also had a regular column in the match programme on astrology. That seems an unusual topic for a football programme and a former player. How did that come about?
I was once on holiday in Abersoch and the weather was appalling so I sat reading an article in Cosmopolitan about star signs. I started to look into it further and eventually astrology did help me a little in football. Once I knew someone's star sign it gave me an indication of how to handle the player. Then one day City had been playing John Bond's Norwich and Kevin Bond had played well. They'd managled a draw, which was very unusual for Norwich at the time. As they came off the pitch Kevin Bond was asking for a telephone. It seemed a real emergency, so I took him into one of the offices and he made his call. Some of the other backroom staff were around and we all listened to his call. It turned out he'd 'phoned his mother to tell her about the game. I watched and listened and as soon as he came off the 'phone I asked "Kevin, I hope you don't mind me asking but are you a Cancerian?" It turned out he was and the rest of the staff were amazed that I could guess. There's no point going through it all now,
but during the call Kevin displayed typical characteristics of a Cancerian. One thing led to another and before I knew it l'd been talked into writing a piece by Eddie Booth. I used to give information on typical characteristics and would try and link this in to players with birthdays etc. After a while it started getting crazy, I was receiving all sorts of letters, nothing to do with football, and we decided to stop the articles before they took over!
Once John Bond arrived as manager, the youth emphasis changed and you found yourself moving on. How do you View the period that followed?
It was a great period for me personally because I went coaching in Iceland and gained a great deal of experience but also developed further as a person. Staying at one club, or in one job, can make you stale, but if you move to other clubs and other countries you get different experiences. There were also the major cultural differences, there was a lot to learn. I was in charge of Akranes, Ami Arason's team before City, and then IB Vestmann in 1982. At Vestmann we managed to get into Europe two years running, going out to a Polish side and an East German side, so I'm very pleased with that career period. I returned to England in 1984 and worked for Ron Saunders at Birmingham, I know Ron has his City critics but I always got on well with him, and was delighted when he gave me the opportunity he did. At Birmingham I coached Tony Coton and, of course, David Seaman was also there then.
You eventually returned to City as Sports Development Officer and later managed the Platt Lane Complex. Was this another period of personal development for you?
Definitely. Every period of life teaches you something and I found that the experience away from City helped me, but I also found I gained a great deal at Platt Lane. As a player I think I always knew that I wasn't destined to be a great player, but I always tried to do things in a 'great way'. I wanted to ensure my approach was right and I think my spells coaching at Maine Road and Platt Lane were my major contribution to this Club.
You left City's employment for the last time in 2000, what did you do for the final years of your working life?
I worked for Manchester City Council Leisure department as an Events and Activities Co-ordinator. Again I gained much from that role because it brought me back to reality and I started to work with non-footballing people. There were some good people there again, and I enjoyed that final period of work.
Finally, thinking about your retirement, do you miss football?
I still watch City of course, and I also love the involvement with the Former Players' Association. I enjoy helping people and I do love attending functions and so on. Most of all though retirement allows me to look back and consider how my life has progressed so far. Like everybody else I've suffered some major tragedies and problems over the years and, at times, these were extremely hard to face, however I now look back and realise that all of this has helped shape my life and personality. I am a great believer in fate and I do think that everything happens for a reason, so I'm not one to feel bitter. I've enjoyed my footballing life, and am delighted with every aspect of it. I particularly loved coaching City's youngsters, but I have to say that I am happier today than I have ever been.
INTERVIEWED BY GARY JAMES AND PUBLISHED IN THE CITY PROGRAMME 10TH APRIL 2004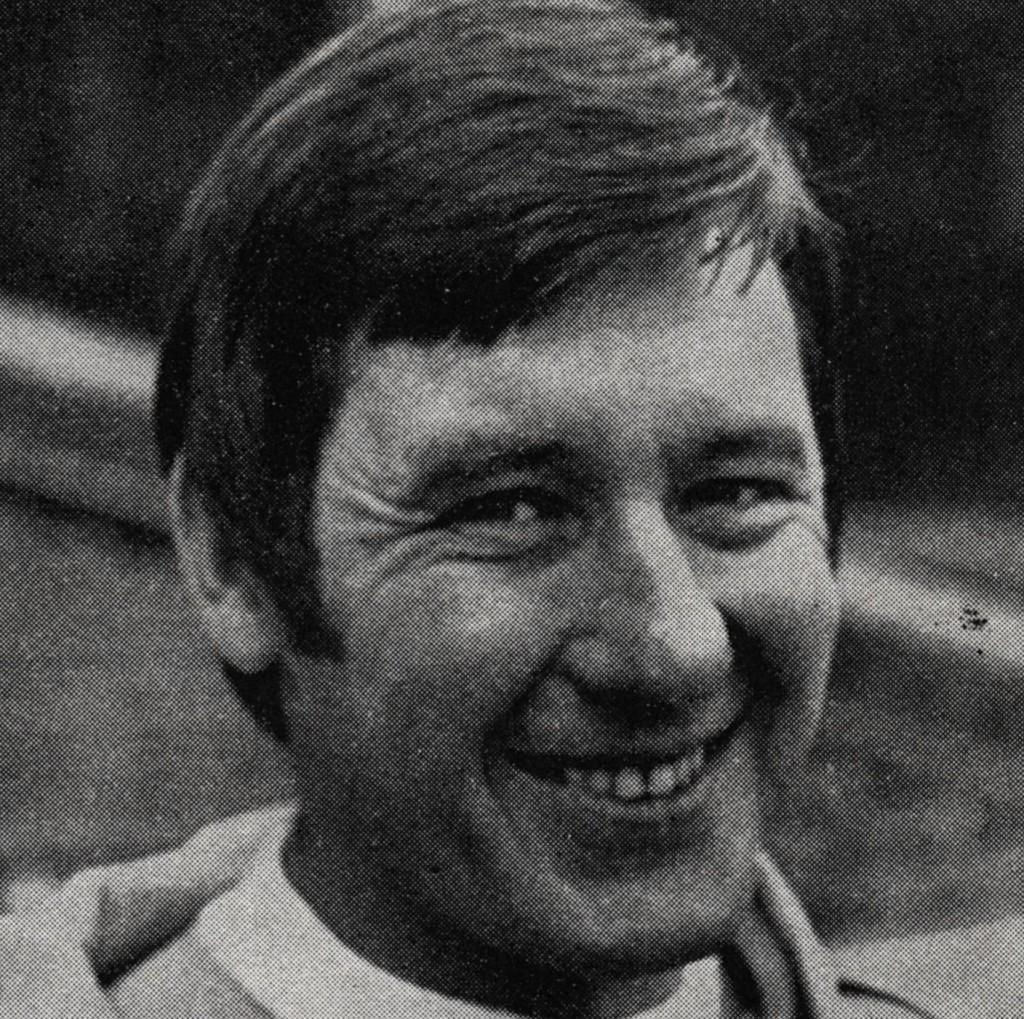 An article published in the City programme 25th August 1973
MAINE Road has not ranked as the land of opportunity for Steve Fleet. Ten years on the playing staff produced little more than one-dozen appearances in the first team, but that's the kind of thankless task it was being the understudy to City's legendary goalkeeper Bert Trautmann.
In frustration, back in 1963, he left for more profitable pastures and signed for Wrexham.
But for a true romantic like Steve, the Manchester City name always had something special to offer even if it wasn't first team football. And that is why he's back AT HIS OWN REQUEST. This time opportunity promises to knock a lot more loudly following his appointment earlier this month as the new youth team coach, a position held a couple of seasons back by manager John Hart.
For Steve, who was 36 years old at the start of July, the wheel has turned a perfect full cycle despite the presence of a few bumpy stretches on the way. It's 20 years to the month since he first stepped, quite timidly, into Maine Road and a soccer career.
"The place hasn't changed. There are new faces about the building, but Maine Road has still got that charm and character I recognised and appreciated when I was a player. l've got a sentimental streak. and this has been like a home-coming" said Steve unashamedly.
His City job is quite identical to the operation he ran at Stockport County, the employment he has just left. If City derive as much benefit as Stockport have done working on a very strained budget, there will be no complaints. From scratch he formed a youth team which transformed from a "nothing" bunch of hopeful youngsters to a team capable of winning their section of the Lancashire League last season (no mean feat against the pedigree juniors of leading First Division clubs). Eight of his Stockport youth pool graduated to the first team and four players became established senior choices. Including Paul Hart, son of City's manager, who has since been sold from Stockport to Blackpool for £30,000.
"l hope to do for City in the First Division what I did for Stockport in the Fourth Division. It's a big difference in standards, but there's also a huge difference in facilities available and also more appeal in offering a youngster the City name for a future. "My job is to get the best out of the youngsters in liaison with our chief scout, Harry Godwin. Harry will be naming the two junior teams for the first couple of months while I find my feet and get to know the players.
"We will work closely together," Steve stressed.
Why junior coaching? "l've had a lot out of football, it's been good to me. But when I reflect on my career as a goalkeeper I often think how much better I might have been had somebody shown an interest in me as a kid. That's not a complaint, but it has made me realise that kids are worth a lot of attention and it's worthwhile getting involved with them.
"I see it as my responsibility that lads should develop. l want to take a personal interest in the individual, his problems, and sort it out if a lad gets a chip on his shoulder. That's one of the worst things that can happen to a young player," he answered.
Steve, whose family (wife Jean, son Wesley, aged 11, and Ben, aged 4) have never lifted roots from their Didsbury home, feels sure his grounding is the right kind.
After three years playing at Wrexham he spent three seasons as Stockport's goalie. During that time he was encouraged to pursue coaching by the management of Eddie Quigley and Jimmy Meadows. At this stage Steve gained a F.A. preliminary coaching badge, and has since fully qualified.
His playing days ended at non-league Altrincham through a broken wrist, and he filled in his contract with his first proper stint of coaching. More valuable experience was gained in Africa in 1968 when over 2 and a half months he coached his Zambian club team into second place in their League table.
It's an acknowledged fact of any football club's life that youth is the life-blood of their game. For Steve Fleet this time opportunity has knocked and the door has been opened.