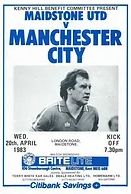 MAIDSTONE UNITED 2 CITY 4
Benefit for Kenny Hill
20th April 1983
Attendance ?
Scorers
City Thompson(34), Bodak(36), McDonald(83), Fould(89)
Maidstone Green(30), Wilson(80)
FROM THE PRESS BOX

PETER GARDNER WRITING IN THE MANCHESTER EVENING NEWS 21ST APRIL 1983
… This is the price City may have to pay for their generosity in fulfilling a testimonial match at this delicate stage of the season.
Reeves limped off after just 18 minutes of last night's 4-2 victory over Maidstone United, the Alliance League leaders.
Reevves said: "I knew immediately what had happened, although the good thing is that my hamstring didn't snap. But it's still very sore and I suppose I have got to be doubtful."
Better news for City is that key central defenders Tommy Caton and Kevin Bond will be fit for the weekend. Caton (calf) and Bond (groin strain) played at some stage last night, when newcomer Ian Thompson scored with a 34th minute header from a Dennis Tueart cross.
Peter Bodak, Bobby McDonald, and Dave Fould scored City's other goals, with Clive Green and a penalty by Mark Wilson replying.
Fould is a local restaurant owner whose 15 minute guest stint with City earned £500 for a local hospital charity.