IVOR BROADIS
Ivor was born in Welling in Kent in 1922 and played junior football at Spurs and Millwall.
At 17 he left football behind and joined the RAF where he rose to Flight Lieutenant Navigator. During World War 2 he was posted in Carlisle where he played as a guest in several Carlisle United games, they must have been impressed with the striker as in 1946, aged just 23 he became Carlisle's Player Manager.
He scored over 50 goals in his three years at Brunton Park, before moving to Sunderland for £19,000 in February 1949.
He didn't have the best of times at Roker Park and two years later Manchester City, who had courted the forward before he joined Sunderland, eventually got their man paying £25,000 for his services.
Just one month after arriving at Maine Road he was honoured with his first full cap for England at the age of 28.
Although he played several more times for England he never settled in Manchester and after two years he asked for a transfer, City refused so Broadis threatened to quit football altogether, therefore City allowed him to leave and he joined Newcastle in November 1953 for £18,000.
After a few seasons with Newcastle it was clear that Ivor was struggling to settle at any club he went to, he was sometimes seen as a rebel and a troublemaker by clubs as he seemed to be a spokesperson for player's issues wherever he played, and he moved on again, back to Carlisle for a fee of £3,500, where it was thought he would stay until he retired from the game, however after four years at Carlisle at the age of 36, he moved to be Captain of Queen of The South before retiring at the age of 38.
He became a Football journalist until his retirement, and lived near Carlisle with his family until his death on 13th April 2019 at the age of 96.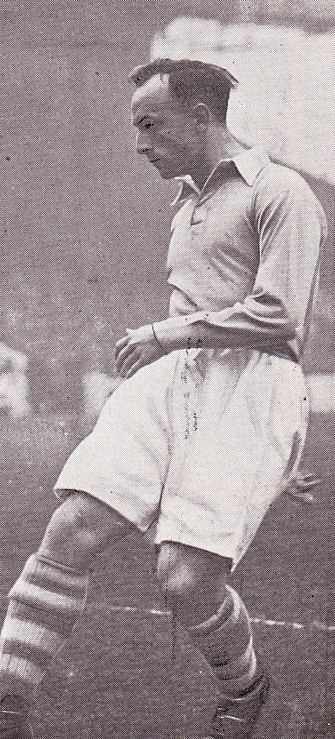 Ivor was an outstanding inside forward and belonged to that not too common species an intelligent footballer on the field and an intelligible one off it.
He hailed from London and after a short spell with Spurs as an amateur, he joined the RAF when he was little more than 17 and served with distinction as a flight lieutenant and navigator with Bomber Command.
After retiring  he became a sportswriter in The North East.
From an article by Eric Todd, The Guardian Dec 1971