ERNIE TOSELAND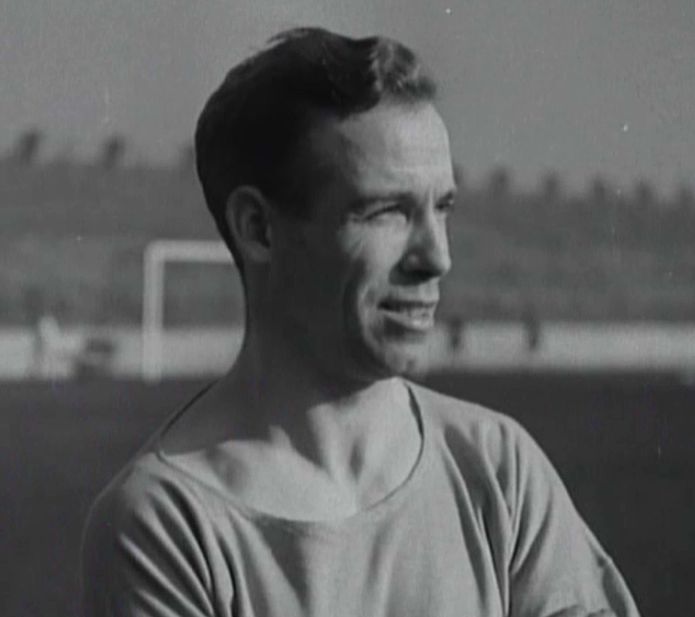 An article by Eric Todd in the City programme 25th September 1971
IN days of old when wingers were wingers and centre forwards were glad of it, Manchester City had one of the most formidable attacks in the country. When they won the League championship in 1937, they scored 107 goals, when they were relegated in 1938, they stillmanaged to collect more goals (80) than any other side in the First Division.
And in the Second Division with 96 goals, more than anyone else in the whole League.
They had the men who knew how to score and how to lay on goals for others. In Ernie Toseland they had an outside right who could and did do both. He was at once one of the most consistent scorers and generous providers in the business.
Born in Kettering and reared in the East Midlands League, Toseland arrived at Maine Road from Coventry City towards the end of the 1928-1929 season, and was in regular attendance for the next ten years. He was fast and direct and today he can, and will do so without much nudging, give you chapter and verse of nearly every game in which he played. Particularly the Cup semi-final of 1934 when City beat Aston Villa 6-1 at Huddersfield. "It didn't take us long to realise that Villa were weak down their left flank, so I decided the best thing to do was attack. Anyway Tilly got four goals and me and Alec Herd got one apiece. It was marvellous. lt was great being on the wing for City in those days".
Toseland was a great character and a great player who never won the representative honours he deserved. He moved to Sheffield Wednesday shortly before the war during which he helped to teach the young idea how to drill and shoot, what else? and when the war was over, Toseland found there was no place for him at Hillsborough. He had one season with Rochdale, and then gave up football and embarked on a new career in the world of wines and spirits.
He had to start from scratch, bottling and labelling, but he is now a manager with the firm which he has served diligently for more then 20 years. Toseland all his life was nothing if not thorough.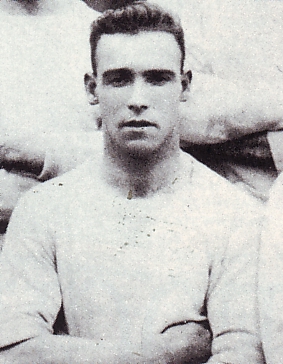 AN ARTICLE BY RICHARD BOTT, PUBLISHED IN THE CITY PROGRAMME 24TH OCTOBER 1987
City supporters were saddened by the news earlier in the week, of the death of Ernie Toseland, one of the last surviving members of the FA Cup-winning side of 1934, He was 82,
ln his hey-day, Ernie was a wingman of such electrifying pace that he was nick-named The Jesse Owens of football after the brilliant black Olympic athlete of that era.
And he had to show a fair turn of speed on one particular Saturday in November 1932, At 11 o-clock in the morning he arrived at St Cnspins Church, Fallowfield, wearing a neat blue serge suit. A few moments later, his bride, Grace Renard, alighted from one of the wedding cars, After the marriage ceremony, Ernie almost sprinted from the church with Grace and told well-wishers; "l've got to rush, I'm playing for City this afternoon". There was just time to hurry to the brides home, in Bowden Avenue, Fallowfield, for a brief reception, then Ernie was off to Maine Road for the First Division game against Aston Villa. Ernie said he hoped to play '*the game of my life". Whether he did or not, City triumphed 5-2 and Fred Tilson cracked four of the goals,
Northampton born, he had first demonstrated his greyhound. pace as a wing three-quarter for the school rugby team. Then he turned to soccer and played as an amateur for both Northampton and Queens Park Rangers. But it was from Coventry City, for whom he scored 11 goals in 22 League games, that Manchester City secured his signature, in March 1929, for £3,500.
Although he was to become one of the finest right wingers in City's history, Ernie's only representative honour was gained in his first full season at Maine Road, when he was chosen to play for the Football League against the lrish League. His speed, guile and consistency, he was an ever present in the 1929-30 season, had a profound effect on City's form. They finished third in the League and recorded a 10-1 victory over Swindon Town in the FA. Cup, Bobby Marshall scored five in that romp.
Far greater FA. Cup glory lay around the comer but remained agonisingly out of reach for a while. In the 1931-32 season, City reached the semi-finals only to lose 1-0 after outplaying Arsenal at Villa Park. Heads were held in utter disbelief when City's Wembley dream was shattered by a bizarre goal for Arsenal in the very last minute. City's goalkeeper Len Langford who had been Ernies 'Best Man', punched a shot from Arsenals Cliff Bastin against the bar, The ball dropped on to the goal-line, bounced up against a post, down again, then spun into the net!
Earlier, in the sixth round, Toseland had scored against Bury at Gigg Lane. That was another incredible affair, City leading 4-0 then scraping through 4-3 after a determined Bury revival, The flying wingman was to score an even more important FA. Cup goal the following year, when City beat Derby County 3-2 at Huddersfield to reach Wembley and a final against Lancashire rivals Everton. Surprisingly, it was the first time the two clubs had ever faced each other in an FA, Cup tie.
ln the buildup to the final, City spent ten days at Bushey Hall Hotel, near Watford, and suffered a severe setback when centre forward Fred Tilson was declared unfit because of a blood disorder. Everton were skippered by their own redoubtable No. 9, Dixie Dean, and included at inside left, Tom Johnson, who had played in City's 1926 Wembley side.
Losing a semi-final in 1932 was bad enough, now City had to swallow the disappointment of defeat on the big day itself. Defiantly, skipper Sam Cowan declared 'We'll be back next year to win', and they were!
Such was City's determination to return to Wembley 12 months later that they annihilated FA Cup favourites Aston Villa 6-1 in the semi-final, and it was a fourth minute goal from Ernie Toseland that sparked the onslaught. Once again, Fred Tilson hit four. Now only Portsmouth stood between City and the blue ribarid of English football.
To change their Wembley luck, City stayed at Birkdale until the eve of the final, then moved to Chingford, Essex. lt was a tough, dramatic final and no one ran harder or faster than Ernie Toseland. City won 2- 1, with two late goals from Tilson, and that was the afternoon when a young goalkeeper called Frank Swift fainted under his own crossbar at the sound of the final whistle!
Toseland remained a fixture in the City lineup throughout the 1930's and was an ever present in the First Division championship winning side of 1936-37.
One newspaper columnist of the era describes him thus: "As quick and dainty a footballer as there is in all of Britain. He can beat a man on a handkerchief. can slip by on either side. Yet he wastes some of his cleverness by refusing to cut in as often as he should. "Among his other characteristics: is about the unluckiest solo whist player who ever travelled on a train".
Toseland left City almost 10 years to the day alter joining them from Coventry. He was transferred to Sheffield Wednesday, signed by his former City team-mate, jimmy McMullen. ln all, he had made 409 League and Cup appearances for City, scoring 25 goals.
The advent of war effectively ended his career though he did make occasional guest appearances for City during the period of hostilities. And, at the age of 40, he was playing in the Cheshire County League.