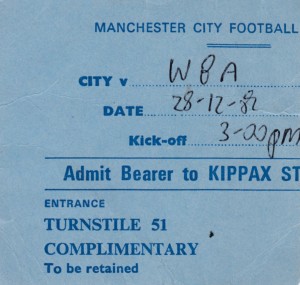 CITY 2  WEST BROMWICH ALBION 1
League Division 1
28th December 1982
Attendance 25,172
Scorers
City Kinsey(24), Robertson(75 og)
Albion Brown(65)
Ref Colin Seel
City Corrigan, Ranson, McDonald, Reid, Kinsey, Bond, Tueart, Reeves, Cross, Hartford, Bodak – Sub Lomax(unused)
West Brom Godden, Whitehead, Statham, Zondervan, Wile, Robertson, Jol, Brown, Regis, Owen, Eastoe -sub Bennett(45)
…City very nearly surrendered a victory which was always in their grasp because careless late moments put them in desperate trouble. After dominating so much of the play it would have been a tragic finish had the mistakes been punished.
Albion's hopes flickered when a weary City offside trap allowed Cyrille Regis a clear break which was thwarted when Joe Corrigan rushed from his area to head clear. But the biggest blunder came from Ray Ranson who seemed comfortable in possession until he delayed a clearance far too long and, with Corrigan alongside him, mystifyingly punted the ball towards his own unguarded goal. Corrigan dashed back to smother it on the line in the nick of time.
Corrigan also made important saves in the dying minutes from Peter Eastoe and Ally Brown. But for the most part City were in charge, looking buoyant with the introduction of Steve Kinsey wide on the right, only his second game of the season, and loan player Peter Bodak (from Manchester United) operating on the opposite flank in his third match for City.
The frisky Kinsey, providing the visitors with many problems through his nippy pace, opened the scoring in the 24th minute after 'keeper Tony Godden had parried a low shot from Dennis Tueart. The loose ball proved easy pickings for Kinsey to net from close range.
Tueart deserved a goal after the break but his header was brilliantly pushed into the air by Godden, who then dived across the goal to push the ball for a corner with Bobby McDonald looking a cert to score.
Then Kinsey rattled the Albion crossbar and City found no difficulty forcing the pace despite the injury absence of three key players, PauI Power, Tommy Caton and Graham Baker,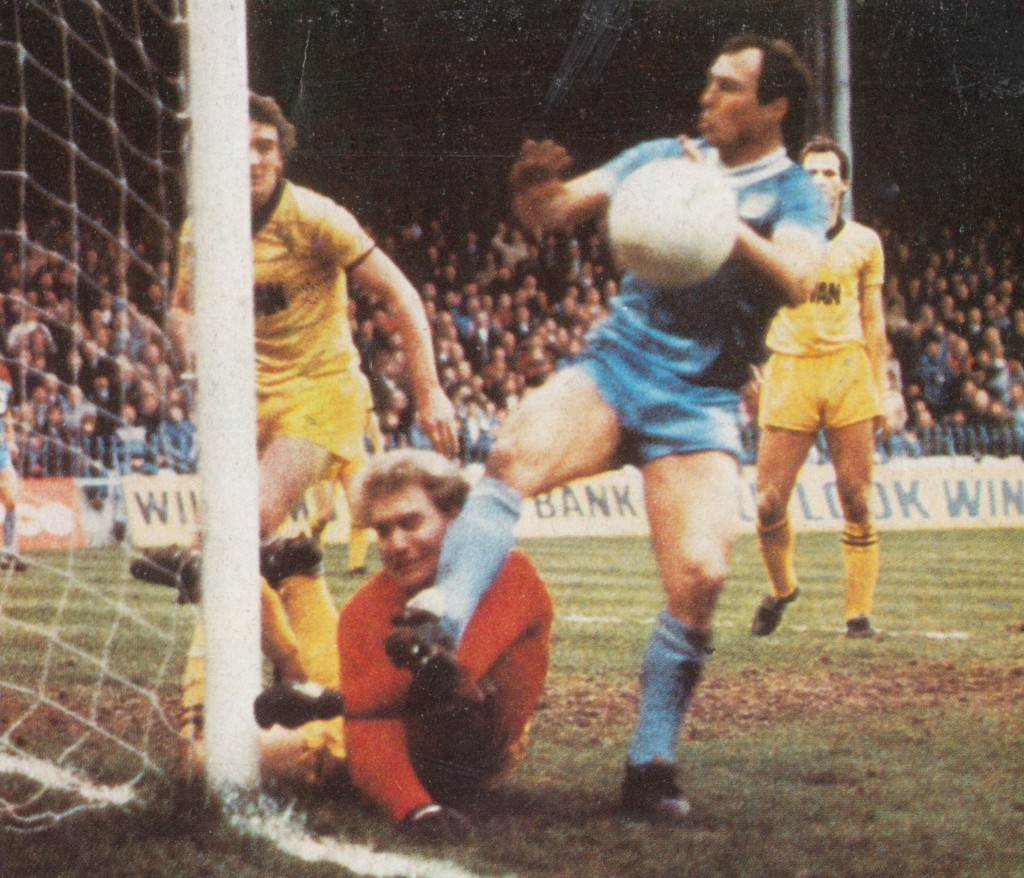 Yet the Blues were rocked on their heels unexpectedly when Brown latched onto a loose ball near the edge of the home area. From 25 yards out he flashed the ball into the top corner of City's net, a memorable way to celebrate his 400th game for Albion.
The game was back in City's favour 10 minutes later due to a stroke of good fortune. Tueart broke free on the right and Godden seemed to have the cross well covered, until it struck the ankle of Alastair Robertson and was deflected into the net at the near post.
Albion might well have complained about a lack of luck with their late flurry of opportunities, but they were second-best to the Blues, who were no more than competent.
Nicky Reid resumed in the centre of defence and proved again that the role suits him, establishing a solid understanding with Kevin Bond, who snuffed out the Regis threat.
FROM AN ARTICLE PUBLISHED IN THE CITY PROGRAMME 1ST FEBRUARY 1986