TOTTENHAM HOTSPUR 3 CITY 1
League Division 1
25th August 1990
Attendance 33,501
Scorers
City Quinn(5)
Spurs Lineker(2 & 55), Gascoigne(63)
Ref J Martin
Spurs Thorstvedt, Bergsson, Van den Hauwe, Sedgley, Howells, Mabbutt, Stewart, Gascoigne, Nayim, Lineker, P.Allen – subs Samways(46), Walsh(unused)
City Coton, I Brightwell, Pointon, Harper, Hendry, Reid, White, Lake, Quinn, Heath, Ward – subs Redmond(65), C Allen(65)
The combined forces of Gary Lineker and Paul Gascoigne proved too much for City in their 1-3 defeat at White Hart Lane.
City boss Howard Kendall wouldn't have been surprised at Lineker's performance. He was the manager who had bought him for £900,000 for Everton from Leicester City and then sold him to Barcelona at a handsome profit.
Lineker hit home the first goal of the game after 117 seconds and this was partly due to the lack of understanding which still existed between new goalkeeper Tony Coton, new full back Neil Pointon, and the rest of the City defence.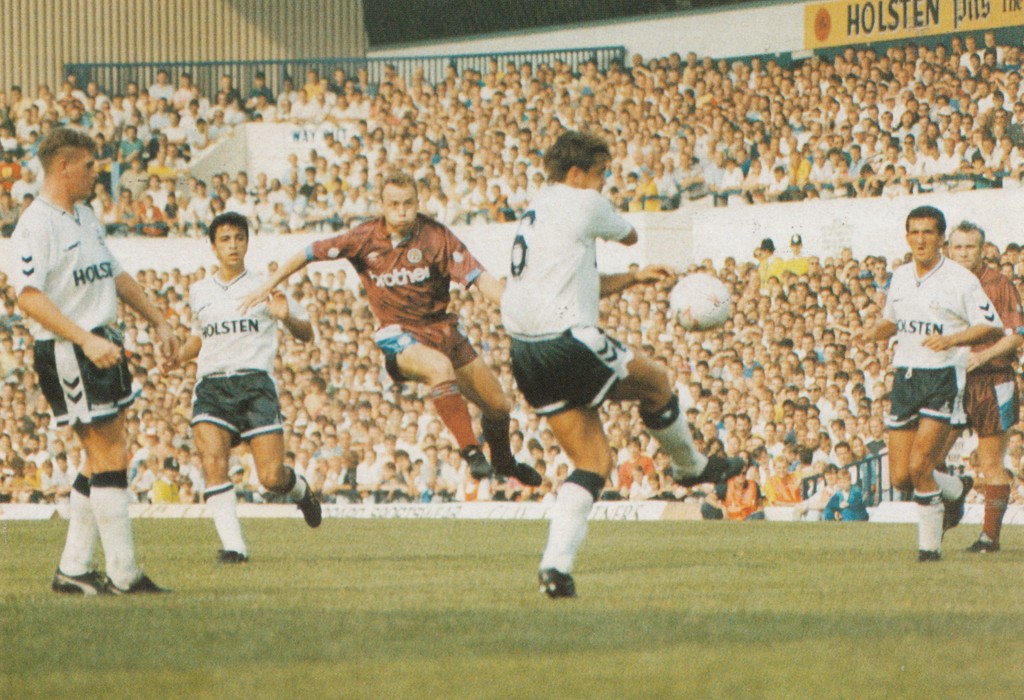 But the Blues bounced back four minutes later. Mark Ward began the move and the ball flowed from him to Peter Reid, then to David White. The latter's centre was a perfect one and Niall Quinn was marvellously placed to nod home the equaliser.
The Blues were on top as the whistle sounded, thanks mainly to White's skill on the wing, and it was somewhat of a surprise when Spurs restored their lead after Nayim had put a ball into Lineker's path ten minutes into the second half.
City then paid the price for ignoring Gascoigne. who was lurking on the edge of the penalty area. and he was allowed to cut in and add a third goal after 65 minutes. It was a lesson that City learned the hard way, and although they threw Colin Hendry up front to try to salvage a point later on. it was too late. Spurs had the game sewn up.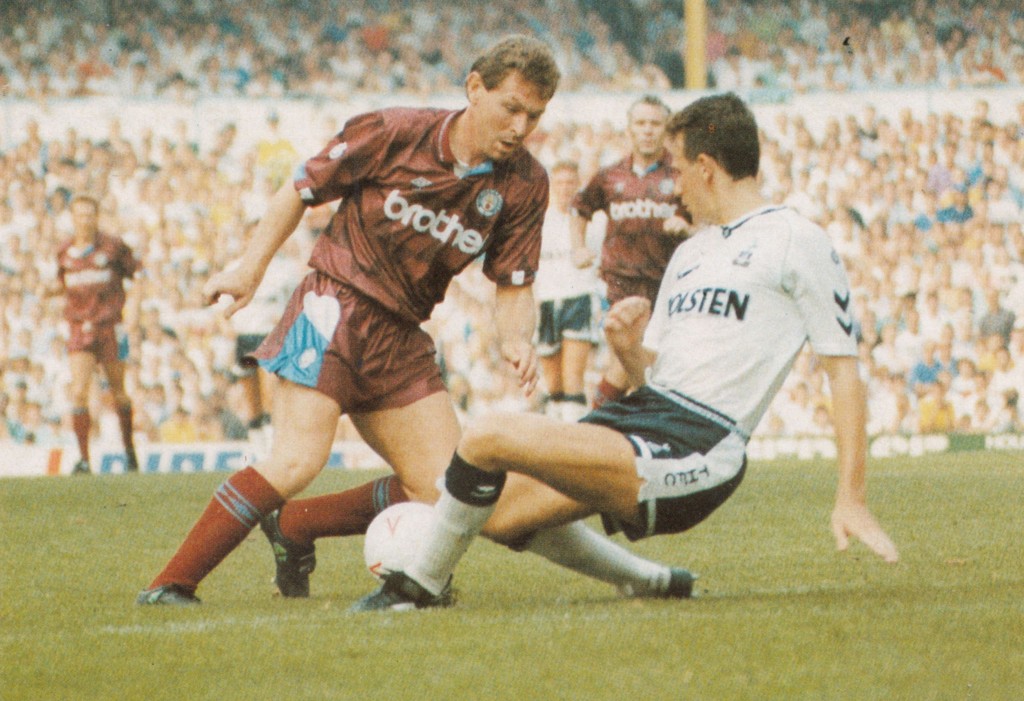 From I'M NOT REALLY HERE – A LIFE OF TWO HALVES by Paul Lake
It's the opening day of the new season, and we're just hours away from our match against Spurs. The manager, Howard Kendall, is announcing the team line-up at lunch time and the players and staff are having a stroll around the hotel grounds. There's none of the usual laughs and larks this morning, though, as the lads nervously await the final selection. We're all desperate to see our names up on that team sheet, and having to hang around for this eleventh hour reveal is nothing short of agonising.
"Go on gaffer, pick me" I say to myself as I walk alongside my shell suited colleagues. "You saw what I could do in pre-season. Let me pull on that blue shirt today. Don't leave me on the bench".
I'm chatting with my team-mates David White and Ian Brightwell when the manager, who's been pacing ahead with the physio, solemnly beckons me over. My heart sinks. Here we go. Here's where I get dropped. And here comes Howard to let me down gently. Three of us (Colin Hendry, Steve Redmand and I) are vying for two places, and no doubt it's yours truly who's drawn the short straw. Col and Reddo are highly experienced centre halves and I'm a play-anywhere utility man.
"We need to talk" he says, gesturing for me to take a seat at a nearby bench. I sit down and fear the worst.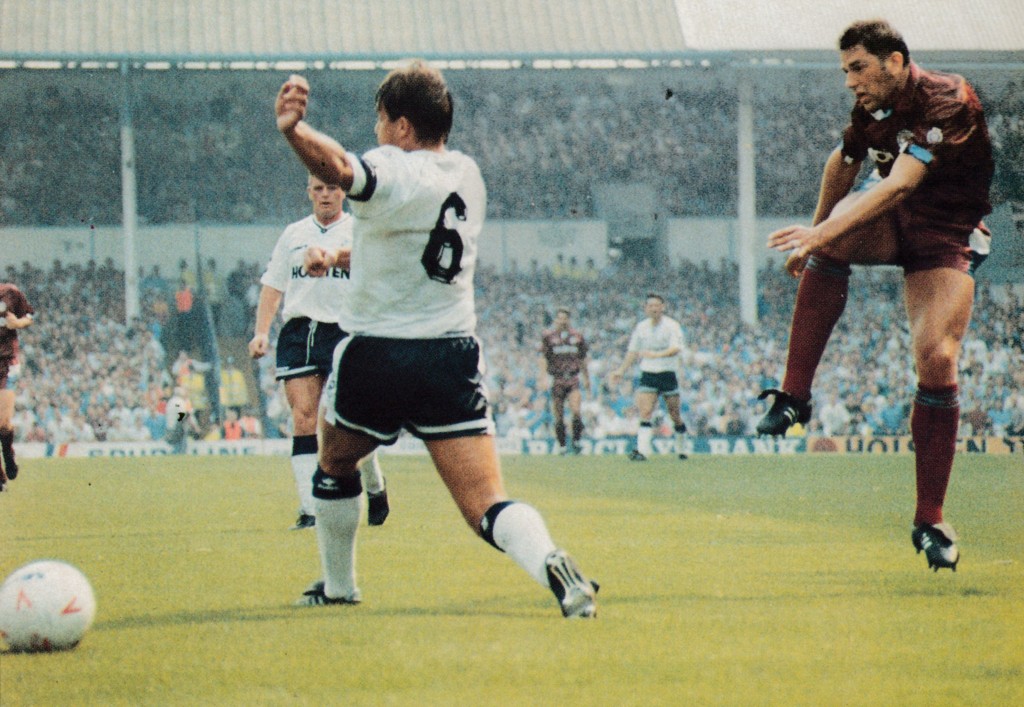 "The thing is Lakey, I've been having a good chat with the coaches and ……….. and i want to make you captain".
My jaw drops. I can't believe what I'm hearing.
"You've really impressed me in pre-season, son. You've grown up, you've matured, and I reckon the time's right for you to step up a gear".
"Yeah but–"
"You'll be fine, don't worry" says Howard sensing my shock. Though I can hardly hear him, he goes on to explain that the captaincy might be the springboard for my career as a skipper, not just for my club, but for my country too. Christ! And there's me thinking I was going to be keeping the subs bench warm.
… The captain's armband is pride of place when I run out onto the White Hart Lane pitch later that afternoon. Outwardly I'm focusing on my new duties and responsibilities, yet inside I'm doing cartwheels as the City faithful greet me with a raucous chorus of "There's only one Paul Lake".
… Buzzing with excitement, I trot to the centre circle, nodding as I pass Gary Linekar and Paul Gascoigne, both fresh from their Italia 90 exploits, before shaking hands with my Spurs counterpart, Gary Mabbutt. And as the ref blows the whistle on that sunny August day, I enter a new phase in my life.
This is it. Let the good times roll.