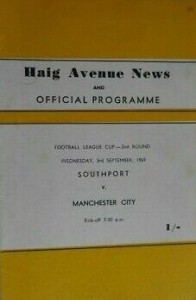 SOUTHPORT 0 CITY 3
League Cup 2nd Round
3rd September 1969
attendance 11,215
scorers Lee(5), Oakes(63), Bell(83)
Ref V James
City Corrigan, Book, Connor, Doyle, Booth, Oakes, Summerbee, Bell, Lee, Bowles, Bowyer – sub Towers(unused)
Southport Wraith, Pearson, Clarke, Peat, M Russell, Harrison, McCarthy, Redrobe, Andrews, A Russell, Pring
FRANCIS LEE OPENS THE SCORING AFTER 5 MINUTES
FROM THE PRESS BOX

If the result… went as expected, the manner of its achievement proved less predictable at Haig Avenue last night.
Not until Oakes, an inspiring wing half, lashed home the second goal after 63 minutes could City begin to relax in a boisterous, sometimes contentious League Cup tie.
City fans had chanted "Easy, easy," when England star Francis Lee shot the FA Cup holders into a five minute lead.
But the jeers turned to anxious obscenities, which must have burned the Salvation Army bandsmen, as Southport retaliated with a mixture of skill and sheer strength sufficient to unsettle Manchester's suspect covering.
The hard stuff erupted into a fists-raised confrontation between Lee and Malcolm Russell, which ended with both being booked by Mr V James of York, a referee who frequently punctuated play when it seemed advantage might be allowed.
Southport came close to scoring in the first minute of each half. From the kick off, Redrobe raced through to hit a tremendous 20 yard drive that almost caught Corrigan off guard. And immediately after the interval, McCarthy, a winger Southport should have used more frequently, was only inches wide with a fine header.
Eventually class told and Bell, unusually subdued, netted the third following a thrusting run by Bowyer, but it was a reasonably entertaining cup tie for the crowd of 11,215
TAKEN FROM ALAN PINCH'S MATCH REPORT IN THE LIVERPOOL ECHO 4TH SEPTEMBER 1969
WRAITH IS WELL BEATEN BY ALAN OAKES STRIKE TO MAKE IT 2-0