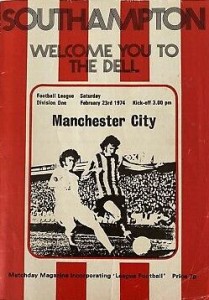 SOUTHAMPTON 0 CITY 2
League Division 1
23rd February 1974
attendance 19,234
scorers Marsh(37), Law(56)
Ref A Hart
 City MacRae, Pardoe, Donachie, Doyle, Booth, Towers, Summerbee, Bell, Carrodus, Law, Marsh – sub Oakes(unused)
Southampton Martin, McCarthy, Mills, Fisher, Bennett, Steele, Paine, Channon, Gilchrist, Peach, Stokes – sub McLeod(45)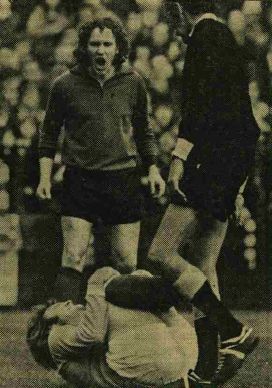 City's first ever victory at The Dell in the top division was simpler than City might have expected, especially with The Blues' players minds on the League Cup final. John Arlott in The Guardian wrote: "First Division matches are not often won so easily as this. Manchester City… clearly came primarily bent on preserving their fitness for the League Cup Final next Saturday. They must have been as surprised as Southampton were downcast to leave with two such simple points."
Frank Maghee described City's goals in his Daily Mirror report: "… Marsh gave his knee the sort of test he felt it really needed with a sprint so fast to head home in the 37th minute that Southampton still can't believe he wasn't offside.
Law's goal in the 57th minute captures and says everything there is to be said about this man nowadays… As City 'keeper Keith Macrae punted a long ball upfield. Law, whose perception is perhaps unequalled, realised precisely where it would bounce, saw where two opposing defenders were worked out, where the Southampton 'keeper, Eric Martin, was positioned.
Before anyone else could react his computer clicked and ticked and came up with the answer. He took that ball in one stride, moved forward with it through the defence and placed it where Martin wasn't.
It was the perfect illustration that the devil in Denis Law is still alive, and kicking."
As for Southampton, you can understand why they were fighting relegation, their only real chance of a goal was a Terry Paine shot that hit the upright.