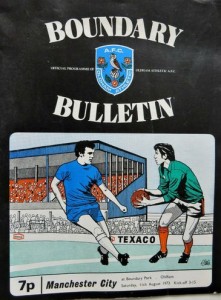 OLDHAM ATHLETIC 2 CITY 2
Friendly
11th August 1973
attendance 12,400
scorers
City Marsh(10), Law(51)
Oldham Whittle(19), Jones(27)
Ref R Matthewson
City Healey, Book, Donachie, Barrett, Booth, Oakes, Summerbee, Bell, Law, Lee, Marsh – sub Corrigan(45), Towers(unused), Whelan(unused)
Oldham Dowd, Wood, Whittle, Lester, Hicks, Edwards, McVitie, Jones, Lochhead, McNeill – subs Mulvaney(45), Robins(unused), Ogden(unused)
A celebration to remember with Denis Law's first goal since returning to City. He scored it in the second half, kneeling down to nod in from four-yards range after Mike Summerbee headed back across the goal-face from the right-hand post.
That goal put the game level which is how it stayed, despite Rodney Marsh laying claim to a hat-trick. Two of them, both taken in the second half, were disallowed. The one he was permitted. which started the scoring in the 10th minute, was superbly netted with a low shot from 15 yards after great individual work by Colin Bell had scooped him the chance.
Another notable display from Marsh, especially his cross—fieId passing, while Tony Book looked the authority in defence. Joe Corrigan replaced Healey at half-time.
FROM THE CITY PROGRAMME 18TH AUGUST 1973