NOTTS COUNTY 1 CITY 1
Nationwide League Division 2
29th August 1998
Attendance 10,316
Scorers
City Goater(90)
County Hendon(71 pen)
ref Terry Heilbron
City Weaver, Jim Whitley, Edghill, Fenton, Vaughan, Wiekens, Mason, Pollock, Horlock, Dickov, Goater – subs Bradbury(74), Brown(unused), Jobson(unused)
County Ward, Hendon, Liburd, Redmile, Fairclough, Richardson, Owers, Hughes, Jones, Torpey, Murray – subs Finnan(63), Farrell(79), Billy(unused)
JAMIE POLLOCK IS SENT OFF
City showed great character to earn a draw against Sam Alladyce's County.
Notts County took the lead late on in the game in controversial circumstances as referee Terry Heilbron judged that Kevin Horlock had handeled the ball as a flicked pass brushed him on the arm in the area and a penalty was awarded.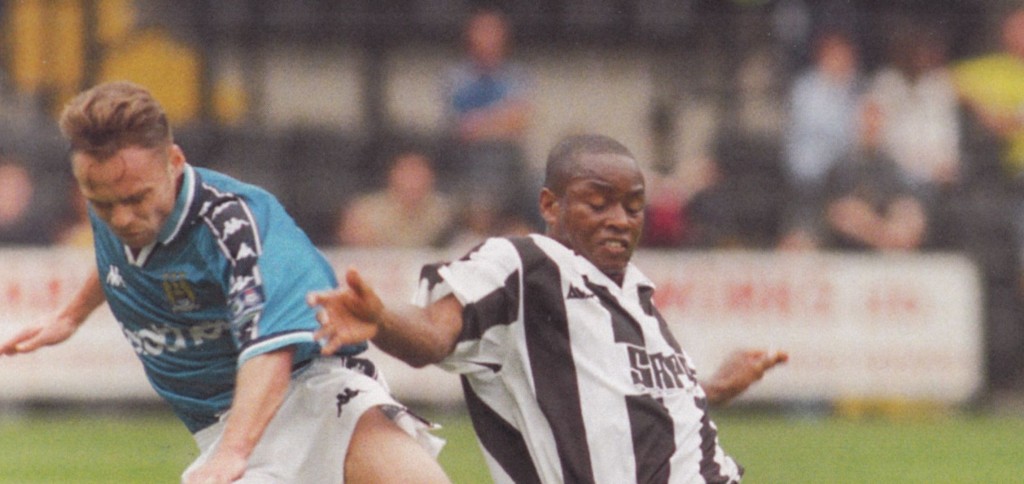 three City players were booked for disputing the referees decision but significantly it was Jamie Pollocks second yellow in the game and he had to leave the field. An agrieved Pollock said the referee had had it in for him all game and all he had said to the ref was "The penalty was a holocaust of a decision".
The ten men of City battled on and Nicky Weaver made some great saves before Shaun Goater struck the equaliser four minutes into added time to earn Joe Royle's team a point.
THE GOAT SCORES A LAST MINUTE EQUALISER