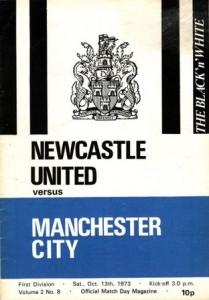 NEWCASTLE UNITED 1 CITY 0
League Division 1
13th October 1973
attendance 35,225
scorer MacDonald(23)
 Ref M Lowe
City Healey, Pardoe, Donachie, Doyle, Booth, Oakes, Summerbee, Bell, law, Lee, Towers – sub Marsh(51)
Newcastle McFaul, Craig, Clark, McDermott, Howard, Moncur, Cassidy, Smith, MacDonald, Nattrass, Hibbitt – sub Barraclough(56)
FROM THE PRESS BOX

ADAPTED FROM JOHN DOUGRAY'S REPORT IN THE GUARDIAN 15TH OCTOBER 1973
Newcastle United's win over Manchester City was not without a touch of irony, for in their three previous League matches United had played much better but managed to gain only one point.
… United's forward problems threw a heavier burden on MacDonald, but he responded to the challenge and he gave the City defence, particularly Booth and Healey, an uncomfortable afternoon, with his quick bustling runs and power in the air. It was his header from close range from Hibbitt's inswinging corner after 23 minutes, which, in fact, decided the match, and underlined once again City's goalkeeping problem.
Healey, replacing the fallen giant Corrigan, made only a token attempt to intercept Hibbitt's centre, and MacDonald scored with embarrassing ease.
He might well have added a second just before half time when he again reached the centre, this time from Nattrass, before Healey, only to see the ball clip the crossbar and drop over.
The only other forward who looked as consistently hungry for the ball was Summerbee. Playing wide on the wings, he provided several tempting centres, but these were mostly cut out by McFaul, though he dropped one centre at Booth's feet in the opening minutes, or cleared by the United central defenders, Howard and Moncur.
…The return of Law and Lee meant the demotion of Marsh to the substitute's bench, a move that did not altogether please him. However, he earned a reprieve after six minutes of the second half when Towers came off, limping slightly.
Marsh, looking bulkier than one remembers him and with his stockings at ankle length adding to the inelegant impression, added strength to City's midfield.