LUTON TOWN 2 CITY 2
League Division 1
17th November 1990
Attendance 9,564
scorers
City White(23), Redmond(41)
Luton Dowie(77), Dreyer(90 pen)
Ref K Burge
City Coton, Brightwell, Pointon, Harper, Hendry, Redmond, White, Heath, Quinn, Megson, Ward – used sub Brennan – subs Brennan(90), Allen(unused)
Luton Chamberlain, Johnson, Harvey, Williams, Beaumont, Dreyer, Elstrup, Preece, Dowie, Hughes, Black – subs Farrell(64), McDonough(69)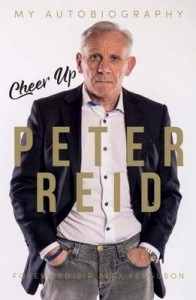 FROM CHEER UP PETER REID, MY AUTOBIOGRAPHY
My first official game in charge was at Luton Town… Going into the last minute we were 2-1 up thanks to goals from Steve Redmond and David White and I was almost counting the points when Keith Burge, the referee, gave them a penalty. It was a foul, Colin Hendry caught Iain Dowie as they competed for a bouncing ball on that ridiculous plastic pitch, so I had no complaints about the decision. What did wind me up though was the way the penalty was taken.
Tony Coton hadn't even set himself when John Dreyer took one step back but, instead of keeping on retreating for a standard penalty run-up, he stepped forward straight away and scored before Tony could even move. Tony went absolutely nuts and chased the referee up the pitch before several more of our players joined in the protests.
The lads were still livid after the final whistle so they challenged Burge again and, having left myself out because I knew I'd struggle with my knees on that surface, I ended up having to walk on to the pitch to drag them away. I could understand their anger and, if anything, I was even more pissed off than they were but I couldn't afford my first game in charge to end with a full—blown diplomatic incident. For once in my life, I had to act as peacemaker, even though I really wanted to be a rabble-rouser.