LIVERPOOL 2 CITY 2
League Division 1
24th November 1990
Attendance 37,849
scorers
City Ward(62 pen), Quinn(89)
Liverpool Rush(82), Rosenthal(86)
Ref Phil Don
City Dibble, I Brightwell, Pointon, Reid, Hendry, Redmond, White, Heath, Quinn, Megson, Ward – subs Allen(88), Harper(unused)
Liverpool Grobbelaar, Hysen, Burrows, Ablett, Whelan , Gillespie, Beardsley, Houghton, Rush, Barnes, McMahon – subs Molby(53), Rosenthal(80)
NIALL QUIINN GRABS A DESERVED LAST MINUTE EQUALISER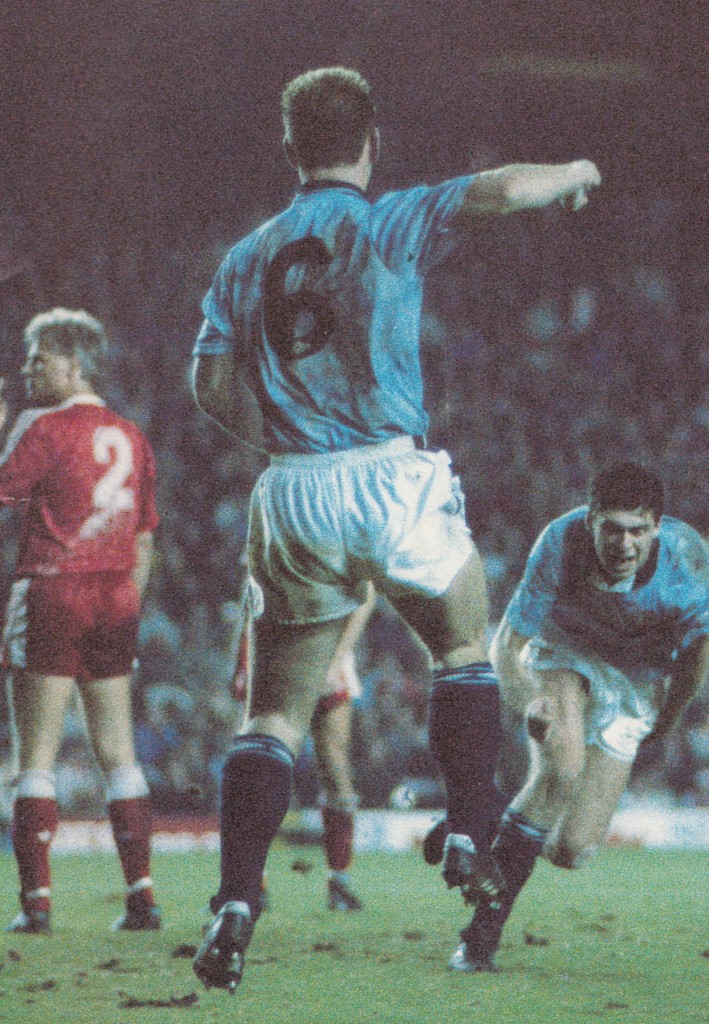 NIALL QUIINN GRABS A DESERVED LAST MINUTE EQUALISER
It was generally agreed that Manchester City scaled new heights under Peter Reid's leadership during a 2-2 draw at Liverpool. Kenny Dalglish freely admitted that his team was lucky to come out of the game with a point.
Yet at one stage in the proceedings, it seemed likely that there was no justice at Anfield that afternoon as the Reds looked like pinching all the spoils.
All four goals came after the interval and the first was a penalty awarded to the Blues. The victim was Mark Ward, the offender was home captain Ronnie Whelan, and Ward picked himself up, dusted himself down, and whacked the ball past Bruce Grobbelaar.
It was Ward's fifth penalty of the campaign.
Welsh international Ian Rush was officially deemed to have levelled the scores with eight minutes left, but there were elements of doubt as to who should receive the credit for the goal.
Rush had hardly had a look-in, so effective was the marking job done by the commanding Steve Redmond, and the goal came from a John Barnes effort which cannoned past Andy Dibble off Rush. And Ian Brightwell saw to it that Barnes didn't get too many other chances!
"Brighty" made only one slip, and that was enough for Ronny Rosenthal – who had replaced the overshadowed Steve McMahon – as the Israeli lobbed Dibble, who had played brilliantly despite a dislocated finger.
Four minutes to go. Could City salvage a point – or better? They could, and did. The game had moved into injury time when Ward took a corner on the right, and there was Niall Quinn to head into the corner of the net.
TAKEN FROM AN ARTICLE BY JOHN MADDOCKS IN THE CITY PROGRAMME 25TH NOVEMBER 1995
from HAMMERED by Mark Ward
We had a tough trip to Anfleld in one of Reidy's first games in charge and were losing 1-0 when we were awarded a penalty. I'd already taken three penalties that season and scored each time but facing Bruce Grobbelaar at Anfleld was a pressure kick. Reidy grabbed hold of me and told me to make sure I hit the target. I was always confident of hitting the target anyway and realised how important this kick was if we were to claw our way back into the game. I struck it with such power it flew past Grobbelaar and we were level.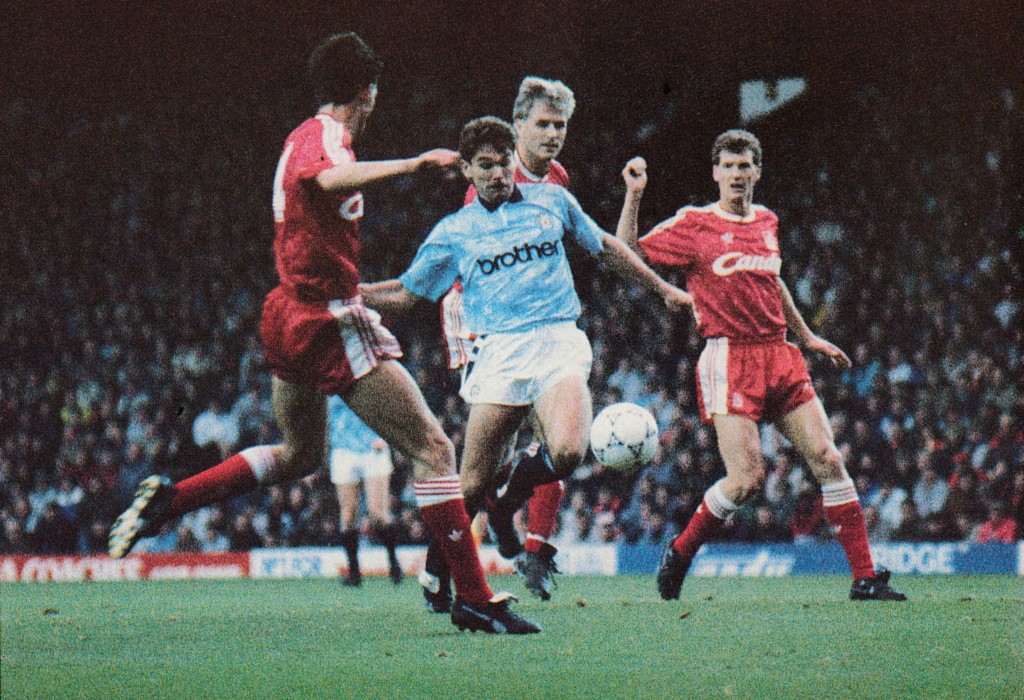 Liverpool went ahead again and with minutes to go we got a corner. I ran and collected the ball and knew if I put it in the right area, the big fella Quinny would get to it. We had practiced corners and free-kicks religiously using Quinny and I delivered the cross perfectly, right on to the penalty spot, where Niall rose majestically and powered an unstoppable header into the top corner.
The 2-2 draw at Anfleld was a great result for City and especially our new manager. Although we were gutted that Howard had left to return to Everton, Reidy was going to be a fine replacement in his own right.