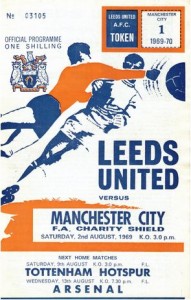 Leeds United 2 City 1
Charity Shield played at Elland Road
August 2nd 1969
Attendance 39,835
Scorers
Leeds Gray(55), Charlton(58)
City Bell(90)
Ref K Burns
City Corrigan, Book, Pardoe, Doyle, Booth, Oakes, Summerbee, Bell, Lee, Young, Coleman – sub Connor(87)
Leeds Sprake, Reaney, Cooper, Bremner, Charlton, Hunter; Madeley, Clarke, Jones, Giles, Gray – Sub Lorimer(45)
COLIN BELL SCORES CITY'S GOAL
FROM THE PRESS BOX

What emerged alongside Leeds United's triumph in the F.A. Charity Shield match at Elland Road on Saturday was predictable; not in the sense that the offering was common place and stereotyped, it was never that but in that Leeds. having spent lavishly to enrich their attacking strength with Allan Clarke, now seem to have entrenched themselves even more firmly among the princes of English and European football.
Not unnaturally, the principal focus lingered on Clarke in this preseason aperitif between League champions and F.A. Cup winners. There were no complaints, even though it was not quite the fairy tale first appearance in the best manner of a boys' periodical.
Clarke did not score. but be came close to it on three occasions and deployed himself in a way which satisfied the Leeds manager, Don Revie. Clarke struck the bar and stretched Corrigan to two fine saves with lightning recognition of the half chance.
But there was more to Clarke than that to justify Leeds's expenditure. So often one has seen Jones carrying the weight of their thrusts: now there was someone ranged alongside, diverting attention, lightening his load.
Jones responded like a bird freed from captivity. He left young Booth a yard behind in almost every chase. and with steadier aim could have scored twice before withdrawing with a strained back at half-time. Clarke and Jones, a partnership to watch for.
Behind them, Leeds stretched a barrier as disciplined as ever once Charlton had overcome an early edginess. The most searing attack in English football last season could make little imprint on it. (only Lee, his confidence and stature heightened,by his England successes, threatened to dent it by swift frontal assaults.
Lee gave Sprake his one moment of urgent preventive exercise in the entire match. Corrigan had half a dozen. Yet so smooth was the execution when the breach was eventually made that one wondered why the goals had been so long in coming.
Clarke, Giles and Bremner left the way wide open for Gray after 55 minutes, and Charlton loped up characteristically to dispatch a free-kick from Giles three minutes later. Manchester City now recognized that the cause was lost, but still managed to distort the balance sheet when Bell, for the most part surprisingly detached, admonished Sprake for misjudging a corner kick with a goal in the last minute.
It was a match of efficiency from both sides, and sometimes of perceptive skill from Leeds, but not, perhaps, an occasion awash with colour.
TOM GERMAN WRITING IN THE TIMES 4TH AUGUST 1969