CITY 0 HUDDERSFIELD TOWN 1
Nationwide League Division 1
7th November 1997
attendance 24,425
scorer Edwards(76)
City Margetson, Vaughan, Wiekens, Whitley, Symons, Edghill, Brannan, Horlock, Kelly, Kinkladze, Dickov – subs Scully(76), Brown(39), Conlon(52)
Huddersfield Bartram, Jenkins, Edmundson, Dyson, Gray, Morrison, Gray, Dalton, Stewart, Horne, Richardson – subs Lawson(65), Burnett(unused), Dyer(unused)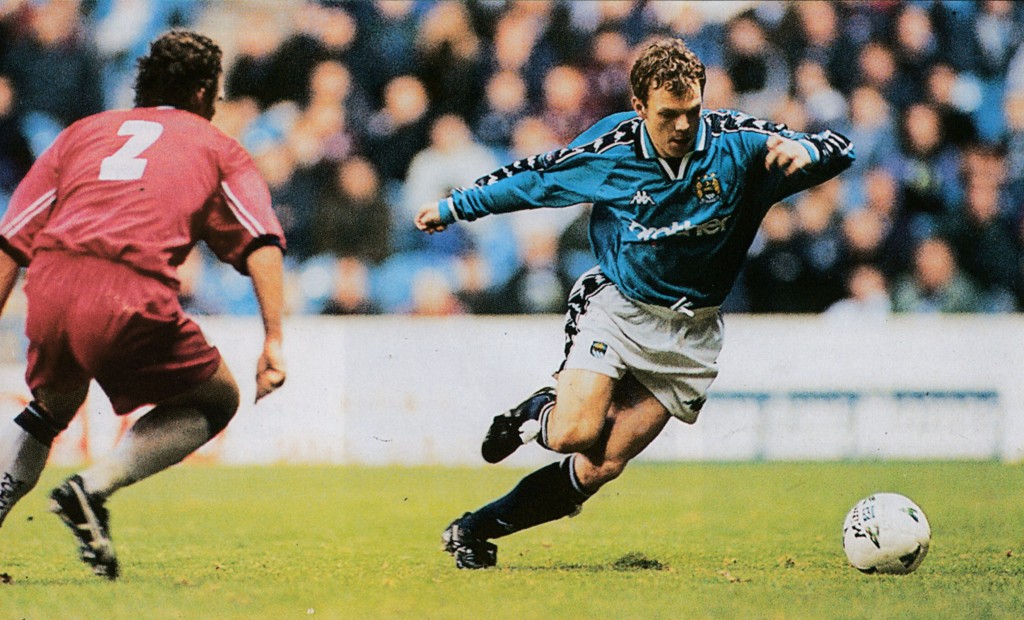 adapted from THE GOOD, THE MAD AND THE UGLY, THE ANDY MORRISON STORY By Andy Morrison with David Clayton …City had been expected to go straight back to the Premier League the season before but had floundered and were now, like us, close to the bottom of the table, which was incredible to see for a club of their size, though obviously our only intention was to go there and make their situation worse.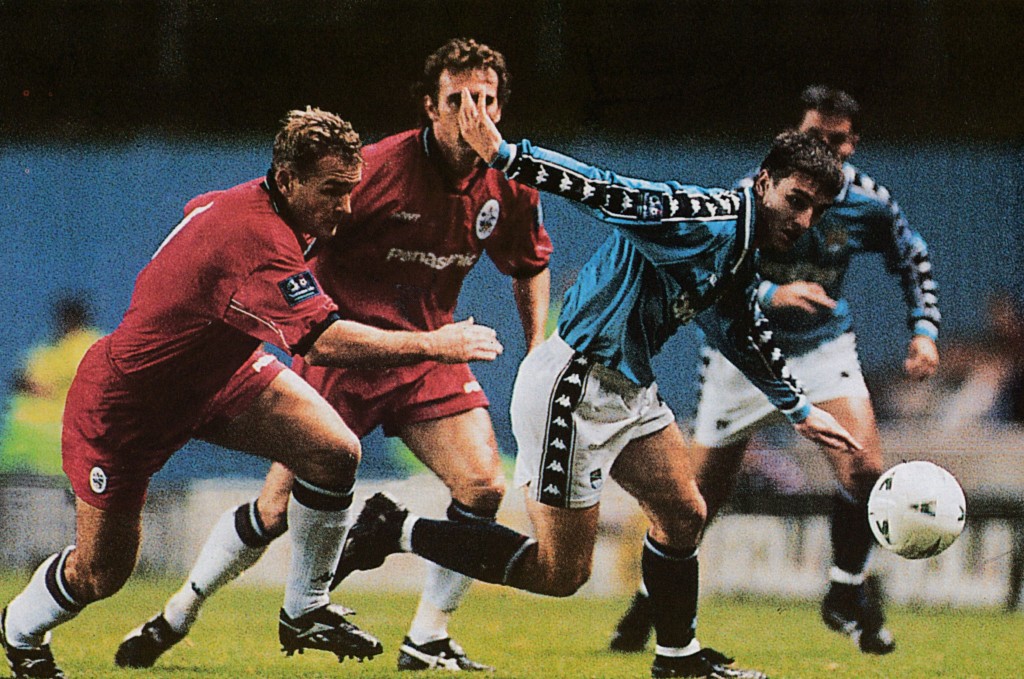 Rob Edwards was a boyhood City fan and all he could talk about all week in training was finally having the chance to play at Maine Road; he was like an excited school kid. We had done our homework and we knew that if we stopped Georgi Kinkladze playing we had a good chance of beating them, so Jon Dyson was given the job of man marking him. He did a terrific job and never gave Kinkladze an inch of space, and as a result we looked good for at least a point.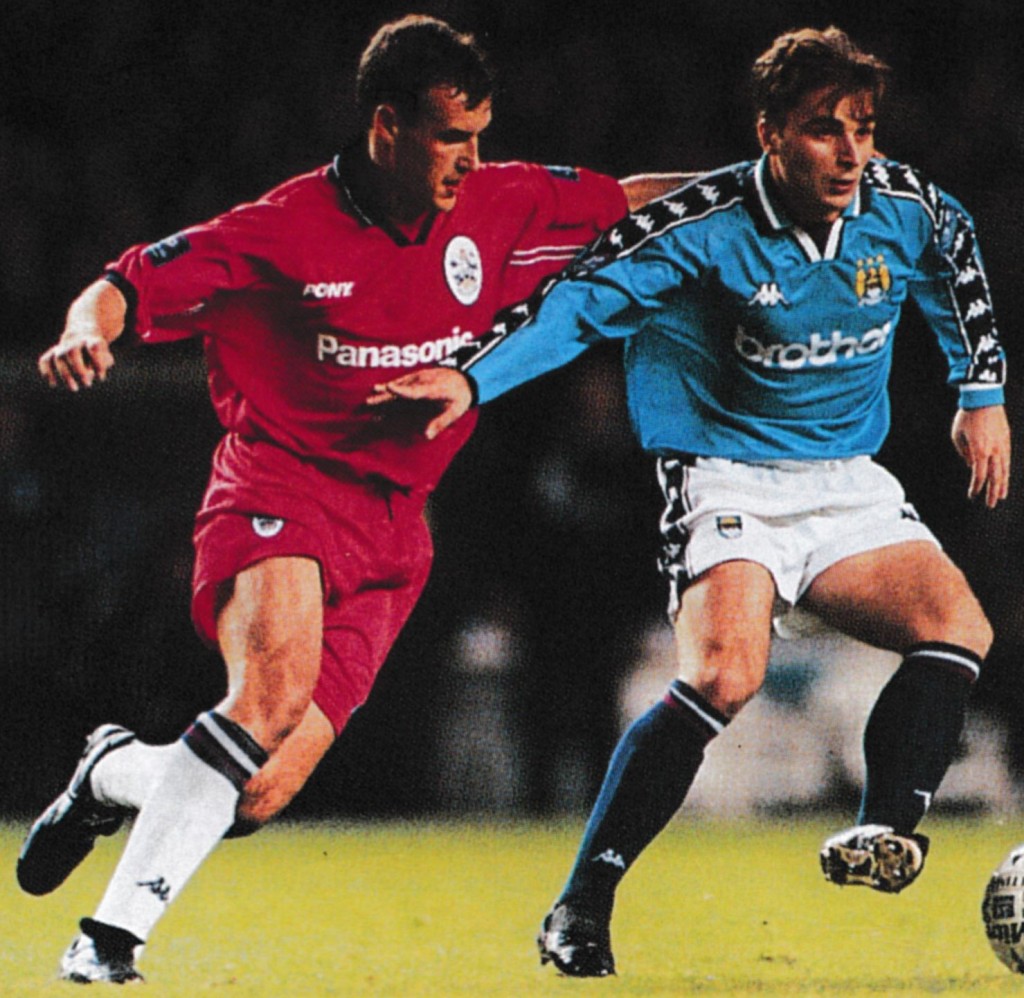 But it got even better than that. Following a fantastic eighteen pass move, in the course of which City didn't touch the ball, Dave Phillips crossed for Rob Edwards to volley past Martyn Margetson for what proved to be the winner. It was a goal Spain or Brazil would have been proud of and it turned out to be the turning point in our season. If we could beat Man City away and play like that, we could do anything. There were almost 25,000 watching that game and the City fans had reached the end of their tether; losing to the bottom club had been the final straw. They relied on Kinkladze to the exclusion of everyone else, simply because the players around him weren't up to the task. The tension inside the ground had been tangible and I'd been up against a lad called Barry Conlon, whom I'd totally dominated. To me Conlon was never a City player, although he did go on to enjoy a long career…. with the likes of Darlington.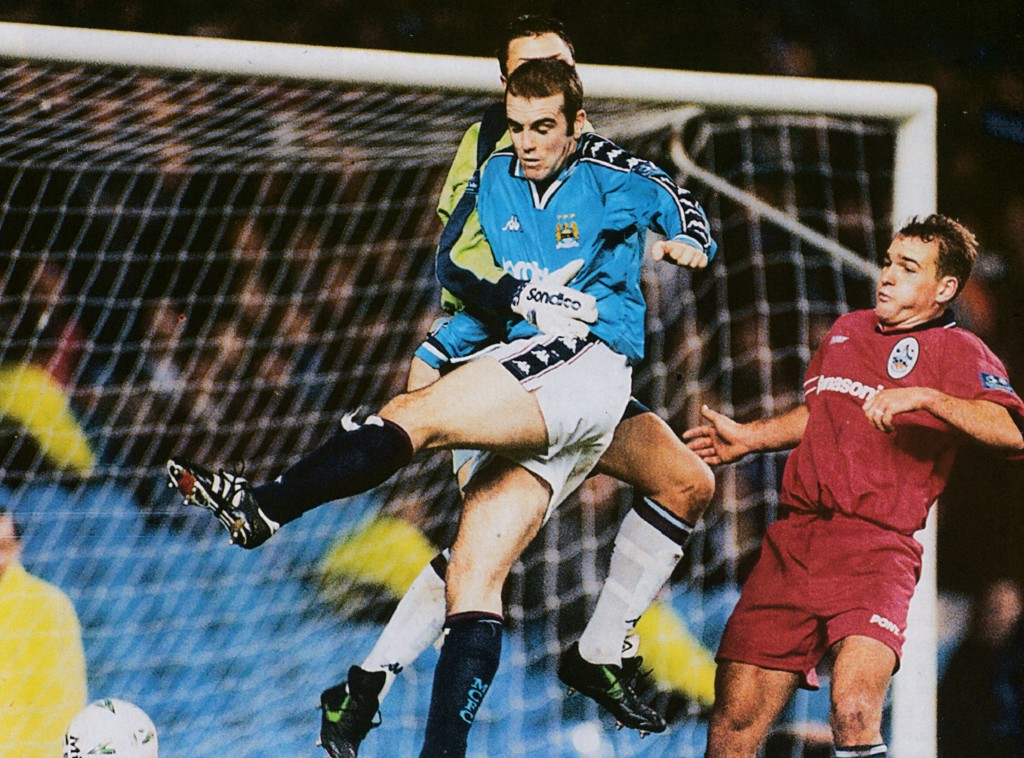 We were still celebrating in the dressing room when a steward came in and told us it could be a while before we would be able to leave because of a mass protest outside the main entrance. A mob of 3,000 were trying to break down doors to get at Chairman Francis Lee or manager Frank Clark, I'm not sure which, and it was the first time I had come across the City fans and witnessed their passion and frustration up close and personal. The police eventually calmed things down, dispersed the crowd and we went our way, but the events of that day left an impression on me. It was something I would never forget.