CITY 2 HAMBURG SV 1
UEFA Cup quarter final 2nd leg
16th April 2009

attendance 47,009
scorers
City Elano(17 pen), Caicedo(50)
Hamburg Guerrero(12)
ref N Rizzoli
City Given, Richards, Onuoha, Dunne, Bridge, Zabaleta, Kompany, Ireland, Elano, Robinho, Caicedo – subs Fernandes(75), Sturridge(84), Hart(unused), Garrido(unused), Logan(unused), Petrov(unused), Evans(unused)
Hamburg Rost, Mathijsen, Jansen, Guerrero, Olic, Jarolim, Trochowski, Gravgaard, Boateng, Pitroipa, Aogo – subs Petric(73), Hesl(unused), Silva(unused), Ndjeng(unused), Rincon(unused), Schulz(unused), Torun(unused)
 Felipe Caicedo puts City 2-1 up
WHAT THE PRESS SAID
 The wait goes on for Manchester City. Twenty-eight years after their last major semi-final, another quarter-final disappointment but, having plumbed the depths against Fulham on Sunday, Mark Hughes's team at least honoured the club crest as they exited Europe with a fight against Hamburg.
Superbia In Proelio – Pride in Battle – has been lost in translation far too often by Hughes's cosmopolitan collection of superstars and Academy graduates in recent months, but even those with the guiltiest conscience amongst the City squad came to the fore in a stirring 2-1 victory.
City may have been eliminated, an exit hastened by Richard Dunne's 76th minute dismissal, but pride was restored in front of Sheikh Mansour's key men.
With the rumblings of discontent that bubbled to the surface during Sunday's 3-1 defeat at home to Fulham, the last thing that Hughes wanted, or needed, was a repeat of the disharmony in the stands with chairman Khaldoon al-Mubarak in attendance in the comfortable seats.
When Hughes called for those same supporters to 'make some noise' for Al-Mubarak in his programme notes, it was the positive variety that he was expecting, and with Eastlands full for perhaps its biggest game since opening in 2003, the flags and inflatable bananas were out in force to provide a backdrop for the raucous backing generated by the City fans.
It was going to take more than a few raised decibels to knock Hamburg off their stride, however. Martin Jol's team, on course for Champions League qualification via the Bundesliga this season, were keen to kill the tie as quickly as possible having earned a 3-1 first-leg lead in the Nordbank Arena last Thursday.
City's nervous defenders have been culpable for much of the team's problems in recent weeks and captain Richard Dunne, a player who is desperately searching for form, was fortunate not to concede a second-minute penalty when referee Nicola Rizzoli judged that his waist-high challenge on Jonathan Pitroipa was a fair one. It was a liberal interpretation of the rulebook by the Italian official.
With the errant Brazilians, Robinho and Elano, recalled to the starting line-up, Hughes was relying on his two creative forces to inspire City to a glory night. Too often, they have been found wanting when handed such a challenge, but their early play suggested that they both relished the opportunity to occupy the limelight once again.
Elano, in particular, appeared unusually motivated and his pass to Pablo Zabaleta was ferried on to Micah Richards in the penalty area, only for the full-back to slip at the crucial moment.
It was a costly mistake as, two minutes later, Hamburg countered and extended their aggregate lead to 4-1 when another defensive lapse by Dunne enabled Jose Paolo Guerrero to send Pitroipa's cross past Shay Given from 10 yards.
A tough task was now becoming an impossible one for City, but the crowd increased the volume and Elano upped the ante when he won a penalty three minutes later with a shot that struck the arm of Piotr Trochowski.
It was another generous decision from the referee, but Elano took advantage by sending the spot-kick past goalkeeper Frank Rost.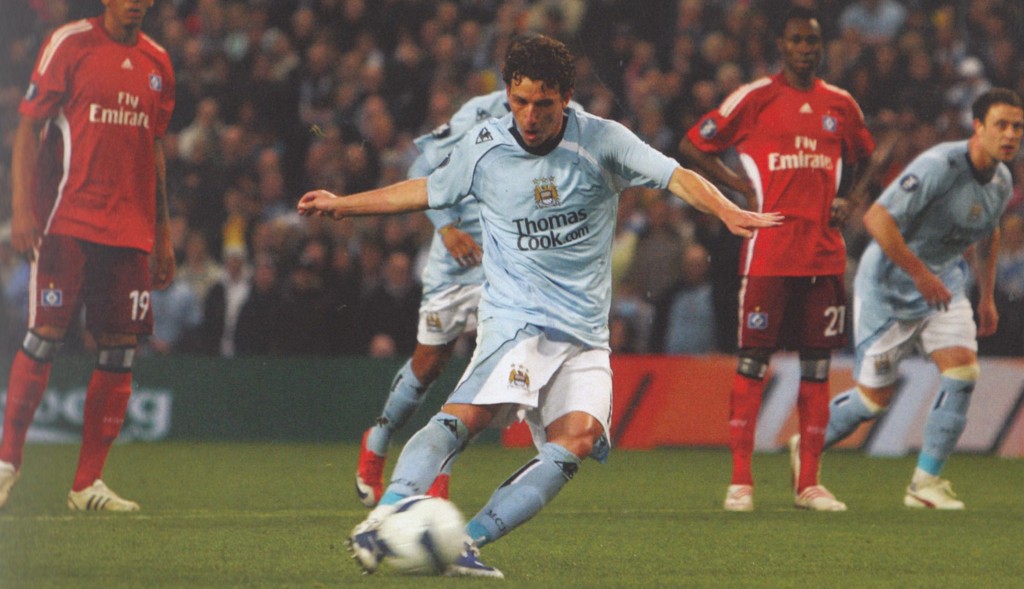 Elano's performances this season have ensured that he is somewhere near top spot in Hughes's list of players deemed surplus to requirements at Eastlands. There is no doubting his talent, but his commitment remains under a large question mark.
Still, he was up for this one and he almost put City ahead on 43 minutes with a 30-yard free-kick that rattled the Hamburg crossbar.
Had that one gone in, City would have had 45 minutes to find the third goal to take the game to extra-time, but as it stood, Hughes's team required an epic second-half performance to save the tie.
Not since Hughes played a part in United's 3-0 European Cup-Winners' Cup victory against Barcelona at Old Trafford 25 years ago has Manchester witnessed such a dramatic European fightback, but City did not throw in the towel and the miracle was on when Felipe Caicedo displayed rare accuracy to make it 2-1 on 50 minutes after being fed by Stephen Ireland just inside the penalty area.
One more and it would really be game on, but City were now falling over themselves in an effort to square the tie. Elano struck the woodwork yet again with another free-kick four minutes after Caicedo's goal and the pair combined seconds later when the Ecuadorean forward missed a sitter to make it 3-1.
Elano's corner was carelessly palmed back into the goalmouth by Rost, the ball landed at Caicedo's feet in the six yard box. But having produced a calm finish when he scored, Caicedo reverted to type by spraying a left-foot shot over the crossbar.
MARK OGDEN WRITING FOR THE TELEGRAPH