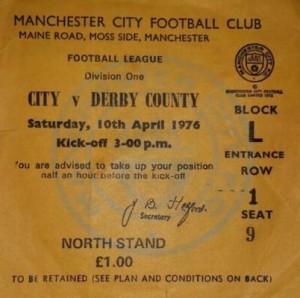 CITY 4 DERBY COUNTY 3
League Division 1
10th April 1976
attendance 42,061
scorers
City Tueart(8 & 72), Royle(9), Power(18)
Derby Rioch(21 & 51), Todd(79)
Ref Mr L Hayes
City  Corrigan, Keegan, Donachie, Doyle, Booth, Oakes, Barnes, Bell, Royle, Power, Tueart – sub Hammond(69)
Derby Moseley, Thomas, Nish, Rioch, McFarland, Todd, Powell, Gemmill, Lee, Davies, James – sub Newton(61)
Joe Royle scores City's second
Paul Power makes it three
Dennis gets his second and City's fourth 
City and Derby were lying fourth and seventh respectively in the First Division at the start of a game which was always eventful and which contained some exciting spells.
Blues' fans welcomed back Francis Lee, who had collected a championship medal the previous season with the Rams.
But Franny had a quietish game by his standards, missing the usual support of the absent Charlie George. Instead it was…Bruce Rioch, who took the honours for the visitors.
There were a number of bookings, one of them for Franny after "clobbering" his former team-mate, Colin Bell, and one sending-off. This was the fate of Mike Doyle, who reacted after 14 minutes to a foul by Leighton James.
Derby went after an early goal, but it was the Blues who drew first blood. After eight minutes, Paul Power centred to find Dennis Tueart, who beat Graham Moseley with a strong shot, then a minute later, Tommy Booth set up Joe Royle with a neat header.
Power made it 3-0 – following a marvellous run by Tueart – after Doyle had headed for the bath, then Rioch pulled one back, and the same player made it 3-2 early in the second half.
Tueart, chased fruitlessly by Lee, recovered from a stumble as he headed for goal and promptly increased City's lead, but County came back yet again through England international Colin Todd. And that was it … 4-3 to the Blues after outstanding performances by Ged Keegan, Power, Royle and Tueart. Derby's stars on the day were Rioch, Todd, David Nish and Roy McFarland.
ADAPTED FROM AN ARTICLE BY JOHN MADDOCKS IN THE CITY PROGRAMME 6TH APRIL 1996
two of Derby's three goals
Francis Lee tangles with his former team mates
TONY BOOK'S VIEW ON THE MATCH

I am not carping about the last home match because Mike Doyle was sent off for responding to the foul by Leighton James in the manner which he did. I do not think the winger's anguish helped the situation, or was justified. But there was an incident late in the match where Dennis Tueart was penalised for a foul, for which he was booked-just as James had been-and yet under the nose of the referee a rugby scrum of Derby players pitched our winger to the ground and no action was taken about it.
From my vantage point that incident was far more volatile and dangerous than the one he had dealt with so positively early in the match.
Inconsistency annoys managers and infuriates players.
I feel that referees have got to look at the seriousness of the offence against the retaliator and, if it is serious, then both players should be dealt with in the same manner. The original offender too often gets away with his provocation, and if the scales of justice were balanced the game would be better for it.
I spoke to Mike Doyle after the game and we reviewed the whole incident. He knows he was wrong, even though he frustratingly claimed that he hardly touched the Derby man. Mike knows that I fine players for behaviour of this nature and I warned him that I would make my judgement after looking at his disciplinary record over past years. He said he would take his medicine without complaint, whatever it was, and a fine has been imposed. Taken from Tony Book's programme notes (24th April 1976)
---