CITY 1 COVENTRY CITY 2
FA Carling Premiership
26th August 2000
attendance 34,140
Scorers
City Horlock(78)
Coventry Edghill(23 og), Bellamy(45)
Ref Andy D'Urso
City Weaver, Edghill, Tiatto, Wiekens, Prior, Howey, Haaland, Horlock, Kennedy, Weah, Wanchope – subs Grant(45), Dickov(55), Wright-Phillips(unused), Ritchie(unused), Wright(unused)
Coventry Hedman, Edworthy, Williams, Shaw, Hall, Telfer, Palmer, Eustace, Chippo, Roussel, Bellamy – subs Thompson(45), Breen(unused), Zuniga(unused), Aloisi(unused), Kirkland(unused)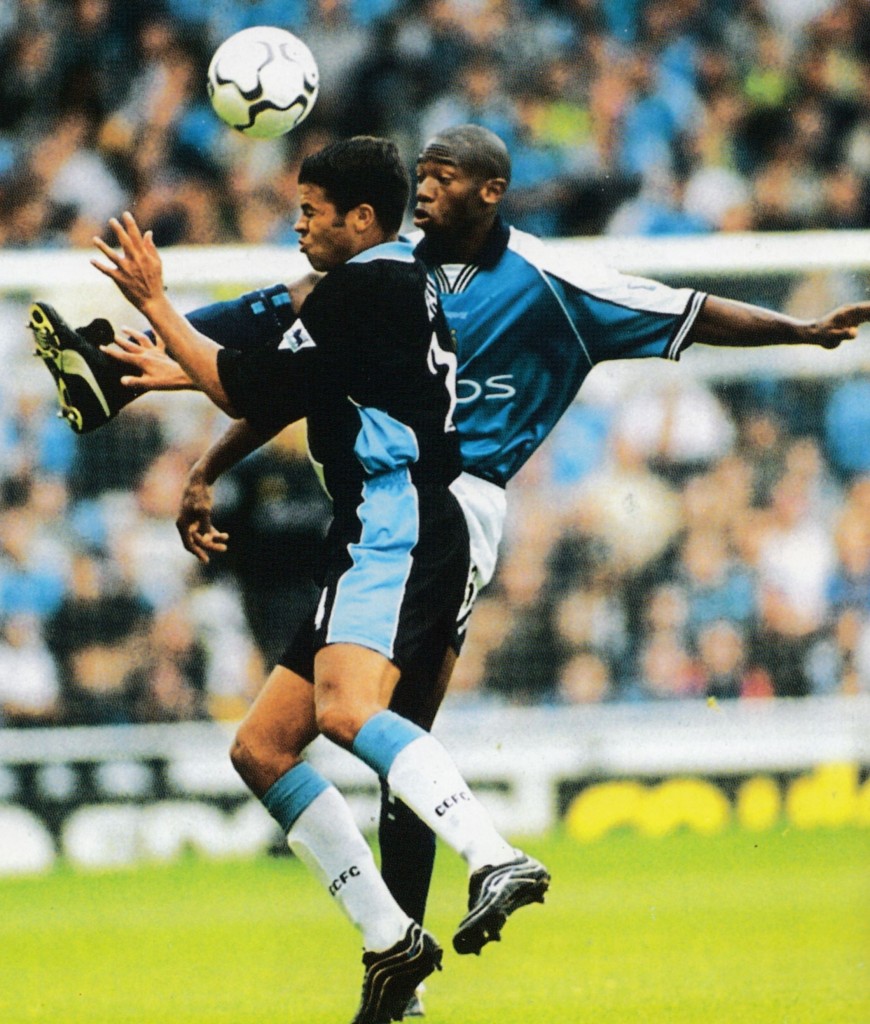 From ONCE A BLUE ALWAYS A BLUE AN AUTOBIOGRAPHY OF RICHARD EDGHILL By Richard Edghill and Dante Friend
… We started poorly that day we were lacklustre and I don't know why. We'd won one and lost one beforehand and the performance and character displayed against Sunderland had given everyone a shot in the arm. Any game in the Premier League was going to be a challenge though.
Perhaps there was an expectation among the supporters that the Coventry game would be a walkover. The truth was we were still the new kids on the block in Premier League terms. This was our third top flight game in four years and we were still finding our feet.
… Weaves would always stay on his line. He was a great shot stopper and whether I could head or chest the ball back to him I would know exactly where he would be, such was our understanding. As it happen on this occasion I headed it to where he normally would have been but Nicky had moved so of course the ball crept past him and into the net.
… A few minutes later we had a corner and I stayed back but we lost possession and were caught on the counter attack almost immediately. Craig Bellamy was on the ball and I was shepherding him away from goal but he managed to find the net from an outrageous angle which made it 2-0 and put me under the spotlight even more.
I was then booed for the rest of the half until the teams went off. Every touch of the ball I had I was booed by a section of the crowd. As we walked off at half-time the booing was very loud. It could have been meant for the whole team but for me it felt like they were singling me out and getting on my back.
I was mentally strong as a player and as a man generally and although I was very upset about the booing I was still prepared to play on in the second half. In the dressing room Joe just said to me "Are you alright son?" and I said yes but he took me off for my 'own protection'.
Driving away from the stadium we had the fans' phone-in on the radio and my dad, who was driving, had to turn off in disgust as I was being pulled apart by people ringing in. It was a sickener and I was overwhelmed by so many negative responses. Of course I could see where some of the comments came from but, too be honest, it just hurt.
I could have done with a chat about it with the staff afterwards, but I was told that I was being stripped of the captaincy for the foreseeable future.