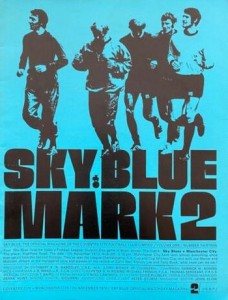 COVENTRY CITY 2 CITY 1
League Division 1
7th November 1970
Attendance 25,287
Scorers
City Bell(76)
Coventry Doyle(2 og), Carr(19)
Ref M Sinclair
City Corrigan, Mann, Pardoe, Doyle, Heslop, Oakes, Bowyer, Bell, Lee, Hill, Towers – sub Connor(unused)
Coventry Glazier, Coop, Smith, Mortimer, Blockley, Strong, Hunt, Carr, Martin, O'Rourke, Clements – sub Randell
FROM THE PRESS BOX

DEREK HENDERSON WRITING IN THE COVENTRY EVENING TELEGRAPH PINK FINAL
This was an incredible game where there could have been a half-time score of something like 5-2 instead of 2-0. The Sky Blues created more chances than in previous matches this season. But in an extraordinary first half the Manchester goal had some amazing escapes and one of them saw O'Rourke and Martin get tangled up only a few feet from the line.
Manchester got off to a bad start with the own goal by Mike Doyle but for the first quarter of an hour they looked slightly the better side. The next 20 minutes saw City take Manchester apart, but though Willie Carr hit a spectacular goal, the sort that Scotland will be looking from him next Wednesday against Denmark, Manchester were always in the hunt simply because they were within reach of City's score, and when Colin Bell pegged one back after 76 minutes the stage was set for a grandstand finish.
Outplayed as they were sometimes, Manchester were good enough not to take it lying down and near the end of the game City had to defend with great determination.